In a time when trans people's safety, security, and integrity are subject to attack, here are the top 10 tips to being a good transgender ally.
In today's destabilized political climate, social progress in inclusivity and acceptance can seem glacially slow. On January 22, 2019, the Supreme Court allowed President Trump to ban transgender persons from serving in the military, despite a federal court ruling against it in 2018. LGBTQ+ activists condemn the ban as cruel and prejudiced, but people outside the queer community can play a crucial role combating transphobia.
Trans allies can enlighten cultural attitudes and shift discussions away from ill-informed or maligning stereotypes. PFLAG defines transgender as "a term often used to describe an individual whose gender identity does not necessarily match the sex assigned to them at birth." An ally, in the words of UC Berkeley's Gender Equity Unit, is "someone who advocates for and supports members of a community other than their own; reaching across differences to achieve mutual goals."
In a time when trans people's safety, security, and integrity are subject to attack, here are the top 10 tips to being a good transgender ally:
1.Never "out" a transgender person.
You wouldn't want your most personal information shared freely with strangers. Demonstrate the same respect for the personal lives of your friends. This includes being sharply aware of your surroundings when discussing trans topics before mentioning names, as you could expose your friend without meaning to.
2. Use the names and pronouns your friends prefer.
Don't be afraid to ask if you aren't sure. If you make a mistake, politely correct yourself, and gently correct others if they do the same. It isn't infringing upon someone's freedom of speech to allow individuals to self-identify and called by that name.
3. Don't make assumptions about a transgender person's sexual orientation.
Gender identity is not the same as sexual orientation. Gender identity is an individual's own understanding of their gender, and sexual orientation is who they feel attracted to. Transitioning is not an indication of any specific orientation.
4. Be patient.
Transitioning is a long process that may have long phases of questioning, exploring, and experimenting. Individuals may change their preferred pronouns, change their minds about their gender expression, and then change back. Be patient and accepting while they work it out for themselves.
5. Be willing to listen.
Transitioning can also be incredibly frustrating and emotionally turbulent. Be open and accepting when a friend wishes to talk. Respect their space when they ask for it, but make it clear that you're willing to listen.
6. Don't expect transgender people to educate you.
Don't expect your transgender friends to represent the entire community. Make use of resources to understand important issues. Books, films, blogs, and YouTube channels offer insight into the shared experiences in the community.
7. Challenge transphobic attitudes.
GLAAD advises you speak out against anti-trans remarks and backhanded compliments like, "She's so gorgeous, I would have never guessed she was transgender." Challenging these remarks and clarifying why they're inappropriate is a small step towards changing cultural attitudes.
8. Support all-gender public restrooms.
Advocate for unisex, all-gender, or single user restrooms at the workplace, schools, or businesses. Since some institutions still don't welcome gender non-conforming or transgender people, speaking up is one small way to shift attitudes towards acceptance.
9. Advocate for LGBTQ+ legislature.
As PFLAG states, People who are transgender or gender nonconforming can be fired from their jobs under state law in more than half of the states in the U.S. simply for being transgender." There's no federal law explicitly banning discrimination against transgender people, but a plethora of organizations are lobbying for that to change. You can get in touch with National Center for Transgender Equality or the Sylvia Law Project to help the cause.
10. Know your own limits as an ally.
It's never wrong to say you don't know. If you're unsure of what's appropriate, ask. If you don't feel comfortable discussing something, say so, and don't fake it. Otherwise, your reactions can range from insensitive to insincere without meaning to.
Other resources for information about the LGBTQ+ community and their allies include:
Transequality.org
,
ACLU
,
Lambda Legal
,
Human Rights Campaign
, and
New York Civil Liberties Union
.
Meg Hanson is a Brooklyn-based writer, teacher, and jaywalker. Find Meg at her website and on Twitter @megsoyung.
In contrast, the education system in the United States is not nearly as LGBTQ+ friendly.
In what advocates say is a historic moment, Scotland will take the lead as the first country in the world to embed lesbian, gay, bisexual, transgender, and intersex rights into their required education curriculum.
State schools will be instructing teachers as well as students about the history of LGBTI equality and movements, challenging homophobia and transphobia, and exploring LGBTQ+ identity and terminology. There will be no exemptions to the policy, so individual schools will not be allowed to opt-out. The Scottish government's move comes after an LGBTI Inclusive Education working group, led by the Time for Inclusive Education (TIE) campaign, outlined 33 recommendations in a published report on how to tackle LGBTI bullying in schools.
In a study, TIE found that nine in 10 LGBTI Scots experience homophobia at school, with 27% reporting that they had attempted suicide because of being bullied. Research also discovered there was little understanding in schools about prejudice against people with variations of sex characteristics and intersex bodies. These findings are likely a part of the destructive legacy of section 28, the infamous legislation enacted by Margaret Thatcher's conservative government in 1988. The clause, part of the Local Government Act 1988, banned the "promotion" of homosexuality by local authorities and educators in British schools. It was repealed in Scotland in 2001 and in the rest of the UK two years later.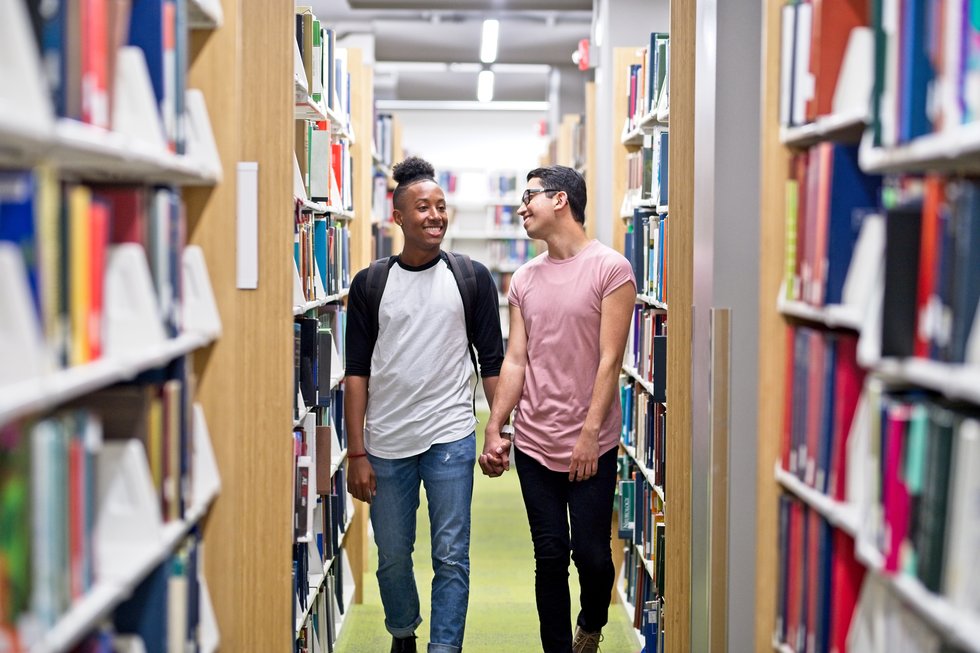 Getty images
Jordan Daly, the co-founder of TIE, said of the new curriculum: "This is a monumental victory for our campaign, and a historic moment for our country. The implementation of LGBTI inclusive education across all state schools is a world first. In a time of global uncertainty, this sends a strong and clear message to LGBTI young people that they are valued here in Scotland."

Surprisingly, Scotland is regularly ranked one of the best European countries for legal protections of LGBTI people despite the country decriminalizing homosexuality in 1980, 13 years after England and Wales did the same. Former Scottish Labour leader Kezia Dugdale described the country in 2016 as having "the gayest parliament in the world." At the time four of Scotland's six party leaders identified as lesbian, gay or bisexual: Dugdale, Ruth Davidson, David Coburn and Patrick Harvie.
A number of Scotland's neighbors, including Wales and the Republic of Ireland, have also been looking into further integrating LGBTQ+ issues in their curricula. In England, some schools are already teaching LGBT-inclusive classes.
In contrast, the education system in the United States is not nearly as LGBTQ+ friendly. Much like the repealed section 28 in the UK, seven U.S. states have so-called "no promo homo" laws that explicitly prohibit the positive portrayal of homosexuality in schools. The laws, currently in effect in Alabama, Texas, Arizona, South Carolina, Oklahoma, Louisina, and Mississippi (Utah repealed its law in 2017), can have various negative effects on LGBTQ+ youth within the millions of public school students affected.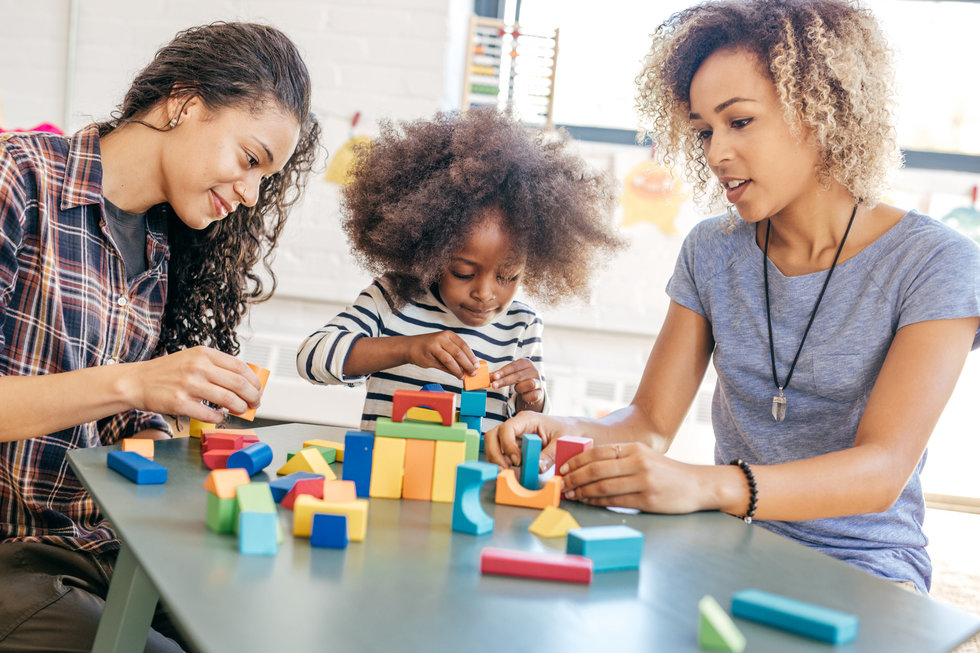 Getty images
A report by GLSEN, an LGBTQ+ education advocacy group, found that LGBTQ+ students in these states were less likely to find peers that are accepting of their identities, more likely to hear homophobic remarks, and more likely to face harassment and assault at school because of their sexual orientation and/or gender expression. Schools in these states are also less likely to have teachers and administrators supportive of LGBTQ+ students, as well as fewer resources (like Gay-Straight Alliance clubs) and less health services inclusive of LGBTQ+ needs. While the exact laws differ in each state, advocates say they all function to further stigmatize lesbian, gay, bisexual, transgender and queer students.
Scottish Deputy First Minister John Swinney said Thursday, "Our education system must support everyone to reach their full potential. That is why it is vital the curriculum is as diverse as the young people who learn in our schools."
"The recommendations I have accepted will not only improve the learning experience of our LGBTI young people, they will also support all learners to celebrate their differences, promote understanding and encourage inclusion," Swinney said.
The United States should take note of the progress being made by their allies across the pond.
Joshua Smalley is a New York-based writer, editor, and playwright. Find Josh at his website and on Twitter: @smalleywrites.
A victim of anti-gay hate, the LGBT icon's ashes are interred in Washington, DC.
Twenty years ago this month, a young gay man named Matthew Shepard was beaten and left for dead tied to a fence in Laramie, Wyoming.
Friday, on the other side of the country, his ashes were interred in a crypt at the Washington National Cathedral while thousands looked on. They came to celebrate the life of Shepard, who in the years since his death became a symbol of hope and love amidst anti-gay hate and oppression. For many LGBTQ+ people, the circumstances of his death bring memories of their own struggles, both inside the closet and out.
The public service was led by the Right Rev. Mariann Edgar Budde, Episcopal bishop of Washington and the Right Rev. Gene Robinson. Like Shepard, Robinson is an openly gay man, and poignantly, also the first elected as a bishop in the Episcopal Church.
Robinson had tears in his eyes as he welcomed attendees. To those who are LGBT, he said "many of you have been hurt by your own religious communities, and I want to welcome you back." He referred to Shepard's burial at the cathedral as a homecoming, saying "it is a remarkable step forward."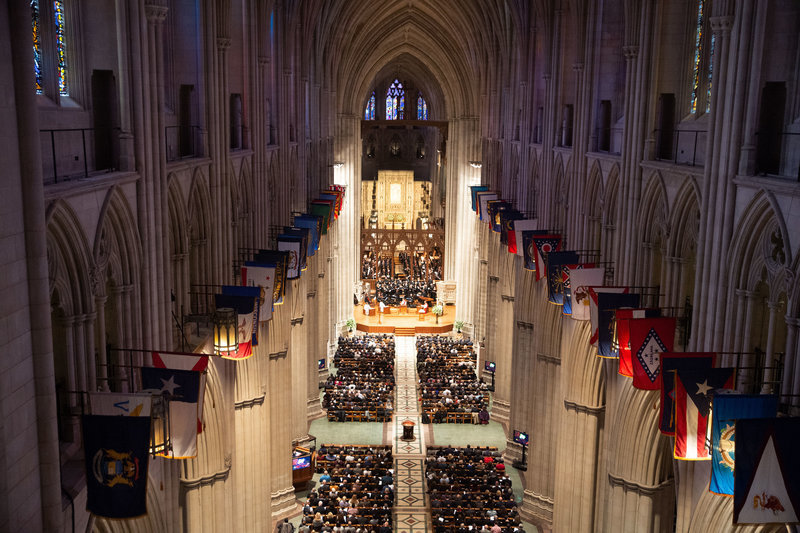 Cameron Pollack/NPR
Shepard's father thanked the attendees for their support. "It's so important that we now have a home for Matt... A home that is safe from haters. A home that he loved dearly." Robinson praised both of Shepard's parents, who founded the Matthew Shepard Foundation to combat hate crimes across the country, for devoting their lives to LGBT activism.

During the service, Robinson shared a touching anecdote from the police officer who first saw Shepard the day after his brutal attack. When she arrived, a deer was lying beside Shepard's body and looked the officer straight in the eye before running away.
"What she said was: 'That was the good Lord, no doubt in my mind.' And there's no doubt in my mind either. God has always loved Matt," Robinson said.
In October 1998, Shepard was tortured and robbed by two men he had encountered in a bar, and was subsequently abandoned for eighteen hours tethered to a chain-link fence. He died from his injuries five days later at the age of 21.
Prosecutors in his case alleged that Shepard was targeted because of anti-gay bigotry. The two attackers, Aaron McKinney and Russell Henderson, were both sentenced to life in prison. Although characterizing the murder as a hate crime has been disputed by some, outrage over Shepard's death ultimately led to the passage of the Shepard/Byrd Hate Crimes Prevention Act in 2009. James Byrd Jr, an African-American man killed by white supremacists in Texas, also inspired the legislation.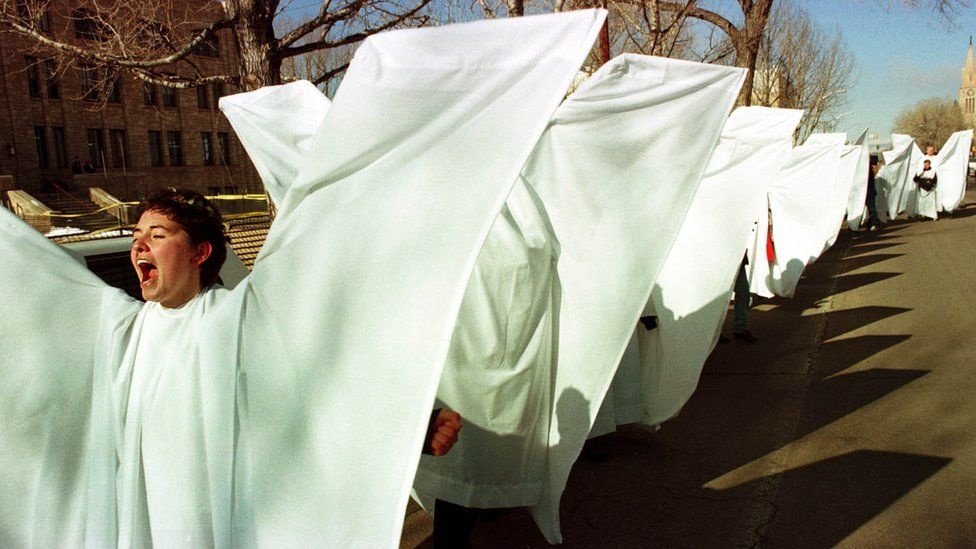 Getty Images
Shepard's funeral in 1998 was protested by the now-notorious Westboro Baptist Church carrying signs reading "God hates F*gs," "Matt in hell," "AIDS cures F*gs," among other hateful speech. During the trials for Shepard's killers, the group Angel Action peacefully counter-protested the church's signs while wearing white angel costumes. The costumes had ten-foot wingspans that covered and silenced the church protesters.

Throughout the Friday service, Robinson urged the crowd not only to commemorate Shepard, but to also confront the prejudice and violence that faces the LGBTQ community today. Marginalized factions within the community are particularly at risk of hate, like transgender people. "There are forces who would erase them from America," Robinson said. Twice he encouraged the crowd to "go vote."
Robinson received a long-standing ovation as he closed the service, choking down the final words:
"There are three things I'd say to Matt: 'Gently rest in this place. You are safe now. And Matt, welcome home.' Amen."
Joshua Smalley is a New York-based writer, editor, and playwright. Find Josh at his website and on Twitter: @smalleywrites.