We've all been there. You were gifted a dumb present that you'll never in a million-zillion years ever use and you're too polite to tell anyone any differently. It sits at the bottom of your drawer for months, then years. And when you finally feel like enough time has passed, you can throw it out in good conscience.
A return is almost always out of the question. Plus, gift givers don't often include a return receipt, and we all know we wouldn't dare ask for one. I'd rather admit to a crime than confess I don't like a gift - how insulting to the gifter's sense of aesthetics.
And-hey, I have limited drawer space. Who can keep these unwanted gifts for six months when there isn't any space for them? I hate clutter, and unwanted gifts are just that.
This year, I am making an effort to swiftly remove any unwanted gifts from my house without hurting anyone's feelings…and potentially benefiting others. As the old saying goes, one man's trash is another man's treasure. And thank goodness for that.
From the The Guardian:
"According to research published this week by the consumer body, one in four people (24%) received an unwanted or unsuitable gift for the Christmas of 2021. Meanwhile, a separate study by the personal finance comparison site Finder said £1.2bn was wasted on unwanted Christmas gifts each year."
Come to terms with the fact that you will never use that gift and follow these quick tips to offload those unwanted gifts:
Donate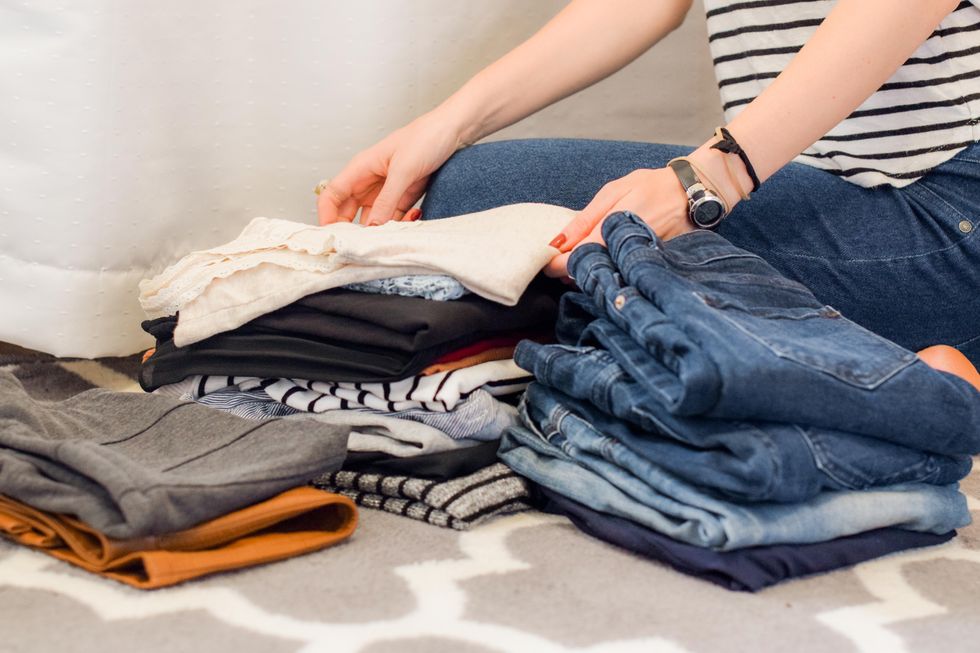 Sarah Brown via Unsplash
The most obvious choice for those unwanted pairs of mud-green sweat socks and that same fluffy robe you get every year from your Aunt Judy is to donate them. Just round up everything you don't want and Google the donation center closest to you.
This is also a fantastic excuse to purge your closet of that pile of stuff you've been meaning to get rid of. A few bags of give-away-clothes will get your spring cleaning out of the way early.
Sell Them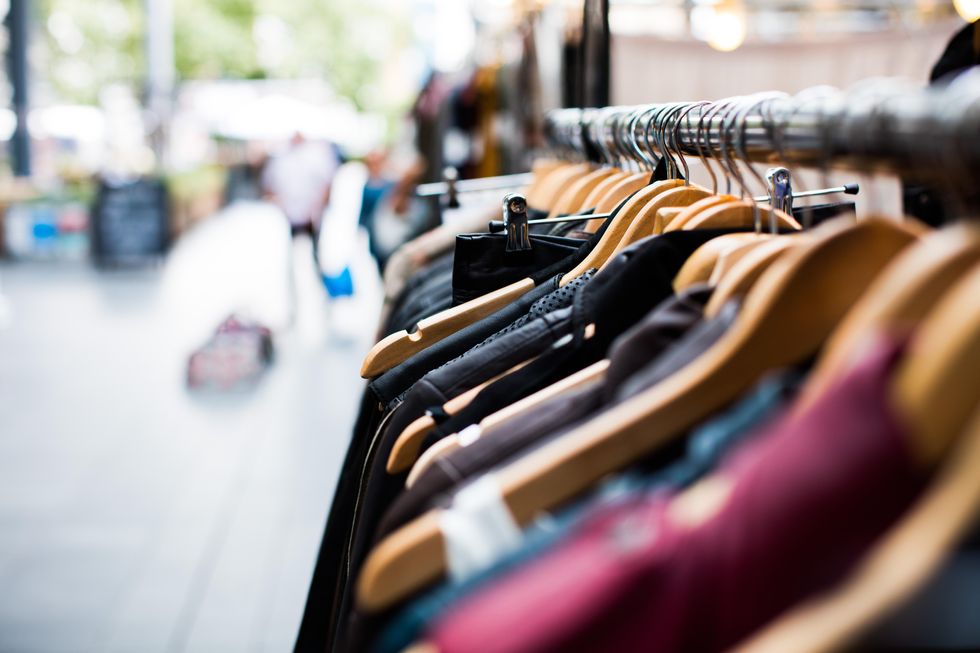 Artificial Photography via Unsplash
Resale websites are all the rage right now. If you got a pair of pants that don't fit or a sweater that isn't your style, resell them on a website dedicated to just that. Sites like Poshmark, Mercari, and DePop are known for selling those trendy pieces of clothing you barely used.
Thrifting has never been hotter. Hop on the trend while people are constantly perusing sites for the hottest deal. Then reward yourself for being so virtuous, by dropping the cash on some fabulous things you'll actually wear!
Re-Gift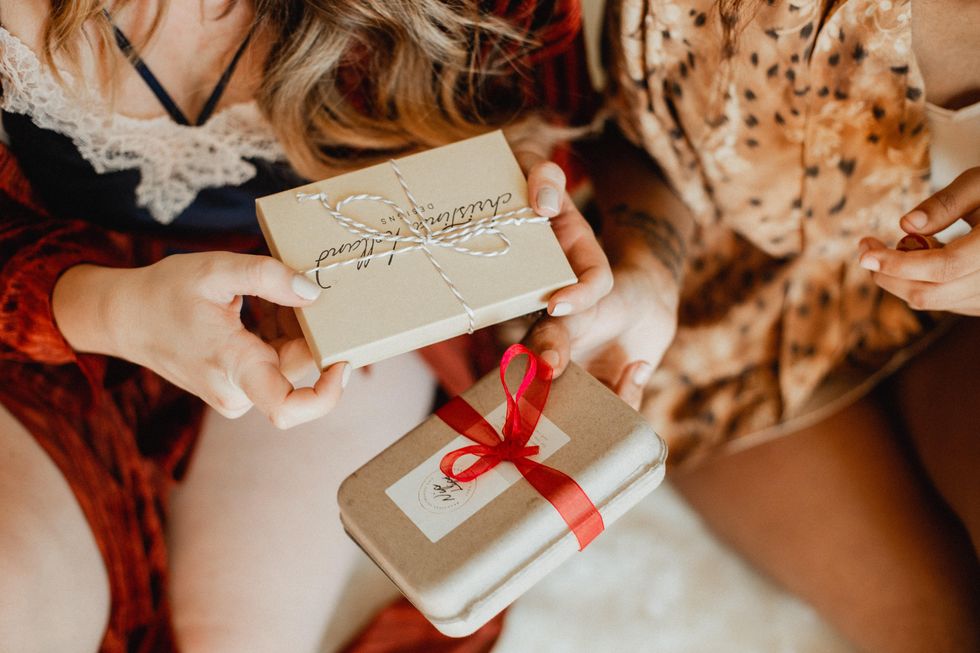 Jackie S via Unsplash
If you got something that you think one of your friends or family can benefit from, why not give it to them? There's no shame in revealing that it was a gift and you don't want it anymore…as long as you aren't re-gifting to the person who gave it to you!
Or, keep the gifts to re-gift at a later date. You never know when you're going to need a last minute gift. You'll thank yourself later.
Attempt a Return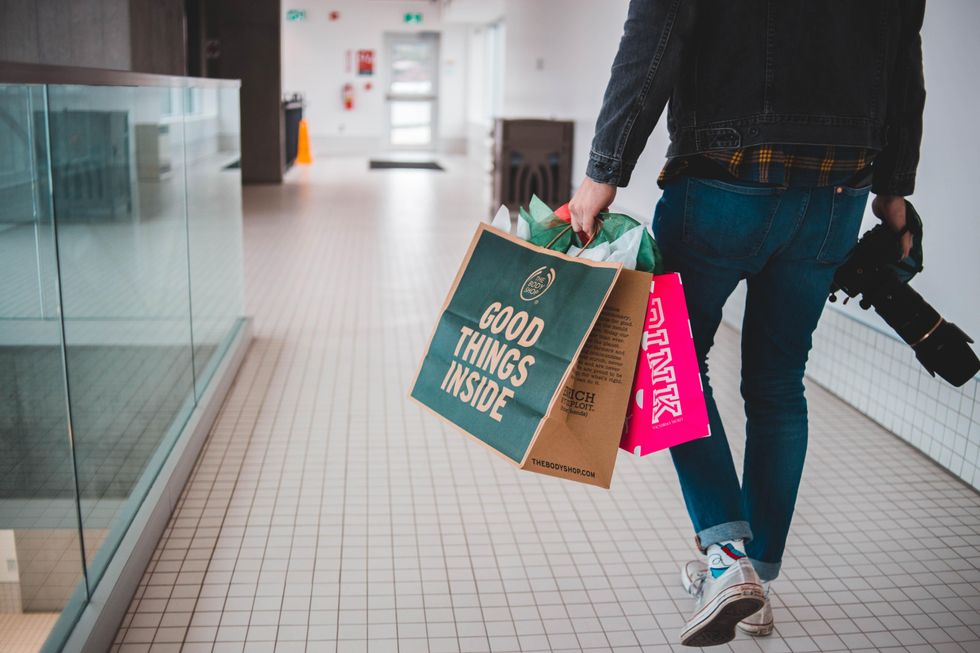 Erik McLean via Unsplash
If your item still has a tag, you can make a valiant effort to return to the store. If you can make your case, many stores won't want to fight you on it. They may be forgiving and grant you store credit at the very least.
A third swell of protests over hikes in gas prices erupts in violent riots and public outcry over France's social inequality.
In the heart of Paris, the Champs-Elysées and the Arc de Triomphe were scaled by protesters and graffitied on Saturday. Police fired tear gas, stun grenades, and water cannons at masked citizens donning bright yellow vests as they (the citizens) set fire to buildings and hurled crude projectiles in the streets.
Recent hikes in gas prices under President Emmanuel Macron have driven people to form a leaderless movement on social media and take to the streets.The most recent announcement of another tax increase set to begin on News Years Day initiated the first wave of demonstrations in mid-November. The price hike will add to an existing 23% rise in diesel costs that's occurred during Macron's first year as president.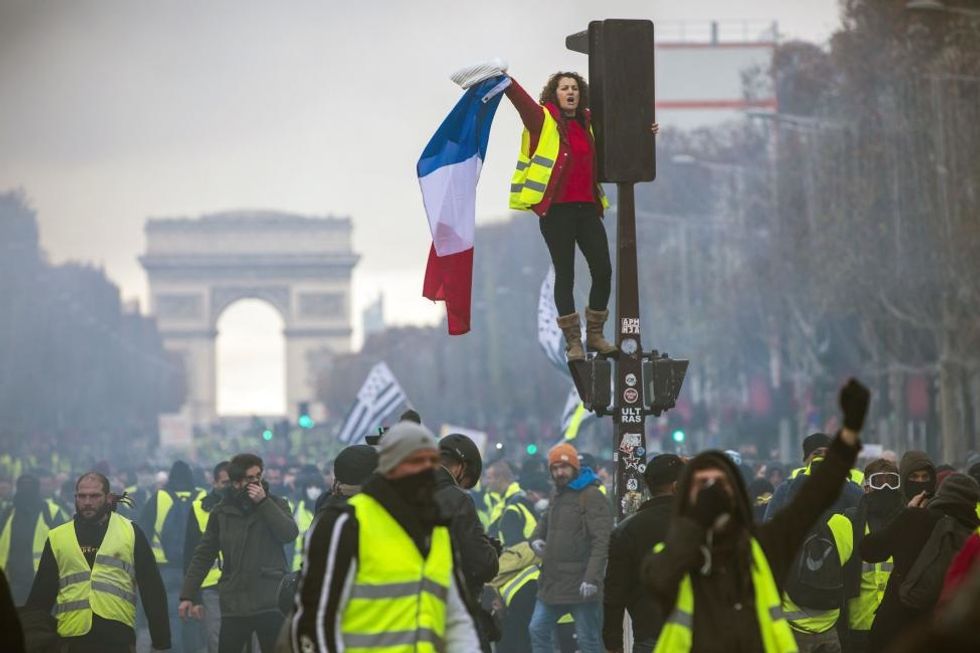 UPI
In France, all drivers must keep reflective yellow vests in their vehicles under a 2008 policy; the "gilet jaunes" or "Yellow Vest" movement represents motorists' protest of the added tax burden on fuel and government officials' blindness to civilian struggles.

The 36,000 demonstrators created the most violent display of civil disobedience to take place in the capital in more than a decade. The protests left 3 dead, 100 injured (including members of the French police), and nearly 400 arrests. The third wave of protests in as many weeks turned into "urban warfare" and "the worst riots in a generation," according to witnesses of flaming cars, vandalized buildings, and clashes between the French police and a faction of criminals who are said to have joined the protest solely to wreak havoc.
While prices of oil have risen worldwide over the past year, the French government has added its own taxes to the burden as part of their environmental policies. Macron's administration defends the new taxes as efforts to lower carbon emissions and encourage people to purchase more energy efficient cars–but the expectation that French citizens can alter their lifestyles and modes of transportation at the government's behest is out of touch with reality. Furthermore, increasing fuel prices places an unbalanced burden on working people who can't afford to reside in major cities and who rely on their cars to commute from and around rural and suburban areas.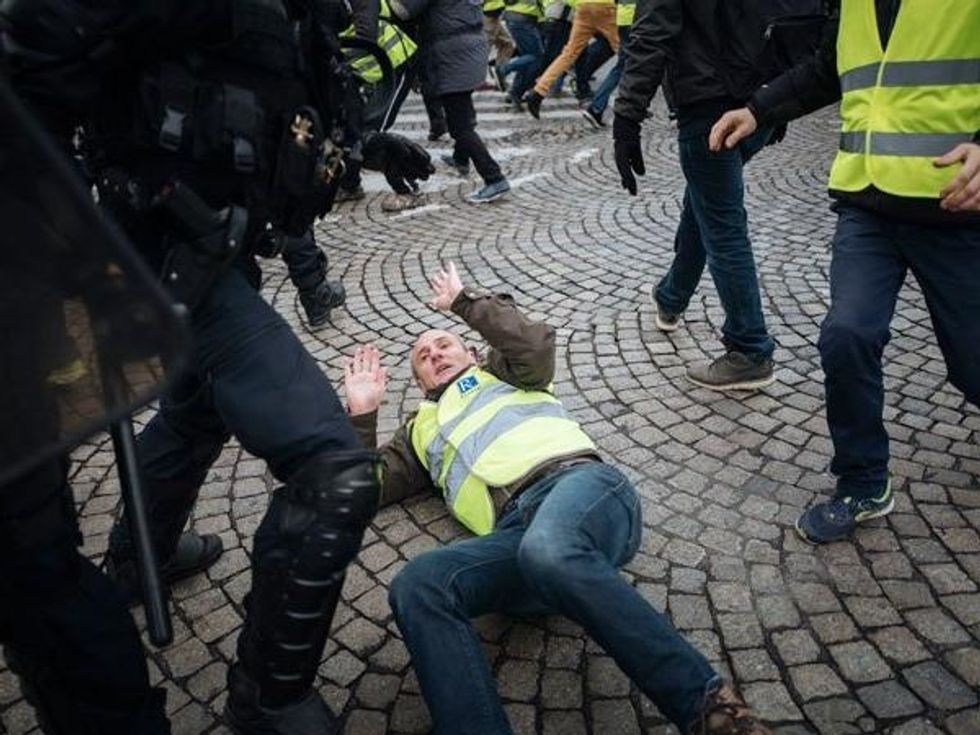 Times Now
But in many ways, the tax hike is only a capstone of social inequality that has frustrated citizens for too long. Florence, a 55-year-old demonstrator who works for a freight company outside Paris, expressed his motivations to The Guardian:

"We are here to protest against the government because of the rise in taxes [in general], not just petrol taxes, which is the straw that broke the camel's back. We've had enough. We have low salaries and pay too much tax and the combination is creating more and more poverty."
In response to public dissent, President Macron called an emergency security meeting on Sunday. His official statements have condemned the use of violence and defacement of national monuments. He said, "No cause justifies that authorities are attacked, that businesses are plundered, that passers-by or journalists are threatened or that the Arc du Triomphe is defiled." He also praised the emergency responders and French police, whom are seen below firing tear gas and water cannons at protesters, saying they've "showed unrelenting bravery throughout the day and evening."
French police fire teargas at 'gilets jaunes' protesters in Parisyoutu.be
Outside of France, Parisians' actions against inequality seem to have inspired copycat riots in Belgium. Famke Krumbmuller, head of a Paris-based political consultancy, noted the protests touched a familiar chord and sent reverberations throughout Western Europe. She told CNBC, "I guess what's specific to this movement is that it is relatively apolitical, so they (the protesters) are not from just one party on the left or right. They're white, middle-class people that are squeezed by the welfare state. They pay a lot of taxes but they don't get a lot of benefits in return."

Looking ahead, President Macron's asked Prime Minister Edouard Philippe to hold a meeting with leaders of France's political parties and representatives from the "Yellow Vest" movement in order to negotiate a return to peace. However, according to the French paper Le Télégramme, some members of the "collective" oppose a meeting, claiming, "The government is only looking for a communication plan and we do not want to be a puppet." Another representative of the group, Christophe Chalençon, actually looks forward to the meeting, where he plans on asking the Prime Minister to resign.
Meg Hanson is a Brooklyn-based writer, teacher, and jaywalker. Find Meg at her website and on Twitter @megsoyung.
After years of living wolf-free, sheep herders are being forced to deal with their old enemy once again.
The battle between wolves and farmers has been going on since the beginning of time, and has been largely uninterrupted over the course of American history. Unlike the U.S., Western Europe, over the course of the twentieth century, has hunted these predators to the point of near-extinction. In the past few years however, grey wolves have started mounting a comeback, particularly in the Aveyron region of France where shepherds have had to start dealing with the problem of wolves attacking their flocks once again. There are now estimated to be about 360 wolves in France spread over 42 different packs, up by about 20% since last year. Today's packs have reportedly crossed through the Italian Alps, but why the sudden migration?
In the ninth century, France created an organization of wolf hunters called the Luparii to help protect its farming community from grey wolves. The group finished its work in the 1930s, hunting the wolf to extinction. The prevailing belief is that the current lupine advance is due to rapid urbanization and that large scale movement out of rural areas has allowed southern France's forests to expand. There's also been a nearly 50% decline in hunting since the mid-twentieth century, giving wolves the ability to spread out into patches of land that once thundered with sound of hunting rifles.
This reemergence has sparked a minor political battle in France between ecologists, who believe the introduction of wolves to the region is good for the environment, and farmers whose sheep are being attacked. In response to the issue, Emmanuel Macron's government has decided to allow the wolf population to grow by 40% over the next five years, much to the chagrin of the sheep herders in the Pyrenees and the Alps. In order to curtail a massive jump in the wolf population however, hunters will be allowed to kill up to 10% of the wolf population every year (12% if attacks persist).
This may seem like a diplomatic solution on paper, but many farmers feel it to be a decidedly pro-wolf decision, voted for by city-dwellers who don't understand the full ramifications of allowing grey wolves to prowl around France's farmlands. Considering close to 10,000 sheep were killed over the course of 2016, these concerns seem to be legitimate. That said, farmers haven't taken this slight lying down, and have organized protests to demonstrate how damaging wolves are to their livelihoods. One such protest occurred in Lyon last year, when farmers took to the street with thousands of animals, each animal representing one that was killed by a wolf in 2017.
As it is, these farmers still have cause to be upset, as a small amount of culling authorities have permitted hasn't been enough to stem the tide of wolf attacks. In fact, certain local government officials have even suggested that children shouldn't walk outside alone because of the danger. It's tough to disagree with the farmers on principle–especially when one considers their farms, financial stability, and personal safety are all at risk–but there have been isolated incidents in which they've let their ire get the best of them. Manoel Atman, an activist who supports the reintroduction of wolves has had "rifles fired near his house" and has been "threatened with having [his] legs broken."
Unfortunately, getting the numbers right regarding just how many wolves to cull isn't exactly a science. Environmentalists in France are often mortified by the thought of controlled hunting while farmers would rather see the grey wolf completely eradicated. Though they've gone too far in certain cases, France's livestock raisers haven't been presented with many tenable solutions to this growing issue. Despite the French government giving financial aid to farmers so they can purchase sheep herding dogs and electric fences, attacks persist. Farmers have derided the idea of purchasing fences. As one sheep herder named Hugues Fanouillère put it, "Farming is not like running a wildlife park; we cannot keep our animals caged up like you might in a house or a zoo." Still, with the government committed to rehabilitating France's wolf population, it's unlikely that farmers will be presented with another option.
While the United States does
have thousands
of grey wolves, most of them live in Alaska and a few northern states, such as Minnesota and Michigan. Because of this, the problem of wolves being dangerous to the livestock business, while not unheard of in the U.S., is a uniquely European issue. Due to the United States' relative size, most of our
livestock production
occurs in states where there are little-to-no grey wolves. States like
Minnesota
cull their wolf populations on a need-to basis, but when one considers that France is only about the size of Texas, it becomes easier to see why authorities and farmers alike see the introduction of grey wolves into the French ecosystem as a hot button issue.
Since President Barack Obama first stepped into office, the American people were startled by a possibility that there didn't have to be a "Black America and White America," anymore, but just "the United States of America." According to New Yorker contributor, author, and associate professor at the University of Connecticut, Jelani Cobb, that was some promising presidential rhetoric, but overall, a lie. Anyone who's read the headlines or seen the news for the past few years can recognize that race relations are far from stable, and the U.S. is far from "united." With issues such as police violence, racial profiling, and the "Black Lives Matter" movement as our modern-day Civil Rights movement, the rift between black and white transcends skin color—it's also a matter of class, power, and the notion of our republic.

As a long-time ally of the United States, France has played an integral role in its development. France has had its share of race problems of its own, seen most prominently through the Algerian War (1954-1962) and lingering racism against people of North African descent that largely populate the banlieues, or suburbs. The war prompted a silence that was only sort of broken recently, by French president François Hollande, who acknowledged the war's brutality, but didn't really apologize. Immigration has always been a hotbed issue in France, but it is especially now more important in preparation for their 2017 presidential election. On the other hand, Americans have a little less time to figure out new policies as the "changing of the guards" is decided next week. Even so, Paris was (and still is) a destination for African-Americans. James Baldwin, Langston Hughes, and Ta-Nehisi Coates, all found inspiration on French turf.
You may know Coates as the National Book Award-winning author of Between the World and Me. But Coates has also had a history struggling to learn French, as he told us at the opening reception of Festival Albertine last night. He just returned from Paris after a year-long writing fellowship, and there, had various interactions with African-Americans. He used his research to help curate the 3rd annual festival of the famed French-English bookstore housed by the French Embassy in New York City.
During last night's gathering, we were among a room of French, American, White, Black, and more. Coates stood before us and explained the process of selecting his panel for the November 2nd discussion, When Will France Have Its Barack Obama? Joining Cobb on the panel was journalist Iris Derœux, and historians Pap Ndiaye and Benjamin Stora.
What first struck me about the title of this discussion was the use of the word, "when." It suggests that France will have a Barack Obama, and it's only a matter of time. But will France ever have a Barack Obama? The French perspective is so used to seeing White males in political positions that a Black president would seem revolutionary, but would it be more revolutionary than what happened in America?
Ndiaye recounted an anecdote of a modern iteration of W.E.B. Du Bois's theory of double-consciousness. As a Black French man from Paris, when people ask him where he's from, he always answers, logically, "I'm from Paris." But then there's always a follow-up question; "Where are you really from?" This implies that because of the color of his skin and the language that he speaks, people don't feel comfortable accepting him as a Parisian. He must therefore be from somewhere else.
Both France and the United States have had different forms of racism. Americans had slavery, the French had the Algerian war, and that's just two examples. But these major tragedies in world history do not come without aftershocks. Festival Albertine will explore race and identity in the modern age through a series of panels highlighting a number of artistic forms, including art, film, literature, and dance.
The festival runs through November 6th, 2016. For more information, click here. And if you can't make it to New York, all of the events are livestreamed to help spread the messages of these scholars, artists, and writers to people in the rest of the United States, in France, and beyond.
How the voting systems around the world differ from country to country
There are many different voting systems in the world that vary in large or small ways from one another. Here are some of the most popular, explained. These three systems make up the majority of the world's election processes and can be used for larger and smaller elections.

First, some vocab
Plurality: The Candidate with the most votes wins, doesn't need to be a majority.
Examples: United States, United Kingdom, Ethiopia, India, etc.
Two Round System: Similar to plurality but a winner needs the majority. If there is no majority in the first round of voting then there will be a second with the 2 leading candidates.
Examples: France, Iran, Mali, Vietnam, etc.
List Proportional Voting: Multi-winner system where political parties nominate candidates and electors vote for preferred party or candidate. The governmental seats are given to each party in proportion to the votes they receive.
Examples: Spain, Morocco, Russia, Brazil, Angola, etc.
A Deeper Look into Certain Election Processes

France
French Presidents serve for 5 year terms and are elected using a run off voting system which involves two rounds of elections. If someone doesn't win the majority in the first round then the top contenders run against each other in the second. France does not have a two party system and many different parties are represented in their 3 branches of government. This means that the French President could have a Prime Minister from another political party.
Both the financing and spending of French campaigns are highly regulated. All commercial advertisements are prohibited in the three months before the election. Political ads are aired for free but on an equal basis for each candidate on national television and radio. There are limits on donations and expenses that are regulated by an independent financial representative of the campaign.
United Kingdom
General elections are held every five years with a large number of elections across the UK. In 2015, six hundred and fifty people were elected into the House of Commons and this greatly changes the standing of the parties in the government. With three major parties there is no longer a two party system. These parties are the Conservative Party formerly know as the Tories, the Liberal Democrats formerly known as the Whigs, and the Labour Party who all make up the bulk of the government along with various independents.
The party that wins the majority of seats in the House of Commons in the general election becomes the leading party. The leader of the majority party is appointed Prime Minister by the Queen. The leader of the minority party is referred to as the leader of the opposition. The Prime Minister appoints the ministries and forms the government. There are moments where the system is adapted whether the Prime Minister calls for a special early election or there is no party with a majority in the House of Commons.
UK elections limit how much campaigns can spend during certain elections, but there is no price limit for donations. This is regulated by the Electoral Commission which is an independent regulatory body. All of the parties need to keep records for the independent audit. To ensure transparency the Electoral Commission publishes party spending returns online.
Russia
A presidential candidate can be nominated by a Russian political party or by a collection of signatures in support. Similar to France, Russia has many political parties that make up their government and there is also a two round voting system. The Presidential term is 6 years and though someone can hold many terms there can only be two consecutive terms at a time. There were protests and concerns over the legitimacy of past elections.
The main political party is the United Russia Party lead by Vladimir Putin and it holds 343 seats of the 450 possible seats in their governmental body, the Duma. Other parties are the Communist Party, the Liberal Democratic Party, A Just Russia, Civic Platform, and there are independents. Members of the Duma are elected for 5 year terms.
Though spending and broadcast time is monitored and regulated there are large loopholes for the party who is in control of public resources. Opposition parties need to fund from their own resources but United Russia uses official state-funded trips, positive news reporting, and other means to avoid using personal funds.