Dall-E Mini, the AI-powered text-to-image generator has taken over the internet. With its ability to render nearly anything your meme-loving heart desires, anyone can make their dreams come true.
DALL-E 2, a portmanteau of Salvador Dali, the surrealist and Wall-E, the Pixar robot, was created by OpenAI and is not widely available; it creates far cleaner imagery and was recently used to launch Cosmpolitan's first AI-generated cover. The art world has been one of the first industries to truly embrace AI.
The open-sourced miniature version is what's responsible for the memes. Programmer Boris Dayma wants to make AI more accessible; he built the Dall-E Mini program as part of a competition held by Google and an AI community called Hugging Face.
And with great technology, comes great memes. Typing a short phrase into Dall-E Mini will manifest 9 different amalgamations, theoretically shaping into reality the strange images you've conjured. Its popularity leads to too much traffic, often resulting in an error that can be fixed by refreshing the page or trying again later.
If you want to be a part of the creation of AI-powered engines, it all starts with code. CodeAcademy explains that Dall-E Mini is a seq2seq model, "typically used in natural language processing (NLP) for things like translation and conversational modeling." CodeAcademy's Text Generation course will teach you how to utilize seq2seq, but they also offer opportunities to learn 14+ coding languages at your own pace.
You can choose the Machine Learning Specialist career path if you want to become a Data Scientist who develops these types of programs, but you can also choose courses by language, subject (what is cybersecurity?) or even skill - build a website with HTML, CSS, and more.
CodeAcademy offers many classes for free as well as a free trial; it's an invaluable resource for giving people of all experience levels the fundamentals they need to build the world they want to see.
As for Dall-E Mini, while some have opted to create beauty, most have opted for memes. Here are some of the internet's favorites:
There's no looking back now, not once you've seen Pugachu; artificial intelligence is here to stay.
We need more Black films that aren't about pain
Sometime in the middle of June, seemingly overnight, bookmarks and highlights with titles like "Sharing Black stories" and "Celebrating Black Voices" emerged on streaming platforms.

While such branding efforts are usually reserved for Black History Month, these categories appeared as a response to the Black Lives Matter protests, which rippled through the industry in demands for more representation and recognition of Black people.
Streaming platforms responded by acquiring more Black content to feature prominently on their homepages, emphasizing their commitment to sharing and amplifying what they categorize as "Black Voices."
This seems like a good thing, a sign of progress. However, scrolling through the Black categories revealed more about Hollywood's gaze than about Black people — most of the showcased films could be separated into two categories: movies about slavery and movies about Civil Rights.
From Harriet and 12 Years a Slave to Selma or any other Martin Luther King biopic, most of the critically acclaimed films about "Blackness" seem to sensationalize Black suffering in order to offer a false sense of resolution and closure — as if racism began in slavery and ended with the March on Washington.
This false representation of Blackness in Hollywood perpetuates the idea that racism is a Black issue for Black people to deal with. It shows the horrors of slavery and Jim Crow eras as experiences of Black suffering, rather than white violence and complicity — all while cementing them in the past, where they can be ignored rather than confronted.
All this is at odds with the recent pushes for Americans to acknowledge how they are implicated in the country's deep-seated racist history.
Though film has the potential to excavate deep emotional truths about the current lives of Black folks, or imagine multiplicitous and dynamic futures, Hollywood is too obsessed with cataloguing Black trauma to realize that potential.
For film to truly be a resource for antiracism and an artform where everyone is represented, the powers that be in the academy need to reach beyond historical narratives and stereotypical caricatures and instead give their money and energy to new stories.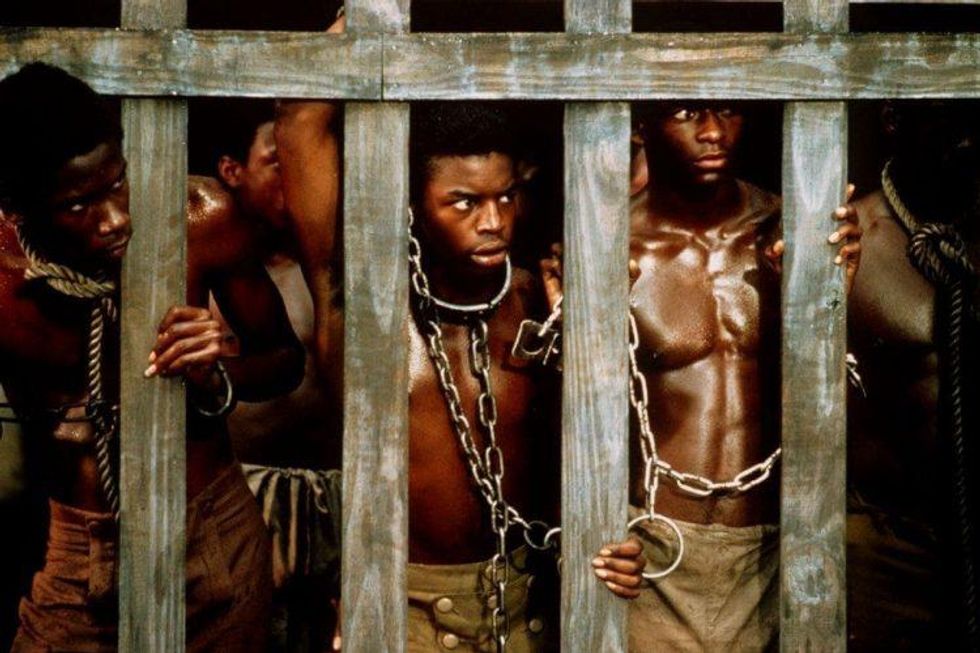 Roots
Voyeurism of Black Trauma

Sometimes I think there shouldn't have been any film about slavery after Roots.
The six-part, nine-hour mini series, based on Alex Haley's giant novel of the same name, premiered in 1977 and catalogued the cruelty endured by one slave, Kunta-Kinte, who refused to give up his name.
Though the story is iconic and a canonized part of the lexicon (often referenced in Black art and popular culture like multiple Kendrick Lamar songs), what is most famous about the movie adaptation are the scenes of violence — the whipping, the blood, the lacerations left on the skin.
In most film representations of enslaved people, there is a focus on the violence and cruelty experienced — from physical to sexual assault. While it is important to remember the intensity of the cruelty suffered under slavery, the Hollywood gaze often sensationalizes this violence, using it as plot or character development or to establish tropes. This creates a voyeuristic dynamic which is more objectifying than empowering.
Too often, this violence serves as a catalyst for some self-determined act of escape. Capitalizing on their anger, the enslaved person finally finds the strength to run away and free themselves. Not only is this narrative incredibly reductive of the psychological horrors of captivity (insinuating a kind of Kanye West-like philosophy), but it draws on actual pain and trauma in service of a contrived redemption story.
There is no worse offender than Quentin Tarantino's Django Unchained — a film which I firmly believe Tarantino wrote and directed just to cast himself vicariously saying the N-word even more times than he did in Pulp Fiction. A classic Tarantino revenge fantasy, the fact of slavery becomes the background and backstory to Tarantino's spectacle of blood, gore, and farce.
But there is no healing in this, no real redemption found in the execution of single characters without the confrontation of the institution. And yet, it's categorized as a "Black story" … not likely.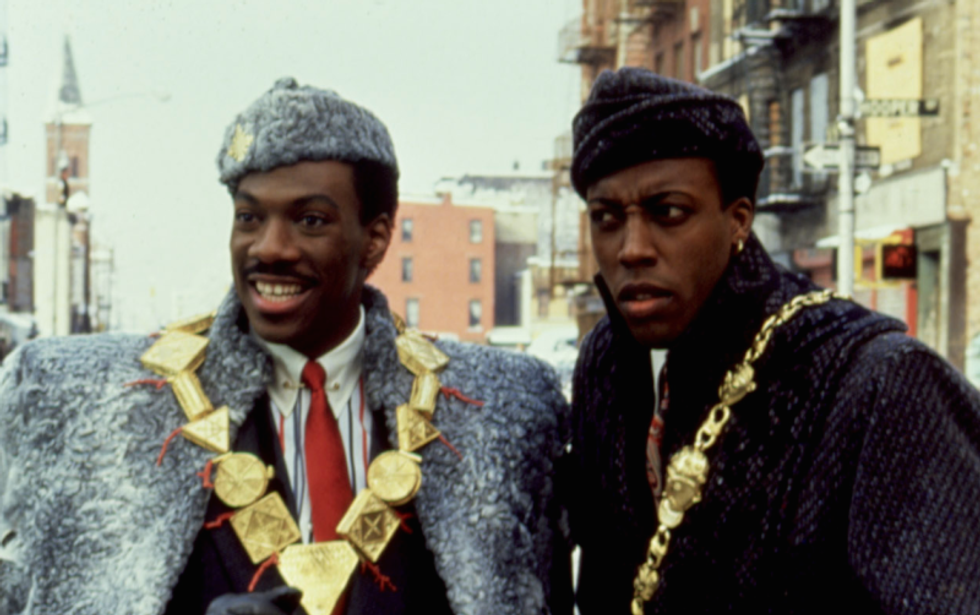 The Reign of Black Caricature

Most of the movies which fall outside of the slavery and civil rights categories still leave much to be desired: from biopics on famous athletes and musicians to outrageous slapstick comedies (like, White Chicks … really?), the leading roles Black people can play rest in pretty defined tropes.
For a while, in the late '80s to early-2000s, there was a high demand for Black, male comedians — largely attributed to the success of Eddie Murphy on SNL from 1980-1984, which paved the way for Chris Rock, the Wayans Brothers, and Keenan and Kel, amongst others.
However, while white male comedians could exist in a range of styles and did not all follow the same formula, the same was not true for Black comedians. When it comes to Black actors, often what works once is all that networks will invest in — so everybody had to be Eddie Murphy.
What ensued was a generation of comedy movies built on over-the-top caricatures of Blackness which now find themselves in these "Black Voices" categories; meanwhile, the creative vision behind the reductive characters are likely the work of white Hollywood executives, pumping out repetitive content they knew would sell.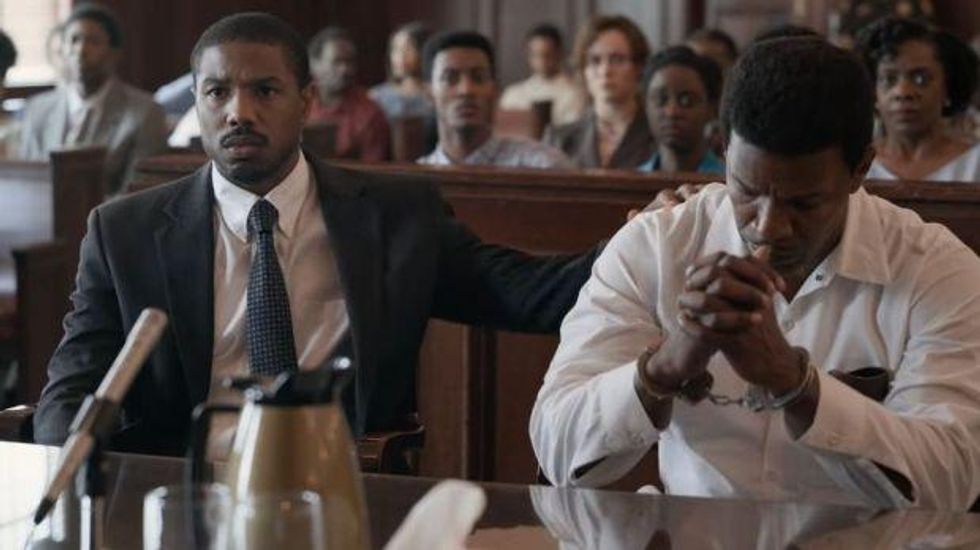 The New Age: Prison Movies

The recent attention to the atrocity of the prison industrial complex, especially after the success of the book The New Jim Crow and Ava DuVernay's documentary 13th, has spawned a new genre of Black trauma film: wrongful incarceration films.
In the last few years alone, there have been multiple adaptations of true-story accounts of Black men who were wrongfully imprisoned, then fought to prove their innocence.
From Just Mercy, starring Michael B. Jordan as Bryan Stevenson, the prominent lawyer and prison activist at the Equal Justice Initiative, to Brian Banks about the story of the former football player who was freed by the Innocence Project, these accounts are powerful, but they feel reiterative of the same tropes: Black man who finds his freedom through self-determination.
They also hinge too heavily on carceral tropes of guilty-versus-innocent instead of interrogating the project of prisons at large. Hollywood, in this way, likes to claim the label of righteousness and activism, while not really moving towards radical change.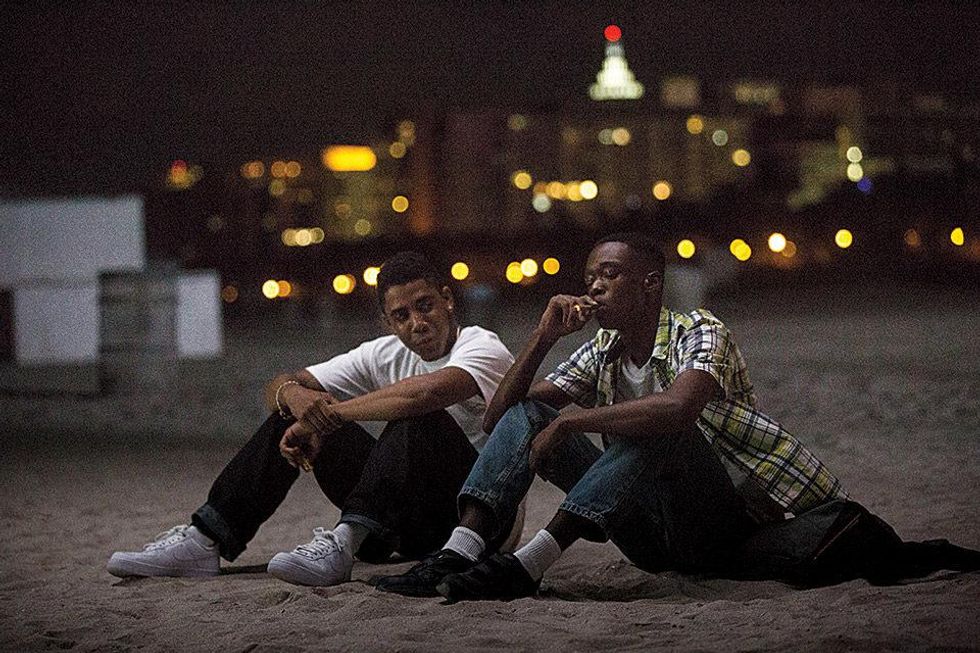 Academy Award winner, Moonlight, ushered in a new era in avant garde Black cinema
A Black Renaissance

The past few years, however, have been a sort of renaissance of Black storytelling in Hollywood.
The rise of Black-run production agencies like Lena Waithe's Hillman Grad Productions and Issa Rae's Hoorae Production Company has shown what a difference it makes when Black creatives are empowered both in front of and behind the camera.
With more Black people behind the camera, Black artists with unique viewpoints and more nuanced stories are now more likely to work with executives who understand them, and know how to support them.
In the past few years, the fruits of this renaissance have made big moves in the box office and at award shows. Films like Barry Jenkins's Moonlight and Jordan Peele's Get Out have become cultural staples, and major blockbusters like Black Panther have shown the buying power of Black audiences.
No more do Black stories have to fall into restrictive categories. No more are Denzel Washington and Will Smith the only ones who get cast in challenging, complex roles. New Black movies are more exploratory and expansive than ever — whether it's Beyonce's afrofuturist take on the Lion King in Black Is King or the upcoming intimacy of Malcom & Marie.
For true representation, Black movies cannot depend on the same canned narratives any longer, and Black people can't be the only ones watching them. Hollywood just needs to put faith in different narratives and trust that our stories are worth hearing.
Keep reading...
Show less
Howard Kurtz is equally tired of Republicans trying to stage a coup and of Democrats getting mad about it.
On Wednesday morning, Fox News host Howard Kurtz took to Twitter to let the world know that both sides are bad in the most hilarious attempt at false equivalency in modern memory.

Host of the Fox News show Media Buzz, Kurtz recognizes the dangerous game the Trump administration is playing. By blocking President-Elect Joe Biden and his team from transitional access to the workings of the federal government, they are threatening the stability of America's institutions.
A smooth transition of power is essential. And people like Secretary of State Mike Pompeo and General Services Administrator Emily W. Murphy are flouting that important process.

Sec. of State Mike Pompeo: 'There will be a smooth transition to a second Trump administration' www.youtube.com
In order to prop up Donald Trump's continued denial of the fact that he lost the election, they are refusing access to Biden's team. Pompeo even mocked a reporter's question on the issue in a press conference on Tuesday, remarking that there would be "a smooth transition to a second Trump administration."
In case there is any uncertainty, it should be noted that Joe Biden unequivocally won the election, and the only way to achieve a "second Trump administration" would be through a coup.

Read: Joe Biden Has Officially Won the 2020 Presidential Election—Now How Do We Get Rid of Donald Trump?
But Kurtz knows that this issue—like every issue in American politics—cannot possibly be one-sided. That's why he identified the major culprit on the other side of the aisle: Sister Act star Whoopi Goldberg.
One of the hosts of ABC's daytime talk show The View, Goldberg had a message on Monday for any of Donald Trump's supporters who are still in denial about the election's clear outcome. Addressing the camera directly, the comedian and actor told them to "suck it up."
"Hillary Clinton didn't say, 'Hey, wait a minute, this doesn't feel right, stop the count.' She didn't say, 'This doesn't feel right, I'm not going for it.' She didn't say any of that. So all of you, suck it up. Suck it up like we sucked it up."
From Trump's GSA barring Biden transition officials from federal buildings to Whoopi Goldberg telling his voters to… https://t.co/musEsjBXz1

— HowardKurtz (@HowardKurtz) 1605097229.0
Of course many Trump supporters would no doubt take issue with the idea that a three-year investigation into electoral misconduct—resulting in dozens of indictments and guilty pleas, including several figures from within the Trump campaign—was "sucking it up."

But Whoopi left room for them to pursue the same approach with Biden, saying, "If the law says it's something to look at, look at it." It's just that first they have to acknowledge the reality of the election results.
They have to stop clinging to phony claims of fraud and stories about election observers being excluded. They have to accept the election results and admit that Joe Biden and Kamala Harris won.
Still, Howard Kurtz felt that Goldberg—the woman who allowed Patrick Swayze to possess her so he could dance with Demi Moore in Ghost—had overstepped the bounds of her sacred duty. Pushing voters to accept the outcome of a democratic election is apparently out of line.
And who has a responsibility to remain politically impartial more so than the star of 1995's classic Theodore Rex—a movie about a dinosaur who is also a cop?
It was Howard Kurtz's own tweet promoting a column he wrote on "both sides" of the election dispute that highlighted the supposed parallel between Whoopi Goldberg and top Trump administration officials. But when "Whoopi Goldberg" became a trending topic on Twitter—with users mocking his comparison—Kurtz pushed back, saying in another tweet, "Gee, I'd really prefer people react to the whole column about anger and payback on both sides."
ah yes, the famous two sides, "the president of the United States" and "Whoopi Goldberg" https://t.co/DiQoOoz6OW

— Albert Burneko (@Albert Burneko) 1605106033.0
Leaving aside the fact that he chose those ridiculous examples to put in his original tweet, reading the full column doesn't make it much better.

Kurtz draws absurdly stretched comparisons throughout. He likens comments from a former Obama and DNC spokesperson to the actions of two sitting senators.
The former spokesperson, Hari Sevugan, recently called for Trump staffers to be held accountable for assisting in an attempted coup—for employers to shun them. On the other side, the two sitting senators from Georgia have called for the resignation of Georgia's secretary of state just for acknowledging that Joe Biden won the state through legal votes.
Never mind the strangeness of placing a man who no longer speaks for any political institution on the level of two of the nation's top legislators. While it's worth noting that they're obviously in different leagues, the reality is that they aren't even playing the same game.

Because Senators Perdue and Loeffler—who both face contentious run-off elections in January—weren't weren't criticizing the other side. They were attacking a fellow Republican simply for not supporting the president's delusional belief that he somehow won an election he clearly lost.
Kurtz's only other example of a Left-wing attack is a political commentator who hasn't been on MSNBC since 2015. Touré wished ill on Trump supporters for voting "against America and for a cult leader who has no redeeming or admirable qualities."
As for the Right-wing, Kurtz points to Attorney General Bill Barr, who has taken the unprecedented step of involving the Justice Department in what is technically an ongoing election. Before a winner is officially certified, Barr has approved investigators to pursue claims of election fraud.
There is, of course, no reason not to be vigilant in these matters. Investigators should pursue any legitimate allegation in an unbiased manner.
But at the moment there are no legitimate allegations—just a series of flimsy excuses. And Barr has spent his entire tenure as AG making it clear that his Justice Department is anything but unbiased. He works directly for Donald Trump. Which is presumably why Barr's latest move prompted the department's election crimes chief to resign this week.
With Bill Barr's newly issued 'Election Interference' memo, apparent we have a second Barr policy to add to the OLC… https://t.co/7ZcqQqsPBH

— Glenn Kirschner (@Glenn Kirschner) 1605044639.0
So, no, there is no "both sides" in the election dispute. Joe Biden won the election, and Donald Trump is using his power and his supplicating cronies in an effort to undermine the democratic result.

On the Left, media figures of varying stature are being rude and pushing Trump supporters to accept reality. On the Right, people with real power are supporting an attempted coup that strikes at the heart of American democracy–and attacking those who don't as apostates.
As is so often the case with efforts to find blame on "both sides," Kurtz is trying to provide cover for Republicans' blatant misconduct by dredging up petty gripes with the Democrats.
The reality is: Democrats and Republicans are not equivalent. In terms of corruption, deceptive rhetoric, and blind party loyalty, the Democrats are horribly outmatched. Kurtz's pathetic attempt to make it seem otherwise only serves to make that more clear.
Keep reading...
Show less
Totally Under Control is premiering on Netflix at a moment when it's revelations about the Trump administration have serious potential to change minds.

In the lead-up to a presidential election in the US, there is always a rush among authors and documentarians to share a perspective on one candidate or the other.
Whether they're driven by pure opportunism—making a cash grab amid the nation's political fervor—or by a sense of moral duty to expose important truths to the voting public, there is always a question of whether these efforts can really make a difference in an election's outcome.
Of course, the reality is that the audience for these exposés is predetermined. In our increasingly polarized political climate, most people have their trusted sources of information, and it's rare for any of these books or films to preach their messages to anyone who is not already a member of the choir.
From Bob Woodward's recent book Rage to Peter Schweizer and Steve Bannon's hit Clinton Cash, these projects promise to shift our system's razor-thin margins in one direction or the other, but tend to generate more headlines than they do changed votes.
With that said, 2020 has been an exceptional year, and Totally Under Control may prove to be an exceptional case.
TOTALLY UNDER CONTROL | Official Trailer HD www.youtube.com
Written by Alex Gibney (The Inventor, Going Clear)—and directed by Gibney alongside Ophelia Harutyunyan and Suzanne Hillinger—Totally Under Control was produced in secret over the course of five months, and is set for release on Netflix on October 13.

It tells the story of the Trump administration's gross mishandling of the novel coronavirus pandemic, pieced together from a blend of publicly available information as well as interviews with administration insiders.
Critics who have been allowed early access to the film have lauded its sober and authoritative presentation of events, but that's beside the point. Will it actually change anyone's mind?
Generally speaking, Totally Under Control seems like the kind of politically motivated film that—however truthful—would be handily dismissed by Trump supporters as "fake news." At any other time, it would be foolish to expect anyone who didn't already despise the president to even watch the movie.
But in the last week, something happened that has managed to shock some of the president's less devoted followers when even the death toll of over 210,000 Americans could not: Donald Trump tested positive for COVID-19.
At 74 years old, and well above what's considered a healthy weight, Donald Trump is in one of the highest risk groups for the COVID-19. The fatality rate for men in President Trump's age range is over 5%—compared to less than 1% for the general population—yet he seemed to be taking few precautions to avoid exposure to the virus.
Through last Thursday—when the president reportedly received his first positive test—he continued holding a mix of indoor and outdoor fundraisers and rallies where crowds were packed tightly together and facemasks were a rarity, and reportedly he even scolded advisors for wearing masks inside the White House.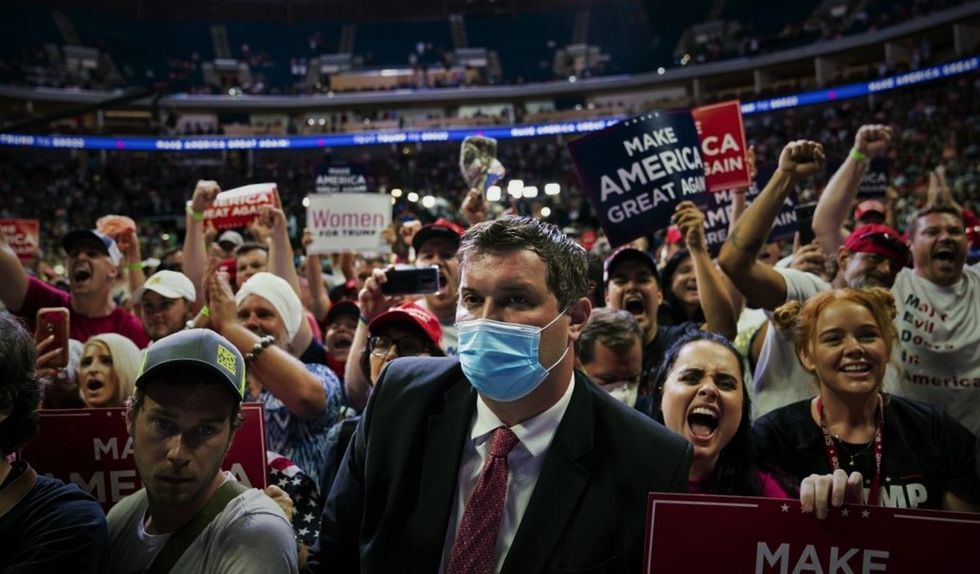 These habits have contributed to a sense among the president's supporters that concerns over the virus were overblown, and that the precautionary measures advocated by medical authorities were unnecessary. "It's a hoax," said his supporters. "It's no worse than the flu," "I'll wear a mask if I feel sick," and so on.

But then came the revelation that the president's lax attitude had finally produced its inevitable consequence. Currently at least 34 people with close connections to the White House have been confirmed as infected. And some steadfast supporters may finally be questioning the president's approach to the coronavirus crisis.
According to a morning consult poll taken in the days after the news broke, 48% of Republican respondents described themselves as either somewhat or very surprised by the news, compared to just 37% of Democrats. And 63% of voters—including 35% of Republican respondents—said that Trump did not take proper precautions to protect himself from the virus.
While that number should be a great deal higher, it represents a surprising share of the party that has remained consistently loyal to the president. Trump's approval among Republicans has remained in the mid-to-high 80s throughout his tenure. Even when the topic was narrowed specifically to the president's handling of the coronavirus pandemic, 80% of Republicans voiced their approval as of mid-September.
Does this mean that this 35% of Republicans may be open to new perspectives on Donald Trump's handling of the crisis? Will they be willing to take the message of Totally Under Control seriously?
That depends largely on how successful Donald Trump is at controlling the story. He has already taken some big, potentially risky moves in an effort to assuage his voters' fears—downplaying the severity of his case, going for a highly criticized drive among his fans, returning to the White House to finish his treatment and pose for staged photos, and touting an experimental antibody treatment as "a cure" which he has promised to make available for free to every American (a prospect which is likely impossible).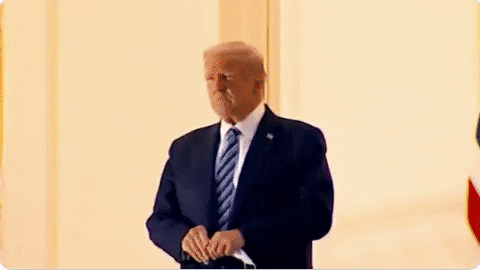 If these and other measures are enough to solidify the narrative that Trump has quickly recovered from a severe viral infection, and that the pandemic will soon be handled, then it's unlikely that Totally Under Control will make much of a difference at all.

But if, by next Tuesday, recent uncertainty and skepticism remain in effect and people who would otherwise be resistant to this kind of exposé are desperate for a peak behind the curtain, this documentary has the potential to grab the country's attention and maybe even persuade a significant percentage of voters who would otherwise have ignored it.
For the time being, the race remains tight, and Donald Trump's underhanded tactics have the potential to erase Joe Biden's narrow lead in key states. But if enough people see what administration insiders have to say about Trump's chaotic and deadly approach to the COVID-19 pandemic, the balance could shift solidly to a Democratic victory.
Only time will tell.
Keep reading...
Show less