"A tree is best measured when it is down," the poet Carl Sandburg once observed, "and so it is with people." The recent death of Harry Belafonte at the age of 96 has prompted many assessments of what this pioneering singer-actor-activist accomplished in a long and fruitful life.
Belafonte's career as a ground-breaking entertainer brought him substantial wealth and fame; according to Playbill magazine, "By 1959, he was the highest paid Black entertainer in the industry, appearing in raucously successful engagements in Las Vegas, New York, and Los Angeles." He scored on Broadway, winning a 1954 Tony for Best Featured Actor in a Musical – John Murray Anderson's Almanac. Belafonte was the first Black person to win the prestigious award. A 1960 television special, "Tonight with Belafonte," brought him an Emmy for Outstanding Performance in a Variety or Musical Program or Series, making him the first Black person to win that award. He found equal success in the recording studio, bringing Calypso music to the masses via such hits as "Day-O (The Banana Boat Song)" and "Jamaica Farewell."
Harry Belafonte - Day-O (The Banana Boat Song) (Live)www.youtube.com
Belafonte's blockbuster stardom is all the more remarkable for happening in a world plagued by virulent systemic racism. Though he never stopped performing, by the early 1960s he'd shifted his energies to the nascent Civil Right movement. He was a friend and adviser to the Reverend Doctor Martin Luther King, Jr. and, as the New York Times stated, Belafonte "put up much of the seed money to help start the Student Nonviolent Coordinating Committee and was one of the principal fund-raisers for that organization and Dr. King's Southern Christian Leadership Conference."
The Southern Poverty Law Center notes that "he helped launch one of Mississippi's first voter registration drives and provided funding for the Freedom Riders. His activism extended beyond the U.S. as he fought against apartheid alongside Nelson Mandela and Miriam Makeba, campaigned for Mandela's release from prison, and advocated for famine relief in Africa." And in 1987, he received an appointment to UNICEF as a goodwill ambassador.
Over a career spanning more than seventy years, Belafonte brought joy to millions of people. He also did something that is, perhaps, even greater: he fostered the hope that a better world for all could be created. And, by his example, demonstrated how we might go about bringing that world into existence.
The AMPTP and SAG-AFTRA have reached an interim agreement. Here's what that means for TV and movies
Christmas has arrived early! The SAG-AFTRA strike is finally over after 118 days — making it the longest actor's strike in history. After a summer spent picketing and pleading with studios, actors are back to work as of 12:01 am Thursday, November 9th. Here's what that means for them, for us, and for film and TV in general.
When did the actor's strike end?
After two weeks of arduous negotiating, SAG-AFTRA voted unanimously to approve the new deal laid out by the studios. Details are emerging slowly about the exact terms of the deal but the headline is this: it's looking good for actors, and great for movie-goers.
The SAG-AFTRA statement read:
"In a contract valued at over one billion dollars, we have achieved a deal of extraordinary scope that includes "above-pattern" minimum compensation increases, unprecedented provisions for consent and compensation that will protect members from the threat of AI, and for the first time establishes a streaming participation bonus. Our Pension & Health caps have been substantially raised, which will bring much-needed value to our plans. In addition, the deal includes numerous improvements for multiple categories including outsize compensation increases for background performers, and critical contract provisions protecting diverse communities."
Items on the original list of grievances included: the use of AI, actors' compensation and residuals, healthcare and other union benefits, and more. We can assume that most of these were addressed in the deal. Like the WGA strike of the summer, which lasted 143 days, actors can hope to see some fundamental changes in the business — hopefully for the better.
A parade of press tours
One thing we've missed during the strike? Press tours. Martin Scorcese - coming off a recent wave of TikTok fame thanks to his daughter - carried out a heroic press tour of one for Killer of the Flower Moon and the few films that received waivers had to feed our thirst for magazine interviews and red carpets. The cast of Priscilla and The Iron Claw … we thank you for your service.
But now, everyone is back to work. After saying no to events, awards, and press junkets, actors have to get back in front of the cameras and beg us to go watch their movies — balance is restored.
We can expect business as usual to return as soon as this Saturday when Timothee Chalamet is hosting SNL. While Dune: Part Two got pushed back, he still has Wonka to promote. Godspeed, Timmy.
Other films coming out soon might have to scramble to put together some sort of press. Titles we're expecting by the end of the year include The Hunger Games: The Ballad of Songbirds and Snakes, Trolls, Napoleon, Anyone But You, The Boys In The Boat, Saltburn, Eileen, Ferrari, The Color Purple, and more.
What movies and TV shows are filming now?
I'm sure many actors got calls summoning them back to the studio ASAP! Studios are prioritizing films with an original release date of early 2024, hoping to get them out in time. For example, It Ends With Us, the adaptation of the global Colleen Hoover hit is slated for February 2024. Can Blake Lively and Justin Baldoni pull it off? We'll see.
Other high-priority films include a whole lotta sequels. Marvel Studios/Disney's Deadpool 3 starring Ryan Reynolds and Hugh Jackman as Wolverine, directed by Shawn Levy was around half complete when the strike began. Paramount has been thinking about the Roman Empire as they anxiously await to finish Gladiator 2 over in Europe, while Warner Bros' Tim Burton-directed Beetlejuice 2 just needs two days on set to wrap things up (allegedly). Clint Eastwood's Juror No. 2 is another one hoping to wrap up soon with around a dozen days left. Then, there's Sony's Venom 3 for all the Spiderman/Tom Hardy lovers.
Needless to say, Hollywood's gonna be busy.
What movies and TV shows will still be delayed?
Though the strike ending is great news for all, some films and TV shows have already been pushed back longer than we can take. Dune: Part Two won't hit cinemas until March 2024, Zendaya's Challengers with Mike Faist and Josh O'Connor won't bless us until April 2026 and The White Lotus Season 3 won't even be back until 2025. Other delays include Aaron Taylor-Johnson's Kraven the Hunter and the next Spider-Verse movie. Stranger Things has even said they'll have to use technology to make the actors look younger in the final season, which we likely won't see until 2027. Wake me up when that's finally out.
"Obviously, we'd like to try to preserve a summer of films," Bob Iger of Disney told CNBC earlier in the negotiation cycle. "The entire industry is focused on that. We don't have much time to do that."
Despite the delays, what SAG-AFTRA leaves us with is hope. The statement said: "We have arrived at a contract that will enable SAG-AFTRA members from every category to build sustainable careers. Many thousands of performers now and into the future will benefit from this work."
Solidarity with all workers!
We need more Black films that aren't about pain
Sometime in the middle of June, seemingly overnight, bookmarks and highlights with titles like "Sharing Black stories" and "Celebrating Black Voices" emerged on streaming platforms.

While such branding efforts are usually reserved for Black History Month, these categories appeared as a response to the Black Lives Matter protests, which rippled through the industry in demands for more representation and recognition of Black people.
Streaming platforms responded by acquiring more Black content to feature prominently on their homepages, emphasizing their commitment to sharing and amplifying what they categorize as "Black Voices."
This seems like a good thing, a sign of progress. However, scrolling through the Black categories revealed more about Hollywood's gaze than about Black people — most of the showcased films could be separated into two categories: movies about slavery and movies about Civil Rights.
From Harriet and 12 Years a Slave to Selma or any other Martin Luther King biopic, most of the critically acclaimed films about "Blackness" seem to sensationalize Black suffering in order to offer a false sense of resolution and closure — as if racism began in slavery and ended with the March on Washington.
This false representation of Blackness in Hollywood perpetuates the idea that racism is a Black issue for Black people to deal with. It shows the horrors of slavery and Jim Crow eras as experiences of Black suffering, rather than white violence and complicity — all while cementing them in the past, where they can be ignored rather than confronted.
All this is at odds with the recent pushes for Americans to acknowledge how they are implicated in the country's deep-seated racist history.
Though film has the potential to excavate deep emotional truths about the current lives of Black folks, or imagine multiplicitous and dynamic futures, Hollywood is too obsessed with cataloguing Black trauma to realize that potential.
For film to truly be a resource for antiracism and an artform where everyone is represented, the powers that be in the academy need to reach beyond historical narratives and stereotypical caricatures and instead give their money and energy to new stories.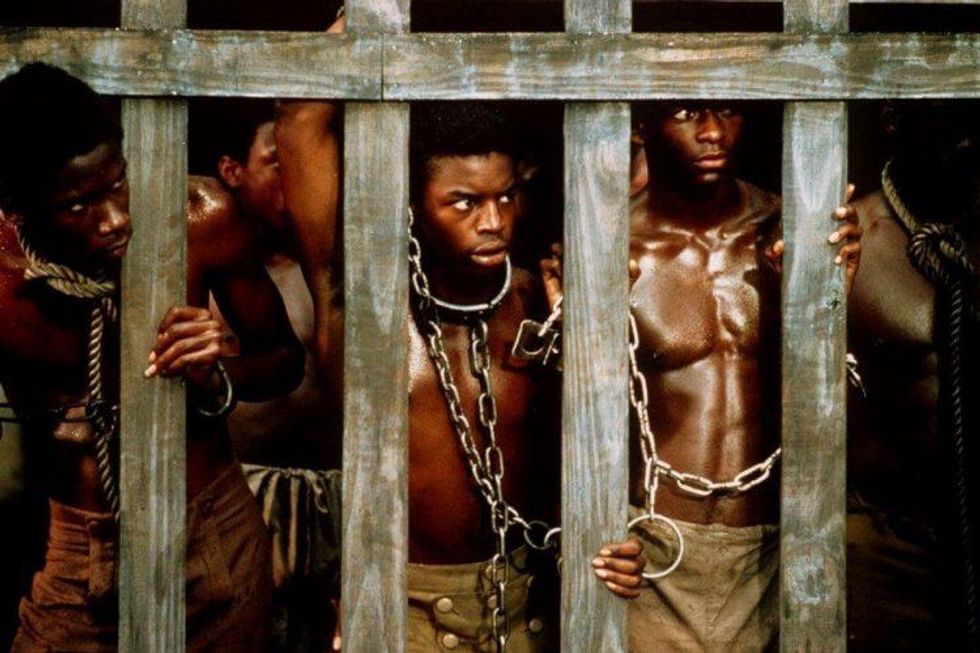 Roots
Voyeurism of Black Trauma

Sometimes I think there shouldn't have been any film about slavery after Roots.
The six-part, nine-hour mini series, based on Alex Haley's giant novel of the same name, premiered in 1977 and catalogued the cruelty endured by one slave, Kunta-Kinte, who refused to give up his name.
Though the story is iconic and a canonized part of the lexicon (often referenced in Black art and popular culture like multiple Kendrick Lamar songs), what is most famous about the movie adaptation are the scenes of violence — the whipping, the blood, the lacerations left on the skin.
In most film representations of enslaved people, there is a focus on the violence and cruelty experienced — from physical to sexual assault. While it is important to remember the intensity of the cruelty suffered under slavery, the Hollywood gaze often sensationalizes this violence, using it as plot or character development or to establish tropes. This creates a voyeuristic dynamic which is more objectifying than empowering.
Too often, this violence serves as a catalyst for some self-determined act of escape. Capitalizing on their anger, the enslaved person finally finds the strength to run away and free themselves. Not only is this narrative incredibly reductive of the psychological horrors of captivity (insinuating a kind of Kanye West-like philosophy), but it draws on actual pain and trauma in service of a contrived redemption story.
There is no worse offender than Quentin Tarantino's Django Unchained — a film which I firmly believe Tarantino wrote and directed just to cast himself vicariously saying the N-word even more times than he did in Pulp Fiction. A classic Tarantino revenge fantasy, the fact of slavery becomes the background and backstory to Tarantino's spectacle of blood, gore, and farce.
But there is no healing in this, no real redemption found in the execution of single characters without the confrontation of the institution. And yet, it's categorized as a "Black story" … not likely.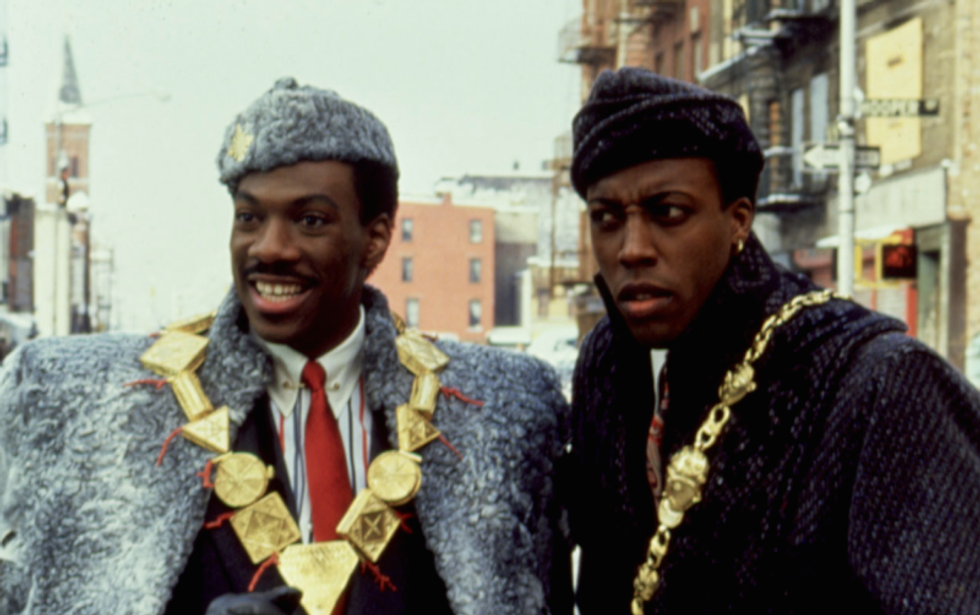 The Reign of Black Caricature

Most of the movies which fall outside of the slavery and civil rights categories still leave much to be desired: from biopics on famous athletes and musicians to outrageous slapstick comedies (like, White Chicks … really?), the leading roles Black people can play rest in pretty defined tropes.
For a while, in the late '80s to early-2000s, there was a high demand for Black, male comedians — largely attributed to the success of Eddie Murphy on SNL from 1980-1984, which paved the way for Chris Rock, the Wayans Brothers, and Keenan and Kel, amongst others.
However, while white male comedians could exist in a range of styles and did not all follow the same formula, the same was not true for Black comedians. When it comes to Black actors, often what works once is all that networks will invest in — so everybody had to be Eddie Murphy.
What ensued was a generation of comedy movies built on over-the-top caricatures of Blackness which now find themselves in these "Black Voices" categories; meanwhile, the creative vision behind the reductive characters are likely the work of white Hollywood executives, pumping out repetitive content they knew would sell.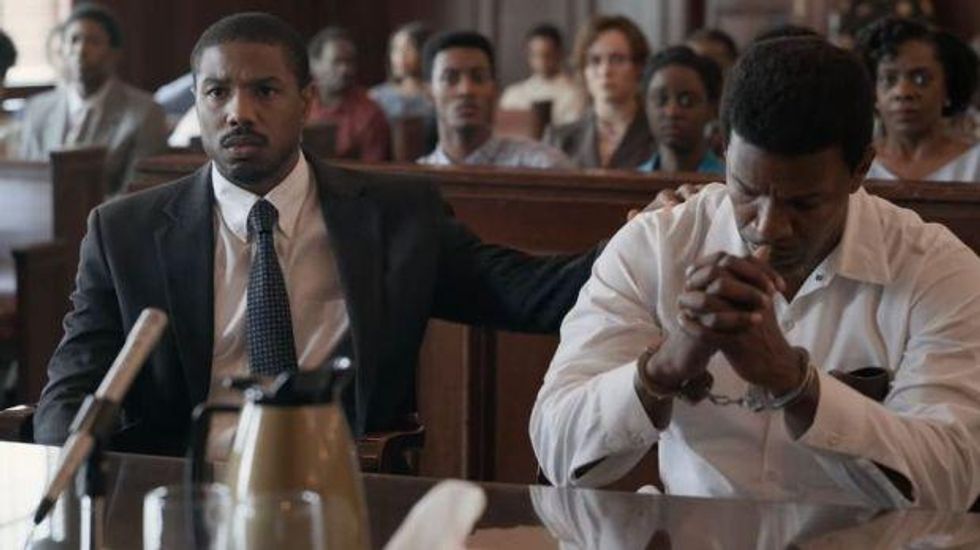 The New Age: Prison Movies

The recent attention to the atrocity of the prison industrial complex, especially after the success of the book The New Jim Crow and Ava DuVernay's documentary 13th, has spawned a new genre of Black trauma film: wrongful incarceration films.
In the last few years alone, there have been multiple adaptations of true-story accounts of Black men who were wrongfully imprisoned, then fought to prove their innocence.
From Just Mercy, starring Michael B. Jordan as Bryan Stevenson, the prominent lawyer and prison activist at the Equal Justice Initiative, to Brian Banks about the story of the former football player who was freed by the Innocence Project, these accounts are powerful, but they feel reiterative of the same tropes: Black man who finds his freedom through self-determination.
They also hinge too heavily on carceral tropes of guilty-versus-innocent instead of interrogating the project of prisons at large. Hollywood, in this way, likes to claim the label of righteousness and activism, while not really moving towards radical change.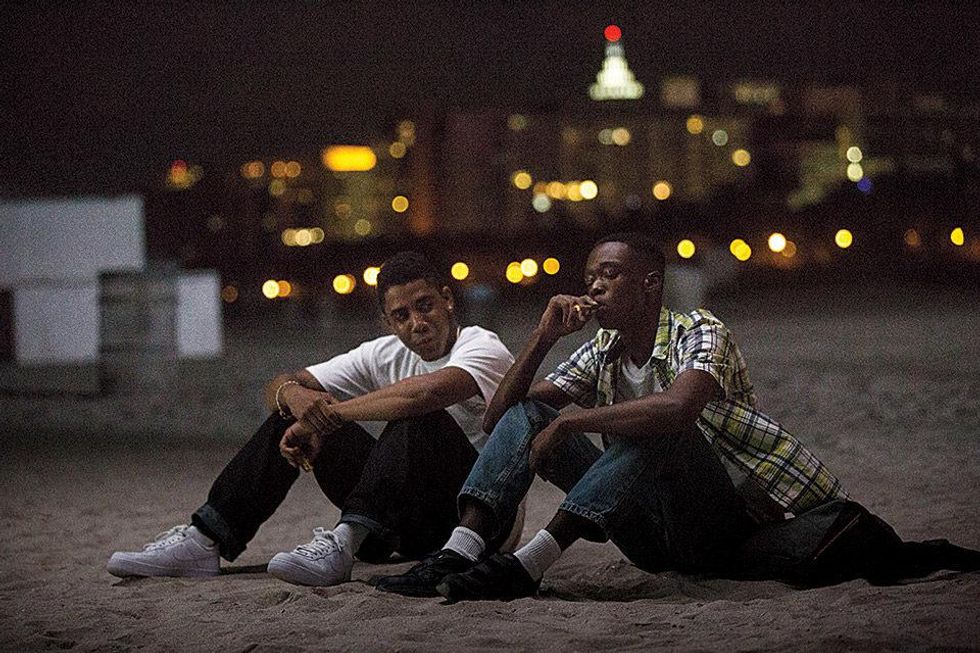 Academy Award winner, Moonlight, ushered in a new era in avant garde Black cinema
A Black Renaissance

The past few years, however, have been a sort of renaissance of Black storytelling in Hollywood.
The rise of Black-run production agencies like Lena Waithe's Hillman Grad Productions and Issa Rae's Hoorae Production Company has shown what a difference it makes when Black creatives are empowered both in front of and behind the camera.
With more Black people behind the camera, Black artists with unique viewpoints and more nuanced stories are now more likely to work with executives who understand them, and know how to support them.
In the past few years, the fruits of this renaissance have made big moves in the box office and at award shows. Films like Barry Jenkins's Moonlight and Jordan Peele's Get Out have become cultural staples, and major blockbusters like Black Panther have shown the buying power of Black audiences.
No more do Black stories have to fall into restrictive categories. No more are Denzel Washington and Will Smith the only ones who get cast in challenging, complex roles. New Black movies are more exploratory and expansive than ever — whether it's Beyonce's afrofuturist take on the Lion King in Black Is King or the upcoming intimacy of Malcom & Marie.
For true representation, Black movies cannot depend on the same canned narratives any longer, and Black people can't be the only ones watching them. Hollywood just needs to put faith in different narratives and trust that our stories are worth hearing.