Pogues frontman Shane McGowan was an ancient 65 when he died on November 30. Television producer Norman Lear was a youthful 101 when he left this realm on December 5. No doubt his zest for life kept him going for so long – and his zest for controversy.
Norman Lear's work was an integral part of American life in the second half of the 20th Century. Television programs like Maude, Sanford and Son, and The Jeffersons dragged television out of the 1950s and into the real world. As Variety states: "Lear's shows were the first to address the serious political, cultural and social flashpoints of the day – racism, abortion, feminism, homosexuality, the Vietnam war – by working pointed new wrinkles into the standard domestic comedy formula. No subject was taboo: Two 1977 episodes of All in the Family revolved around the attempted rape of lead character Archie Bunker's wife Edith."
All in the Family, which ran on CBS from 1971 to 1979, typified the clash of generations. Middle-aged bigot Archie Bunker – played by Carrol O'Connor – was a right-wing King Lear in Queens, raging at the radical changes in society. Archie didn't let ignorance get in the way of his opinions; once he argued that people who lived in communes were communists. The thing is, the old dog was actually capable of learning new tricks. Archie never evolved into any kind of saint. But over the nine seasons "Family" aired, experience taught Archie the benefits of listening to (and respecting) viewpoints far different from his own.
All in the Family was the jewel in Lear's crown, but don't forget the highly popular shows One Day at a Time (which featured Bonnie Franklin as a divorcee raising two daughters in the Midwest) and Mary Hartman, Mary Hartman (with Louise Lasser as the titular figure in a parody of soap opera conventions). Good or bad, Lear's work was never indifferent.
More recently, you may have heard about Lear's lively activism. His TV shows were themselves arguments for free and unfettered speech, and Lear supported a slate of liberal causes. In 1981 he founded People for the American Way. The organization's website describes the ways that PFAW has "engaged cultural and community leaders and individual activists in campaigns promoting freedom of expression, civic engagement, fair courts, and legal and lived equality for LGBTQ people."
Lear's life was a long and fulfilling one. In 1978 he was given the first of two Peabody Awards, the most prestigious award in television. "To Norman Lear," it reads, "...for giving us comedy with a social conscience. He uses humor to give us a better understanding of social issues. He lets us laugh at our own shortcomings and prejudices, and while doing this, maintains the highest entertainment standards."
A pioneer, a gadfly of the state, a mensch. To paraphrase a lyric from All in the Family's theme song, "Mister, we could use a guy like Norman Lear again."
While the Fifth Amendment is a crucial marker of individual rights, the lack of clear definitions and changing political landscapes make its application dangerously subjective.
Your right to "plead the fifth" is a constitutional protection against self-incrimination, but it's only one component of the legal provision that safeguards your rights from unjust criminal prosecution.
The Fifth Amendment protects against double jeopardy, being forced to incriminate oneself, prosecution without a jury of one's peers, and eminent domain. The legal precedents establishing due process protect more than just criminals; everyday citizens are protected from abuse of the justice system.
The provision, in full, dictates: "No person shall be held to answer for a capital, or otherwise infamous crime, unless on a presentment or indictment of a Grand Jury, except in cases arising in the land or naval forces, or in the Militia, when in actual service in time of War or public danger; nor shall any person be subject for the same offence to be twice put in jeopardy of life or limb; nor shall be compelled in any criminal case to be a witness against himself, nor be deprived of life, liberty, or property, without due process of law; nor shall private property be taken for public use, without just compensation."
In 2019, what are the limitations of these protections? Are there exceptions? What situations would require you to invoke them? What should you say to activate these rights?
While some may see "pleading the fifth" as tantamount to admitting guilt, it symbolizes your protection from self-incrimination. Cornell Law School defines the term to mean, "The act of implicating oneself in a crime or exposing oneself to criminal prosecution." When questioned by law enforcement during an investigation or during a criminal trial, an individual may refrain from answering questions or submitting requested materials to officials if it's believed that doing so may result in new criminal charges.
However, issues unrelated to criminal matters are not always protected from self-incrimination rights. For example, tax issues are not covered under the law so as to prevent individuals from withholding materials from the IRS. Furthermore, the law becomes murky when external circumstances could easily influence a person's ability to remain silent. Egregious examples of this right being circumvented include forced confessions and unjust interrogations.
As to due process, it's well known that before you can be found guilty of a crime, a grand jury of 16 to 23 people must be presented the case in private and deem that criminal charges justified. While a grand jury acts as "a kind of buffer or referee between the government and the people," an individual has a right to trial by jury. However, the Constitution's vital dictum against citizens being "deprived of life, liberty or property without due process of law" is only defined through a series of court rulings and provisions.
Of note is that due process protections are designed for individuals and application "in each case upon individual grounds." Sadly, this means that whole groups or communities are not, strictly speaking, as entitled to due process. For example, entire student bodies, teachers, or consolidated groups like protesters can be given treatment outside of lawful protections.
Lastly, eminent domain is the restricted power of the government to take private property and convert it into public use. Under the Fifth Amendment, the government can only use this power if they provide the private owners with fair compensation. However, abuse of eminent domain is fairly common.
For example, in 2019, Donald Trump defended his demand for a border wall separating the United States and Mexico under the right of eminent domain. While it was originally meant to be an economic benefit, there are no codified measurements of what constitutes "just compensation." The seizure of land by the government quickly becomes exploitative and a violation of privacy that's paramount to government theft.
While the Fifth Amendment is a crucial marker of individual rights, the lack of clear definitions and changing political landscapes make its application dangerously subjective. From due process to eminent domain, there are more exceptions than clear definitions of "justice."
Meg Hanson is a Brooklyn-based writer, teacher, and jaywalker. Find Meg at her website and on Twitter @megsoyung.
The White House's decision to ban CNN's Jim Acosta is "dangerous" and "unprecedented."
CNN is suing President Trump in response to his administration's widely-disparaged ban and smear campaign of the media network's Chief White House Correspondent Jim Acosta.
The White House revoked Acosta's Secret Service "hard pass" in a decades-long breach of protocol last Wednesday night, preventing the journalist from accessing press-friendly spaces on White House grounds. Pointing to the First and Fifth Amendment of the U.S. Constitution, the lawsuit alleges that both Acosta and CNN's rights were violated by the suspension of these privileges.
In a statement released Tuesday morning, CNN announced that it filed its lawsuit in a DC District Court against six people, including the president, Press Secretary Sarah Sanders, Chief of Staff John Kelly, Kelly's deputy William Shine, the U.S. Secret Service and its director Randolph Alles, as well as "John Doe," the currently-unidentified agent who denied Acosta access to the grounds. The defendants are named because of their roles in enforcing and announcing Acosta's suspension.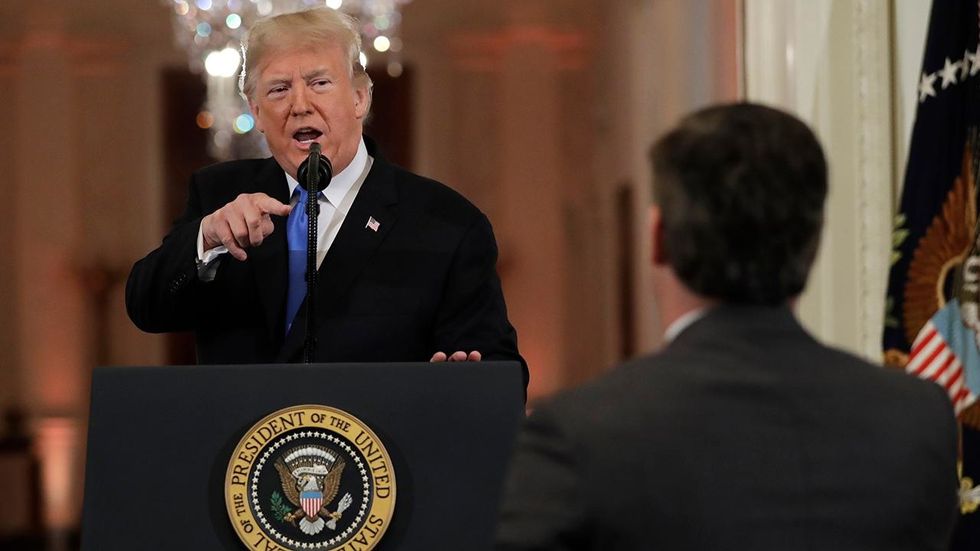 The lawsuit "demands the return of the White House credentials of CNN's Chief White House correspondent," according to the statement. "The wrongful revocation of these credentials violates CNN and Acosta's First Amendment rights of freedom of the press, and their Fifth Amendment rights to due process. We have asked this court for an immediate restraining order requiring the pass be returned to Jim, and will seek permanent relief as part of this process."

CNN's legal actions are the latest step in an escalating battle between President Trump and the media. Trump has shown particular antipathy to CNN, regularly deriding its reporters and the network as a whole. In light of the president going as far as to call the press "the enemy of the American people," it is fitting for there to be a lawsuit on the books titled "CNN vs. President Trump."
The White House responded to CNN's complaint in a statement by press secretary Sarah Sanders, accusing CNN of "grandstanding" by suing, and saying the administration "will vigorously defend against this lawsuit." Sanders previously alleged (in a tweet that is still live) that Acosta placed his hands on a female White House intern during a heated exchange with Trump last Wednesday.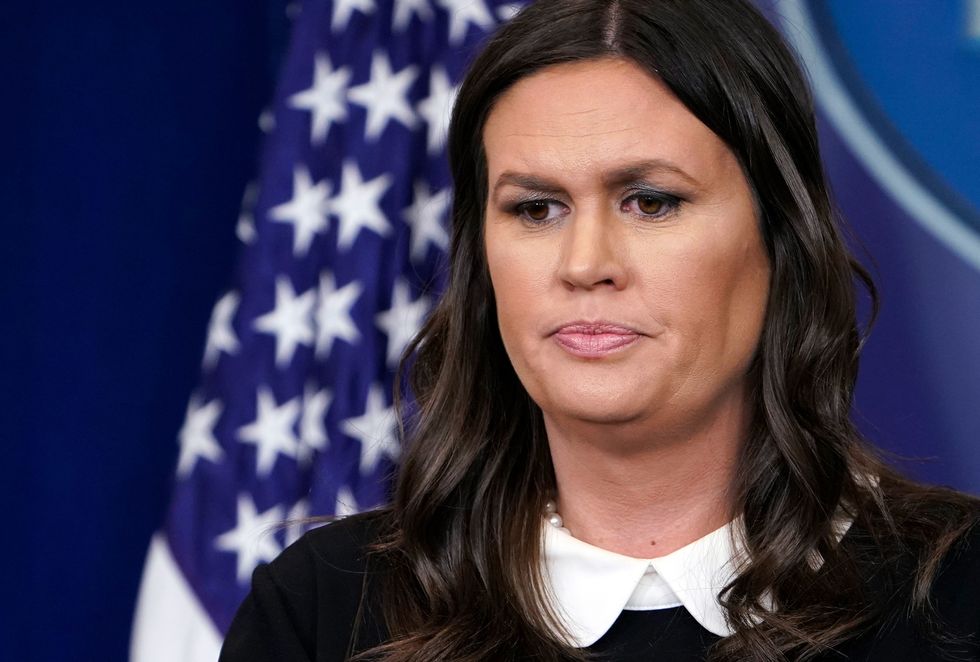 "Mr. Acosta is no more or less special than any other media outlet or reporter with respect to the First Amendment," said Sanders. "After Mr. Acosta asked the President two questions—each of which the President answered—he physically refused to surrender a White House microphone to an intern, so that other reporters might ask their questions. This was not the first time this reporter has inappropriately refused to yield to other reporters."

Trump's warlike stance against journalists, and his specific action to ban Acosta, flies in the face of decades of tradition and precedent. White House administrations on both sides of the aisle have sought to be accommodating of the press, erring on the side of inclusion, even for non-mainstream outlets. The well-known First Amendment attorney Floyd Abrams thinks CNN has a strong case in the precedent set by the 1977 ruling in favor of Robert Sherrill, a conservative journalist who was also denied access to the White House.
Furthermore, federal guidelines require that "officials of the Secret Service will be guided solely by the principle of whether the applicant presents a potential source of physical danger to the President and/or the family of the President so serious as to justify his or her exclusion from White House press privileges." The administration has made no claims that Acosta presents a physical danger to Trump during his press briefings.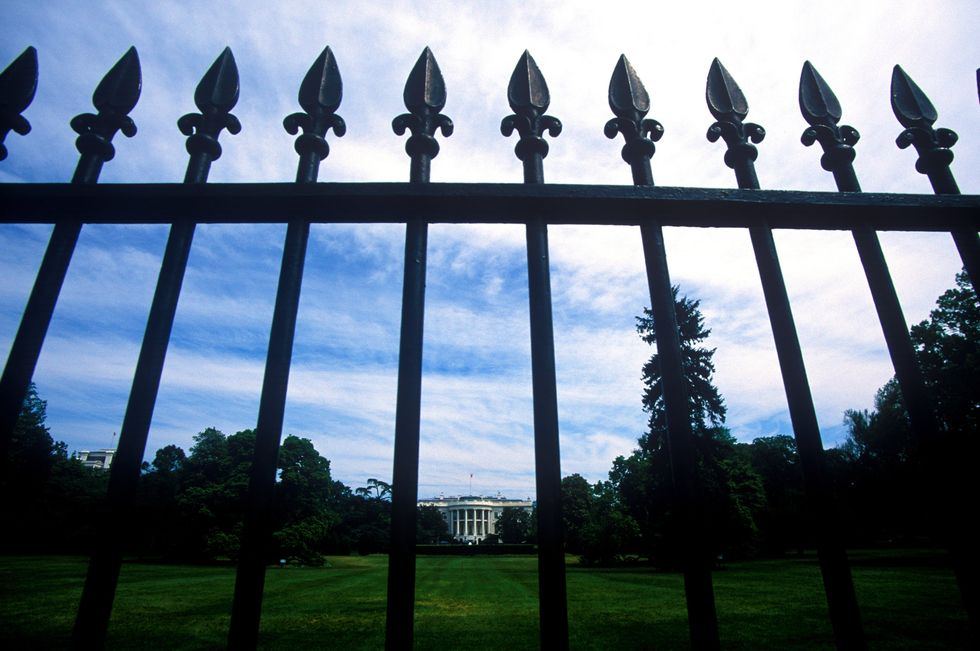 Getty
Abrams points out that those denied press privileges, "have to have notice… a chance to respond, and… a written opinion by the White House as to what it's doing and why, so the courts can examine it." He adds that, "We've had none of those things [in Trump's banning of Acosta]," giving weight to CNN's claim of due process violation.

As noted in CNN's statement, "While the suit is specific to CNN and Acosta, this could have happened to anyone. If left unchallenged, the actions of the White House would create a dangerous chilling effect for any journalist who covers our elected officials."
CNN Worldwide president Jeff Zucker emphasized the importance of taking action in an internal memo. "This is not a step we have taken lightly. But the White House action is unprecedented," Zucker said.
Joshua Smalley is a New York-based writer, editor, and playwright. Find Josh at his website and on Twitter: @smalleywrites.