Dall-E Mini, the AI-powered text-to-image generator has taken over the internet. With its ability to render nearly anything your meme-loving heart desires, anyone can make their dreams come true.
DALL-E 2, a portmanteau of Salvador Dali, the surrealist and Wall-E, the Pixar robot, was created by OpenAI and is not widely available; it creates far cleaner imagery and was recently used to launch Cosmpolitan's first AI-generated cover. The art world has been one of the first industries to truly embrace AI.
The open-sourced miniature version is what's responsible for the memes. Programmer Boris Dayma wants to make AI more accessible; he built the Dall-E Mini program as part of a competition held by Google and an AI community called Hugging Face.
And with great technology, comes great memes. Typing a short phrase into Dall-E Mini will manifest 9 different amalgamations, theoretically shaping into reality the strange images you've conjured. Its popularity leads to too much traffic, often resulting in an error that can be fixed by refreshing the page or trying again later.
If you want to be a part of the creation of AI-powered engines, it all starts with code. CodeAcademy explains that Dall-E Mini is a seq2seq model, "typically used in natural language processing (NLP) for things like translation and conversational modeling." CodeAcademy's Text Generation course will teach you how to utilize seq2seq, but they also offer opportunities to learn 14+ coding languages at your own pace.
You can choose the Machine Learning Specialist career path if you want to become a Data Scientist who develops these types of programs, but you can also choose courses by language, subject (what is cybersecurity?) or even skill - build a website with HTML, CSS, and more.
CodeAcademy offers many classes for free as well as a free trial; it's an invaluable resource for giving people of all experience levels the fundamentals they need to build the world they want to see.
As for Dall-E Mini, while some have opted to create beauty, most have opted for memes. Here are some of the internet's favorites:
There's no looking back now, not once you've seen Pugachu; artificial intelligence is here to stay.
The refugee crisis hasn't gone anywhere. But news outlets and political leaders everywhere are ignoring it—and xenophobia is making it worse.
Around 2015, the so-called European refugee crisis was topping every newspaper headline. Reports of the 5.2 million refugees pouring in from Syria and other war-torn countries that year led to mass calls for mobilization to create infrastructure and support systems for displaced peoples. The photo of Alan Kurdi, the drowned three-year-old who provided a name and face to the crisis, sparked international acknowledgment and inspired humanitarian activists all over the world.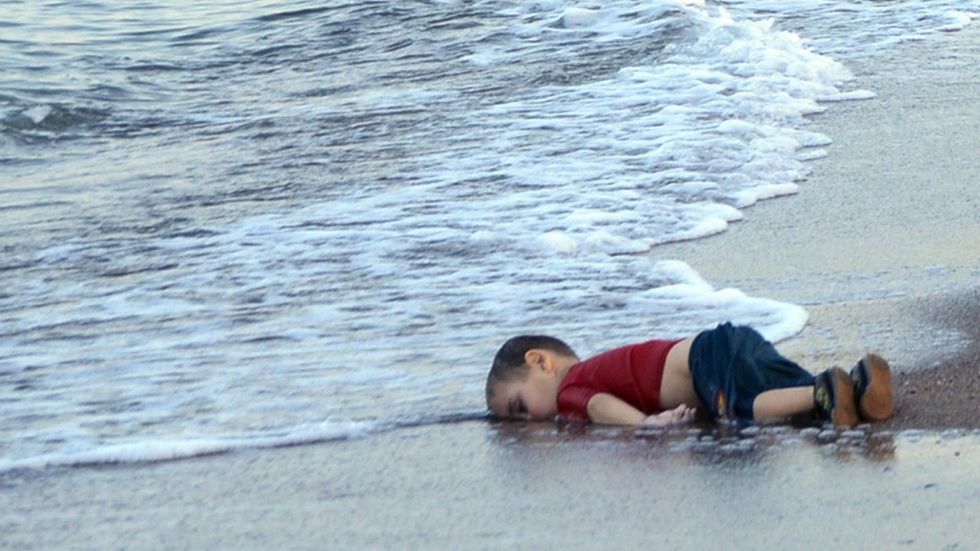 Alan Kurdi, via Medium
But that was four years ago. What has happened to those 5.2 million since then?

Firstly, there are a lot more than 5.2 million now. According to the UN, as many as 63.5 million people have had to flee their homes because of conflict since World War II; and today, roughly eight thousand people per month arrive in Greece, Italy, and Spain from Syria, Guinea, Algeria, and neighboring countries. These numbers are staggering; the lives they describe are almost impossible to imagine. But each figure corresponds to individual experience and a body that likely has crossed countless miles of ocean to arrive on European shores. Though it is impossible to generalize their stories, the majority of these people are currently stranded in liminal places like refugee camps or living as undocumented citizens without access to rights, living wages, and other protections.
According to the Aegean Boat Report, around 20 boats have arrived on the Greek island of Lesvos alone in February 2019, carrying a total of 791 people. Lesvos's Moria Camp holds somewhere between eight to ten thousand refugees; it was initially designed to hold ten. Many have been there for over half a decade, and the conditions in the camp are becoming more and more unlivable by the day.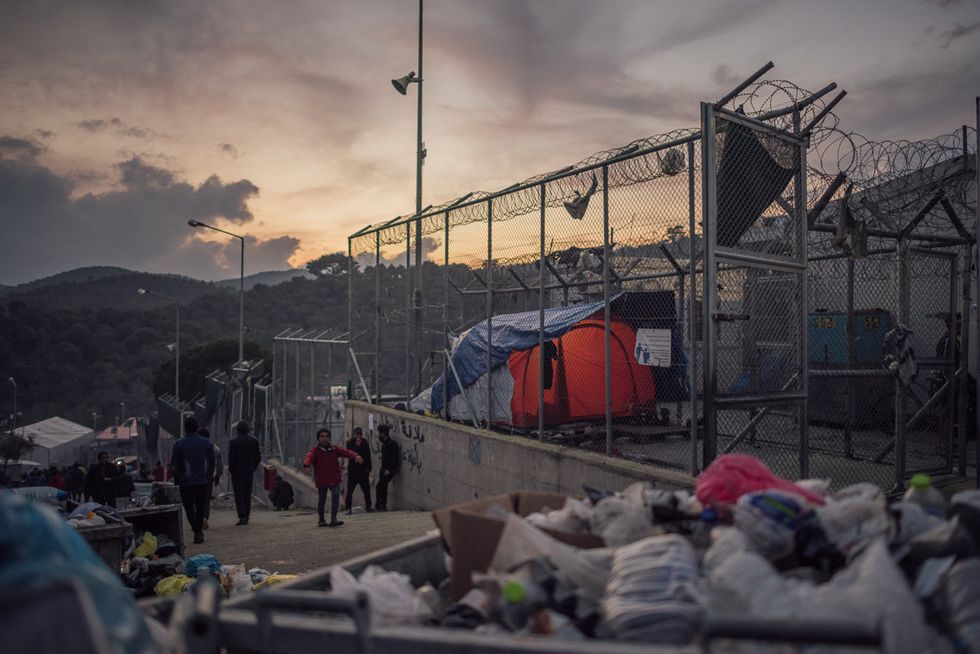 Moria Camp, via Al Jazeera
Many refugees go through hell and back to get there. Left with no choice but to flee violence and unlivable conditions, many spend thousands of dollars on hiring a smuggler who could carry them across the sea. The journey is treacherous—smugglers sometimes have deals with authorities or even pirates, and recent reports have revealed that the journey is more dangerous than ever before, with 1,600 to as many as 2,730 people dying at sea in 2018. The UNHCR released a report which argued that although the official number of migrants crossing the Mediterranean fell last year, this was likely due to "reductions to search and rescue capacity coupled with an uncoordinated and unpredictable response to disembarkation." This in turn, "led to an increased death rate as people continued to flee their countries due to conflict, human rights violations, persecution, and poverty." As the world forgets, the little structure and safety netting that does exist inevitably falls apart.

The news is a strange beast. Some stories can dominate for months and fade out so suddenly it's almost like they never happened; particularly shocking acts of individual or random violence can consume headlines while systematic, long-term horrors can fade away, having lost their ability to capture audiences' attention. With countries like South Sudan, Yemen, and Afghanistan steadily experiencing mass exoduses for years and years at a time, and with the inundation of tragic stories and gory photographs from Syria, it's easy for ongoing horrors to slip underneath an ocean of facts and figures that seem too overwhelming to address.
It's also easy for governments to shirk off responsibility for taking in refugees, seeing as technically they are stateless and, therefore, are not protected by any citizenship rights. Though the Universal Declaration of Human Rights guarantees basic protections for all people on earth, it does not specify which countries are responsible for providing these protections.
But every political decision manifests in lived experiences. For example, when migrants arrive on the shores of Lesvos, they are sometimes met with volunteers who provide water and transportation to the camps. Families and individuals are assigned at random to tents, which are crammed next to each other, creating unlivable conditions.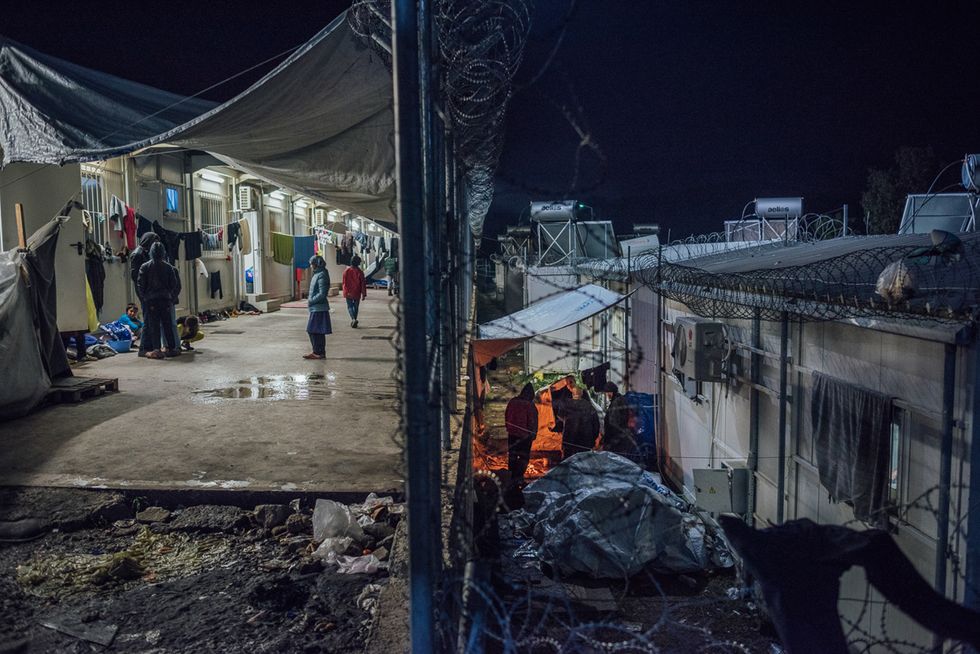 Image via aljazeera.com
Lesvos, in particular, has an extensive volunteer population, but overall aid groups often work as band-aids, failing to heal the sources of a larger issue and failing to structure a pathway forward. Instead, aid groups and refugees languish on Lesvos, in the grey area of statelessness and global amnesia. NGOs are gradually shifting their focus to working with refugees and locals to develop long-lasting relationships and skills, which can propel migrants forward into new lives.

But in light of the antipathy many locals hold towards newcomers, and also because of the trauma, language barriers, or other struggles that migrants face, the process of adjustment is challenging and will require individualized attention, patience, and cohesive efforts. Reports reveal that the majority of refugees fleeing severe conflicts will have vestiges of trauma; the IRC reported high levels of depression and PTSD among refugees across the board.
A 2011 Oxford University study found that the best way for refugees to move forward is through integration into life in their new countries. Solutions lie in treating the wound at its source, addressing xenophobia, and fighting for fair opportunities to education, jobs, healthcare, and other vital structural support systems. On the other hand, stranding migrants in places like Lesvos—where they live in unsanitary and dangerous conditions, surrounded by strangers who may also be experiencing trauma, with no idea of if or when they will be able to leave—is a product of a collective worldwide amnesia, a refusal to see what is happening in real time.
Long-term, slow-moving challengers are not foddered for breaking news. Particularly massive floods of refugees might pique the interest of a world leader; an artist might draw attention to the crisis through an installation in a busy city; but always, the cycles of violence and erasure continue as the world gets caught up in shinier, brighter topics. But remembering and acknowledging what is happening is the first step to moving in a new direction.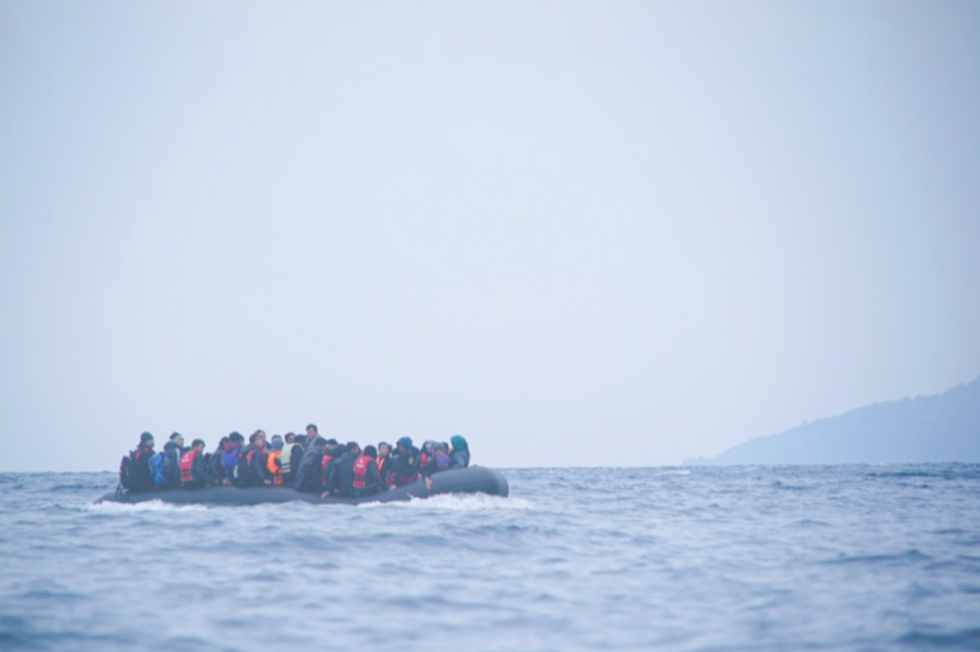 Image via Oxfam Novib Academy
---
Eden Arielle Gordon is a writer and musician from New York City.
After years of living wolf-free, sheep herders are being forced to deal with their old enemy once again.
The battle between wolves and farmers has been going on since the beginning of time, and has been largely uninterrupted over the course of American history. Unlike the U.S., Western Europe, over the course of the twentieth century, has hunted these predators to the point of near-extinction. In the past few years however, grey wolves have started mounting a comeback, particularly in the Aveyron region of France where shepherds have had to start dealing with the problem of wolves attacking their flocks once again. There are now estimated to be about 360 wolves in France spread over 42 different packs, up by about 20% since last year. Today's packs have reportedly crossed through the Italian Alps, but why the sudden migration?
In the ninth century, France created an organization of wolf hunters called the Luparii to help protect its farming community from grey wolves. The group finished its work in the 1930s, hunting the wolf to extinction. The prevailing belief is that the current lupine advance is due to rapid urbanization and that large scale movement out of rural areas has allowed southern France's forests to expand. There's also been a nearly 50% decline in hunting since the mid-twentieth century, giving wolves the ability to spread out into patches of land that once thundered with sound of hunting rifles.
This reemergence has sparked a minor political battle in France between ecologists, who believe the introduction of wolves to the region is good for the environment, and farmers whose sheep are being attacked. In response to the issue, Emmanuel Macron's government has decided to allow the wolf population to grow by 40% over the next five years, much to the chagrin of the sheep herders in the Pyrenees and the Alps. In order to curtail a massive jump in the wolf population however, hunters will be allowed to kill up to 10% of the wolf population every year (12% if attacks persist).
This may seem like a diplomatic solution on paper, but many farmers feel it to be a decidedly pro-wolf decision, voted for by city-dwellers who don't understand the full ramifications of allowing grey wolves to prowl around France's farmlands. Considering close to 10,000 sheep were killed over the course of 2016, these concerns seem to be legitimate. That said, farmers haven't taken this slight lying down, and have organized protests to demonstrate how damaging wolves are to their livelihoods. One such protest occurred in Lyon last year, when farmers took to the street with thousands of animals, each animal representing one that was killed by a wolf in 2017.
As it is, these farmers still have cause to be upset, as a small amount of culling authorities have permitted hasn't been enough to stem the tide of wolf attacks. In fact, certain local government officials have even suggested that children shouldn't walk outside alone because of the danger. It's tough to disagree with the farmers on principle–especially when one considers their farms, financial stability, and personal safety are all at risk–but there have been isolated incidents in which they've let their ire get the best of them. Manoel Atman, an activist who supports the reintroduction of wolves has had "rifles fired near his house" and has been "threatened with having [his] legs broken."
Unfortunately, getting the numbers right regarding just how many wolves to cull isn't exactly a science. Environmentalists in France are often mortified by the thought of controlled hunting while farmers would rather see the grey wolf completely eradicated. Though they've gone too far in certain cases, France's livestock raisers haven't been presented with many tenable solutions to this growing issue. Despite the French government giving financial aid to farmers so they can purchase sheep herding dogs and electric fences, attacks persist. Farmers have derided the idea of purchasing fences. As one sheep herder named Hugues Fanouillère put it, "Farming is not like running a wildlife park; we cannot keep our animals caged up like you might in a house or a zoo." Still, with the government committed to rehabilitating France's wolf population, it's unlikely that farmers will be presented with another option.
While the United States does
have thousands
of grey wolves, most of them live in Alaska and a few northern states, such as Minnesota and Michigan. Because of this, the problem of wolves being dangerous to the livestock business, while not unheard of in the U.S., is a uniquely European issue. Due to the United States' relative size, most of our
livestock production
occurs in states where there are little-to-no grey wolves. States like
Minnesota
cull their wolf populations on a need-to basis, but when one considers that France is only about the size of Texas, it becomes easier to see why authorities and farmers alike see the introduction of grey wolves into the French ecosystem as a hot button issue.
Keep reading...
Show less
Musings: From two perspectives of tech conglomerate fines, antitrust laws, and the tech world as a whole
Lauren: The EU has given Google a $2.7 billion fine due to alleged antitrust violations. According to EU antitrust regulators, the internet giant is a monopoly. And so Google now has to prove that it has rivals that had made substantial inroads to its businesses, including specialized search categories, mobile phones, and online ad buying. This fine and punishment could also set a precedent for other tech giants. Seems like they're not as unstoppable as many have believed.

Jane: It would set a precedent in Europe. Google has been doing that here forever. But the application of antitrust laws to tech companies interesting. Amazon, Google, Apple, and etc. easily outpace other smaller companies and since they dominate the newer, harder to regulate marketplaces, there is a lack of checks and balances in place
L: The law is definitely slow to catch up in this area. It feels like the second a new law addressing internet companies or online privacy passes, things are updated into something new that needs a whole new framework of regulations. The pace of advancement in technology and regulations just don't match up. Because of this, so much of what is done online is in a legal gray area. That's why it's interesting that Europe is attacking the problem using antitrust law. Those laws are pretty old, but are working in the context of the 21st century.
It feels like the second a new law addressing internet companies or online privacy passes, things are updated into something new that needs a whole new framework of regulations
J: The concept is still the same. Make sure the market is in favor of the consumer. Limiting competition does the exact opposite. Manipulating search results when Google is the primary search engine is shady.
L: This also shows how much the digital world can affect the real one. If you can't Google a business, it might as well not exist. When you think about it, Google has immense power over our lives. So does Facebook or Amazon. These websites and companies are deeply ingrained in our daily lives and our economy.
J: Amazon is trying to be the one-stop shop for everything. They've been trying to get into the grocery business for a long time and buying Whole Foods would cement them in the industry. It could be very successful or they can run the grocery story to the ground since Amazon's model is vastly different from Whole Foods.
L: I think Amazon might use Whole Foods as a testing ground for their new grocery shopping concept Amazon Go. That will be a huge change for the industry.
J: It would definitely blur industry lines even more but Amazon has a history of doing that anyway. Bezos purchased the Washington Post a few years ago. In Whole Foods case, prices might possibly go down. But you never know. There's a lot of unknown as tech companies melded and absorb other traditional companies.
Keep reading...
Show less