"A tree is best measured when it is down," the poet Carl Sandburg once observed, "and so it is with people." The recent death of Harry Belafonte at the age of 96 has prompted many assessments of what this pioneering singer-actor-activist accomplished in a long and fruitful life.
Belafonte's career as a ground-breaking entertainer brought him substantial wealth and fame; according to Playbill magazine, "By 1959, he was the highest paid Black entertainer in the industry, appearing in raucously successful engagements in Las Vegas, New York, and Los Angeles." He scored on Broadway, winning a 1954 Tony for Best Featured Actor in a Musical – John Murray Anderson's Almanac. Belafonte was the first Black person to win the prestigious award. A 1960 television special, "Tonight with Belafonte," brought him an Emmy for Outstanding Performance in a Variety or Musical Program or Series, making him the first Black person to win that award. He found equal success in the recording studio, bringing Calypso music to the masses via such hits as "Day-O (The Banana Boat Song)" and "Jamaica Farewell."
Harry Belafonte - Day-O (The Banana Boat Song) (Live)www.youtube.com
Belafonte's blockbuster stardom is all the more remarkable for happening in a world plagued by virulent systemic racism. Though he never stopped performing, by the early 1960s he'd shifted his energies to the nascent Civil Right movement. He was a friend and adviser to the Reverend Doctor Martin Luther King, Jr. and, as the New York Times stated, Belafonte "put up much of the seed money to help start the Student Nonviolent Coordinating Committee and was one of the principal fund-raisers for that organization and Dr. King's Southern Christian Leadership Conference."
The Southern Poverty Law Center notes that "he helped launch one of Mississippi's first voter registration drives and provided funding for the Freedom Riders. His activism extended beyond the U.S. as he fought against apartheid alongside Nelson Mandela and Miriam Makeba, campaigned for Mandela's release from prison, and advocated for famine relief in Africa." And in 1987, he received an appointment to UNICEF as a goodwill ambassador.
Over a career spanning more than seventy years, Belafonte brought joy to millions of people. He also did something that is, perhaps, even greater: he fostered the hope that a better world for all could be created. And, by his example, demonstrated how we might go about bringing that world into existence.
DIY: Do we need to teach kids cursive anymore or is it becoming a thing of the past?
It's been a long time since I was a grade school student (COUGH--late70searly80s--COUGH), but it boggles my mind how different classwork is today for our second-grade daughter. Techniques are so much better in terms of teaching kids' skills and strategies, instead of the rote "repetition and memorization" of my youth. I'm glad kids will never again know the tedium of pulling out a Big Chief tablet and taking dictation day-after-day-after-day. It's all in the name of competing in the global 21st-century economy, but there's one old school skill no longer taught (at least in my daughter's Brooklyn public school) that I have definite mixed feelings about. As she said to me the other day after I wrote something down for her, "Dad, I can't read this, it's in script." Or as we called it back at Kate Fratt Catholic, cursive.
So are the lovely flowing letters going the way of calligraphy? Not so fast. Break out your fountain pen and an ink cartridge, Longfellow… Sorry, ask your parents.
In a 2016 Washington Postarticle, Joe Heim writes that "cursive writing was suppose to be dead by now," but it's actually making a comeback in the age of the texting thumb. A number of states have added some form of cursive requirements, including Louisiana, which mandates all public schools, charters included, teach the sweeping script from 3rd-through-12th grade.
It's popping up all over the country. A Google search of "cursive writing" over the last year found a 4th-grade club in Kentucky, a Minnesota man literally named Loop hosting quarterly gatherings at craft beer bars, a New Hampshire museum exhibit highlighting the skill, and all manner of state legislatures arguing over whether it's a necessary part of childhood education.
The value of handwriting as a skill, separate from keyboarding, is clear. It's fundamental in learning to read and write, but the value of cursive as a form of penmanship on its own is murkier. A 1977 study said it's "possible" the continuous flow aids in higher reading and spelling scores, but forty years is a lifetime in classroom learning ago. A 2015 study hints at the same idea, but it wasn't specific to cursive outside of handwriting, so it's far from definitive. At best, the research is inconclusive and it seems cursive obsessiveness is driven by nostalgia.
The more time spent digging into the importance of cursive, the more it has a "get off my lawn" quality. Almost nobody uses it exclusively anymore, not even handwriting teachers as 55% use a print-cursive hybrid, according to a 2012 conference survey. Ask yourself, is there a time or place in modern society where cursive is even necessary? There is no scenario where cursive is required because print won't suffice. Even new Treasury Secretary Steve Mnuchin went with a printed signature on the dollar-dollar-bills. In theory, cursive might matter for electronic signatures, but in practice, a squiggly line is good enough. Then there's odd political supposition that kids "won't be able to read our Constitution," as if most Americans read their King James in Biblical Hebrew and Aramaic.
Yet, I hope my daughter learns to write "in script" and not just so we can communicate on paper. Experts say she can easily learn to read it without writing it, so my reason for wanting her to write cursive isn't pragmatic. It's aesthetic.
Perhaps cursive isn't necessary, but it is.
It's a wondrous style of writing created so the pen didn't have to leave the page (I suspect because those fountain pens were prone to major leakage), and there is something about the flow of cursive that tickles me. The swirls and twirls, curlicues and quirky "Qs," the weirdness of the lower-case letter similarities, individual styles and personal artistic flourishes, the indecipherable signature of my physician father and his brother, my priest uncle. Cursive provides an everyday beauty digital screens never can, and regular print rarely does.
Cursive has soul.
Hey, guess what, honey? The state of New York now wants 3rd-graders to learn cursive. Be still my ink-stained heart.
A mother's reflection in the wake of yet another school shooting.
Several months ago, I heard an interview on NPR with a woman who said that water carries memory. When the water freezes, the memories it carries are held in place, and when the ice melts, those memories are released. I don't remember which NPR show this was, nor do I remember the woman's name or what she was being interviewed about, except that she was in the arts, perhaps theater, or music, and she was talking about her most recent project. But, I remembered this one thing she said; that water carries memories, which are held and released, and held and released with the cycling of seasons.

I took a walk this morning. The biting chill in the air was giving way to a cooling thaw, and it felt as if spring might be coming early this year. At Bear Mountain park, near where I live, a grayish white vapor rose off of the frozen surface of the man-made lake, hovering, stretching out like an altostratus cloud. It was early, and I was the only person on the trail. It was so peaceful – the sounds of the breeze through the still bare trees, their fallen branches reaching out from the underneath the veil of ice like giant hands and the smell of the wet earth, ready to release new life.
In the Bible, water is mentioned over 700 times. It symbolizes cleansing, but also creation and God's awesome power. In Genesis, before there is light, sun, earth, plants, leaving creatures, there was water—it existed before existence itself. In Chinese Taoist philosophy, water is home to our essence. It represents wisdom, and great force, as well as perseverance.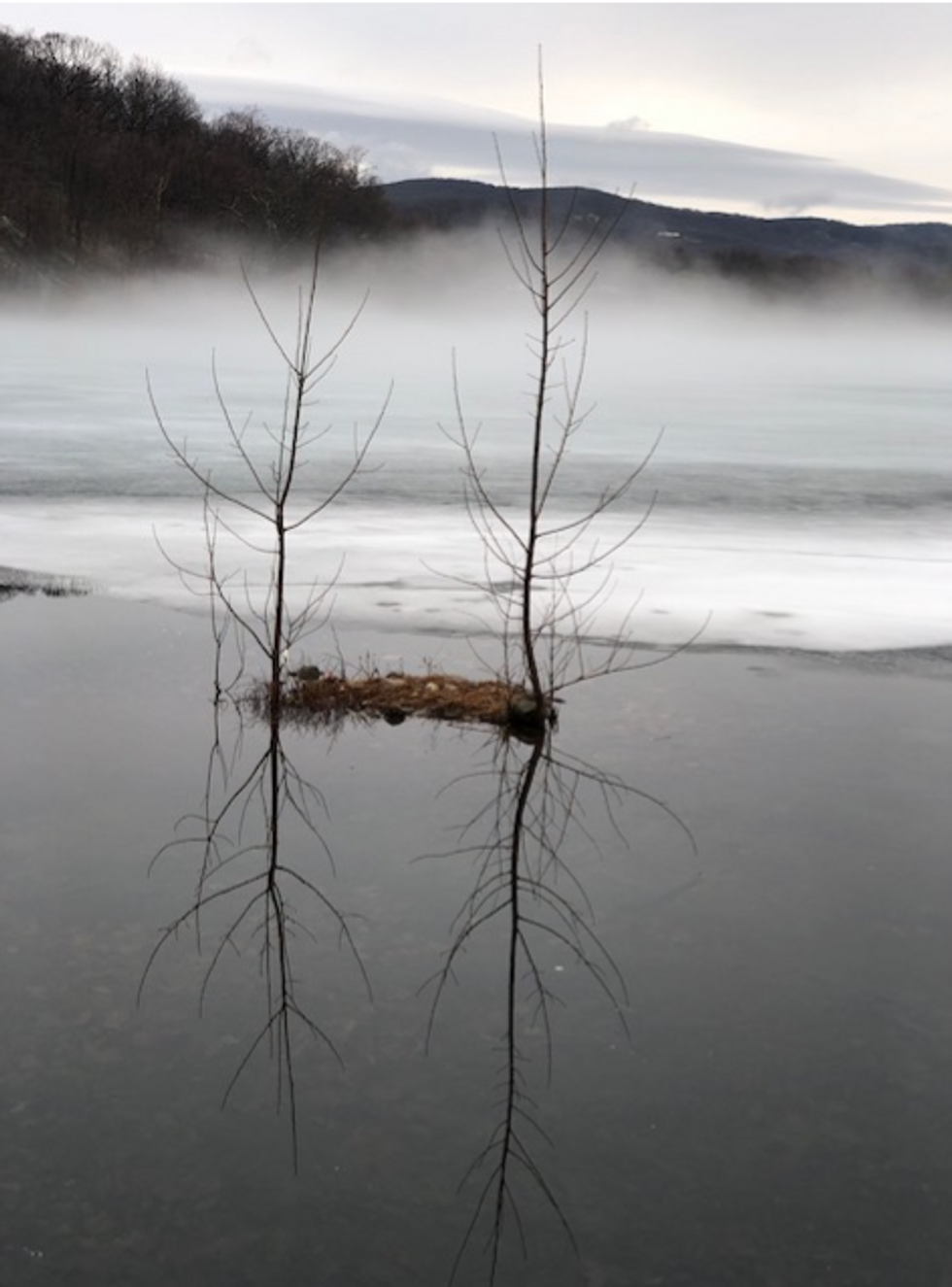 Everywhere I looked this morning, ice was melting, becoming liquid. Bubbles formed underneath the surface of the frozen water on the rocks, sliding and turning over and around the bumps and crevices like tad pols in a stream. The sound of the melting release was everywhere. The applause of the filling streams running down off of the mountain, the rain storm of the current under my feet. In the distance, there was the crack-crack sound of something breaking --- a giant tree falling, or perhaps the roll of a machine, clearing a path Today, however, it reminded me of gun fire.
I often work from home on Thursdays and Fridays, partly to give myself a break from a grueling two-hour commute to work, but mainly to be home to drop off and pick my daughter up from school and to be present. My child is the most important thing in the world to me. Her infectious laughter, the feel of her cheek against mine when I kiss her goodnight, the furrow in her brow when she's worried, how proud I am of all she has achieved and my hopes for all that is yet to come --- this, and everything else about her is part of me, like the heart in my chest or the soul that lives someplace even deeper.
Six years ago, when she was in second grade, I watched images of grieving, broken parents of Newtown, Connecticut on CNN. I lived in a small town very much like Newtown, and I had a daughter who was exactly the same age as those children who were murdered with an assault rifle. Not a day has gone by since when I don't, at some point, worry that I might drop my child off at school in the morning, and not see her alive in the afternoon. After February 14, 2018, I watched CNN again, and, again, the same images of broken and grieving parents as they endure what no parent should ever have to; the senseless murder of a child.
It is said that everything is cyclical. There are some cycles that ground us; nature, aging, good times and bad. Some that challenge us; sickness and health, success and failure. These can't always be controlled – we just have to go with it. And then there are the cycles of another sort; violence, insanity, corruption, dishonesty, dereliction of duty. These are the kind of cycles that, if not controlled, if not broken, will break us. These are the cycles that Lori Alhadeff, the mother of 14-year-old victim Alyssa Alhadeff inveighed against when she pleaded into the camera, "President Trump, we need action. Now!" It's the cycle that sophomore Isabella Gomez took on when, in response to President Trump's declaration that We are here for you. We are here to ease your pain, that "He really needs to take into consideration gun control."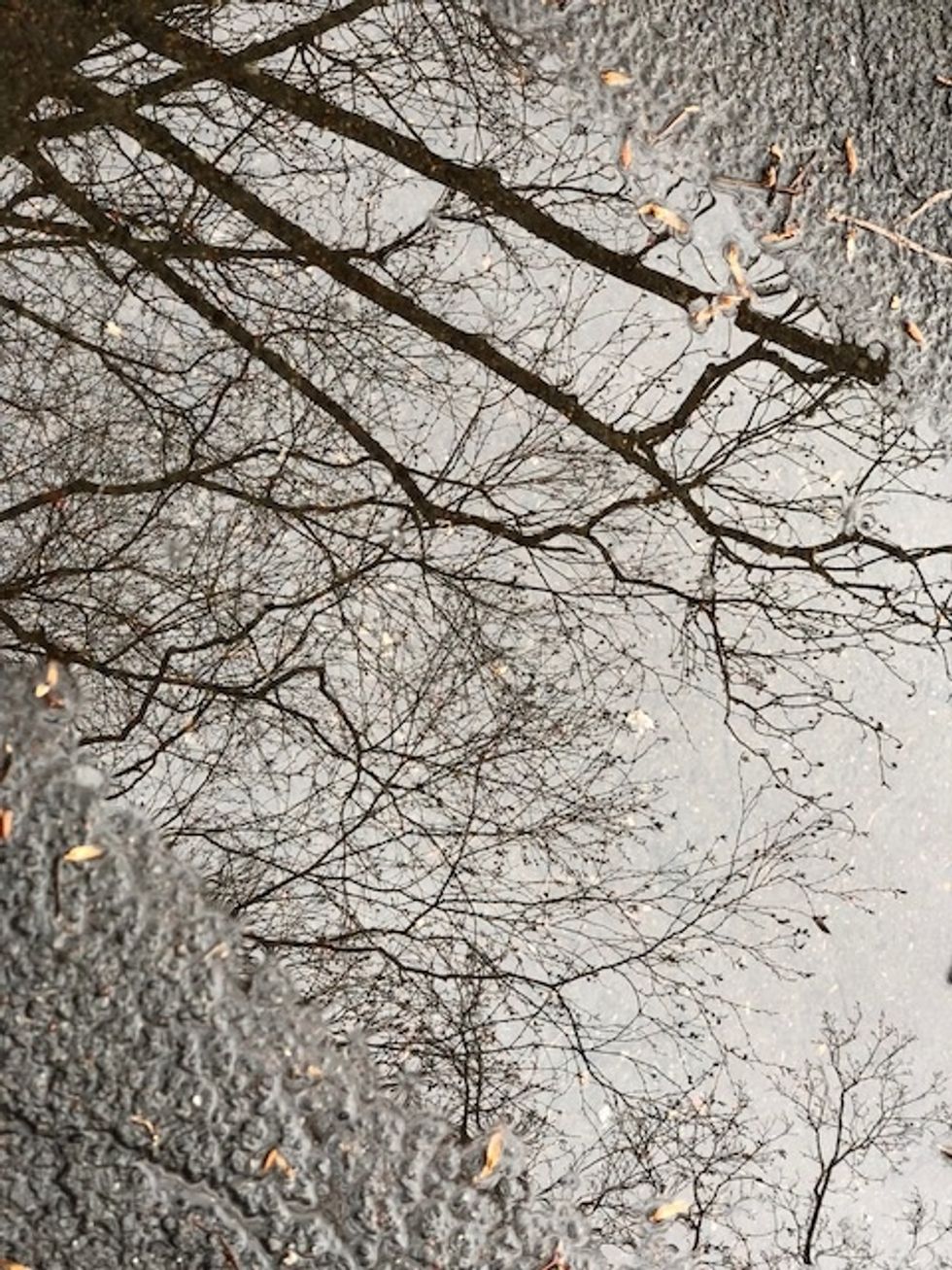 Memories are our foundation. This is one of the things that is so cruel about Alzheimer's --- it robs a person of their past, and with it, their identity. After Columbine, Virginia Tech, Sandy Hook, Marjory Stoneman Douglas, and the rest of the now over 150 mass shootings*, as a country, it is tempting to say that these horrors keep happening because we are suffering from collective Alzheimer's. But that's not it. We do remember. Who could forget? But what does that matter? Is that the point? We'll never forget you? I am reminded of Susan Sontag's brilliant post-9/11 piece in the New Yorker; "Our country is strong, we are told again and again. I for one don't find this entirely consoling. Who doubts that America is strong? But that's not all American has to be." Who doubts that we will remember mass shootings? If our thoughts and prayers are really with the victims in Parkland, Florida, we need to offer them a lot more than a place in our memories.
Water, like life itself, is full of contradiction. We develop and thieve in a watery womb, yet once we are born that same water will drown us. Rivers and oceans are sources of peace and tranquility, but also of flood and devastation. Of the many qualities water has, perhaps the one that most comes to mind after this latest mass shooting is reflection. In the words of 17-year-old survivor David Hogg, "This is a time for our country to take a look in the mirror and realize there is a serious issue here."
Note: *This is an approximate number, at best. As pointed out in a recent piece in The Atlantic, "The lack of reliable information on school shootings and other gun-related mass violence isn't just a matter of inconsistency in definitions; political factors have also played a role in limiting access to information. Under pressure from the National Rifle Association, Congress in 1996 prohibited the Centers for Disease Control and Prevention from funding public-health research on issues related to firearms. These prohibitions have largely persisted, and there is still no comprehensive federal database on gun deaths, let alone on school shootings."