We have his public explanation, but it's worth considering his underlying motivation
On Wednesday afternoon Mitt Romney announced that he would be voting to convict President Donald Trump in the Senate's impeachment trial.
Romney became the only Republican to join in the Democrats vote to convict Donald Trump for abuses of power and remove him from office—a vote that failed, 48-52, resulting in President Trump's acquittal. The move also immediately inspired mass calls to remove Romney from the senate with #RecallRomney trending across Twitter almost immediately after the announcement was made public. Romney explained his reasoning in a statement on the senate floor, saying of Trump's crimes that "Corrupting an election to keep oneself in office is perhaps the most abusive and destructive violation of one's oath of office that I can imagine." But that only tells us what he wants us to know. There remains a question of his underlying motivation, and there are four basic theories that cover the full gamut of possibilities.
Theory 1: He Did it Because He's Brave
According to this theory, Romney is essentially telling the truth. He believed Trump was guilty, and he was too principled to vote for acquittal for reasons of political expediency. Trump and his fellow Republicans would not be jumping down his throat if he had gone along with the rest of the party, but it would also have given Donald Trump a stronger case to claim that the whole impeachment was a sham. Romney's vote wasn't enough to secure a conviction, but if every Republican had voted in lockstep against conviction, then the whole enterprise would could easily have been written off by Trump and his allies as a witch hunt by the wacky Democrats, and Trump would have leapt immediately to claiming exoneration. Romney basically sacrificed himself for the cause of democracy and justice. This is the theory behind another trending hashtag #MittRomneyIsMyHero.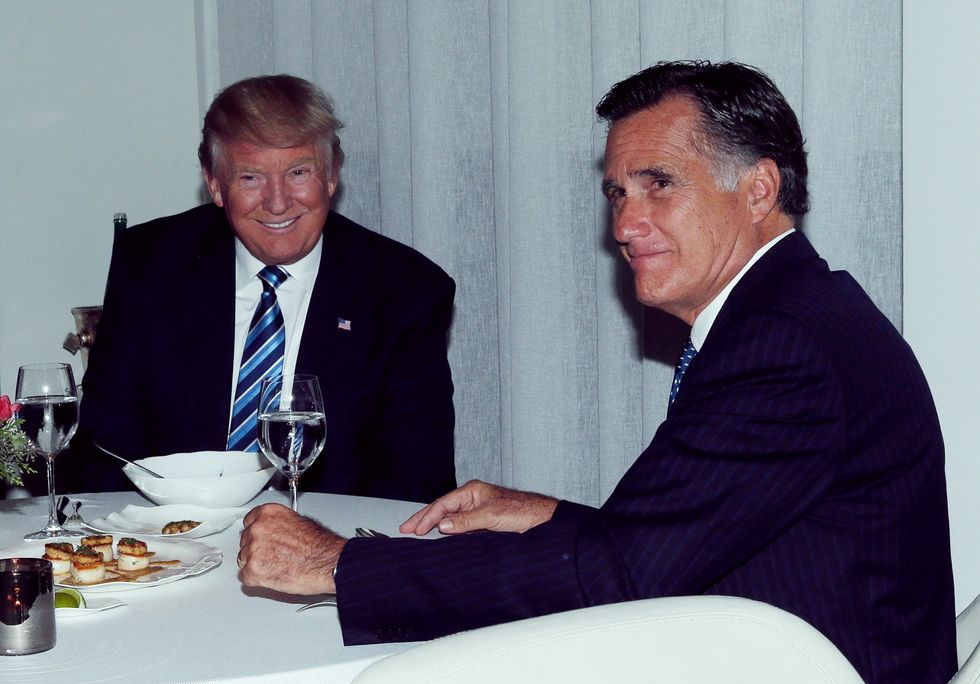 John Angelillo
Theory 2: He Did it Because He's Stupid
Did he really think a nice speech and a surprise vote was going to turn the tides? Trump and his loyalists (i.e. most of the Republican party) have no problem abandoning a former ally and throwing him under the bus. They've turned against John Bolton, Steve Bannon, Jim Mattis, Michael Cohen and countless others from Trump's inner circle. They feel no qualms about declaring a Trump-critic like Romney a traitor—which is why #RomneyIsADemocrat is also trending. But it's not as though the Democrats will actually welcome Romney to their side. They still disagree with him on basically everything. All he managed to do, according to this theory, is to isolate himself and doom his political future.
Theory 3: He Did it Because He's Jealous

Mitt Romney ran for president against Barack Obama in 2012. When he was pressured to release his tax returns he gave in, and it likely contributed to him losing the election. Donald Trump has never given in to any sense of duty, dignity, or decorum, and that's why he was elected president in 2016. Mitt Romney was a vocal critic at the time and has remained a critic because, according to a tweet from Donald Trump Jr., "Mitt Romney is forever bitter that he will never be POTUS."
Theory 4: He Did it Because He Can

This is the theory that takes all the other theories into consideration, and adds some more logistics. Romney may be brave, stupid, and jealous, but the major reason he felt free to vote for Trump's removal is that he had no reason not to. Romney serves as Senator for the state of Utah, where the Mormon church and Mormon values still reign. Unlike many other Christian groups in America, the Church of Latter Day Saints has had a hard time getting behind a crass, philandering, biblically illiterate man. In 2016 Utah gave Evan McMullin more than 21% of the vote—the highest proportion a third-party candidate received in any state—largely on the basis of his #NeverTrump campaign. Utah is the one Republican stronghold where that tactic plays reasonably well. On top of that, Romney won't be up for reelection until 2024. He may be playing a long game, hoping that Trump will have lost popularity by then.
Regardless of your opinion, it's worth checking out Romney's statement before jumping on one of these hashtag trends.
The view was actually...interesting?
Donald Trump Jr. appeared on this morning's episode of The View with his partner Kimberly Guilfoyle as part of the promotional tour for Trump Jr.'s new book, Triggered: How the Left Thrives on Hate and Wants to Silence Us.

Meghan McCain Confronts Donald Trump Jr. on His Father's 'Character' | The View www.youtube.com
If the purpose of the interview was to provoke as much drama and incoherent cross-talk as possible, it was a wild success. The insanity opened with Meghan McCain at her passive-aggressive best, insisting that people "miss the soul" of America, and asking if Trump Jr. felt good about his father insulting the gold star Khan family. From there things devolved into defensive accusations of blackface and rape-minimizing, rehashing of the Trump-McCain feud, and Whoopi Goldberg loudly pleading for an unspecified someone to apologize. Meanwhile, whoever runs Trump Jr.'s Twitter account was already on the offensive, digging up the video of Joy Behar discussing her "beautiful African woman" costume from 50 years ago.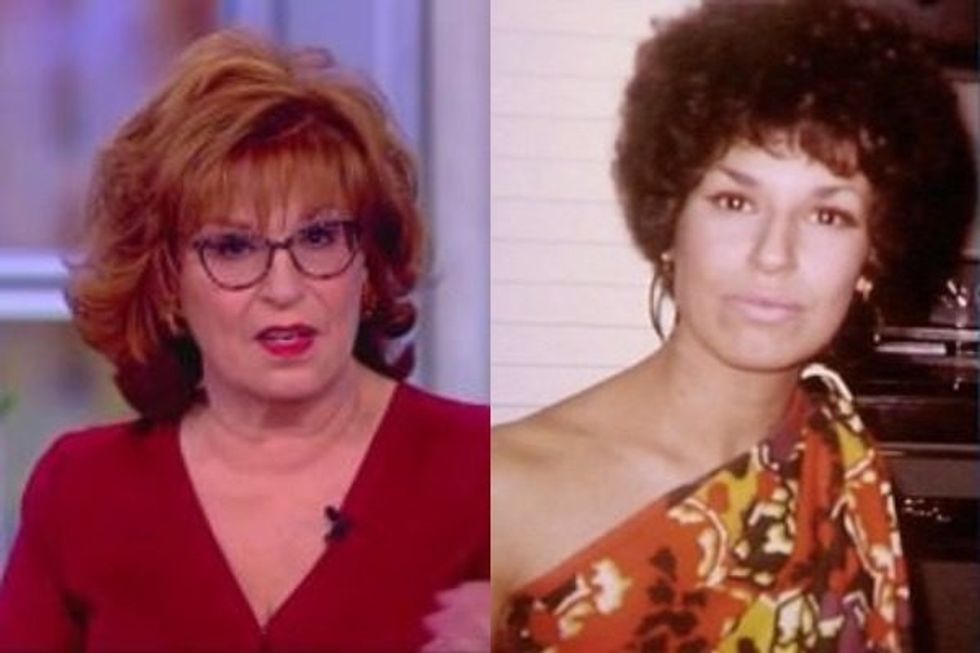 How is it not blackface?
As the interview continued, Trump Jr. deflected questions about Ukraine—and his tweet containing the name of an alleged whistle-blower—by calling out ABC and CBS for cooperating in the reported firing of an employee who recently leaked footage of anchor Amy Robach. The footage in question exposed an apparent top-down effort to bury the Jeffrey Epstein story. Jeffrey Epstein, of course, was the wealthy financier at the center of an elite pedophile ring who didn't kill himself in his cell in the Metropolitan Correctional Center in August.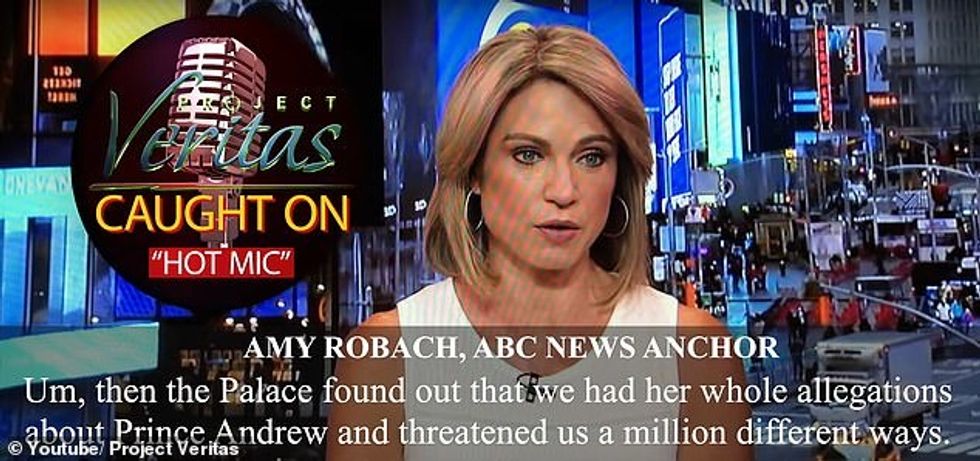 Try to ignore the fact that this was leaked by Project Veritas...
Apart from this public service, the whole interview was a mess. It should have been obvious to anyone watching that it was not going to go well. Along with the extensive history of vitriol passing between the Trump family and the hosts of The View, Trump Jr.'s appearance was a dead giveaway. He looked gaunt and waxen, his forehead slick with a sheen of cold sweat, eyes wild, red, and swollen with exhaustion. It was hard not to be reminded of Kendall Roy in the season two premiere of Succession. The haggard interview where his sister says he's "like a sweaty corpse," and his brother-in-law compares him to "an unshaven candle."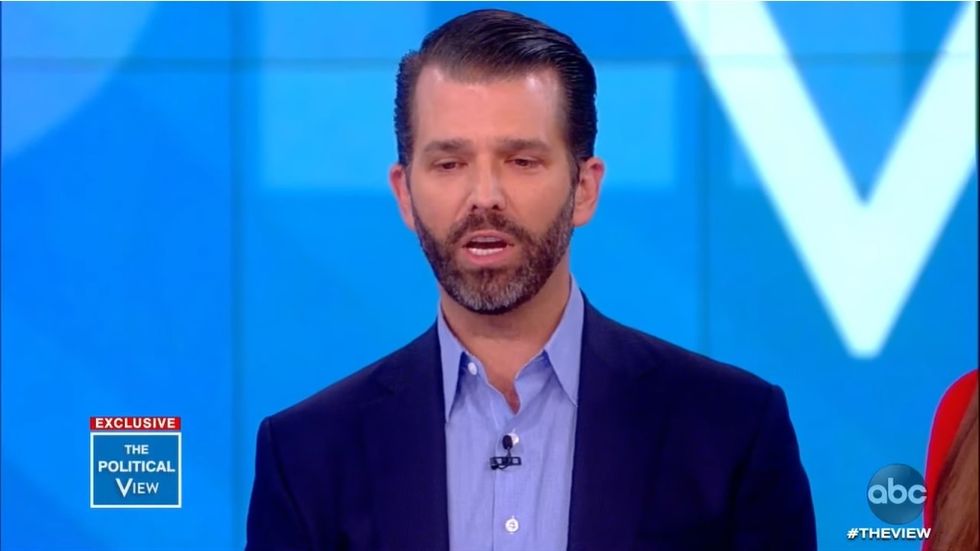 Of course Kendall Roy's rough appearance in that interview is tied closely to his cocaine addiction. While it would be inappropriate to suggest that Donald Trump Jr. has any relationship with stimulants, it would explain his frenzied cadence as he declared that "it is worth it, when I go around the country, and I see people who are affected by these policies, who are getting to live their American dream again," his words tripping over each other in the race to slip past his bleached-white teeth.
Triggered was published on Tuesday and has received rave reviews for containing delightful stories, like the time Donald Trump let Trump Jr. play video games with Michael Jackson and how that means he's not racist. It's available now, wherever awful ghostwritten books are sold.