Dall-E Mini, the AI-powered text-to-image generator has taken over the internet. With its ability to render nearly anything your meme-loving heart desires, anyone can make their dreams come true.
DALL-E 2, a portmanteau of Salvador Dali, the surrealist and Wall-E, the Pixar robot, was created by OpenAI and is not widely available; it creates far cleaner imagery and was recently used to launch Cosmpolitan's first AI-generated cover. The art world has been one of the first industries to truly embrace AI.
The open-sourced miniature version is what's responsible for the memes. Programmer Boris Dayma wants to make AI more accessible; he built the Dall-E Mini program as part of a competition held by Google and an AI community called Hugging Face.
And with great technology, comes great memes. Typing a short phrase into Dall-E Mini will manifest 9 different amalgamations, theoretically shaping into reality the strange images you've conjured. Its popularity leads to too much traffic, often resulting in an error that can be fixed by refreshing the page or trying again later.
If you want to be a part of the creation of AI-powered engines, it all starts with code. CodeAcademy explains that Dall-E Mini is a seq2seq model, "typically used in natural language processing (NLP) for things like translation and conversational modeling." CodeAcademy's Text Generation course will teach you how to utilize seq2seq, but they also offer opportunities to learn 14+ coding languages at your own pace.
You can choose the Machine Learning Specialist career path if you want to become a Data Scientist who develops these types of programs, but you can also choose courses by language, subject (what is cybersecurity?) or even skill - build a website with HTML, CSS, and more.
CodeAcademy offers many classes for free as well as a free trial; it's an invaluable resource for giving people of all experience levels the fundamentals they need to build the world they want to see.
As for Dall-E Mini, while some have opted to create beauty, most have opted for memes. Here are some of the internet's favorites:
There's no looking back now, not once you've seen Pugachu; artificial intelligence is here to stay.
What could possibly end decades of American global leadership? Trump's Personality.
Donald Trump says his foreign policy is "America First," but in reality, it's "America Only."

He has spent the last four years sowing seeds of distrust amongst our Democratic allies while mending fences with strongman autocratic dictators. If America were to get into a major war today, it's hard to know what side we would be on and who would even be willing to help us.
Donald Trump abandoned our Kurdish allies in Syria.
As commander in chief, Donald Trump abandoned Kurdish allies in the Middle East, allowing Turkish forces to invade Syria. The Kurds had helped the US fight against the Islamic State since 2014 and are a part of the Syrian Democratic Forces, and they fought side by side with American forces for years.
Trump's sudden withdrawal was met with ire from American leaders on both sides. Mitch McConnell urged the president to reconsider, warning that "major new conflict between Turkey and our partners in Syria would seriously risk damaging" the U.S.-Turkey relationship. "American interests are best served by American leadership, not by retreat or withdrawal," he said. Even South Carolina senator Lindsey Graham called this retreat a "stain on America's honor."
Donald Trump is destroying our relationships with European allies.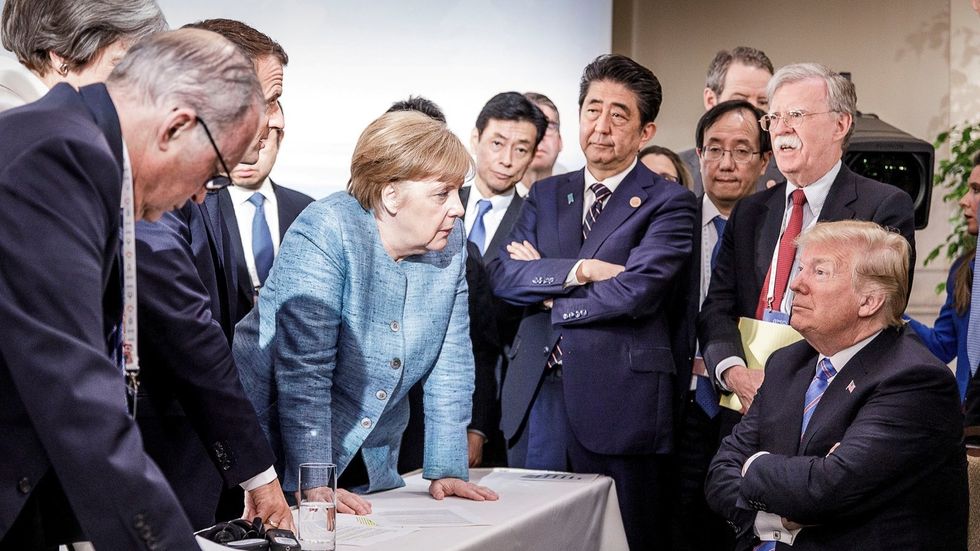 German Chancellor Angela Merkel speaks to U.S. President Donald J. Trump during the second day of the G7 meeting in Charlevoix, Canada on June 9, 2018. Jesco Denzel/Bundesregierung
Trump often describes the European Union, whose membership overlaps significantly with NATO's, as a competitor rather than a close global partner—as it has been to every recent American president. He has threatened to pull out of NATO and at one point said the U.S. would "no longer deal" with the British ambassador. He also implemented a plan to pull 10,000 U.S. troops out of Germany without warning NATO or German Chancellor Angela Merkel. These are all huge divergences from the past, when the US shared a close and mutually beneficial relationship with Europe.

All Republican and Democratic presidents since World War II have expressed strong support for a united Europe and for NATO. However, Donald Trump has spent all of his time criticizing the alliance and accusing allies of not paying their fair share. Following Trump's threats, French President Emannuel Macron warned European countries that they can no longer rely on a Trump-led America to defend NATO allies. "What we are currently experiencing is the brain death of NATO," Macron said. Trump responded by calling the French allies' words "very, very nasty."
Trump has also promised to pull out of the World Health Organization during the largest global health crisis in the last 100 years. The WHO is definitely not the most efficient organization, and certainly needs reform. However, unilaterally pulling out leaves our allies in a tough position, and surrenders the organization mostly to the control of its next largest stakeholder, China.
Trump has also brought tension to the G-7 alliance. The G-7 alliance is a group of seven major developed Democratic countries: Canada, France, Germany, Italy, Japan, the United Kingdom, and the United States.
The Trump administration has repeatedly called for Russia to be readmitted to the group, which has created conflict with the other countries. In 2018 Trump refused to sign a joint agreement with the group that vowed to ensure "free, fair, and mutually beneficial trade" while fighting protectionism. Instead Trump doubled down on protectionist tariffs (taxes on imports from other countries) continually punishing our allies in Canada and the EU.
German Chancellor Angela Merkel described Trump's behavior as a "depressing withdrawal," while French President Emmanuel Macron invited him "to be serious." The extent of the damage became clear in 2020 when it was Trump's turn to host the G7 summit and Angela Merkel declined to attend, citing both the dangers of the coronavirus and Trump's decision to invite Vladimir Putin to the summit.
Trump's invitation to Putin also drew the ire of the UK and Canada, whose leaders came out publicly against the move. The summit was rescheduled to 2021.
All of these actions have weakened the United States' relationship with our strongest democratic allies, while simultaneously, Trump has praised and appeased some of the world's most notorious despots and autocrats.
Donald Trump is a Vladimir Putin fanboy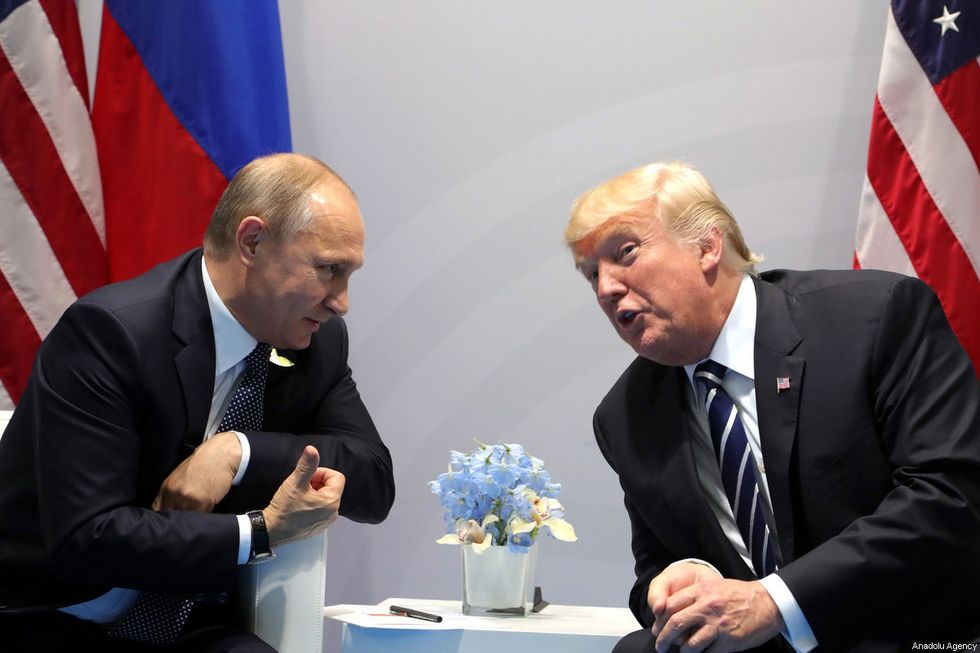 Russian President Vladimir Putin (L) and US President Donald Trump (R) in Hamburg, Germany, on 7 July 2017 Russian Presidential Press and Information Office/Anadolu Agency
Trump has been a Putin fan for years. Before he entered the White House, Trump wrote a series of adoring letters to Russian President Vladimir Putin. In the letters, which were released to the public in a Senate intelligence committee report, Trump told Putin that he was a "big fan" and asked him to be a guest of honor at a Miss Universe Pageant in Moscow.
Around the same time, Trump told Larry King that Putin had done "a really great job outsmarting our country" and told David Letterman that he himself had done "a lot of business with the Russians" and that Putin was "a tough guy." He later denied ever having met Putin.
When Joe Scarborough mentioned that Putin's Russia had been accused of killing journalists, Trump responded "He's running his country and at least he's a leader, unlike what we have in this country." Trump added, "I think our country does plenty of killing also, Joe, so you know. There's a lot of stupidity going on in the world right now, a lot of killing going on, a lot of stupidity." Not a particularly patriotic statement. For context, at least 34 journalists have been murdered in Russia since 2000, while during the same time period 3 journalists have been murdered in the United States.
Trump's love for Putin has translated to wildly inconsistent policies. When Trump pulled us out of Syria, he left Russia with control of the area. Trump personally froze $391 million in US military and security assistance for Ukraine in their fight against Russia, Trump directed the Central Intelligence Agency to share more counterterrorism intelligence with Russia, and Trump pulled troops out of Germany a move which nearly two dozen Republican lawmakers said would "strengthen the position of Russia to our detriment."
Fellow Republican Charlie Dent who served in Congress for 13 years criticized the president, saying, "Never in my wildest dreams could I have imagined a Republican President praising autocrats and advancing Russian President Vladimir Putin's foreign policy interests in Europe and the Middle East." Yet Trump has done exactly that.
Donald Trump loves dictators.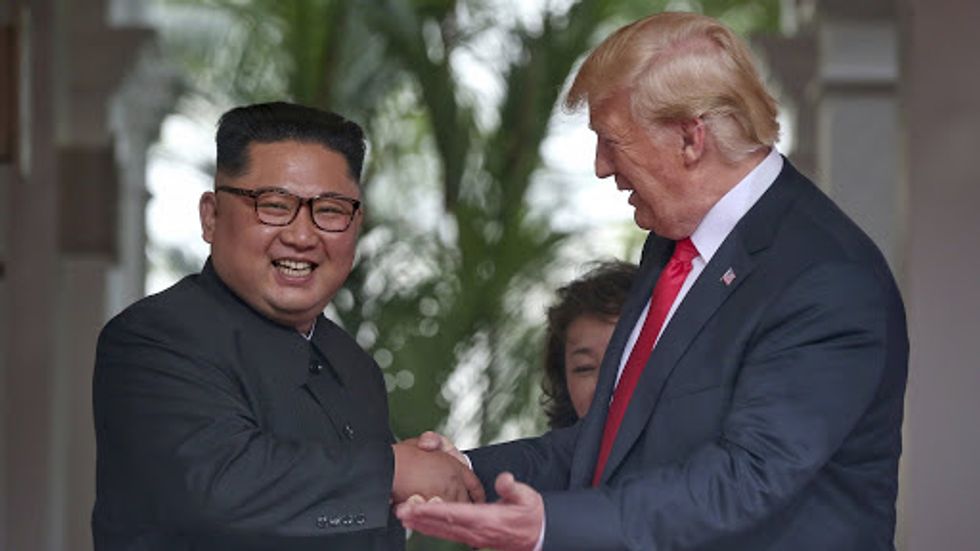 Trump and Kim Jong Un in 2018 AP
President Trump has spoken glowingly of many of democracy's greatest enemies. He said he fell in love with Kim Jong Un, who rules North Korea with extreme brutality. At a rally in 2018 Trump said, "And then we fell in love, OK? No, really, he wrote me beautiful letters, and they're great letters. We fell in love." North Korea is among the worst human rights violators in the world.

Trump has also formed a friendship with Turkey's Recep Tayyip Erdoğan, an authoritarian leader whose country has the most jailed journalists of any country in the world. Turkey is technically our ally despite their undemocratic government since they're a member of NATO, but Trump seems to like Erdogan on a more personal level, hailing him as a "great leader" and saying Erdogan "has become a friend of mine."
He also considers Xi Jinping, the communist dictator of China, to be a friend. President Xi is known for ending term limits so he could rule for life, for detaining and torturing Uighur Muslims, and forcibly suppressing any dissent. Trump says of Xi, "And I like President Xi a lot. I consider him a friend, and—but I like him a lot. I've gotten to know him very well. He's a strong gentleman, right? Anybody that—he's a strong guy, tough guy."
Trump has referred to Egyptian President Abdel-Fattah al-Sisi as "my favorite dictator," and said that "He's a very tough man, I will tell you that. But he's also a good man, and he's done a fantastic job in Egypt. Not easy." al-Sisi became ruler of Egypt after he orchestrated the military's July 2013 removal of Mohamed Morsy, Egypt's first freely elected president. This military coup included the killing of at least 900 protesters.
The trend here is that Trump seems to view "strong" and "tough" as the highest compliments, and refuses to confront dictators about their significant human rights violations.
Donald Trump has the lowest confidence rating amongst our allies.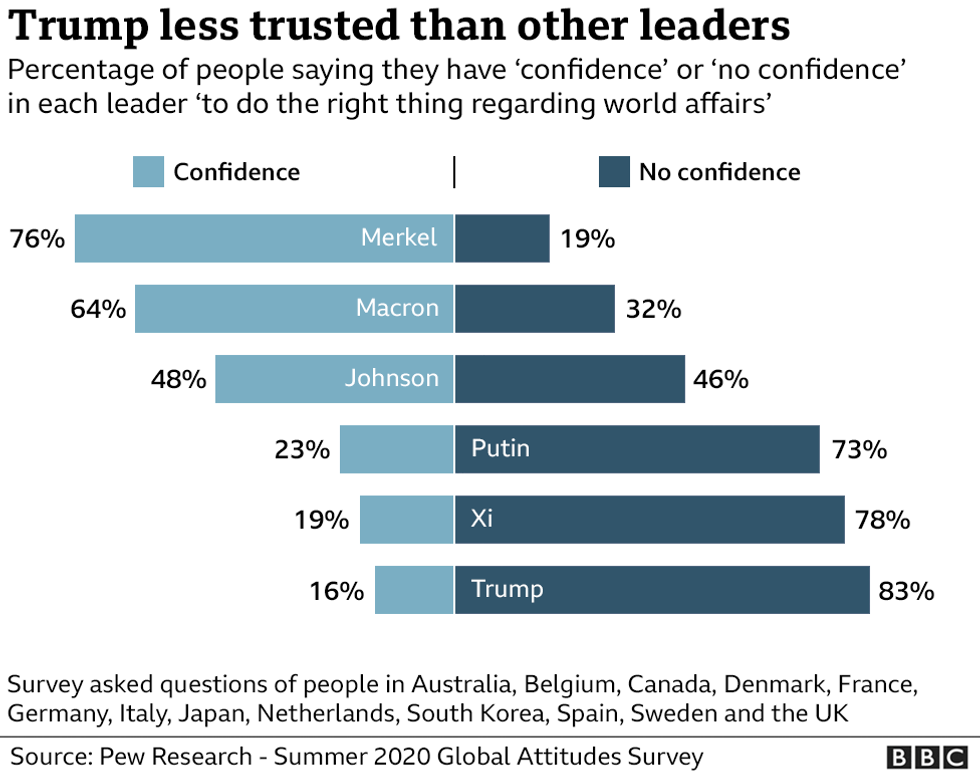 Survey of American allies confidence in world leadersPew Research
A new 25-nation Pew Research Center survey shows that our allies in Europe have a particularly low opinion of Donald Trump. When asked if they had confidence that the US president would do the right thing regarding world affairs, only 28% of the UK, 10% of Germany, and 9% of France expressed confidence.
An even more recent 13-nation Pew Research Center survey asked candidates to compare 6 world leaders, Emmanuel Macron of France, Angela Merkel of Germany, Boris Johnson of the UK, Xi Jinping of China, Donald Trump of the United States, and Vladimir Putin of Russia. The survey examined attitudes towards the leaders, and overall Donald Trump received the most negative ratings among the five. Lower than the two dictators. A median of 83% across the 13 allied nations polled lack confidence in our American leader.
Trump himself is aware of the stark contrast between his relationships with our allies vs his relationship with our enemies. In a recording by Bob Woodward, he says, "It's funny, the relationships I have, the tougher and meaner they are, the better I get along with them. You'll explain that to me someday, ok? But maybe it's not a bad thing. The easy ones I maybe don't like as much or don't get along with as much."
But it's easy to explain: he gets along better with the strongman autocrats who hate the press and love looking tough, because he sees himself and everything he wants to be in them.
Trump's personality is irreparably bad for our national security. In August 2020, 130 Republican senior national security officials released a statement proclaiming that they believe Donald Trump has damaged the United States' standing in the world and has compromised our nation's safety. They stood together to publicly state that "The President has demonstrated that he is dangerously unfit to serve another term."
Read their entire letter here:
Keep reading...
Show less
The sounds of the summer don't have to just be the cries of your enemies...
There was a time when, if a leader of a nation wanted to speak to their people, they could just hop on the radio and instantly be transported into every living room. Nowadays, politicians –– democrat and demagogue alike –– have to fight to be heard above the unending noise of social media, where the inane musings of a citizen's friend is given equal time as whatever pronouncement they (the politicians) wish to make. Increasingly, this has led to attention-starved politicians engaging in some previously unimaginable behavior, in a seeming attempt to not just compete with your online friends, but become one of them.
The current U.S. President has eschewed the official White House statement in favor of stream-of-consciousness tweeting that resembles some kind of fridge poetry for Tea Party uncles. His predecessor, CoolDadPresident™ Barack Obama, realizing that Roosevelt's fireside chat shtick wouldn't work with the kids, did something different. Realizing that music is both a Thing That Humans Generally Like and a excellent signifier of cultural literacy, the White House published a series of summer playlists curated by the President that combined tracks from some up-and-coming artists (Courtney Barnett's, "Elevator Operator" made an appearance) with undeniable classics like Miles Davis' "Flamenco Sketches".
But why should elected leaders be the only ones who get to cut a mixtape? What about the outcasts of the global order; the ones who everyone avoids at UN meetings? Don't dictators love to dance too? According to The Guardian, the answer is yes, at least in the case of Bashar Al-Assad, whose iTunes purchase history reveals that even the Syrian autocrat is not immune to the charms of LMFAO's "I'm Sexy and I Know It". Years of brutal civil war has left Al-Assad's image somewhat tarnished (war crimes will do that), so perhaps he should find some time in-between barrel-bombing sessions to reveal the softer side of himself; the Bashar who, like any regular loving husband, sends Blake Shelton songs to his wife. Yes, he may have given the order to shell Homs into glass that same day, but it's a start.
So, in the spirit of the humble profession of providing PR advice to despots, I have compiled what I think is a perfect summer playlist fit for any established or prospective authoritarian; one that is sure to give them a much-needed image boost, as well as providing a few helpful tips along the way:
Track 1: "Who Wants the World" by The Stranglers
Before you can even begin to throw that tyrannical power around, you've got to have the ambition to take it. The Stranglers' 1980 new wave classic should get you pumped up for some putsch-ing. "Who waaaants the world?" You do.
Track 2: "Cruel" by St. Vincent
Any dictator worth their salt knows that, even with ambition, seizing and maintaining their positions can't be done with a clean pair of hands. That's okay though, the lilting melodies of Annie Clark should be cool enough to help you drown out the screams you hear in your head.
Track 3: "SHAME" by Young Fathers
So you've taken power, but something feels off, right? People really seem to not like you. Sure, you might've "disappeared" half their family, but your "dodgy dealings just got deadly", it's nothing to be ashamed of. In fact, they should be the ones who are ashamed. Sing it with me: "What a shame on you/Where's your gall when it's a shame on you?"...
Track 4: "Illicit Fields" by Ka
Being a dictator can be tough, but it can have its perks, even if they might be a little blood-stained. Mixing sweeping melodies and punchy samples, Ka's Honor Killed the Samurai depicts the grey moral territory of life on the margins, where there is very little time for sweeping generalizations like 'good' and 'evil'. It's a seismic work, and sure to provide lots of cool credibility when you invite some influencers over to one of your six places to listen to it on vinyl. Just don't sound too into it when you're singing the hook: "Hate's well known/It's that love I'm unfamiliar with".
Track 5: "Rasputin" by Boney M
With all of this good publicity, you're probably going to be so tied up giving interviews and re-tweeting praise from New York Times op-ed columnists that you'll need a reliable henchman to run the affairs of state in your stead. Just make sure that he's at least somewhat qualified. Oh... he's a womanizing cult leader who may or may not be sleeping with your wife? Eh, I'm sure everything will be fine. Plus, his song is so catchy.
Track 6: "The Partisan" by Leonard Cohen
The henchman thing didn't work out, there's rebellion in the air. It'll be okay though; just study this legendary Résistance hymn and you'll get to know your enemy. A bit of Cohen should also help you court some hipsters to your side, and he once published a book of poems entitled Flowers for Hitler, which sounds like a dictator-y thing to bring to a meeting with Hitler. There is something eerily sleep-inducing about the way that Cohen strums through a song that is so saturated with sadness and death; it's enough to make you ignore the wind that's blowing...
Track 7: "Sinnerman" by Nina Simone
There's really nothing that dictators obsess about more than the pursuit of immortality. Obtaining a permanent place in history, whether it be through building palaces, empires, or body counts, is kind of the dictator thing. But, as Simone herself once noted, "time is the dictator of us all," and there's a certain justice that, in the end, everyone fears. This winding, ten-minute symphony of a song is probably Simone's greatest work, and her engine-like piano playing and rhythmic vocals are the perfect accompaniment to some vigorous exercise; the kind of exercise that you'd get from say, running away from an angry mob. Turn it up, tyrants –– time to figure out "where you're gonna run to"...
Keep reading...
Show less