Dall-E Mini, the AI-powered text-to-image generator has taken over the internet. With its ability to render nearly anything your meme-loving heart desires, anyone can make their dreams come true.
DALL-E 2, a portmanteau of Salvador Dali, the surrealist and Wall-E, the Pixar robot, was created by OpenAI and is not widely available; it creates far cleaner imagery and was recently used to launch Cosmpolitan's first AI-generated cover. The art world has been one of the first industries to truly embrace AI.
The open-sourced miniature version is what's responsible for the memes. Programmer Boris Dayma wants to make AI more accessible; he built the Dall-E Mini program as part of a competition held by Google and an AI community called Hugging Face.
And with great technology, comes great memes. Typing a short phrase into Dall-E Mini will manifest 9 different amalgamations, theoretically shaping into reality the strange images you've conjured. Its popularity leads to too much traffic, often resulting in an error that can be fixed by refreshing the page or trying again later.
If you want to be a part of the creation of AI-powered engines, it all starts with code. CodeAcademy explains that Dall-E Mini is a seq2seq model, "typically used in natural language processing (NLP) for things like translation and conversational modeling." CodeAcademy's Text Generation course will teach you how to utilize seq2seq, but they also offer opportunities to learn 14+ coding languages at your own pace.
You can choose the Machine Learning Specialist career path if you want to become a Data Scientist who develops these types of programs, but you can also choose courses by language, subject (what is cybersecurity?) or even skill - build a website with HTML, CSS, and more.
CodeAcademy offers many classes for free as well as a free trial; it's an invaluable resource for giving people of all experience levels the fundamentals they need to build the world they want to see.
As for Dall-E Mini, while some have opted to create beauty, most have opted for memes. Here are some of the internet's favorites:
There's no looking back now, not once you've seen Pugachu; artificial intelligence is here to stay.
The revolution will not be Tweeted, but its agenda can be.
Can a tweet save the world? No. Is it a public record of your intolerance of unjust systems in the world? Sure, if anybody reads it among the white noise of Twitter rage. Protest movements in the digital age are tricky; hacktivism, or hashtag activism, has been critiqued as an ineffective and tokenizing way to virtue signal in the name of social justice while actually being armchair activists. Meanwhile, nonviolent protests like marches, boycotts, and strikes are critiqued for being too passive to ever enact real change. On the other end of the spectrum are volatile reactionaries who want to tear down the system and begin from scratch–even if they have no actionable plans to create a viable replacement.
So what are we supposed to do? More to the point, what are we supposed to believe? A patient and open-minded look at both sides of any issue is guaranteed to point out one commonality: Everybody has the wrong idea about the opposing side. When it comes to social movements that create a better future, there are some basic, prevailing myths that only distract people from the real problems at hand. Ask activists, historians, and political science analysts, and they agree that you shouldn't fall for the following misconceptions when fighting for a better world:
1. Myth: Nonviolence Is Ineffective
Historically speaking, this simply isn't true. When two researchers from the United States Institute of Peace conducted a study of nearly 330 major violent and nonviolent campaigns "targeting incumbent regimes and foreign military occupations," they concluded that "nonviolent efforts were twice as likely to achieve their goals." They wrote, "The majority succeeded against authoritarian governments, when even peaceful protests could have fatal consequences. The ousters of Augusto Pinochet in Chile, Ferdinand Marcos in the Philippines, Zine el-Abidine Ben Ali in Tunisia, Yahya Jammeh in Gambia, Bashir in Sudan and Abdelaziz Bouteflika in Algeria are only a handful of cases in which mass nonviolent force stripped power from despots." Furthermore, another study in 2011 looked at 323 civil resistance campaigns around the world between 1900 and 2006, concluding that nonviolent campaigns were successful in 53% of cases, compared to violent ones' success rate of 26%. Additionally, only 4% of violent revolutions ended up in a "functioning democracy," compared to 42% of non-violent regime changes.
So radical violent action, whether that be in the form of paramilitary groups or self-appointed vigilantes who want to burn down the Establishment, is statistically not as likely to produce change as collective nonviolent protest.
2. Social Media Makes Protests More Effective
With that being said, there is a degree of truth to the allegation that social media creates lazy activists. More specifically, however, social media encourages engagement in social issues (i.e. sharing an article, liking a tweet, and maybe hurling insults at the opposing side), which is different from collective action. While Facebook, Twitter, and Instagram allow people to express their displeasure at existing policies, the most social media can do is mobilize people to agree on a unified agenda and a set of actions.
The problem, of course, is that many online participants don't end up following through with in-person plans, thus there's no unity where it counts: on the ground, at the march, or holding up signs. Furthermore, analysts Maria J. Stephan and Adam Gallagher emphasize the importance of "durable organizations" and "long-term planning," and in the fast-paced, immediate gratification of social media platforms like Twitter, responses can often be reactionary and short-term, which doesn't even begin the work of effective protest.
3. Myth: You Need to Have a Massive Amount of People
This is half-true, but it's mostly misunderstood. Effective nonviolent protests gain traction and grow into massive movements when their tactics get them noticed–even if that doesn't involve a large amount of people. As evidenced by the progression of the Egyptian occupation of Tahrir Square and the Serbian student protest group, Otpor (translated as "Resistance!"), a large following of people don't mark the beginning of a movement but rather it's a sign that a movement's worked. Srdja Popovic, leader of Otpor, reflected on the overthrow of war criminal Slobodan Milošević, "All successful movements come with a very low entry bar. You need to offer people the chance to do something meaningful, and – crucially – to get away with it. In Chile, against Pinochet, they drove at half speed: not illegal, very low risk, pretty funny, nothing the cops can do. It's about doing something neat, and living to tell everyone." He added, "We had to go out and listen. Get the real people, rural people, not so clever-clever people, behind us. Build a movement. We did, but it took us five years." Resistance from within a system is more effective to create change than external opposition.
4. Myth: It's a Business
Popovic coins one of their best tactics "laughtivism." Making people laugh not only gets attention, but it alleviates tension from living within fraught social realities. From graffitiing pictures of the corrupt men in charge to spreading the movement's message through public pranks, nonviolent movements have gained global traction through being human and showing a sense of humor.
Can the Democratic establishment get it right this time?
With the first Democratic primary still about eight months away, the Democratic party establishment appears prepared to throw all of their weight behind Joe Biden.

To hear MSNBC or CNN tell the story, Joe Biden has been the Democratic party's frontrunner since before he even declared his candidacy. Whether or not this is entirely true, however, is debatable. Misleading polls are being conducted and then misrepresented by many liberal news outlets as a means of solidifying Uncle Joe's frontrunner status early on in hopes of swaying voters toward the "more electable" candidate in the primaries. If Joe Biden can be made to look like he actually has the best chance of clinching the nomination or winning against Trump in a general election, then, voters will be more likely to vote for him as the safe bet.
IVN, or the Independent Voters Network, self-described as "a platform for unfiltered political news and policy analysis from independent-minded authors," has highlighted the biased nature of many political polls. IVN writer, Rudolpho Cortes Barragan reports:
"FiveThirtyEight, which is owned by ABC/Disney, functions as a sort of gatekeeper for polling, and polls are extremely important for candidacies. The public is told that polls judged as A+ by FiveThirtyEight are to be seen as real bellwethers of popular opinion. In reality, 'the polls' are manufactured to produce the results that the pollsters (and their corporate funders) want to see."
Barragan goes on to cite a recent Mammoth University poll as evidence. "The results showed Biden 9 percentage points ahead of Sanders," he writes, "but if you look closely you will see that more than 70% of the people polled are over the age of 50. Any honest person would be able to tell you that the 2020 electorate will be far younger than 50." The data is seldom presented within its full context on mainstream news outlets like MSNBC or CNN, and instills in voters a false sense of Biden's electability and props him up as the "safe" vote.
If this sounds eerily familiar, it's because the same thing happened in 2016. Hillary Clinton, like Biden, was prematurely propped up as the most electable candidate, even though an anti-establishment candidate like Bernie Sanders may have stood a better chance against Trump's "outsider" persona, which resonated with many voters (particularly across the midwest). This was proven in the wake of Trump's victory when analyses showed that many Bernie supporters either did not vote in the general election or jumped on the Trump ticket, preferring the radical change suggested by Trump's "drain the swamp" narrative over Clinton's years of experience as a politician.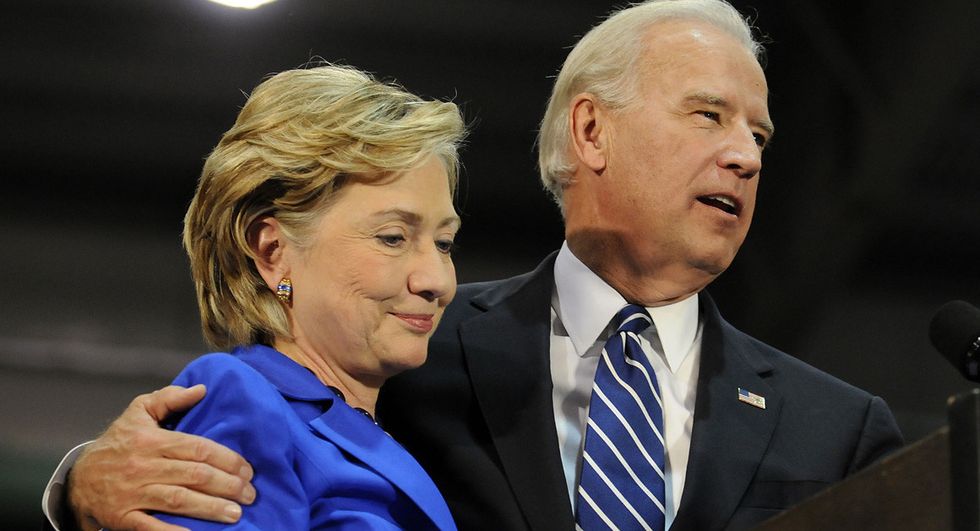 Joe Biden, like Clinton, is firmly rooted in the Democratic establishment. While Trump's approval rating has wavered over the last few years, hitting its low at 35% in 2017, it has remained around 40 to 45% — a number that should be alarming for Democrats going into 2020, as there have been only three single-term presidents since World War II.

Either way, the Democratic party and its voters must avoid making the same mistakes if there is any hope of preventing a Trump reelection. Poll manipulation was not the only issue in the 2016 election. The Democratic National Committee (DNC) was also exposed for unfairly tipping the scales toward Clinton in 2016, effectively rigging the primary against Bernie Sanders.
Donna Brazile, former interim chair of the DNC, revealed in her book, Hacks: The Inside Story of the Break-ins and Breakdowns that Put Donald Trump in the White House, the nefarious– although not technically illegal, according to US District Judge William J. Zloch, who dismissed a class action lawsuit against the DNC – actions of the Committee.
"Hillary would control the party's finances, strategy, and all the money raised," writes Brazile. "Her campaign had the right of refusal of who would be the party communications director, and it would make final decisions on all the other staff. The DNC also was required to consult with the campaign about all other staffing, budgeting, data, analytics, and mailings."
It's unclear whether the DNC's current chair, Tom Perez, will run an honest and fair ship as we approach the 2020 election cycle. Perez held the position of labor secretary during the Obama administration, and Biden publicly threw his support behind Perez during his campaign for DNC chair; whereas Sanders preferred Keith Ellison, who lost by a narrow margin. Only time will tell if Perez will tip the scales in Biden's favor due to their favorable history together, but the Democratic party is no stranger to nepotism, so Perez – especially in light of 2016 – should be watched carefully in the months to come.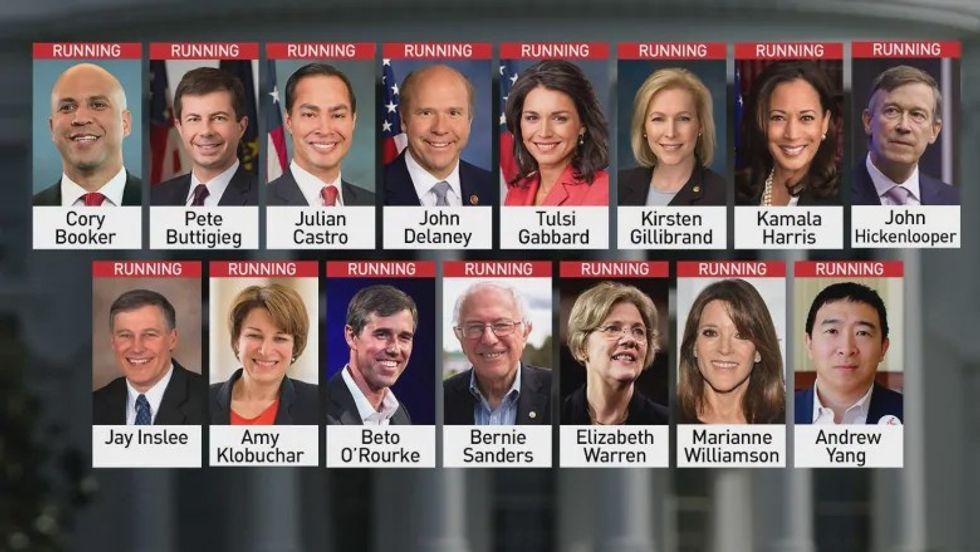 Even if the DNC does run a fair election this time around, electing Joe Biden would be a grave mistake. A mistake that the party already made last time around in the form of gifting the primary to Hillary Clinton. This election will not be one for tepid, center-of-the-road policies. We've already seen how an establishment centrist performs against Donald Trump. The Democratic party must embrace and adopt the progressive push to the left provided by candidates like Sanders and others if they have any hope of winning in 2020. Playing politics as usual will cost the Democratic party, and the nation, another four years of a Donald Trump White House.

Over the course of two hours, ten candidates employed Trump's name for applause and support a total of 35 times.
The first round of Democratic debates are underway. Ten out of the twenty candidates who qualified for the debates were chosen at random to participate in the first half of NBC's debate last night. The goal for the Democratic Party is obviously to take the Oval Office and hopefully the Senate, but for most of the candidates, last night seemed more like a bid for positions in Elizabeth Warren's cabinet. Straight from the get-go, Warren stood strong like she had nothing to prove and answered every question directed at her with poise and eloquence. Consequently, she may have won the evening. Although, a couple of lesser-known candidates also made their marks, most notably Julian Castro and Jay Inslee.

We Get it, You Speak Spanish
Beto O'Rourke, former representative for Texas, spoke in Spanish during his first response of the evening. Evidently, neither Cory Booker or Elizabeth Warren could maintain their poker faces during the surprising moment. Booker and Warren appeared humored and stunned by the skinny white guy's pandering.
Oh, y'all thought I was just making a meme?!?!?! Here it is in its glorious video form: https://t.co/rdjSi7kbbY

— Jason Howerton (@Jason Howerton) 1561606757.0
To compete, Booker whipped out his Spanish, as well. Notably, the only Latinx candidate on stage, Julian Castro, did not speak in his family's native tongue until his closing comment, where he used his bilingual skills to celebrate the opportunity to represent his people.
Jimmy Kimmel?
Ok, when John Delaney, the Maryland Congressman, began speaking before the camera panned to him, did it sound to anyone else like Jimmy Kimmel was on stage? Unfortunately, Delaney is not as charismatic as the Jimmy Kimmel Live! host. He rubbed many the wrong way with his countless attempts to get a word in.
While it's crucial for the lesser-known candidates to elbow their way into the debate, Delaney came off as pathetic. At the end of the discussion about the separation of families at the border, Delaney tried to butt in a personal anecdote, disclosing, "My grandfather was actually separated from his family when he came to this country." Lester Holt rightfully moved on from the comment and switched to another pressing issue.
2020 Democratic Candidates Debate - Separated Grandfather www.youtube.com
Finally, when asked whether or not any of the candidates would choose to prosecute Trump after the Mueller Report, Delaney was indifferent. Out of all the references to Trump last night, this was the most important, because Trump could become the first president to be indicted after his term. Delaney claimed that everyday citizens don't care about Donald Trump breaking the law because it doesn't affect them. Although Delaney supports justice being served to criminals, he hypocritically proposed that Trump's indictment isn't a big enough concern to take up his time if he were president.
Yes, Women Care Too
While Washington Governor Jay Inslee had an overall good showing, his one big fumble occurred when he claimed to be the only one on stage to pass a reproductive rights act. Minnesota's Senator Klobuchar spoke for everyone when she interrupted Inslee, saying, "I just want to say there are three women up here that have fought pretty hard for a woman's right to choose, I'll start with that." The crowd gave Klobuchar resounding and deserved applause.
Recognition for the Trans Community

Early in the debate, San Antonio's finest, Julian Castro, highlighted an overlooked population that's affected by abortion restrictions: trans people. It was a standout moment for the former mayor.
Later on, Cory Booker piggybacked off Castro's sentiment. When Hawaii Representative, Tulsi Gabbard, was asked about her former dismissal of the LGBTQ community, she highlighted the work she's done for gay men and women since. Booker retorted that it's not enough:
"Look, civil rights is someplace to begin, but in the African-American civil right community, another place to focus was to stop the lynching of African-Americans. We do not talk enough about trans-Americans, especially African-American trans-Americans and the incredibly high rates of murder now."
Just like climate change is a national emergency and should be treated as such, so should the murder rates of trans people, especially POC trans people. Booker, as the only African-American candidate on stage, brought attention to historically under-represented issues.
Tulsi Gabbard Dunks on Tim Ryan

Army veteran Tusli Gabbard was the most googled candidate last night for good reason.
While she was one of the candidate who spoke the least, overall, she corrected and challenged Ohio Representative Tim Ryan when he asserted the troops should stay in Afghanistan longer to keep an eye on the Taliban.
Tusli Gabbard rips Tim Ryan over foreign policy www.youtube.com
Gabbard draws from her military experience to inform her non-interventionist position, and she memorably reminded Ryan that families want their children to finally come home, saying, "The Taliban was there long before we came in and will be there long before we leave. We cannot keep U.S. troops deployed to Afghanistan thinking that we are going to somehow squash this Taliban."
Ryan gustily clapped back, saying, "I didn't say squash them. When we weren't in there, they started flying planes into our buildings."
Gabbard corrected Ryan's outlandish error, notifying the Congressman, "The Taliban didn't attack us on 9/11. Al Qaeda did." While that should be common knowledge, Gabbard came out on top and successfully relayed her position on foreign policy, diplomacy, and war.
Castro Annihilates Beto
Besides Ryan and Delaney, Beto took the biggest L of the evening.
Throughout the night, O'Rourke failed to answer questions in an informed or committed fashion. For example, when discussion about immigration policies arose, Castro called out Beto for not supporting decriminalization of border crossing:
"Let's be very clear: The reason that they're separating these little children from their families is that they're using Section 1325 of that act, which criminalizes coming across the border, to incarcerate the parents and then separate them. Some of us on this stage have called to end that section, to terminate it. Some, like Congressman O'Rourke, have not."
Beto attempted to defend himself by explaining that he supports a complete rewrite of the bill, instead of just repealing Section 1325. He then tried to pivot by readdressing his support of asylum seekers. But asylum seekers are only a small portion of the immigrants affected (and now imprisoned) for attempting to cross the border.
Castro did not take the bait, putting an end to the exchange by suggesting, "You should do your homework on this issue."
Forget Trump

Among the ten candidates last night, eight referenced Trump in a total of thirty-five times. Over the course of two hours, candidates employed Trump's name for applause and support of their anti-Trump Democratic position.
The two candidates who refrained from name-dropping were Bill de Blasio and Elizabeth Warren. The two remained measured and composed throughout the evening, respectfully sticking to their ideas, raising concerns, and focusing on change.
While Elizabeth Warren did not have any quippy moments, she stood out as the strongest candidate, never wavering from her beliefs, policy ideas, or promises. Her comprehensive vision for America involves restructuring broken systems that don't work for the majority of citizens.
Although Warren shined, it's possible that the absence of other frontrunners, Joe Biden and Bernie Sanders, contributed to this. Only time will tell how the three will stack up agaisnt one another, but tonight we'll see how Biden and Sanders fare among hopefuls like Kamala Harris and Pete Buttigieg.