"A tree is best measured when it is down," the poet Carl Sandburg once observed, "and so it is with people." The recent death of Harry Belafonte at the age of 96 has prompted many assessments of what this pioneering singer-actor-activist accomplished in a long and fruitful life.
Belafonte's career as a ground-breaking entertainer brought him substantial wealth and fame; according to Playbill magazine, "By 1959, he was the highest paid Black entertainer in the industry, appearing in raucously successful engagements in Las Vegas, New York, and Los Angeles." He scored on Broadway, winning a 1954 Tony for Best Featured Actor in a Musical – John Murray Anderson's Almanac. Belafonte was the first Black person to win the prestigious award. A 1960 television special, "Tonight with Belafonte," brought him an Emmy for Outstanding Performance in a Variety or Musical Program or Series, making him the first Black person to win that award. He found equal success in the recording studio, bringing Calypso music to the masses via such hits as "Day-O (The Banana Boat Song)" and "Jamaica Farewell."
Harry Belafonte - Day-O (The Banana Boat Song) (Live)www.youtube.com
Belafonte's blockbuster stardom is all the more remarkable for happening in a world plagued by virulent systemic racism. Though he never stopped performing, by the early 1960s he'd shifted his energies to the nascent Civil Right movement. He was a friend and adviser to the Reverend Doctor Martin Luther King, Jr. and, as the New York Times stated, Belafonte "put up much of the seed money to help start the Student Nonviolent Coordinating Committee and was one of the principal fund-raisers for that organization and Dr. King's Southern Christian Leadership Conference."
The Southern Poverty Law Center notes that "he helped launch one of Mississippi's first voter registration drives and provided funding for the Freedom Riders. His activism extended beyond the U.S. as he fought against apartheid alongside Nelson Mandela and Miriam Makeba, campaigned for Mandela's release from prison, and advocated for famine relief in Africa." And in 1987, he received an appointment to UNICEF as a goodwill ambassador.
Over a career spanning more than seventy years, Belafonte brought joy to millions of people. He also did something that is, perhaps, even greater: he fostered the hope that a better world for all could be created. And, by his example, demonstrated how we might go about bringing that world into existence.
With the Democratic nomination essentially a toss-up between Bernie Sanders and Joe Biden, America's fear of electing competent, prepared women is prevalent.
This week, Senator Elizabeth Warren suspended her campaign in the 2020 presidential election.
The announcement arrived after a disappointing Super Tuesday for the progressive candidate, who failed to win her home state of Massachusetts. "I refuse to let disappointment blind me— or you—to what we've accomplished," Warren wrote. "We didn't reach our goal, but what we have done together—what you have done—has made a lasting difference. It's not the scale of the difference we wanted to make, but it matters—and the changes will have ripples for years to come."
Warren built a successful grassroots movement and, for much of the race, was a Democratic front-runner. She supports key issues like the Green New Deal and Medicare for All, and she mapped out proposals for affordable housing and free college for lower-income students. Her liberal policies earned her numerous comparisons to Bernie Sanders, but as Warren fell behind and her more moderate opponents, like Amy Klobuchar, Michael Bloomberg, and Pete Buttigieg, exited the race—each endorsing former Vice President Joe Biden—it became clearer that her participation might be splitting the progressive vote. Her choice to bow out for the sake of the country's future is honorable, but her departure makes the Democratic nomination a toss-up between Sanders and Biden as congresswoman Tulsi Gabbard trails behind significantly. That shouldn't be the case.
#ThankYouElizabeth ...for running an exceptional campaign. For knocking #Bloomberg out of the race. And for push… https://t.co/tHe1kfRbF8

— Peter Daou (@Peter Daou) 1583425541.0
Yes, Biden has decades of experience; he first became a senator in 1972, while Warren wouldn't be elected until thirty years later. Despite serving two terms as vice president, however, Biden failed to match Warren's sharp wit in debates—his muddled answers and seemingly inattentive performances spurred headlines like "Is Joe Biden OK?" Additionally, there's an ongoing list of allegations about his creepy behavior towards girls and women, for which he's never formally apologized.

When it comes to policy, Biden can be moderate to a dangerous degree. His stance on abortion has wavered throughout the years (to be fair, Warren was a Republican until the '90s), and he supported a constitutional amendment in the '80s that would have let states overturn Roe v. Wade. In the '90s, he voted against legalization of gay marriage, and later in the early '00s, he voted in favor of the Iraq War. Today, he opposes Medicare for All, would let states individually allow to legalize recreational marijuana, doesn't believe in abolishing ICE, and wouldn't bring U.S. troops home from overseas; Warren's stance on each of those issues is the opposite, which makes the trending #WarrenToBiden hashtag so disappointing.
Elizabeth Warren ethered Mike Bloomberg and John Delaney, two plutocrats with terrible policies who thought they co… https://t.co/jxOSe75jeN

— Adam Best (@Adam Best) 1583429691.0
Though Warren has generally kept her gender out of her campaign (aside from telling little girls that she's running for president because "that's what girls do"), much of Biden's sudden lead ahead of her can be accredited to sexism. Despite experience, Warren has proven time again and again that she's incredibly fit to be president; how has Biden become our most "electable" option?

Yes, Democrats need to unite to ultimately defeat Donald Trump. But we also can't risk electing a candidate who repeatedly appears mentally unwell, poses dangers to women, and doesn't have an aggressive plan to tackle the climate crisis. Thankfully, we have a viable candidate left with Sanders, but Biden shouldn't be the other choice. The U.S. deserves better than Biden, but it'll be hard to get there until we've overcome our fear of electing a woman.
Marianne Williamson enrages some, makes others laugh, and inspires still others to form occult task forces. Could she be the only one who could meet Donald Trump on her own terms?
Objectively, Marianne Williamson had a fantastic night at the latest Democratic debate. She gained the largest number of Twitter followers afterwards, after all, and was the most Googled candidate of the night.
Perhaps this is because Williamson may be the most intriguing character of all the progressive Democratic candidates. With her aura of patchouli and residual dust from the astral plane, detectable even through the TV screen, she's the most memeable candidate (Elizabeth Warren and her plans are a strong second). She's also perhaps the most out-there, even compared to Elizabeth Warren and Bernie Sanders. If Warren and Sanders are marooned on the far left, Williamson has transcended direction, and she intends to bring America with her.
Regardless of how her campaign pans out, Williamson has undeniably made waves. She's the first political candidate to bring non-mainstream spirituality directly into her platform, and she's done it at the perfect time.
Four years ago and earlier, she would've seemed as absurd a candidate as Donald Trump—but we all know how that worked out. Today, qualifications for the presidential office matter less than one's star power and ability to inspire a movement, and Williamson seems to have the star power (if not the ability to commune directly with the stars).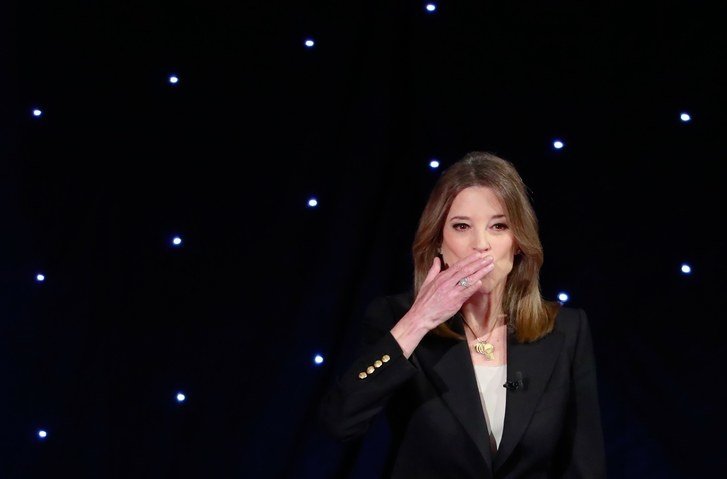 Image via NewYorker.com
In all seriousness, out of all the candidates, she may be the most similar to Donald Trump, in that she exists in the same realm of humorous implausibility as he does. Like Trump, she could be a reality TV fixture. She posts memes, is popular in fringe online forums, inspires occult task forces, and generates massive quantities of loathing and disbelief. She fits into the glitchy landscape of ironic and disillusioned online discourse and is bizarre enough to capture and hold the public's attention.

Like Trump, she's also bringing race directly into the conversation—though for the opposite reasons. Where Trump used racist ideas to win the presidency, Williamson has brought systemic reparations into the discussion. "We need to realize that when it comes to the economic gap between blacks and whites in America, it does come from a great injustice that has never been dealt with," she said. "That great injustice has to do with the fact there were 250 years of slavery followed by another 100 years of domestic terrorism." She followed this statement with some unusually cogent statistics. "If you did the math of the 40 acres and a mule, given that there were 4 to 5 million slaves at the end of the Civil War—they were all promised 40 acres and a mule for a family of four. If you did the math today it would be trillions of dollars."
Her articulate commentary about reparations was a high point in an otherwise discouraging debate that mostly revolved around the same arguments, with moderators and candidates circling around Bernie Sanders and Elizabeth Warren. While the Democratic party ate itself, Williamson—placed as far to the left as could be—stood on the outside.
None of these points are reasons to elect her. She is definitely not an experienced politician—she's a self-help guru, spiritual advisor, and occasional activist. Her platform's main points include a potential Department of Peace "as a first step to dismantling our systemically entrenched perpetuation of violence," movements towards sustainable agriculture in order to reestablish "humanity's spiritual connection to nature," and of course, fighting Donald Trump and his battalion of "dark psychic forces" with love.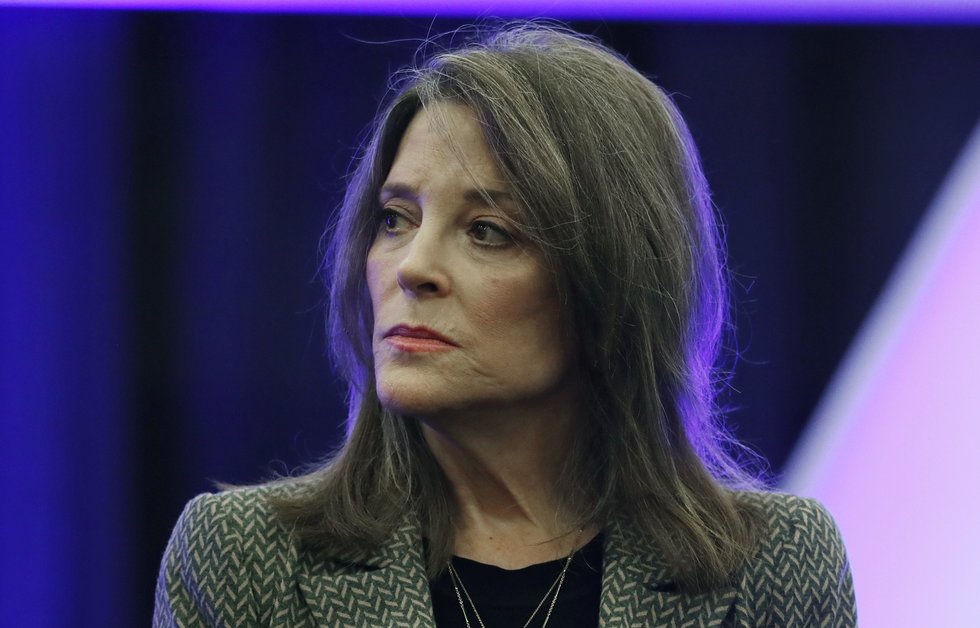 Image via USA Today
Her ideologies are absurd, and not based in (our) reality. She may be promoting an individualistic, dangerous brand of New Age spirituality that promotes an unhealthy fixation on the self. Still, she's arriving at a time when many Americans feel they are already living in an absurd, delusional world, and when they're seeking broader, more creative solutions.
Arguably, Williamson and Bernie Sanders are the only presidential candidates who have proposed changes to the sources of America's problems, not quick fixes that remain within its current, shattered structure. Where Sanders is proposing a revamp of the American economic system, Williamson is wisely proposing a different kind of recalibration—one that cuts to the sources of racial tension, the sources of pollution, the sources of neoliberalism, and the roots of the sicknesses that are costing Americans so much in health care costs.
In her distance from the here-and-now, she is undefinable, without order or direction. In her removal from the real world, she is quintessent: untouchable, and difficult to pin down. Depending on how you see it, she's absurd, enlightened, out of touch, awake, a crackpot, or a witch.
She would probably make a very poor president. But by bringing her messages of spirituality and structural healing to the table, she's changing the rules of the game.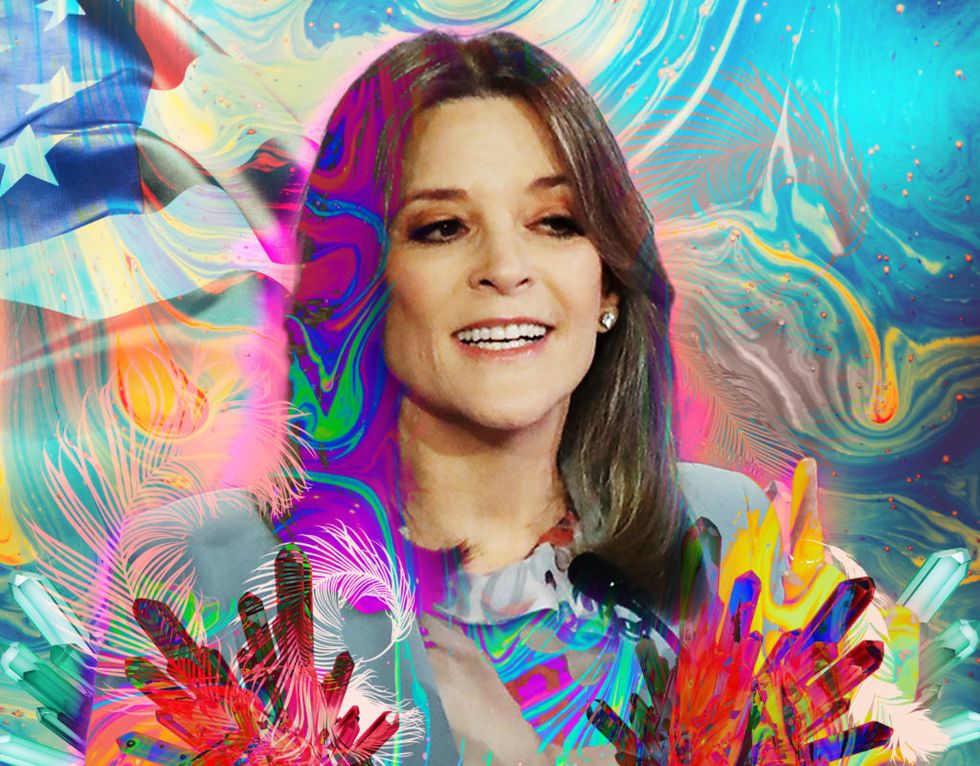 Image via The Bulwark
Together, Sanders and Warren promised radical hope—and wound up derailing the Democratic debate.
"Marooned on a desert island."
"Bonnie and Clyde."
"It's Bernie Sanders and Elizabeth Warren against the world."
These kinds of whimsical headlines, loaded with Americana folklore and reality TV surrealism, swirled across the Internet after the first installment of the second Democratic debates. They stemmed from the unlikely but oddly seamless union of Elizabeth Warren and Bernie Sanders, the second and third highest-polling and by far the most radically progressive candidates in the race to win the Democratic primary.
Standing in the dead center of the row of candidates, in between the youthful pillars of Buttegieg and Beto and far away from Marianne Williamson's mystic emanations and John Delaney's bitter combativeness, they seemed to cling to each other. By proxy, they seemed to cling to a similar collection of dreams, dreams that have been pulling a great deal of progressives towards the far reaches of socialism, or at least to the dissolution of income inequality.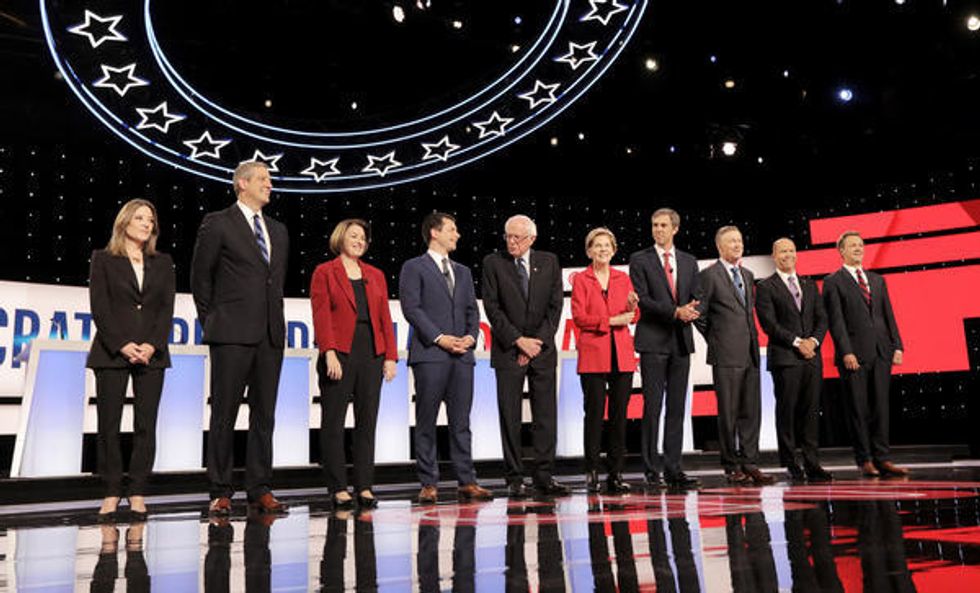 Image via WLRN
Watching Sanders vehemently defend the policies that he brought into the public eye—Medicare For All, free college, a refusal to accept superPAC donations—and watching Warren defend him (when she could get more than a few words in), the idea of a Sanders/Warren dream team entered the realm of plausibility.

Though either could lead, Sanders seems like the clear choice for the presidential candidate, with Warren as a strong VP. After all, the Warren/Sanders ethos thrives because it is buoyed by the idealism that Bernie popularized in 2016.
The fact that Sanders is a democratic socialist, while Warren is a self-proclaimed capitalist, is the primary reason why Bernie would be the most feasible leader of the duo. Sanders' campaign caught fire in 2016 because he spoke to a generation caught in the stranglehold of mind-blowing income inequality, a generation that faces the destabilizing knowledge that the world faces certain catastrophe if climate change is not addressed—and that capitalism has continuously favored the fossil fuel companies that prevent necessary environmental changes. Like most youth-led movements, Sanders supporters seek radical, totalizing change of the sort that's only be possible when the old systems are completely deconstructed.
On the whole, Sanders is more anti-establishment and seems more likely to reel in the followers of Trump's "drain the swamp" who could care less about actual policy, and she's more likely to inspire mass mobilization and excitement among those seeking radical change. As The Atlantic succinctly put it, "Sanders is fighting for a political revolution. Warren isn't."
Warren, for her part, maintains a link to solid ground with her vast collection of plans and policies—plans that, in theory, could be the perfect antidote to any accusation that Sanders' policies are implausible.
Still, last night, it seemed like Warren and Sanders were out in dreamland, reeling through a political Coney Island. This isn't necessarily a death knell, though. Together on a single ticket, their shared pull could be enough.
Torn apart, though, their campaigns might result in another 2016. Arguably, Bernie's campaign was a death knell for Hillary Clinton, as it provided the initial framework for Trump's demonization of her. In the same way, progressives are now putting up firewalls against the candidates they see as too middle-of-the-road, like Joe Biden.
In her opening statement, the ever-practical Warren reminded the audience that any candidate would be preferable to Donald Trump. While this is true, many progressives feel that the 2020 election presents an unmissable opportunity to completely change the direction of politics. In a nation that was prepared to elect someone as disruptive as Donald Trump, it seems feasible that we could handle a little more chaos, especially if it comes in tandem with the promise of a better world.
At the debate, with rampant arm-flailing and drawn-out storytelling, Warren and Sanders promised that better world. They stood for the dissolution of private health insurance companies and student debt in spite of endless criticisms from the other candidates. Against the totalizing extremity of their views, the other candidates who supported for-profit colleges and private insurance in any capacity seemed lost in the past—or lodged in reality, depending again on how willing you are to take the leap into their alternate state of mind.
But in last night's debate, the binary they created between themselves and the others didn't always work in their favor. Somehow, by the end of the night, both the Warren/Sanders island and the rest of the Democrats seemed to come out as losers.
This raises the question: Is extremism really the solution? For young progressives, it absolutely is. For this group, fighting against a rigged system that buoys the rich and throws the poor to the wolves, extreme action is the only thing that will work. Peace and love failed in the 1970s, and moderation is code for the status quo. For progressives, it's time to wake up from the dream presented at the start of the American capitalist experiment.
For other non-radical or socialism-phobic Democrats, the Sanders/Warren ticket is the stuff of nightmares, and the progressives are the ones lost in the dream. For those who merely want Trump gone and apparent order reinstated in the Oval Office, it seems that the division between the progressives and the middle-of-the-road Democrats is an unfortunate diversion.
Perhaps middle-of-the-road Democratic candidates could accrue more favor with would progressives if they could convince them (and the nation on the whole) that they actually stand for something (other than defeating Trump). In the technologically saturated mess of a modern era, one thing is certain: Policy is secondary to a candidate's ability to shape a vision of a better future.
For a long time, Sanders has been the best architect of that better future that the Democrats have. Though he and Warren presented an appealing team, seeing them cut down to size at the debate last night did nothing for the party and its motivation. Perhaps, had the debate been framed more as a discussion of specific policies rather than a black-and-white argument that pitted stagnancy against change, it wouldn't have been defined by such a strong feeling of premature defeat.
Could her Democratic Debate win unseat frontrunner Biden?
The second night of the 2020 Democratic primary debates gave American voters a glimpse into the policies, platforms, histories, and personalities of 10 more candidates, all vying to stand out in a crowded 25-person race to challenge Donald Trump in the next presidential election. Following up a spirited debate the night before, during which Elizabeth Warren ran much of the show, the second showdown featured the party's two frontrunners, Joe Biden and Bernie Sanders. Biden and Sanders, however, were not the brightest shining stars on the stage by the end of the night. For many Americans, Thursday's debate served as a formal introduction to many of the other candidates in the race, some of whom made quite a name for themselves.
The general consensus, at least according to liberal-leaning media outlets, is that California Senator Kamala Harris won the debate. Harris was exceptionally poised and confident throughout the entire night, answering questions directly and succinctly—a refreshing break from the single-note catchphrasing, discursive meandering, and sometimes chaotic squabbling of many of her opponents.
At one point of heightened bickering (of which there were several), while nearly every other candidate was trying to yell over one another, Harris addressed her colleagues and competitors, reminding them that "Americans don't want to witness a food fight, they want to know how we're going to put food on their tables." She then seamlessly shifted the discussion back to the matter at hand: jobs. Although quick-witted and clever, sure, I would posit that this was not merely a quippy soundbite. It demonstrates a seemingly natural proclivity for leadership, as well as an ability to behave with cool diplomacy in the face of contentious disarray—all of which are traits one might call "presidential."
That, however, was not even the most defining moment of the night for Harris. About halfway through the debate, she aired her grievances with Joe Biden's sordid political relationship with civil rights. Harris addressed Biden directly and with candor. Instead of trying to smear the former vice president, she simply informed him that she was personally hurt by recent comments he made regarding his positive working relationships with now-deceased segregationists in the Senate.
"It was hurtful," Harris said to Biden, "to hear you talk about the reputations of two United States senators who built their reputations and career on the segregation of race in this country. And it was not only that—you also worked with them to oppose busing."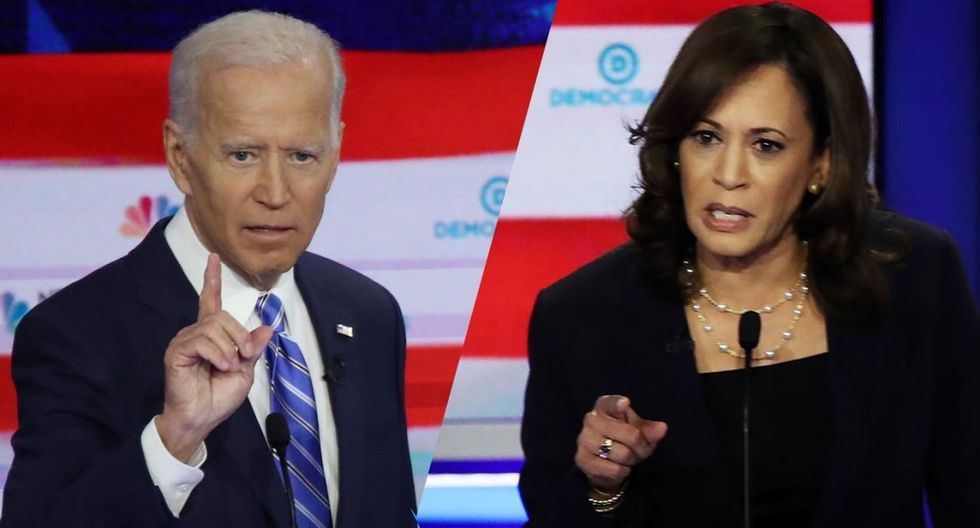 Yahoo News
She then went on to relay the story of a young girl in California being bused in order to integrate into public schools. "And that little girl was me," Harris concluded, "So I will tell you that on this subject, it cannot be an intellectual debate among Democrats. We have to take it seriously. We have to act swiftly,"

Even though he probably should have seen this coming, given the public outcry and a call from fellow Democratic primary hopeful, Senator Cory Booker, for an apology, Biden was clearly rattled by Harris' statements.
In short, he fumbled it. Instead of wielding an opportunity to mirror Harris' sincerity and take her concerns seriously, using the debate platform to finally make an apology, he doubled-down and condescendingly lectured (actually, his tone seemed, at least to this writer, to be teetering on the brink of scolding) Harris, stating that his stance on Civil Rights-era busing was about states' rights, not a tepid attitude towards racial equality.
"I did not praise racists," Biden retorted, "That is not true, number one. Number two, if we want to have this campaign litigated on who supports civil rights and whether I did or not, I'm happy to do that." The former vice president, however, still refuses to issue an apology.
In fact, upon hearing Cory Booker's initial call for an apology, he issued a statement outside of a fundraising event in Washington on June 19th, saying, "Apologize for what? Cory should apologize [...] He knows better. There's not a racist bone in my body. I've been involved in civil rights my whole career. Period."
Joe Biden, who has been the primary frontrunner for the Democratic primary nomination thus far, appears to be largely impenetrable in the face of criticism and scandal, despite being comparatively conservative among a pool of majority-progressive candidates. Only time will tell whether or not Harris has, indeed, finally found Biden's political Achilles Heel.
Either way, though, the first Democratic debate was all about Kamala Harris and the underdogs. In addition to Harris' impressive performance, Mayor Pete Buttigieg of South Bend, Indiana also stood out as intelligent, composed, and unflinching. And Andrew Yang, best known for his somewhat controversial platform of Universal Basic Income (giving every American citizen a monthly stipend of $1,000), also held his own—offering straightforward, no-nonsense, and logically sound answers, even if seldom few questions were directed at him.
A lot can happen between now and February 3rd when the first Democratic primary caucus is scheduled to take place in Iowa. And there will be plenty of chances for candidates to rise and fall in the meantime. If Thursday's debate is any indication of what's to come, however, it appears as if a paradigm shift may be on the horizon, with Senator Kamala Harris leading the charge.
Over the course of the evening, it became apparent the two frontrunners, Joe Biden and Bernie Sanders, aren't old dogs with new tricks.
Last night, the second round of Democratic debates came and went. Ten out of the twenty candidates who qualified for the debates were chosen at random to participate in the second half of NBC's nationally televised event. Of course, the goal for the Democratic Party is to take the Oval Office and hopefully the Senate.
Over the course of the evening, it became apparent the two frontrunners, Joe Biden and Bernie Sanders, are old dogs without any new tricks. Honestly, it'd be difficult to tell the difference between a clip of Senator Sanders debating in 2016 and 2019—maybe this time around, he's a little more tired. Joe Biden was alarming on the stage: He was ill-prepared, stumbled over his words, and leaned heavily on his smile. It's not that Biden had a terrible night' it's that he only had an okay night— which, for a frontrunner, is not a good sign. There were only three people anyone should be excited to hear from: Kamala Harris, Pete Buttigieg, and Marianne Williamson.
#LetYangSpeak
Between the two debates, candidate Andrew Yang spoke the least by a two-minute margin. During the three minutes he did speak, Yang introduced his Freedom Dividend policy. The Freedom Dividend Policy is a Universal Basic Income plan. All people over the age of eighteen would be eligible to obtain a basic income of a thousand dollars a month. Yang's policy is one of the few proposed that addresses an imminent threat: technology. If corporations like Amazon were heavily taxed, that'd free a lot more money for workers who are displaced due to automated jobs accomplished by AI.
If you look into Yang, he's a contender thanks to his reasonably successful grassroots campaign. Last night, Yang turned his campaign into the trending hashtag #LetYangSpeak. According to the candidate, his mic had been turned off multiple times throughout the evening. The only evidence available is footage of Yang attempting to get a word in but to no avail.
#LetYangSpeak Here's proof that @AndrewYang was attempting to speak, but his mic was cut off. Coincidences don't ex… https://t.co/cRhdujENfD

— AVWilhite20 (@AVWilhite20) 1561733609.0
In the video, he's speaking, loud enough for Joe Biden to hear him. Beyond that clip, there is no other evidence. If that were, in fact, true, then NBC would have a lot to answer for ah regarding their meddling in a primary debate.

Marianne Williamson, Be Still My Heart
Marianne Williamson sure made a name for herself last night. Her dramatic and chaotic delivery was a delight for many. Yet, she did not come to play games; she came to bring up points of contention and big ideas we need to tackle. According to her, "It's really nice if we've got all these plans, but if you think we're going to beat Donald Trump by just having all these plans, you've got another thing coming. He didn't win by saying he had a plan. He won by simply saying 'Make America Great Again.'" She's right, like she was right about a lot of things: Williamson thoughtfully addressed the need for reparations, slammed ageist rhetoric, and exclaimed of love over hate.
Although her delivery was off-kilter to many, Williamson should not be underestimated for her flowery language; she explained:
"I have had a career not making the political plans, but I have had a career harnessing the inspiration and the motivation and the excitement of people. Masses of people. When we know that when we say we are going to turn from a dirty economy to a clean economy, we're going to have a Green New Deal, we're going to create millions of jobs, we're going to do this within the next 12 years, because I'm not interested in just winning the next election, we are interested in our grandchildren. Then it will happen."
Many Americans never imagined Donald Trump would be our president, but here we are. Williamson's bold statements and captivating delivery about her hopes and dreams for this country have the potential to capture the American imagination. Sure, she may give off the spiritual energy of a wine mom who likes crystals, but why does that discredit her abilities? Remember, the hippies of our nation began revolutions.
Marianne Williamson: I Will 'Harness Love' To Defeat President Donald Trump | NBC Newswww.youtube.com
Yes, We Just Witnessed a Murder

Kamala Harris came prepared last night. Over all the ruckus, Harris reprimanded her fellow candidates with her rehearsed one-liner: "America does not want to witness a food fight; they want to know how we're going to put food on their table."
She continued to command the evening by confronting Joe Biden on his record. Harris challenged the former VP, asserting:
"I'm going to now direct this at Vice President Biden, I do not believe you are a racist, and I agree with you when you commit yourself to the importance of finding common ground. But I also believe, and it's personal— and I was actually very—it was hurtful to hear you talk about the reputations of two United States senators who built their reputations and career on the segregation of race in this country. And it was not only that, but you also worked with them to oppose busing.
"And, you know, there was a little girl in California who was part of the second class to integrate her public schools, and she was bused to school every day. And that little girl was me."
Kamala Harris Confronts Joe Biden On Race | TIMEwww.youtube.com
Biden, who was once a spirited debater, floundered in his response. He clarified that he supported busing, but on the state level. Harris clapped back, recounting how in her hometown of Berkeley, California, busing was not enforced. She utilized the anecdote to explain why The Civil Rights Act of 1964 and the Voting Rights Act of 1965 were crucial to this country, which is why we need to ratify the Equal Rights Amendment.

Biden was given thirty seconds to respond. He vouched for his record, reasserting that he always supported Civil Rights, before cutting himself off, saying, "— anyway, my time is up. I'm sorry." Biden caused the most damage to himself, as he failed to successfully defend himself.
Sometimes, You Just Can't Get it Done
Pete Buttigieg was another candidate with a breakout performance. The South Bend, Indiana Mayor may be young, but he's had skin in the game for seventeen years. Buttigieg is a veteran, a politician, a polyglot, and a gifted orator. He also made history last night as the first openly gay candidate to participate in a primary debate.
On the topic of immigration, he broke down the hypocrisy of the Christian-aligning Republican Party. Buttigieg did not hold back, proclaiming:
"The Republican Party likes to cloak itself in the language of religion. We should call hypocrisy, and for a party that associates with Christianity to say it is okay to suggest that God would smile on the division of families at the hands of federal agents, that God would condone putting children in cages has lost all claim to ever use religion language again."
The South Bend native also candidly addressed his failure to diversify his city's police force, noting, "I couldn't get it done." He went on to explain the pain his city is experiencing due to the devastating death of a local black man, Eric Logan. Logan was shot and killed by a white police officer. The officer did not have his body camera on at the time of the incident. Buttigieg unpacked how he could not take a position on the matter until the investigation is complete.
The mayor's transparency was received favorably and for a good reason. We need a president who doesn't spread fake news.
Stop Name Dropping
Joe Biden name-dropped Obama almost as frequently as he did Trump. Biden's attempts to piggy-back off the former President's accomplishments highlighted the reason Biden why was only able to make it into the Oval Office as a running mate instead of president: He is not our future. While Biden is a respected Washington staple, his vision for our country is dated and boring. It doesn't capture the America we live in today. After Harris' takedown, it's apparent that Biden cannot justify his unfavorable past.
Maybe California Senator Eric Swalwell was right when he told Biden to finally "pass the torch" to the next generation. Biden slyly smiled and said, "Not yet." However, if last night proved anything, it's that he should've let go of it a long time ago.
In our era of apocalyptic headlines, it's normal to feel overwhelmed.
We are living in an era of unfathomable news.
Every week, disturbing headlines run parallel in the media landscape. From the plight of migrants at the U.S.-Mexico border who, as Alexandria Ocasio-Cortez put it, are being held in concentration camps to the world's most powerful men abusing their power, we become numb to bad news. When E. Jean Carroll published her essay titled "Hideous Men," in which she recounted how Donald Trump raped her in a Bergdorf Goodman dressing room, that claim didn't even make the front page of the New York Times.
In her recent New Yorkeressay, Jia Tolentino writes that after Trump was elected, her vision of the future looked something like this week: relentless persecution of immigrants and endless bad news met with no nationwide resistance, no mass protests in the streets. "Specifically, I feared that the Trump era would bring a surfeit of bad news, and that I would compartmentalize this bad news in order to remain functional, and that this attempt to remain functional would itself be so demoralizing that it would contribute to the despair and distraction that allowed all this bad news to occur," she wrote. But she hadn't counted on the E. Jean Carroll's accusations, or the fact that "I would be so sad and numb, after years of writing about Trump's many accusers, after watching Brett Kavanaugh get confirmed to the Supreme Court in the face of credible sexual-assault allegations, that I would not even have the courage to read the story for days."
Like Tolentino, I also didn't read the Carroll story for several days. My eyes glossed over the headline, and it barely even had an affect on me, partly because I've lost faith in the possibility that Trump will ever be taken down by the word of any woman. But I also chose not to see it; as I later realized, I have grown comfortable with stories like this. I have learned to compartmentalize media stories like it, separating them from reality so I don't have to think about their implications. In other words, I'm suffering from bad news burnout.
Growing Numb: Signs of Burnout
I find myself skimming over the news quite often, particularly news about climate change, which is perhaps the most ominous and urgent story of them all. And yet, like the E. Jean Carroll piece, unless I specifically open my mind to thinking about it, climate change headlines appear strangely theoretical when they flash across my screen, almost holographic in their surreality.
I don't think I am alone in this. Though many of us are glued to the news and are actively protesting and engaging with politics, I believe that just as many of us have fallen into a deep hole of pessimism, which often cools to quiet numbness. We grow complacent in our oblivion, and we use it as an excuse to do nothing. And so we go about our lives never really reacting to the news but followed around by a creeping cloud that sometimes manifests itself as anxiety and depression, which often simply echoes in our ears like the whine of a small mosquito.
This whining easily turns into white noise. After a while, we get used to feeling numb and lose all desire to engage. We're exhausted, unable to go on participating and reacting to everything, and so we do nothing.
This is bad news burnout, and it may be one of the defining characteristics of the millennial generation.
Burnout is a very real affliction. Studies have shown that burnout actually affects the brain, with one study finding that an overworked group seemed to have less activity between the amygdala and prefrontal cortex than a control group, meaning that the overworked group had less control over executive functions. Burnout can be detrimental to physical and mental health, and it often starts a vicious cycle: People suffering from burnout often don't seek help and are less open to learning new information.
Though normally associated with work, media burnout also exists. News media is known to trigger bursts of the hormone cortisol, which can affect concentration and digestion; it can also affect sleep, having an all-around detrimental effect on one's life and health.
Fortunately, there is research-based advice on how to combat media burnout. As with many afflictions, we can't simply wake up one day and decide that we're not going to be burned out anymore. To combat burnout, we need to develop consistent strategies. We can start by placing limitations on our empathy.
The Issue with Empathy
According to the psychologist Paul Bloom, excessive empathy makes us more prone to burnout. If we feel every injury we read about in the media as if it were our own, we'll inevitably get overwhelmed.
Even if does manage to spur us to action, empathy can even have a negative effect on the way we respond to natural disasters, violence, and bad news at large. An excess of empathy can make us overly attached to the struggles of people similar to us, causing us to ignore larger turmoil in the rest of the world (hence the fact that the media barely blinks at another bombing in the Middle East, but a Paris shooting makes the front page of every paper). It can also make us focus on individual stories, like the plight of a single suffering child, while ignoring the larger issues that cause that suffering in the first place.
Instead of prioritizing empathy, Bloom advises that we practice "rational compassion," which means that we should focus on doing the maximum good for the most number of people, rather than getting too hung up on individual stories.
Put the Phone Away
Even with limitations on our empathy levels, it's incredibly difficult not to grow burned out if we're plugged into the 24/7 news cycle. Obsessing over headlines doesn't actually help anyone, and the importance of limiting your engagement with news and social media cannot be overstated.
That doesn't mean that we shouldn't keep up with the times and do as much as we are able to combat injustices in the world. Actually, staying perpetually keyed to the fluctuations of world events may be detrimental to our ability to think critically about news stories and engage productively with issues. "Understanding anything, including politics, involves longer term investigation and contemplation than we are affording ourselves when we buy into being news addicts,"writes Megan Nolan.
In order to do the maximum amount of good and to maintain our own sanity, we need to be careful where we focus our energy and attention. The behavioral scientist Kristen Lee writes that in order to avoid burnout, we need to take care of ourselves by staying grounded, setting boundaries, practicing a healthy, balanced lifestyle, and doing what we must in order to ensure that we have the strength to keep up and take action when we can. Putting down the phone is one of the most important things we can do to shield ourselves from falling into despair, along with focusing on practicing gratitude for what we have.
Ultimately, the point is that we need to learn how to pace ourselves. We need to spend more time off our screens, so that when we do plug in, we can be fully present to digest information.
Self-Care as Conscious Action
Sometimes, self-care can take the form of direct action. With issues like climate change and the camps at the U.S.-Mexico border, direct actions—whether that's political protest, lobbying, donating, or something else—can be the most effective ways to assuage our own feelings of uselessness and guilt, and it can hopefully help heal some of the problems at their core Plus, joining communities that are engaged in active resistance can help us feel less alone in our fear and anger, allowing us to face and process it, rather than letting it control us. As Robert Frost said, "The best way out is always through."
For a long time, I avoided thinking about climate change, because I knew if I looked at it head-on, I'd have to do something about it. Since I allowed myself to fully realize the extent of the situation, I've actually felt much more free, able to dive in and learn about the situation, instead of feeling overpowered by a vague sense of hopelessness. Obviously, none of us can engage with every world issue, but sometimes focusing on one or two and taking action is the best form of self-care.
After all, despite our selfish human natures, there's something in each one of us—though sometimes it lies very deep below the surface—that feels we have a moral responsibility to work for a better world for all, that believes it's possible. Sometimes, having the optimism and courage to make small changes is the best way to move forward. According to Angela Davis, "You have to act as if it were possible to radically transform the world. And you have to do it all the time." Instead of passively accepting the news, we can focus on combating it by creating a better world—or at least we can go down fighting for one.
Toughen Up
According to Richard A. Friedman, we can avoid burnout not by withdrawing from the world, but rather by lowering our expectations and embracing the negative feelings that accompany the news cycle. He writes, "I suspect my generation suffered less burnout than the current students for the simple reason that we expected to have a rough ride, and our expectations often turned out to be worse than the real stresses we confronted."
Though this advice may seem harsh, especially because the news today is far more apocalyptic than it was when Friedman's generation was coming of age, there may be a seed of wisdom within it. Today's American millennials face a particularly jarring contrast: In keeping with the American dream, many of us were brought up to think that the world was our oyster, and we had little to challenge our self-centered perspectives. We quickly learned to obsess over success, wealth, and personal happiness. Now that we're being told that the world is on the brink of collapse, we face a completely different reality than the one we were born into.
Many of us have also never been taught how to process emotions in a healthy way. We get hung-up on small injustices without working to understand the larger systems behind them, and that quickly becomes too overwhelming for anyone to bear. Perhaps, if we focus less on our own unhappiness and realize that the world will never be a perfect place, we can focus on making things a little better by doing our small part for the whole.
We're All in This Together
When apocalyptic headlines announce unbearable injustices or threaten our ways of life, and when we realize that not only are humans not the center of the world but that we have almost certainly destroyed it, something glitches in our minds. We can't process what it all means.
But we don't have to rationalize or make sense of all the bad news. Since we are not the center of the world, it is not our responsibility to single-handedly change everything. Understanding this can liberate us to take small actions that will actually benefit ourselves and others if it's echoed by a thousand or a billion other small actions.
It also helps to process what's happening with others. When it comes down to it, there's no way to really comprehend the news as it is today, and almost all of us are feeling lost, confused, and helpless in some way—but we're far from alone in that, and we'll have to help each other develop the skills and techniques to make it through this. By maintaining our connections to our communities, both locally and globally, we can develop networks of support that can help us survive and thrive in these strange times.