Dall-E Mini, the AI-powered text-to-image generator has taken over the internet. With its ability to render nearly anything your meme-loving heart desires, anyone can make their dreams come true.
DALL-E 2, a portmanteau of Salvador Dali, the surrealist and Wall-E, the Pixar robot, was created by OpenAI and is not widely available; it creates far cleaner imagery and was recently used to launch Cosmpolitan's first AI-generated cover. The art world has been one of the first industries to truly embrace AI.
The open-sourced miniature version is what's responsible for the memes. Programmer Boris Dayma wants to make AI more accessible; he built the Dall-E Mini program as part of a competition held by Google and an AI community called Hugging Face.
And with great technology, comes great memes. Typing a short phrase into Dall-E Mini will manifest 9 different amalgamations, theoretically shaping into reality the strange images you've conjured. Its popularity leads to too much traffic, often resulting in an error that can be fixed by refreshing the page or trying again later.
If you want to be a part of the creation of AI-powered engines, it all starts with code. CodeAcademy explains that Dall-E Mini is a seq2seq model, "typically used in natural language processing (NLP) for things like translation and conversational modeling." CodeAcademy's Text Generation course will teach you how to utilize seq2seq, but they also offer opportunities to learn 14+ coding languages at your own pace.
You can choose the Machine Learning Specialist career path if you want to become a Data Scientist who develops these types of programs, but you can also choose courses by language, subject (what is cybersecurity?) or even skill - build a website with HTML, CSS, and more.
CodeAcademy offers many classes for free as well as a free trial; it's an invaluable resource for giving people of all experience levels the fundamentals they need to build the world they want to see.
As for Dall-E Mini, while some have opted to create beauty, most have opted for memes. Here are some of the internet's favorites:
There's no looking back now, not once you've seen Pugachu; artificial intelligence is here to stay.
Climate despair is becoming so widespread that some people are losing their will to live. Is this the new normal?
If you're reading this, you probably know that the earth is not doing well. A 2018 UN report declared that we have 12 years to keep the global climate from rising more than 1.5 degrees, or we'll face catastrophic warming levels. Even knowing this, our worldwide carbon emissions have only continued to rise, with atmospheric CO2 reaching a record high at 417.4 ppm in May 2019.
In essence, we know the world is ending, we know why, and yet we have done nothing to stop it. In fact, things are getting worse.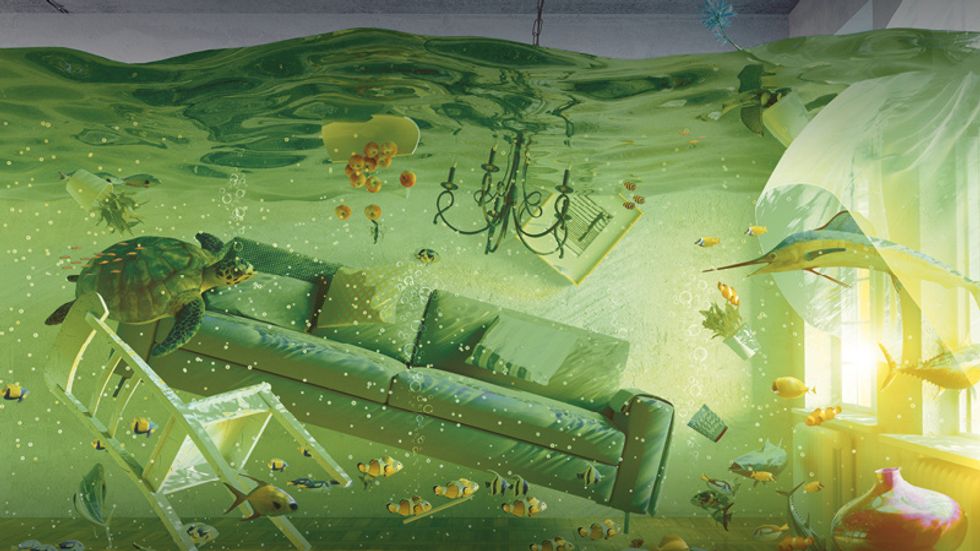 Image via blog.derby.ac.uk
The Argument for Despair
Faced with this truth, it's all too easy to slip into despair, and this is what's happening to people all over the world. A recent VICE article explored the mental health crises that many people are experiencing because of climate change. Known as "climate despair," sometimes called "eco-nihilism" or "human futilitarianism," chronic feelings of hopelessness about climate change are becoming all too common among those who have allowed themselves to fully comprehend the extent of the crisis.
For people who suffer from these feelings, it doesn't help that life appears to be continuing on as normal, while only a few of us seem to care that the world is burning down. This creates a sense of duality that can be even more painful than consciously accepting the reality of climate change, as it involves a deep suppression of pain and fear, which is then left to fester in the psyche. Living this "double life," according to Joanna Macy's essay "Working Through Environmental Despair," can be detrimental. "Awesome and unprecedented in the history of humanity, the awareness lurks there, with an anguish beyond naming," she writes.
This awareness can manifest in many ways; and often it has lead to depression or suicidal thoughts. Even therapists are having trouble knowing how to handle the looming specter of climate despair. Several people quoted in the VICE article described how their therapists attempted to trace their terror of climate change back to personal traumas, instead of acknowledging the validity of these fears.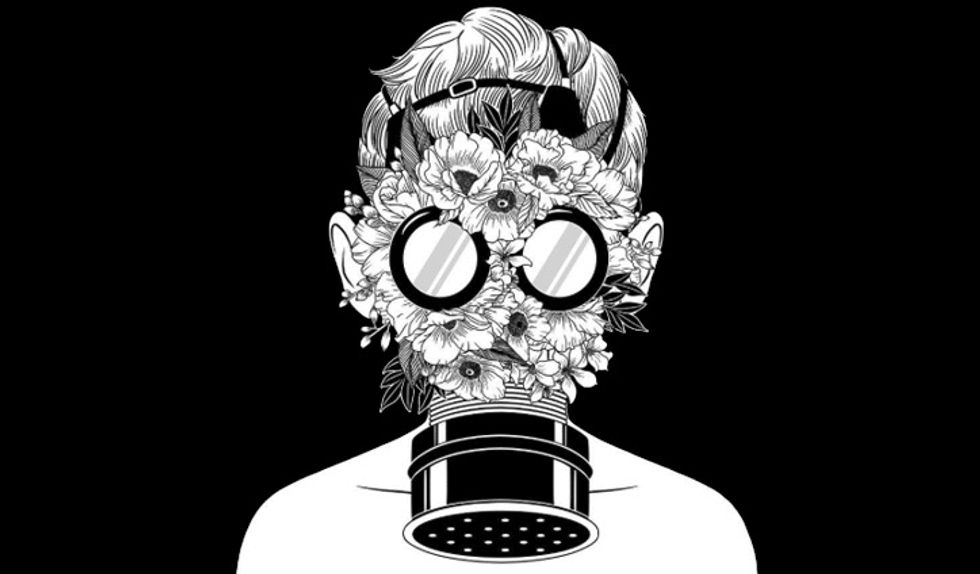 Image via Its Nice That
Children are just as vulnerable to these feelings as adults. As they watch governments refuse to act, kids are growing up in the world with little faith in the government or the adults around them, and with the knowledge that they've been born into a disaster they never asked for but have to deal with.

Greta Thunberg was one of these kids. She's spoken extensively about the feelings of despair that nearly paralyzed her as she became more and more aware of the climate crisis. "Before I started school striking, I was … so depressed and I didn't want to do anything," she once said.
But when she began to speak, as many of us know, she became one of the most outspoken and well-known climate activists in the world. According to Thunberg, this was not a choice. "I feel like dying inside if I don't protest," she said. For those suffering from climate despair, that feeling of dying inside is a familiar one. But Greta's inspiring actions contain seeds of hope, perhaps the best hope against climate despair.
The truth is that things are only hopeless if we don't take action. Conveniently, taking action might also be one of the best things we can possibly do to work through climate despair.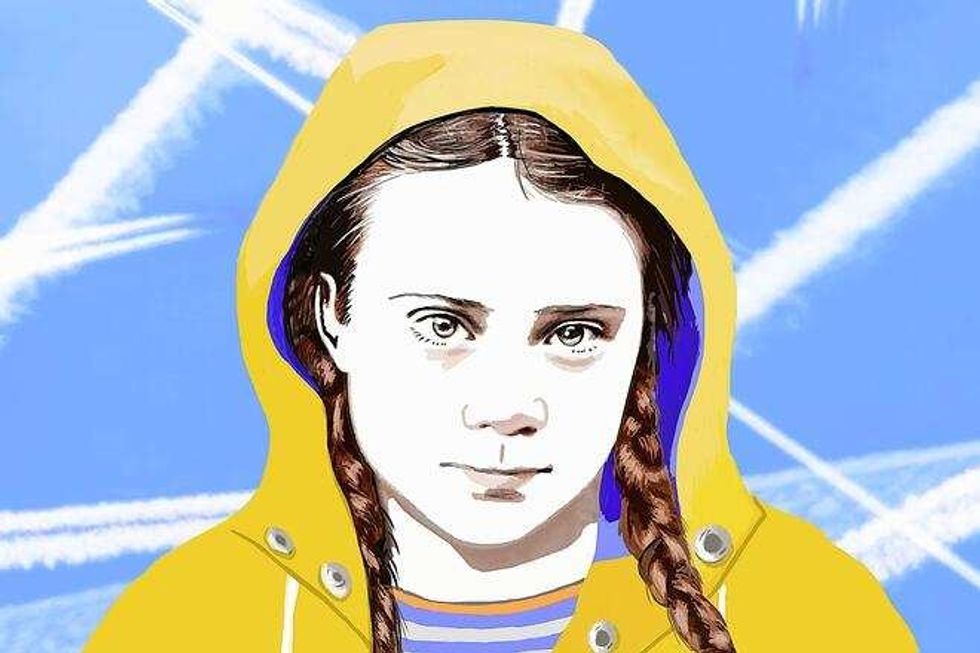 Image via Handelszeitung
Our Best Shot at Hope
Although they might be realistic responses to the threat of climate change, feelings of despair—when they aren't turned into action, or are suffered through in solitude— present a terminal danger to the climate movement, as they promote stagnation when what is truly needed is unity and protest.
This doesn't mean that we should deny the gravity of the situation. Action begins with admitting the problem, not stuffing it away under layers of performative normalcy. "Until we find ways of acknowledging and integrating that level of anguished awareness," continues Joanna Macy, "we repress it; and with that repression we are drained of the energy we need for action and clear thinking."
Still, the answer is also not necessarily to let oneself fall down a hole of hopelessness. Often, the doomsday-esque reports that are inundating the Internet and certain academic circles can be the opposite of productive. Sometimes, these reports are inaccurate, overly dramatized and apocalyptic. These alarmist articles that proclaim that we are all doomed often have the opposite effect, shaking people into complicity when the truth is that though things are really bad, there is definitely hope.
There is hope.
Though we won't be able to reverse climate change, it is possible to salvage so much of the world and to prevent the worst consequences of ecological decline. Human beings have mobilized massively before—we've split atoms and spread cell phones across the globe in less than a decade—and we can do it again. We have the technology, the money, and the capability: All we need to avert immediate crisis is the will and the public support to elect people into office who will take action.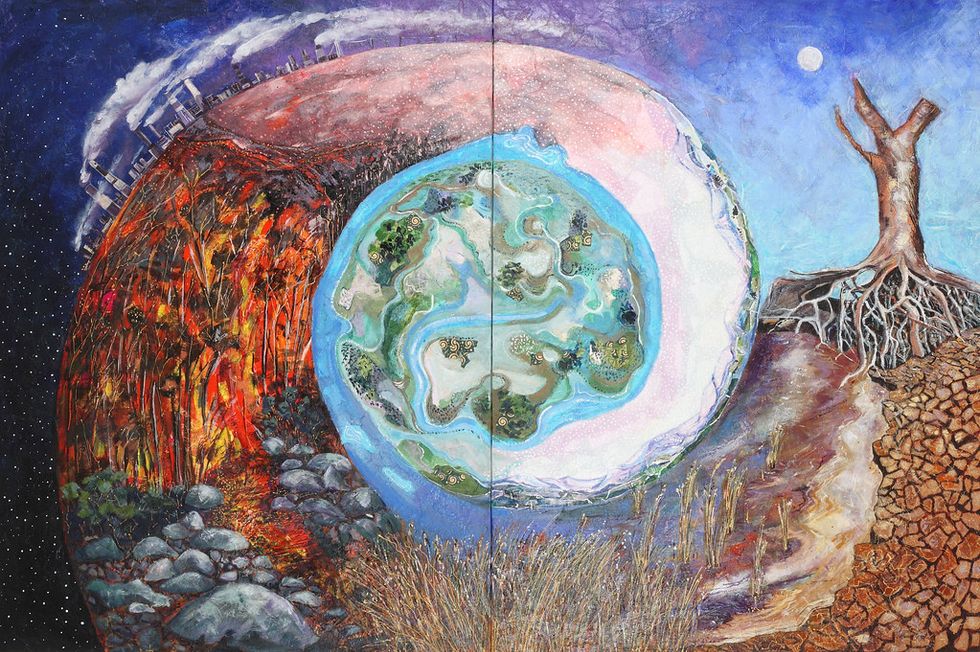 Image via Flickr
We have the resources to fight climate change. Many countries are instituting programs to reduce their carbon emissions. Small nations like Denmark and Belgium have successfully slashed their carbon emissions, and plans like the Paris Agreement are promising attempts at global change. What we need to do is fight, to spread awareness, to elect people into office who will take action, and to make it clear that we as a human race won't go down at the hands of an elite cult of carbon-worshipers determined to ruin all of our futures for the sake of their own fortunes.
Climate activism doesn't solely have to be a fight against something, though: it can be a fight for a better world. Though climate change is often painted as an entirely doom-and-gloom issue, some of the things that fighting it will combat it could actually benefit our whole society, healing some of the deep wounds that have caused our modern epidemic of mental illness, addiction, and loneliness.
According to Naomi Klein, author of This Changes Everything: Capitalism vs. The Climate, this impasse at the brink between oblivion and climate disaster presents an unprecedented opportunity for positive change. This crisis can be a beginning, not an ending, she argues: the beginning of a movement towards a more interconnected and compassionate world.
"Climate change—if treated as a true planetary emergency akin to those rising flood waters—could become a galvanizing force for humanity, leaving us all not just safer from extreme weather, but with societies that are safer and fairer in all kinds of other ways as well," she writes. "The resources required to rapidly move away from fossil fuels and prepare for the coming heavy weather could pull huge swaths of humanity out of poverty, providing services now sorely lacking, from clean water to electricity. This is a vision of the future that goes beyond just surviving or enduring climate change...It is a vision in which we collectively use the crisis to leap somewhere that seems, frankly, better than where we are right now."
This kind of future would require a paradigm shift, a complete departure from our current free-market model that glorifies isolated successes and prizes maximum consumption above all else. It would require that, among other things, we sacrifice our own desires for the good of everyone else.
We need to sacrifice the concept that the goal of life is to be able to pursue one's individual fortune to the highest level: And we have to acknowledge that we operate in an interconnected network, and must lift each other and our planet up, if we wish to continue to live on this earth.
The shift is already beginning. Organizations like Sunrise and Extinction Rebellion have emerged at the forefront of the fight against climate change; and artists are starting to wake up, too. But even if you don't have a massive platform or aren't going to protests, even just talking about the ecological crisis with others can ignite powerful chain reactions. Overall, probably the most meaningful thing you can do is work to elect officials who will make good on their promises to cut emissions and create a better world while doing it.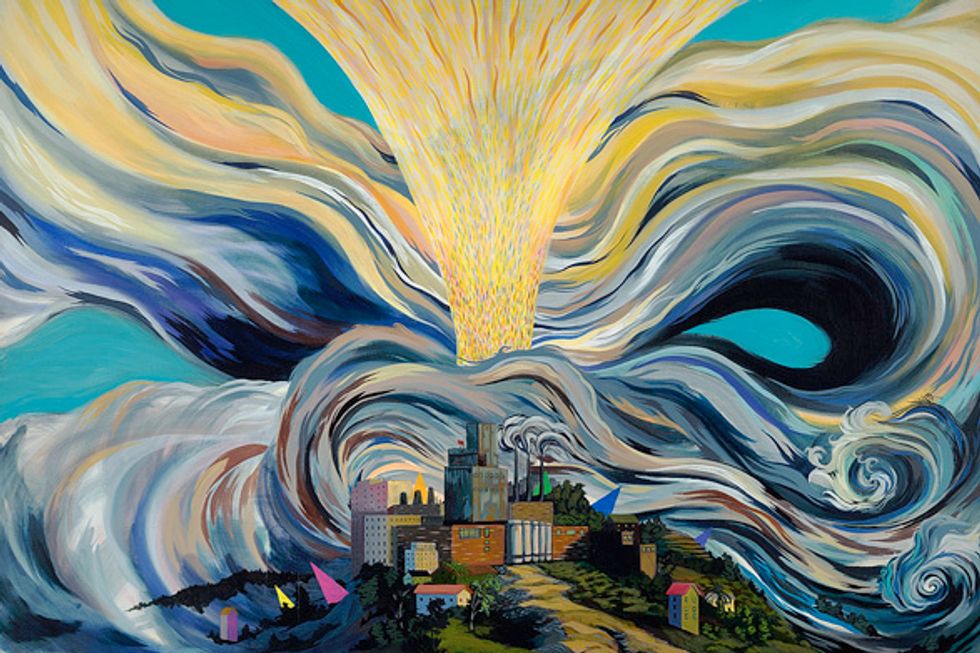 Image via Ethics and International Affairs
Where We Go From Here
Still, considering the amount of mobilization and effort that these changes require—and considering how determined major, extremely wealthy fossil fuel companies are to squander these efforts—it's extremely difficult to be hopeful all the time when it comes to the climate crisis. Plus we've already damaged some things beyond repair, and we've lost many people to the wildfires and hurricanes rooted in climate change; to name a few, the 79 people lost in California's Camp Fire, and the nearly 3,000 people who lost their lives in Hurricane Maria.
And so, as the VICE article proposes, to comprehend the full extent of the climate crisis, first we need to let ourselves grieve. We need to allow ourselves to grieve as we would in the face of any other tragedy—to comprehend the harm that we've done to our planet and to recognize and honor our feelings about it.
Once we recognize these feelings, we can begin to deal with them. As Macy continues, "To experience pain as we register what is happening to our world is a measure of our evolution as open systems. This is true not only from the perspective of systems science but from that of religion as well. How many mystics in their spiritual journey have spoken of the 'dark night of the soul'? Brave enough to let go of accustomed assurances, they let their old convictions and conformities dissolve into nothingness, and stood naked to the terror of the unknown. They let processes, which their minds could not encompass, work through them. It is in that darkness that birth takes place."

While it's important to embrace one's despair and grief regarding climate, it's equally important to view these feelings as starting points for a spiritual and political revolution, instead of hindrances that need to be suppressed. If we view climate as a consequence of evils we've always been peripherally cognizant of—like selfishness, greed, and the hypocrisy that plagues human society—then we can view the climate crisis as an opportunity to at the very least connect with other people who understand that we, collectively, cannot continue this way.
Through this lens, climate despair is far from an end point. Rather, it connects us to the world around us, and to other people who care enough to want to see a better future for everyone and everything. "As our pain for the world is rooted in our interconnectedness with all life, so surely is our power," writes Macy.
So if you're pained by climate change, good. That pain means you love something. That love means you're alive.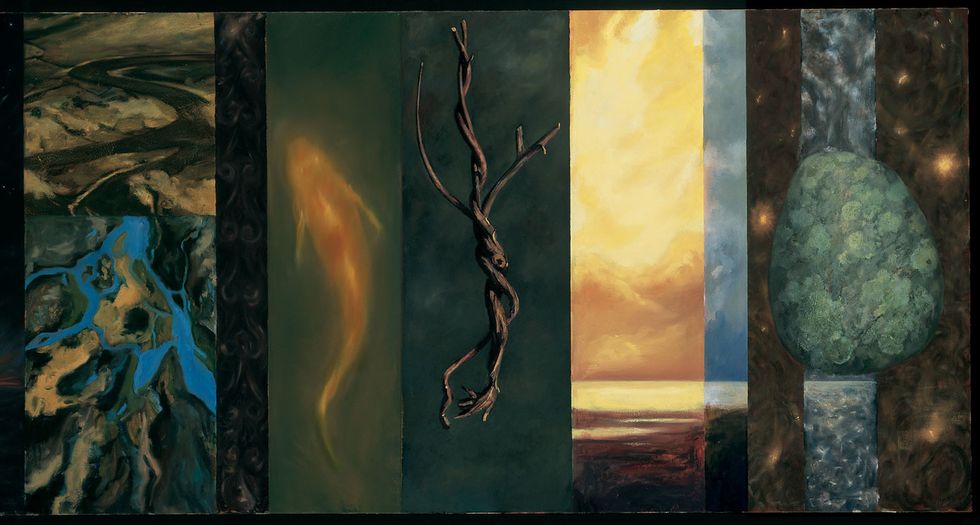 Image via Occidental Arts and Ecology Center
The refugee crisis hasn't gone anywhere. But news outlets and political leaders everywhere are ignoring it—and xenophobia is making it worse.
Around 2015, the so-called European refugee crisis was topping every newspaper headline. Reports of the 5.2 million refugees pouring in from Syria and other war-torn countries that year led to mass calls for mobilization to create infrastructure and support systems for displaced peoples. The photo of Alan Kurdi, the drowned three-year-old who provided a name and face to the crisis, sparked international acknowledgment and inspired humanitarian activists all over the world.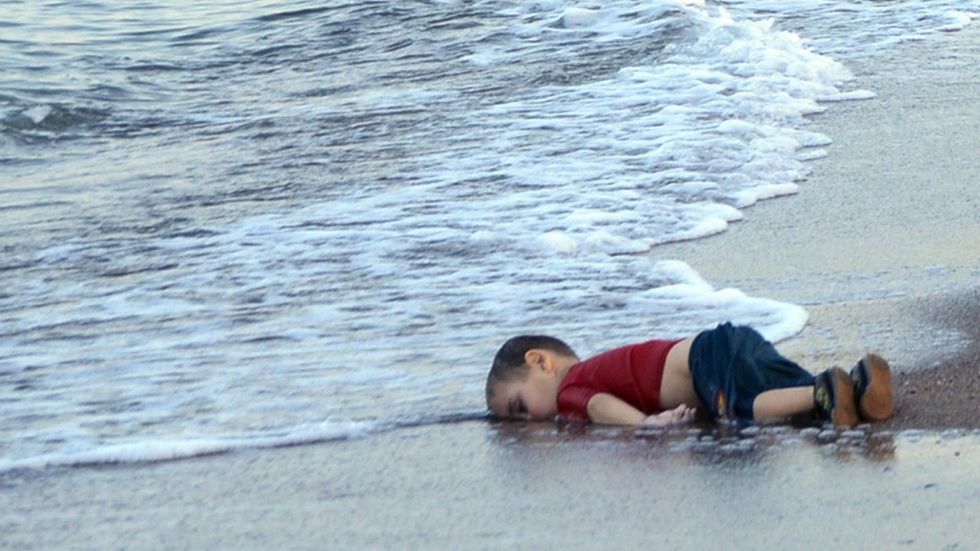 Alan Kurdi, via Medium
But that was four years ago. What has happened to those 5.2 million since then?

Firstly, there are a lot more than 5.2 million now. According to the UN, as many as 63.5 million people have had to flee their homes because of conflict since World War II; and today, roughly eight thousand people per month arrive in Greece, Italy, and Spain from Syria, Guinea, Algeria, and neighboring countries. These numbers are staggering; the lives they describe are almost impossible to imagine. But each figure corresponds to individual experience and a body that likely has crossed countless miles of ocean to arrive on European shores. Though it is impossible to generalize their stories, the majority of these people are currently stranded in liminal places like refugee camps or living as undocumented citizens without access to rights, living wages, and other protections.
According to the Aegean Boat Report, around 20 boats have arrived on the Greek island of Lesvos alone in February 2019, carrying a total of 791 people. Lesvos's Moria Camp holds somewhere between eight to ten thousand refugees; it was initially designed to hold ten. Many have been there for over half a decade, and the conditions in the camp are becoming more and more unlivable by the day.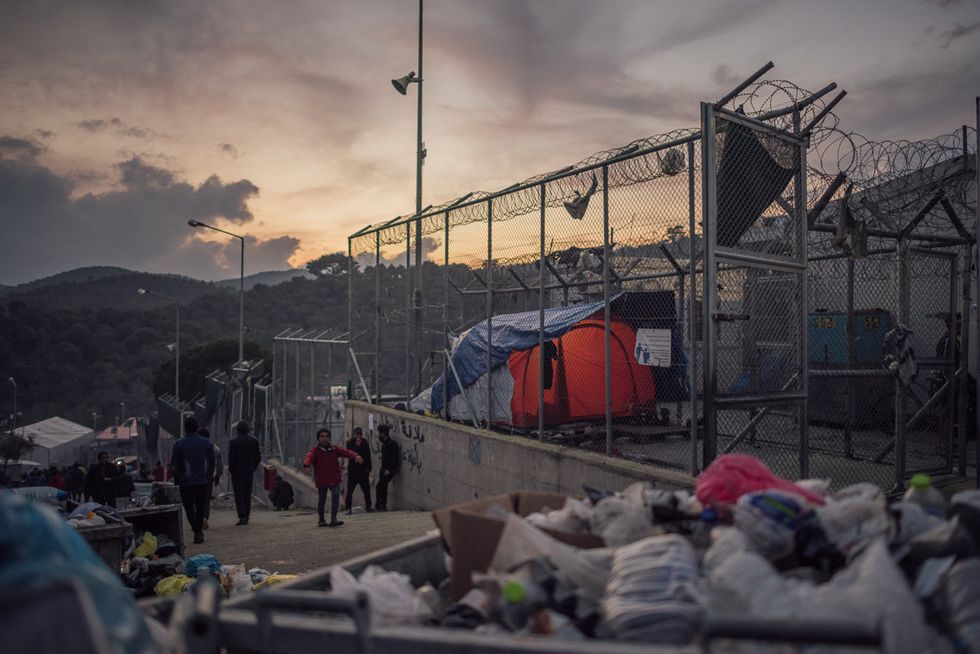 Moria Camp, via Al Jazeera
Many refugees go through hell and back to get there. Left with no choice but to flee violence and unlivable conditions, many spend thousands of dollars on hiring a smuggler who could carry them across the sea. The journey is treacherous—smugglers sometimes have deals with authorities or even pirates, and recent reports have revealed that the journey is more dangerous than ever before, with 1,600 to as many as 2,730 people dying at sea in 2018. The UNHCR released a report which argued that although the official number of migrants crossing the Mediterranean fell last year, this was likely due to "reductions to search and rescue capacity coupled with an uncoordinated and unpredictable response to disembarkation." This in turn, "led to an increased death rate as people continued to flee their countries due to conflict, human rights violations, persecution, and poverty." As the world forgets, the little structure and safety netting that does exist inevitably falls apart.

The news is a strange beast. Some stories can dominate for months and fade out so suddenly it's almost like they never happened; particularly shocking acts of individual or random violence can consume headlines while systematic, long-term horrors can fade away, having lost their ability to capture audiences' attention. With countries like South Sudan, Yemen, and Afghanistan steadily experiencing mass exoduses for years and years at a time, and with the inundation of tragic stories and gory photographs from Syria, it's easy for ongoing horrors to slip underneath an ocean of facts and figures that seem too overwhelming to address.
It's also easy for governments to shirk off responsibility for taking in refugees, seeing as technically they are stateless and, therefore, are not protected by any citizenship rights. Though the Universal Declaration of Human Rights guarantees basic protections for all people on earth, it does not specify which countries are responsible for providing these protections.
But every political decision manifests in lived experiences. For example, when migrants arrive on the shores of Lesvos, they are sometimes met with volunteers who provide water and transportation to the camps. Families and individuals are assigned at random to tents, which are crammed next to each other, creating unlivable conditions.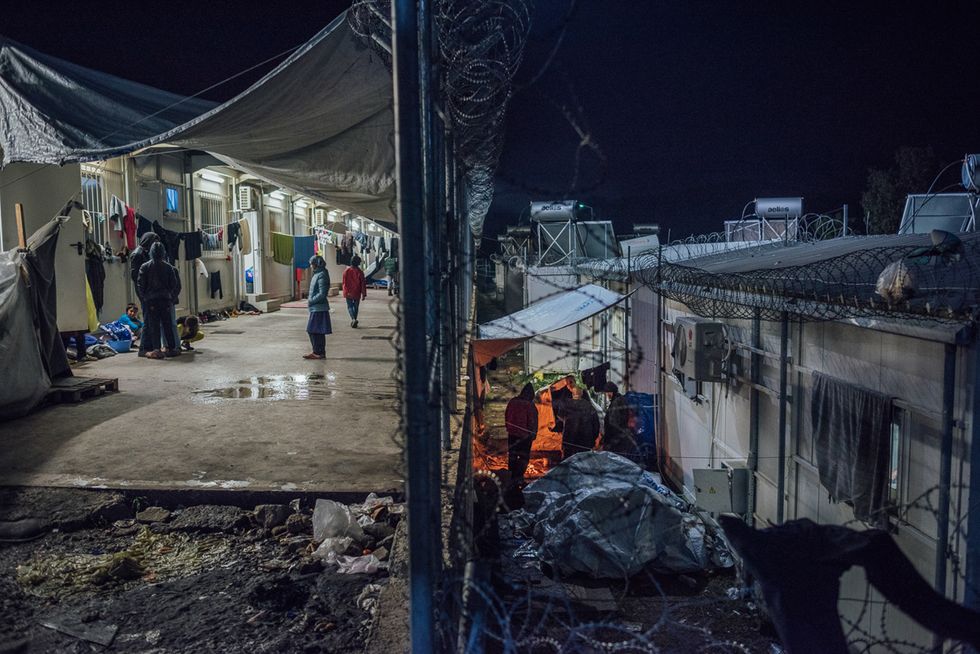 Image via aljazeera.com
Lesvos, in particular, has an extensive volunteer population, but overall aid groups often work as band-aids, failing to heal the sources of a larger issue and failing to structure a pathway forward. Instead, aid groups and refugees languish on Lesvos, in the grey area of statelessness and global amnesia. NGOs are gradually shifting their focus to working with refugees and locals to develop long-lasting relationships and skills, which can propel migrants forward into new lives.

But in light of the antipathy many locals hold towards newcomers, and also because of the trauma, language barriers, or other struggles that migrants face, the process of adjustment is challenging and will require individualized attention, patience, and cohesive efforts. Reports reveal that the majority of refugees fleeing severe conflicts will have vestiges of trauma; the IRC reported high levels of depression and PTSD among refugees across the board.
A 2011 Oxford University study found that the best way for refugees to move forward is through integration into life in their new countries. Solutions lie in treating the wound at its source, addressing xenophobia, and fighting for fair opportunities to education, jobs, healthcare, and other vital structural support systems. On the other hand, stranding migrants in places like Lesvos—where they live in unsanitary and dangerous conditions, surrounded by strangers who may also be experiencing trauma, with no idea of if or when they will be able to leave—is a product of a collective worldwide amnesia, a refusal to see what is happening in real time.
Long-term, slow-moving challengers are not foddered for breaking news. Particularly massive floods of refugees might pique the interest of a world leader; an artist might draw attention to the crisis through an installation in a busy city; but always, the cycles of violence and erasure continue as the world gets caught up in shinier, brighter topics. But remembering and acknowledging what is happening is the first step to moving in a new direction.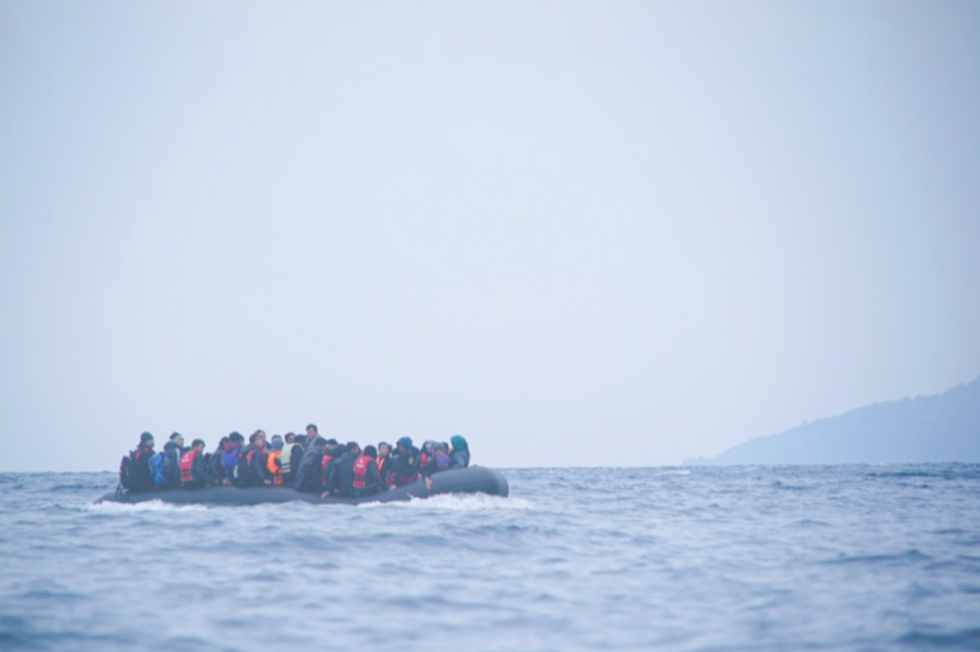 Image via Oxfam Novib Academy
---
Eden Arielle Gordon is a writer and musician from New York City.
The 2007-2010 housing crisis was caused by large banks selling tranches of subprime mortgages, many of which were–in a move that can be described at best as morally ambivalent–rated AAA by Standard and Poor's. These loans, given to buyers with startlingly bad credit, were gradually defaulted on, causing a major financial crash. Now, ten years later, there's cause for concern once again.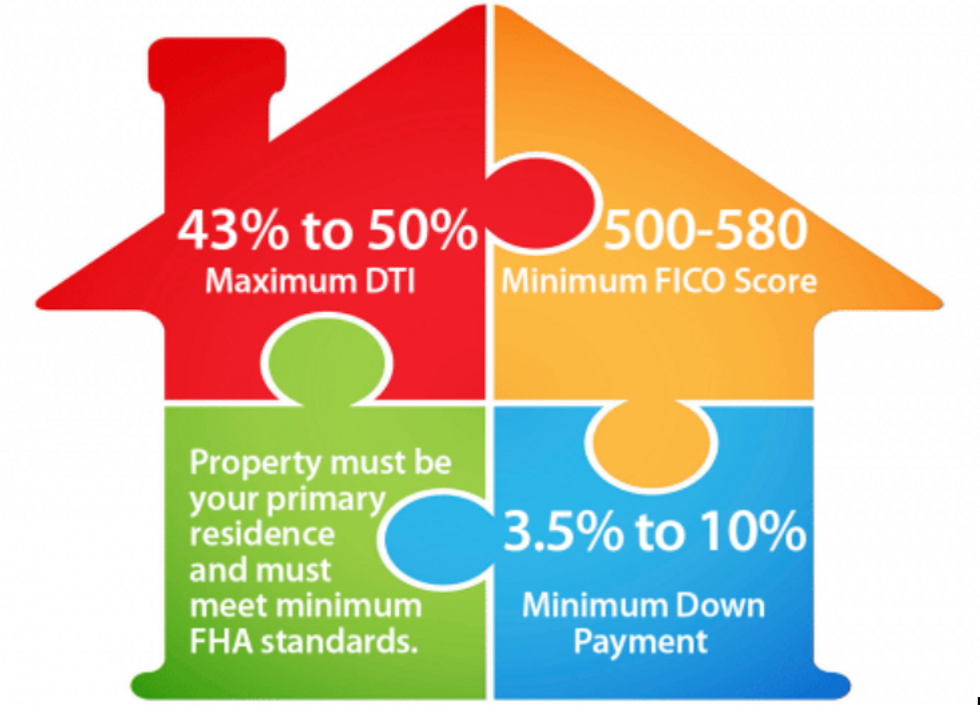 Amidst the collapse of Bear Stearns and the bailout of AIG, it's easy to forget about the federal government's hand in creating the 2008 recession. Back in the 1990s, Barney Frank, with the help of the United States Department of Housing and Development, decided to raise Fannie Mae's quota for purchasing loans from low income buyers. Over the course of about 15 years, from 1992-2007, these rates jumped from 30% to 55%. By the early 2000s, Fannie Mae was offering no-down payment loans and had bought over a trillion dollars in subprime mortgages. Of the 27 million outstanding subprime loans during the 2007 crisis, 70% were owned by the federal government.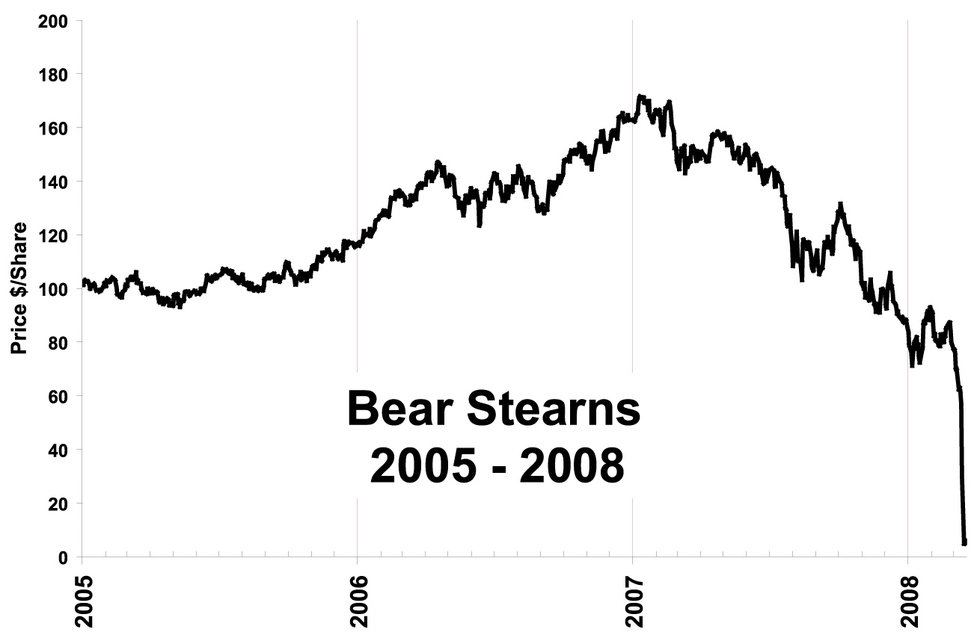 The sudden fall of Bear Stearns' stock
Last year, Fannie Mae and Freddie Mac redefined the term subprime, lowering the credit threshold for what constitutes poor credit from 660 to 620, almost as if these agencies suddenly contracted amnesia. To make matters worse, the Federal Housing and Finance Agency's goals are to finance loans on about 400,000 low income homes each year from 2018-2020. While these loans aren't necessarily subprime, it's safe to assume that a good portion of them are. On top of this, Fannie Mae has also raised their debt-to-income (DTI) ratio limit from 45% to 50%, and the share of loans with high DTIs has jumped from 6% to 20% over the past year. The argument for these incredibly lax regulations is that many people had their credits decimated in 2008 and that millennials, the newcomers to the housing market, have more debt than other generations. It makes sense for the government to help struggling people find homes, but raising the DTI threshold while lowering credit requirements for mortgage loans is one of the riskiest methods conceivable.
The private sector isn't much better though, and investment in subprime mortgages is back; they've just been rebranded as nonprime (which isn't even a real word). Some companies, like Carrington Mortgage Services in California, are offering loans to people with FICO scores as low as 500, about 250 points shy of the current average for agency-backed mortgages. Obviously, there's a higher down payment associated with these lower credit scores, but the resurfacing of subprime loans is disturbing, particularly when a spokesman for Carrington says something like, "We believe there is actually a market today in the secondary market for people who want to buy nonprime loans." Never mind that this isn't a sentence, listen to what this person is saying. Banks are also latching onto this idea, and some have been known to offer mortgages for 0% down.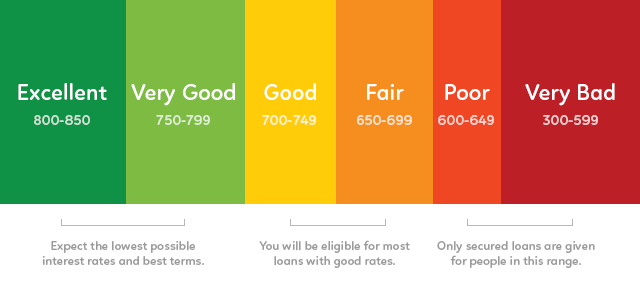 Fico credit score chart. During During the 2008 financial crash, a credit score under 650 was considered subprime.
Another disturbing development is the current popularity of Federal Housing Administration (FHA) loans. Currently, the FHA controls 21% of the total mortgage market and 35% of loans purchased by Millennial homeowners. These loans are traditionally designed to help lower income Americans buy houses. Nowadays, their loan limits don't necessarily reflect this. Loan limits, depending on the area, range anywhere from $294,515 to $679,650, and for buyers with a credit score of 580 or higher, these loans only require a 3.5% down payment. If someone's credit score is between 500-579, they can purchase a home for 10% down. Even if a mortgage company tacks on a 1.5-2% fee, this gives large swaths of people with ostensibly terrible credit the option to put only $25,000 down on a $500,000 home. The DTI threshold for an FHA loan? 57%.
To compound things further, 93% of FHA loans issued in 2016 were handled by mortgage companies, not banks. These companies, for obvious reasons, are much less resistant to liquidity issues than big banks, and there is research to suggest that mortgages issued by nonbank lenders tend to be associated with much lower credit scores. Not only are these companies woefully unprepared for an uptick in delinquencies–an uptick that's almost certain with the Fed increasing the interest rate–they're actively selling loans to high risk candidates. In the event that homeowners default on their mortgages, there's no way these companies can eat the cost. This is bad news for the Government National Mortgage Association (Ginnie Mae), the agency that manages and insures the FHA. While lenders dealing in FHA loans have considerable financial responsibility, if they can't foot the bill, the worst thing that happens is their company goes under. That financial responsibility doesn't disappear, it just gets passed up the ladder to Ginnie Mae, who would in turn be required to consolidate the tsunami of debt.

1.7 Trillion in outstanding loans...
It's worth noting that American citizens, unlike the federal government, have learned from their mistakes. For a while, adjustable-rate mortgages (ARMs) were undesirable, shunned for the hand they played in the housing crisis. Over the past few years people have slowly warmed to the idea of purchasing these loans, but it's unlikely that this will have any major effect on the economy for some time. That said, subprime lending is back up to 2006 levels. FHA loans have also taken a small dip, as quarter four of 2017 marked an increase in 'seriously delinquent' FHA loans in all but three states. While these things aren't necessarily harbingers of another economic apocalypse, there's definitely some reason to worry. The U.S. is over 21 trillion dollars in debt, and if there is another housing crisis, it probably won't end in a government bailout. The volatility of the housing market has been amplified to a deafening volume, and if we're hit with another subprime mortgage crisis in the next five years, the American economy will be decimated. The dominoes are in place. The only question is: what will tip the first one?

Keep reading...
Show less