New evidence suggests asymptomatic transmission is less likely than previously thought.
On Monday, a representative from the World Health Organization called asymptomatic transmissions of the coronavirus "very rare." This was quickly bolstered by conservative lawmakers to call for the end of social distancing guidelines and the mandatory wearing of face masks. Many health experts and scientists questioned WHO's statement, citing a lack of evidence.
Today, WHO has walked back their original statement, clarifying that the observation "was based on a relatively small set of studies," and, "Evidence suggests people with symptoms are most infectious, but the disease can be passed on before they develop."
So What Happened?
Essentially, the original statement was referring to a small set of data from various countries in instances where an asymptomatic case had been followed up and secondary infections among the asymptomatic person's contact had been sought out. This data suggested that infections among the people the asymptomatic person had come in contact with were "very rare."
The WHO emphasized today that there is no way of knowing if this trend is true on a global scale.
According to the BBC, the Director of the WHO's health emergencies program, Dr Michael Ryan, said he was "absolutely convinced" asymptomatic transmission was occurring, but "the question is how much."

What Exactly Does Asymptomatic Mean, Anyway?
According Dr Van Kerkhove, the WHO's head of emerging diseases, there are three categories within the designation of "asymptomatic."
People who never develop symptoms (asymptomatic)
People who test positive when they don't yet have symptoms - but go on to develop them (pre-symptomatic)
People with very mild or atypical symptoms who do not realise they have coronavirus
So, while people who never develop symptoms are unlikely to pass on the virus, it's impossible to know if someone who has tested positive is truly asymptomatic or merely pre-symptomatic. If they are pre-symptomatic, then they are more likely to pass on the virus.
Should I Continue to Social Distance and Wear a Mask?
Yes. There is still so much that experts don't know about the spread of COVID-19, so while some evidence may suggest the virus isn't as easily passed on by as many people as previously thought, that doesn't mean you won't contract the virus if you aren't careful.
New studies show a correlation between COVID-19 deaths and low levels of the "sunshine vitamin."
Vitamin D has long been a useful warrior in the fight against disease, but now some studies are hinting that it might help fight COVID-19.
In this day and age, everyone is desperately looking for a cure, the Internet is rife with misinformation, and nothing is certain about vitamin D yet. But several promising studies have found that lower levels of vitamin D can put patients at increased risk of death from COVID-19, while higher levels might increase patients' chances of survival.
An April 9 study from the Philippines measured vitamin D levels in 212 coronavirus patients and found that patients with lower Vitamin D levels had relatively mild symptoms, while patients with deficiencies tended to grow much sicker. Prior to that, an Indonesian study from May said that "majority of the COVID-19 cases with insufficient and deficient vitamin D status died."
A similar study from Northwestern University explored 10 countries and also "found a correlation between low vitamin D levels and hyperactive immune systems." Most recently, a new study from Trinity in Ireland came to the same conclusions, also finding that lower levels of vitamin D are linked to a higher mortality rate for COVID patients.
Vitamin D plays an important role in the body's immune response. It may also be able to help heal compromised respiratory functions, according to Newsweek. COVID-19 is still a relatively unknown disease, but it is believed that the virus creates what's called a cytokine storm in patients. That means that the body produces a superabundance of messenger proteins called cytokines, which can lead to inflammation in the lungs. Vitamin D can help prevent the release of cytokines.
These studies are inconclusive, and clinical trials are just beginning. "If vitamin D levels are really a marker for better diet, or more access to healthcare, or any of a variety of other variables that are not statistically assessed, then it is not the vitamin D that is the cause of the better or worse outcomes but rather the other factors," said Daniel Culver, Director of the Interstitial Lung Disease Program in the Department of Pulmonary, Medicine at the Cleveland Clinic.
To be clear, vitamin D is not a miracle cure. "We found no clinical evidence on vitamin D in COVID-19," scientists from Oxford University wrote after their study. "There was no evidence related to vitamin D deficiency predisposing to COVID-19, nor were there studies of supplementation for preventing or treating COVID-19."
Still, because it's relatively harmless, some countries are now calling for widespread dissemination of vitamin D supplements and advising people to pay attention to their own levels. It's important to note that it is possible to ingest too much vitamin D, but a few supplements, some eggs, or some extra (safe) sunshine is probably as good a prescription as any during these isolated times.
The COVID-19 conspiracy theories are nonsense, but there are some real threats that the new technology poses.
The next generation of cellular networks are beginning to roll out around the world at a time of unprecedented crisis and unprecedented connectivity.
For people who view global events as orchestrated by dark forces, all this change occurring at once is great fodder for conspiracy theories and doomsday predictions. For anyone familiar with that lens, their reactions (as crazy as they are) have been as predictable as the sunrise, but that doesn't mean that there aren't real causes for concern.
Keep reading...
Show less
You must be very concerned about what your favorite companies are doing during this global crisis.
For most Americans, the COVID-19 pandemic has turned life as we know it upside down.
From school and restaurant closures to quarantines and social distancing, the American people are largely waking up to the fragility of our social systems. But for corporations, and especially marketing professionals, a new art form has emerged from amidst the chaos—the COVID-19 e-mail.
The COVID-19 e-mail, as an ideological concept, is quite simple. If major corporations are your friends, as American culture has attempted to establish time and time again, it follows that you must be very concerned about what they're doing during this global crisis. Sure, you might be a bit worried about how to feed your children when your paychecks aren't coming in and the schools are closed, but how could you sleep at night without knowing that Chipotle is safe? And yes, while it sucks that your grandpa might die without you even being able to enter his room for fear of spreading the virus to others, imagine how much more it would suck if GameStop didn't let you know what they were up to during these perilous times?
But fear not. All of your favorite corporations are right there in your e-mail inbox, detailing exactly what they're doing to prevent the coronavirus from spreading (short of shutting down while continuing to properly pay their employees).
Chipotle
While many Chipotle employees were upset that Chipotle was continuing to disregard sick leave laws even after the pandemic had already reached New York, Chipotle kindly assured us that their protocols were already "industry-leading." So even though it's scary that your significant other is coming down with an awful cough, hopefully knowing that Chipotle already supplied Purell sanitizer to their employees can take a hefty weight off your shoulders.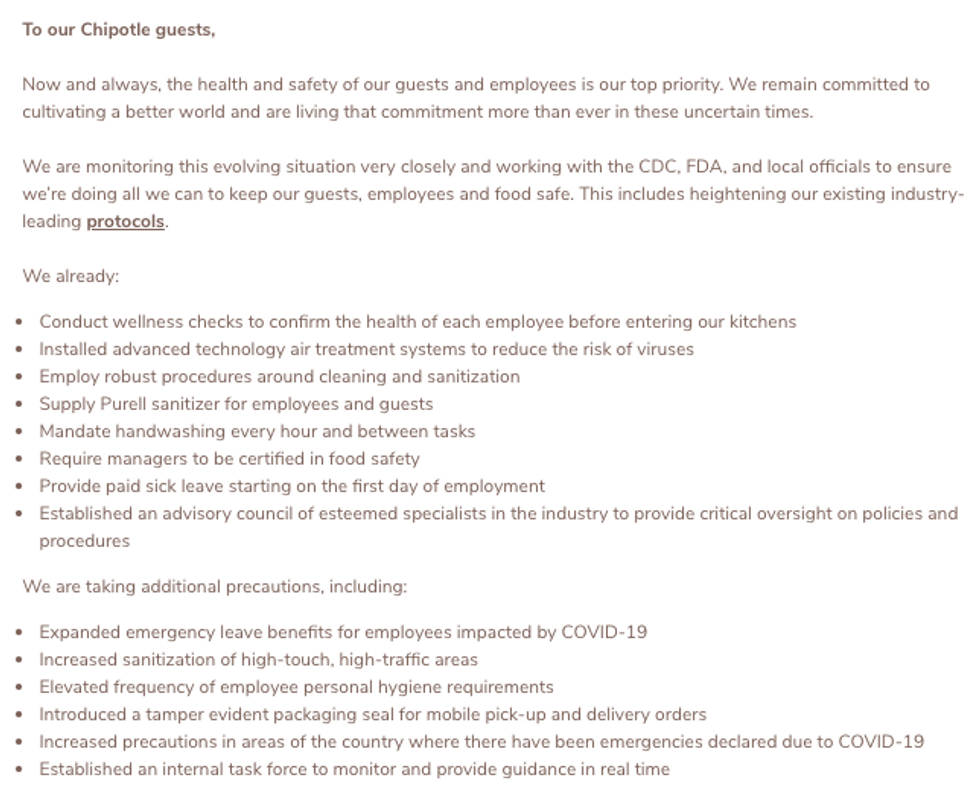 GameStop
As an asthmatic, I think I can speak for all of us when I say that learning about GameStop's newly assembled "internal COVID-19 taskforce dedicated solely to this issue" is like aloe to the lingering burn of realizing that my compromised immune system makes dying a whole lot more likely. There's only so much that we can do to protect ourselves, so it's comforting to know that GameStop's "taskforce" is watching over everyone.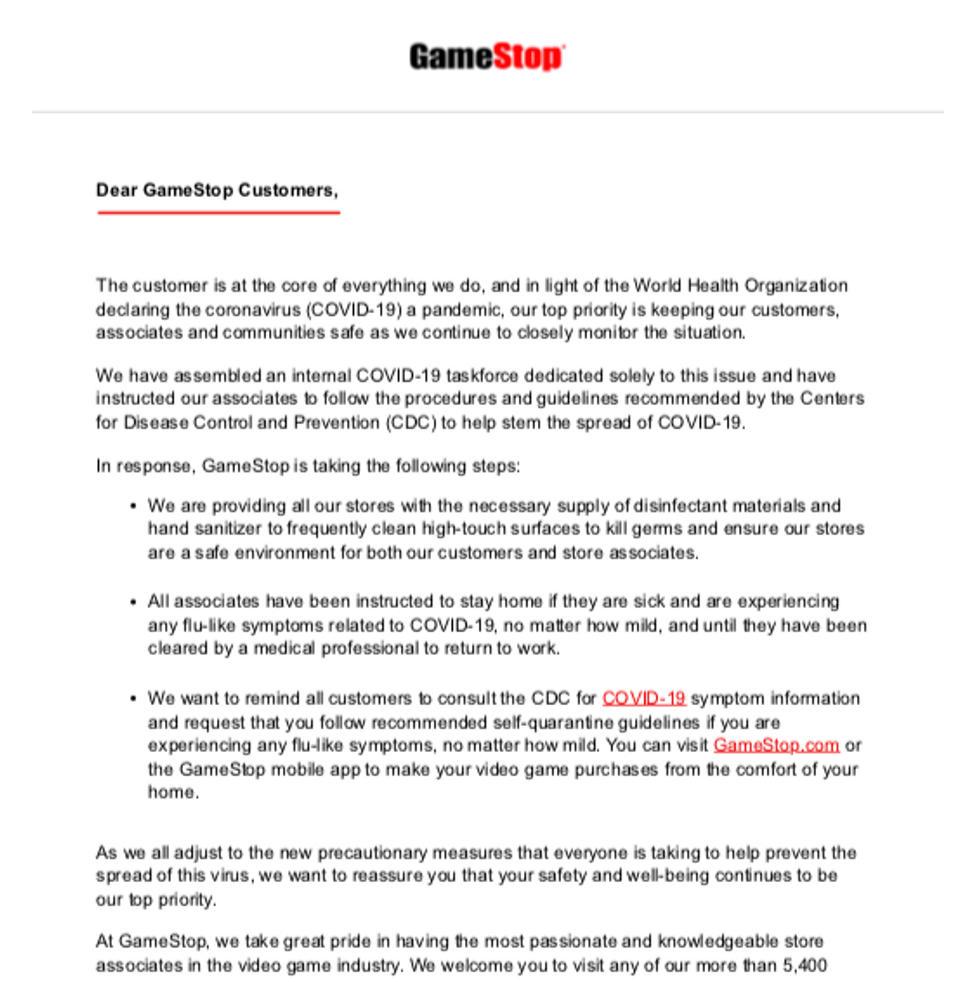 TurboTax
As Benjamin Franklin once said, "In this world nothing can be said to be certain, except death and taxes." Indeed, this deadly pandemic has arrived in the middle of tax season, so it makes sense that many of us have been waiting on pins and needles to hear from our good pal TurboTax. Happily, they are continuing to "closely monitor, assess and respond to this situation" and, by all accounts, are planning to stay functional as a business with products that exist entirely online. I was upset enough about my brother being homeless after his out-of-state college dorm closed down, so it's great to know that at least TurboTax has their sh*t together.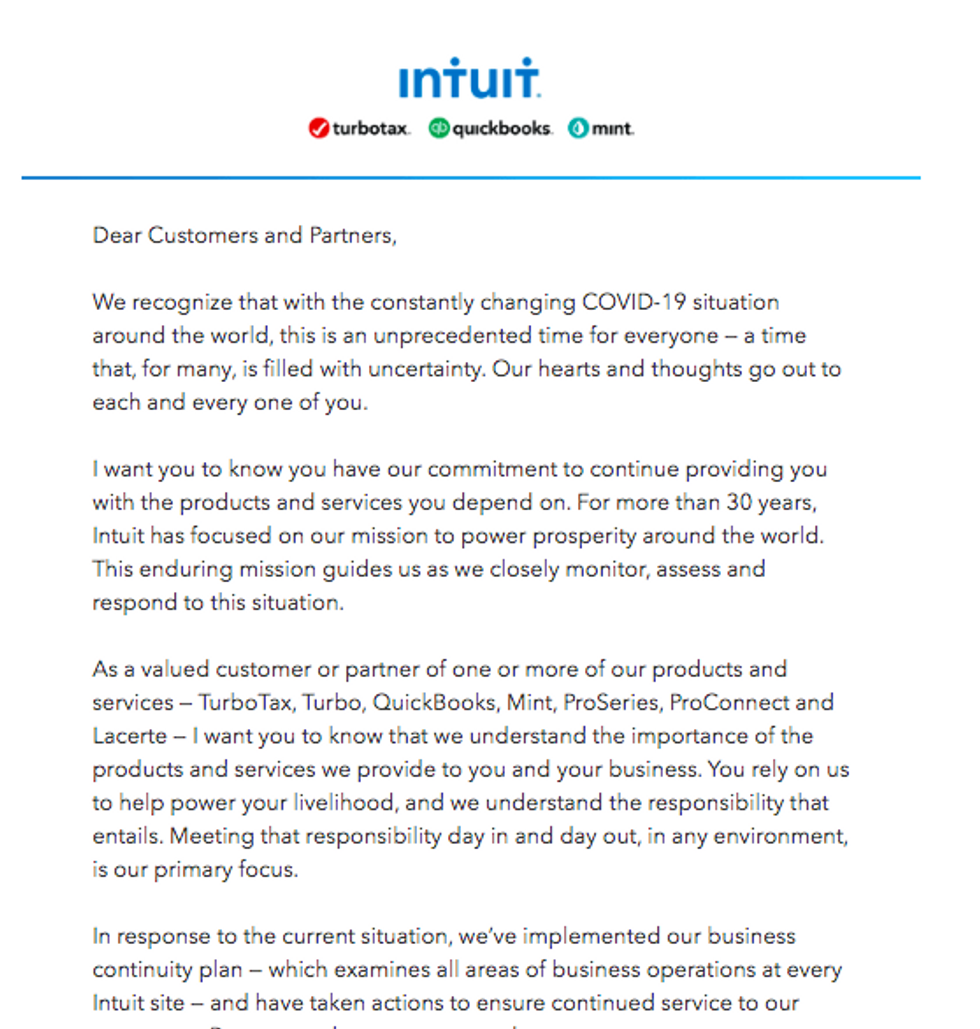 Free People

Even while we're socially isolated, it's incredibly important for us to maintain our sense of community. After all, we're still a social species. Sadly, many of our human friends have been too ill or preoccupied with their lives falling apart to spend hours chatting online. There are few feelings quite as painful as wishing you could help the people you care about but knowing that doing so very well might make everything a whole lot worse. Free People understands this. "Whether you have questions about a pending order or shipment, where to find a coveted dress, or are simply looking for someone to talk to, we are always here for you," they promise. I hope that none of my loved ones die during all of this, but if they do, I'm genuinely grateful to know that Free People is there for me.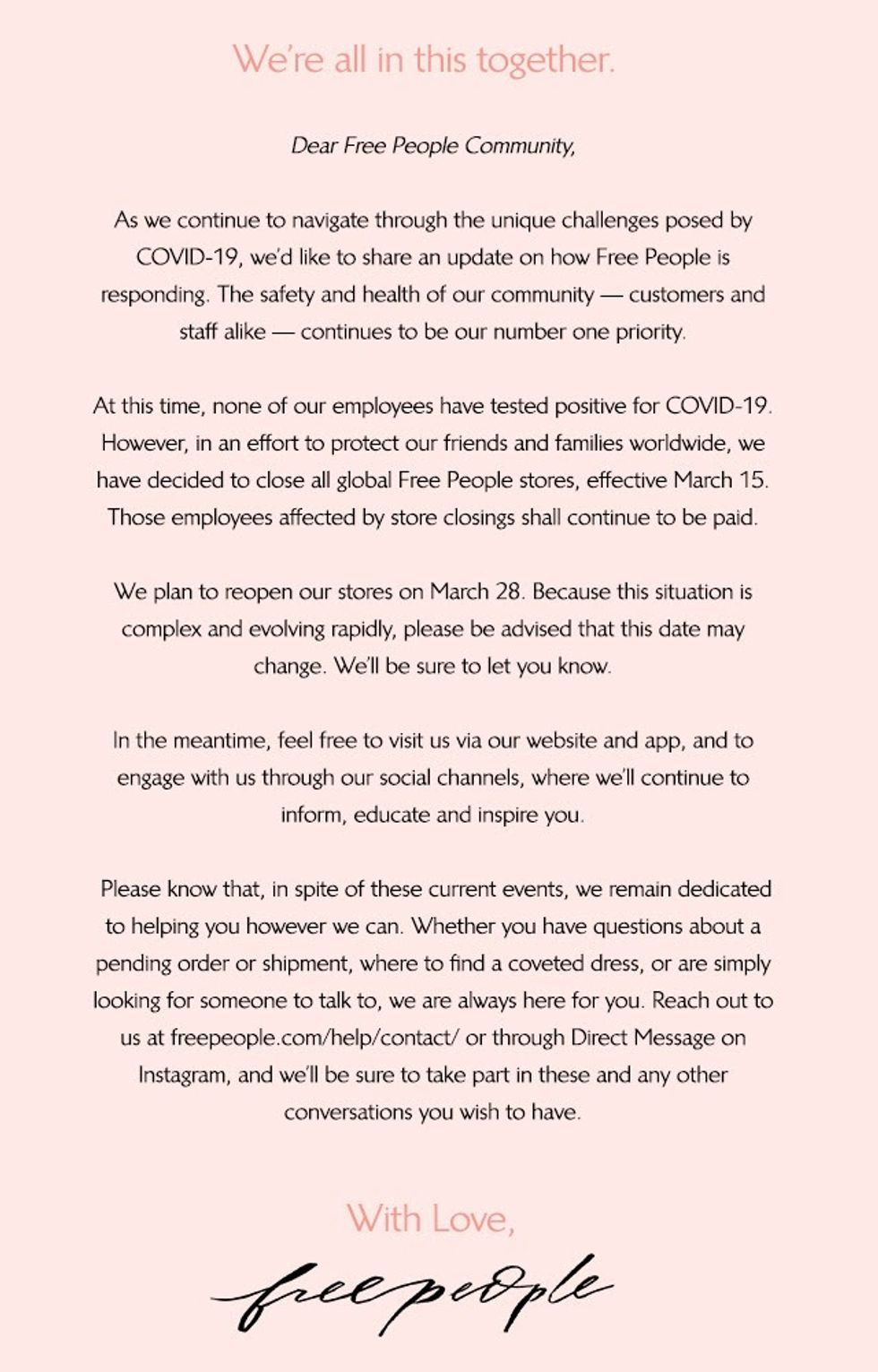 Sephora
There's no reason that being stuck alone in your apartment needs to mean that you can't go all out. That said, if you want to keep your make-up supply stocked through an indefinite period of isolation, you're going to need to hit up Sephora while you still can. Yes, logically a company whose store model revolves around sampling shared display make-up should probably stop that practice for the good of literally everybody at the first sign of a global pandemic. But that's why Sephora wants you to know that they are "cleaning all display testers with disinfectant multiple times per day and replacing as needed." Who would Sephora be if not your fun, trendy friend who lives life on the wild side. If looking good means spreading just a little bit of coronavirus, so be it.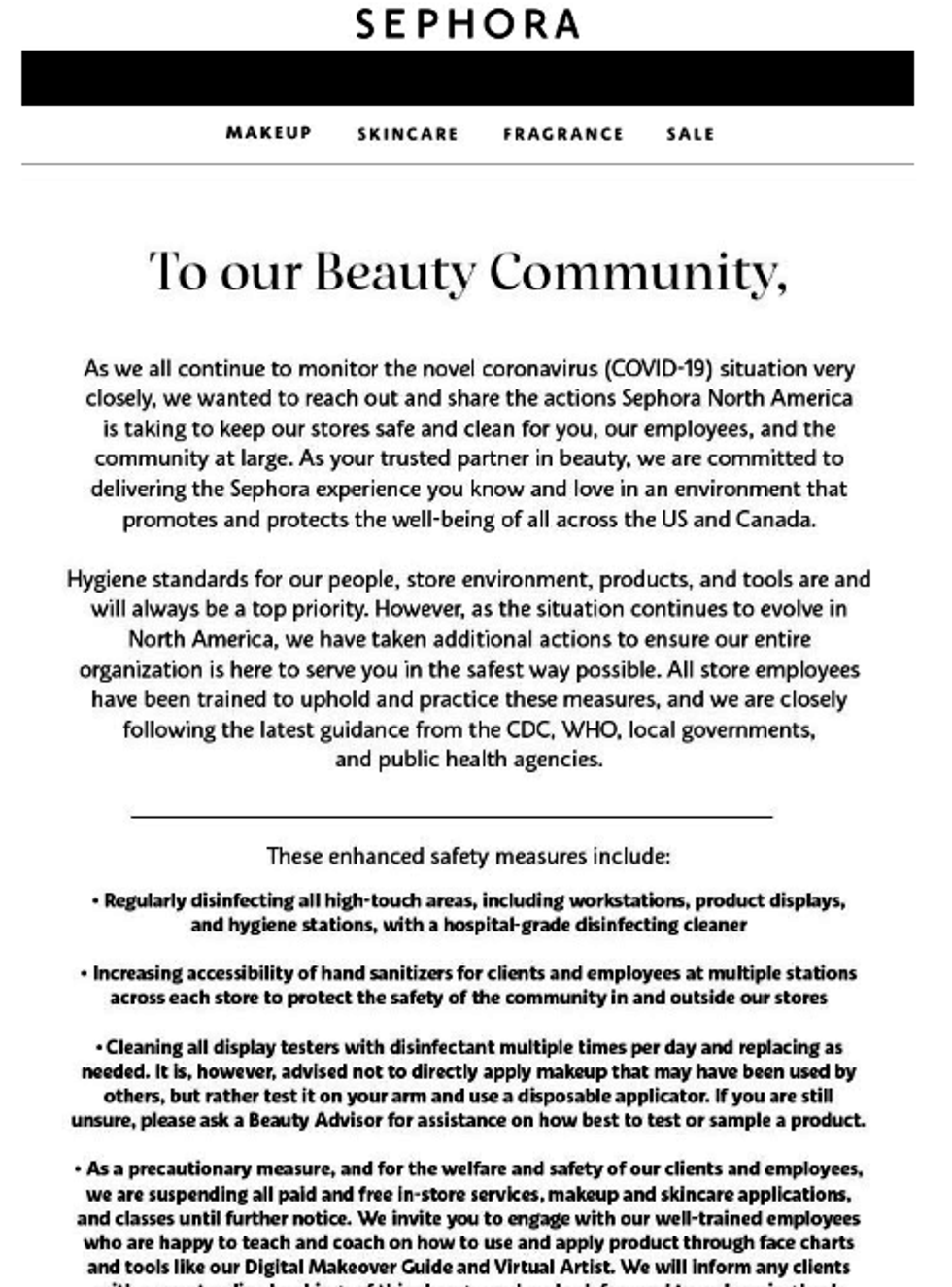 Schmackary's
Personal story: One time before human society started imploding, my girlfriend and I were walking around New York City and had a sudden craving for cookies. A quick Yelp search directed us to a nearby cookie shop called Schmackary's. While checking out, I entered my e-mail for their reward point system or something, thinking that if the cookies were good, I might come back at some point. I do live in New York, after all. In truth, I don't crave cookies often and, in time, I forgot about Schmackary's. But that's the thing about long lost friends; even after years, they were still a part of your life, and sometimes it's nice to have the peace of mind that, while the sky falls down around you, an old friend is doing okay. Even as I run out of food and worry about paying my rent, even as my loved ones fall ill around me, even as paranoia sets in, my heart is filled with joy thinking about how Schmackary's is going "above and beyond in order keep our bakery safe and clean."