"A tree is best measured when it is down," the poet Carl Sandburg once observed, "and so it is with people." The recent death of Harry Belafonte at the age of 96 has prompted many assessments of what this pioneering singer-actor-activist accomplished in a long and fruitful life.
Belafonte's career as a ground-breaking entertainer brought him substantial wealth and fame; according to Playbill magazine, "By 1959, he was the highest paid Black entertainer in the industry, appearing in raucously successful engagements in Las Vegas, New York, and Los Angeles." He scored on Broadway, winning a 1954 Tony for Best Featured Actor in a Musical – John Murray Anderson's Almanac. Belafonte was the first Black person to win the prestigious award. A 1960 television special, "Tonight with Belafonte," brought him an Emmy for Outstanding Performance in a Variety or Musical Program or Series, making him the first Black person to win that award. He found equal success in the recording studio, bringing Calypso music to the masses via such hits as "Day-O (The Banana Boat Song)" and "Jamaica Farewell."
Harry Belafonte - Day-O (The Banana Boat Song) (Live)www.youtube.com
Belafonte's blockbuster stardom is all the more remarkable for happening in a world plagued by virulent systemic racism. Though he never stopped performing, by the early 1960s he'd shifted his energies to the nascent Civil Right movement. He was a friend and adviser to the Reverend Doctor Martin Luther King, Jr. and, as the New York Times stated, Belafonte "put up much of the seed money to help start the Student Nonviolent Coordinating Committee and was one of the principal fund-raisers for that organization and Dr. King's Southern Christian Leadership Conference."
The Southern Poverty Law Center notes that "he helped launch one of Mississippi's first voter registration drives and provided funding for the Freedom Riders. His activism extended beyond the U.S. as he fought against apartheid alongside Nelson Mandela and Miriam Makeba, campaigned for Mandela's release from prison, and advocated for famine relief in Africa." And in 1987, he received an appointment to UNICEF as a goodwill ambassador.
Over a career spanning more than seventy years, Belafonte brought joy to millions of people. He also did something that is, perhaps, even greater: he fostered the hope that a better world for all could be created. And, by his example, demonstrated how we might go about bringing that world into existence.
ALEC puts people in for-profit jails, prevents gun laws, and stops action against climate change—all from inside locked hotel conference rooms.
In the "corporate bill mill" where corporate leaders and politicians meet, schmooze, and decide the future of the planet, evil is at work.
Georgia Senator Nan Orrick, a former ALEC (American Legislative Exchange Council) member, describes back rooms in Vegas resorts and behind-closed-doors legislative sessions where corporations not only vote on bills—they write them.
ALEC brands itself as an educational charity, she says, but hefty donations (memberships can cost $25,000 a year) fund "education efforts" for legislators, according to a local 11 Alive broadcast—educational efforts led by multi-billion dollar corporations with specific agendas.
The Investigators: ALEC - The Backroom Where Laws Are Bornwww.youtube.com
In the end, Orrick left ALEC because it was just a bunch of "angry white men," she said.

But these "angry white men" have arguably guided America towards the state it's currently in, making some sort of revolution inevitable.
From the Prison Industrial Complex to Stand Your Ground: ALEC's History of Oppression and Harm
ALEC was partly responsible for the massive spike in prison populations over the last few decades—a 500% increase over the last 40 years, to be exact. In 1995, ALEC's "Truth Sentencing Act" was signed in 25 states. ALEC also pushed for mandatory minimum sentences for nonviolent drug offenders. And ALEC helped privatize the bail bond industry and has worked to pass laws to create for-profit prisons, catalyzing what we now know as the Prison Industrial Complex.
Unsurprisingly, two of ALEC's major sponsors include the Corrections Corporation of America and the Geo Group (formerly Wackenhut Corrections).
"An In These Times investigation last summer revealed that ALEC arranged secret meetings between Arizona's state legislators and CCA to draft what became SB 1070, Arizona's notorious immigration law, to keep CCA prisons flush with immigrant detainees," write Mike Elk and Bob Sloan in The Nation. "ALEC has proven expertly capable of devising endless ways to help private corporations benefit from the country's massive prison population."
In Ava DuVernay's documentary 13th, which tells the story of Black oppression in America from the ratification of the 13th Amendment in 1865 until today, she dives into ALEC and how—building on momentum from the War on Drugs—it resulted in the mass criminalization of Black people, leading to a system of punishment that Michelle Alexander calls "The New Jim Crow."
13TH | FULL FEATURE | Netflixwww.youtube.com
ALEC has a long track record of creating racist policies that disenfranchise vulnerable populations. For example, they were an origin point of voter ID laws that successfully prevented many voters from participating in elections. In 2011, the civil rights organization Color of Change launched an investigation into ALEC's political actions in 2011, and reported that for years, "the right wing has been trying to stop Black people, other people of color, young people, and the elderly from voting for partisan gain—and now some of America's biggest companies are helping them do it."

ALEC was also responsible for creating the "Stand Your Ground Laws," which helped George Zimmerman go home free after he shot Trayvon Martin.
Once people began connecting the dots and investigating this law across states, they realized that the bill looked almost identical from state to state—and were able to trace its origins back to ALEC.
A Foundation Built on Disregard For Human Life
Destruction is in ALEC's lifeblood. Two of ALEC's early founders were the Koch brothers, both of whom played a significant role in destroying early government action against climate change. Over recent years, ALEC has doubled down on its efforts to defend fracking and to fight against protestors and whistleblowers, passing bills that threaten to fine and imprison anyone who attempts to vandalize pipelines, and beyond.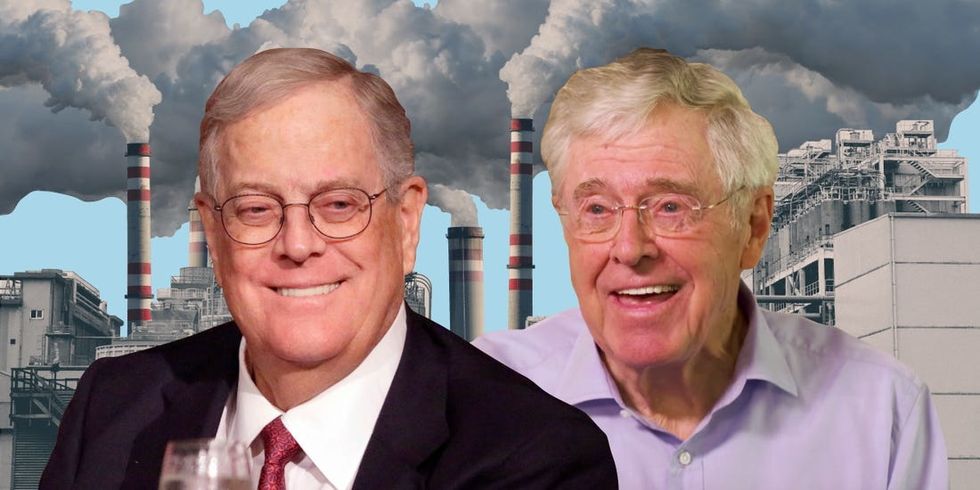 Koch Brothers
Other current corporate sponsors include the tobacco industry, the giant pharmaceutical company Pfizer, the National Rifle Association, Wal-Mart, ExxonMobil, and hundreds of other corporations. That means that these major corporations have a say in what bills are passed where.

ALEC has faced some resistance. After whistleblowers published a database called ALEC Exposed in Wikipedia, corporate sponsors began to face pressure to leave the shadowy lawmaking organization. Coca-Cola, Kraft, Intuit, the Gates Foundation, Google, and other companies pulled out. Hundreds of legislators have cut ties—but ALEC continues to meet year after year.
ALEC Is Still Alive and Well—and Was Fighting to Reopen in Mid-May
ALEC is still alive and well today, if quiet (or very good at diverting attention from it). According to the ALEC Exposed Wikipedia page, ALEC has been "Leading Right-Wing Campaign to Reopen the Economy Despite COVID-19" this May.
The suffering that some of ALEC's bills have caused is literally unimaginable–and genuinely apocalyptic in scale. The number of lives ruined from big pharma, gun violence, climate change, and mass incarceration is absolutely uncountable. Bills like the "No Sanctuary Cities for Illegal Immigrants Act," the "Consistency of Firearm Regulation" Act (which prevents local areas from restricting firearm possession), and many others have each had brutal lived consequences on people's lives—and each was created in an unjust, secretive way.
Yet ALEC still insists that it's a legal organization and that its nay-sayers are simply delusional leftists.
But if ALEC really were a legal organization, wouldn't they open their doors to the media instead of forcibly removing the reporters who try to enter at its annual policy summit?
Of course the fact that corporations are running the show nowadays isn't exactly a surprise, and ALEC is just one of the many corporate lobbyist groups that are "ghostwriting the government," as one Harvard Political Review report put it. The best of these groups are probably so secretive that no one knows exactly what they're called or where they are. Certainly, ALEC is growing alongside the times, figuring out how to further its agenda as more politicians refuse corporate donations, and who knows: It may disappear completely, reforming itself as another slick corporate group in some other identical hotel ballroom, ruining lives with the flick of a few keystrokes.
But at least the people are beginning to wise up to the fact that many of our lawmakers have pledged allegiance not to the people but to corporations.
United States of ALEC: A Follow-Upwww.youtube.com
Amazon's contest for two cities to house dual new headquarters has likely winners in Queens, NY and Crystal City, VA.
Amazon is looking to hire a total of 50,000 employees divided between two new headquarters. Leaked reports spotlight the Crystal City area of Arlington, VA and Long Island City in Queens, NY as the next locations for the Seattle-based retail giant.
While both are expensive real estate markets, New York Governor Andrew Cuomo is reportedly prepared to offer hundreds of millions of dollars in subsidies, according to The New York Times.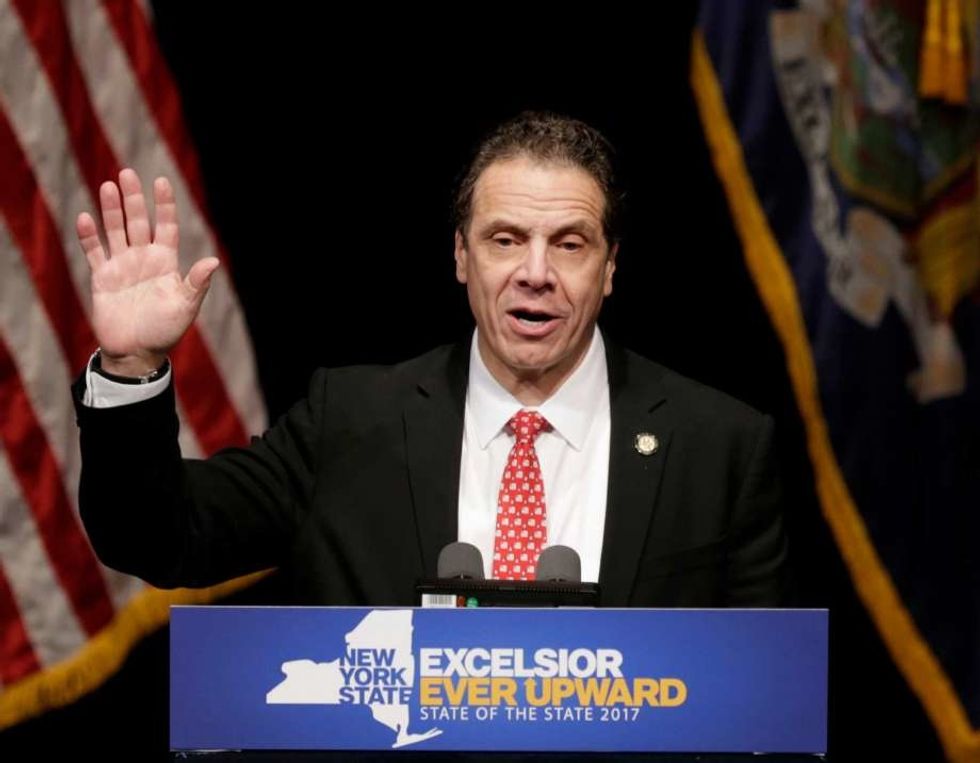 "Amazon Cuomo"Times Union
"I am doing everything I can," Governor Cuomo commented on Monday. "We have a great incentive package." He added, "I'll change my name to Amazon Cuomo if that's what it takes. Because it would be a great economic boost." Assuming Cuomo hopes to retain the respect of his supporters during his third term as governor, he won't be changing his name.

Governor Cuomo's enthusiasm, however, does set him apart from Virginia officials, who are staying mum on the prospect of Amazon's HQ2. In Crystal City, developer and land owner JBG Smith declined to comment. If chosen, the new Amazon headquarters would be in close proximity to Washington, DC's labor force.
Amazon is refraining from confirming or denying its final decision. Since announcing its plans to expand in September 2017, the company has been shortlisting locations based on availability of trained workers, access to public transportation, and quality of city infrastructure. Amazon is expected to invest $5 billion into its expansion.
Wherever Amazon chooses to expand, its previous impact on its home base of Seattle suggests that it will create an economic boom, but also an increase in housing and traffic congestion. In fact, in Seattle, Amazon has been "singularly blamed for a rapid influx of wealthy techies who...worsen traffic and increase housing problems." To that point, some residents in Queens are wary of the worsening effect 25,000 more employees could have on the already sub-par MTA subway service.
Steve Kovach at CNBC notes, "The 7 train, the subway line that runs through much of Queens, is already straining to service the influx of new residents in the Long Island City area. That would only get worse with 25,000 Amazon workers commuting into Long Island City every day."
If Amazon hopes to fulfill its goal of preparing 500,000 square feet of office space for thousands of new employees to begin work next year, secrecy and rumor need to give way to signed deals and a wave of hiring.
Meg Hanson is a Brooklyn-based writer, teacher and jaywalker. Find Meg at her website and on Twitter @megsoyung.