Dall-E Mini, the AI-powered text-to-image generator has taken over the internet. With its ability to render nearly anything your meme-loving heart desires, anyone can make their dreams come true.
DALL-E 2, a portmanteau of Salvador Dali, the surrealist and Wall-E, the Pixar robot, was created by OpenAI and is not widely available; it creates far cleaner imagery and was recently used to launch Cosmpolitan's first AI-generated cover. The art world has been one of the first industries to truly embrace AI.
The open-sourced miniature version is what's responsible for the memes. Programmer Boris Dayma wants to make AI more accessible; he built the Dall-E Mini program as part of a competition held by Google and an AI community called Hugging Face.
And with great technology, comes great memes. Typing a short phrase into Dall-E Mini will manifest 9 different amalgamations, theoretically shaping into reality the strange images you've conjured. Its popularity leads to too much traffic, often resulting in an error that can be fixed by refreshing the page or trying again later.
If you want to be a part of the creation of AI-powered engines, it all starts with code. CodeAcademy explains that Dall-E Mini is a seq2seq model, "typically used in natural language processing (NLP) for things like translation and conversational modeling." CodeAcademy's Text Generation course will teach you how to utilize seq2seq, but they also offer opportunities to learn 14+ coding languages at your own pace.
You can choose the Machine Learning Specialist career path if you want to become a Data Scientist who develops these types of programs, but you can also choose courses by language, subject (what is cybersecurity?) or even skill - build a website with HTML, CSS, and more.
CodeAcademy offers many classes for free as well as a free trial; it's an invaluable resource for giving people of all experience levels the fundamentals they need to build the world they want to see.
As for Dall-E Mini, while some have opted to create beauty, most have opted for memes. Here are some of the internet's favorites:
There's no looking back now, not once you've seen Pugachu; artificial intelligence is here to stay.
Look on our works, ye mighty, and despair!
There is a saying that it is easier to imagine the end of the world than to imagine the end of capitalism.
Entrenched systems of power have established bulwarks against the kind of institutional reform that younger Americans have recently been pushing for. By controlling the political conversation through lobbying, control of mass media, regulatory capture, and authoring of legislation, the ultra-wealthy maintain the status quo in a way that makes changing it seem impossible. The problem is that change is desperately needed if we are going to maintain any semblance of civilization.
While political dynamics have become so rigid that the boundaries of what we can achieve begin to feel impenetrable, the COVID-19 pandemic has revealed that the vital structures of our society—a society that is superficially so robust—have been so weakened that a collapse in one form or another is inevitable. We are the world's superpower, yet faced with a slightly more contagious, slightly more lethal virus than the flu, we are powerless. How did it get to be this bad? How were we so blind to it?
To clarify, depending on the part of the country you live in, it could seem like I'm exaggerating. It may not seem "so bad," or like we're on the verge of collapse. Not long ago the president and many of his loyalists on Fox News and AM radio were still calling dire forecasts around the coronavirus a hoax. At the time it seemed reckless but not unhinged from current events—which were still largely unaffected. In much of the country there is little cause for alarm, so few people are doing much to change their behavior. That's about to change, and the areas hit worst will soon be making the dire choices that Italian hospitals were recently faced with—which patients are we going to hook up to ventilators, and which are we going to allow to die. We are already started on a path that leads to overflowing hospitals in every major city.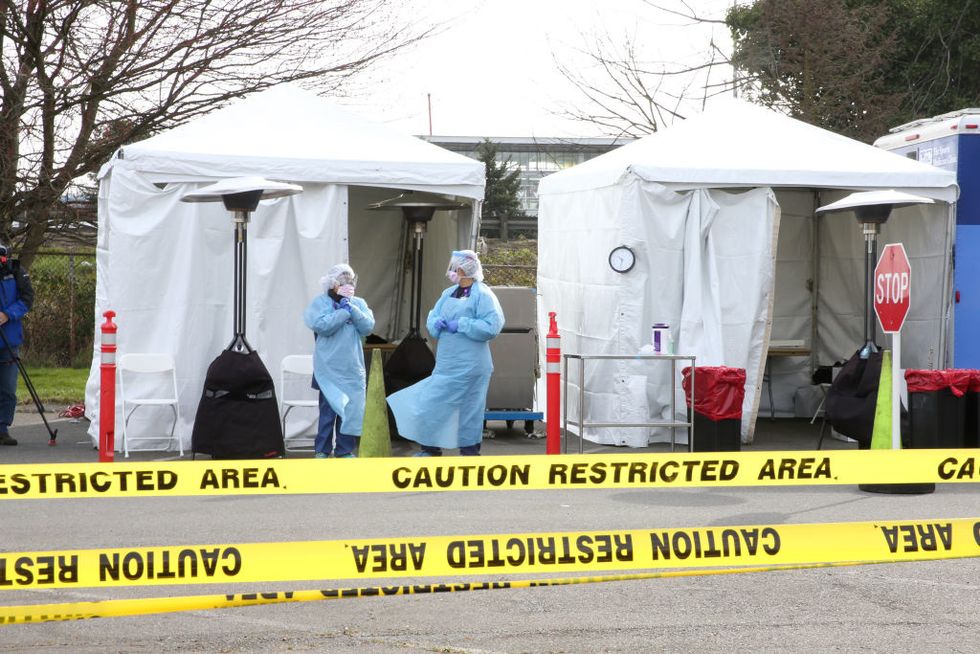 A makeshift testing facility in Seattle, Washington Getty Images
The problem is that our entire economy is set up around the same kind of short-term thinking that drive publicly traded corporations. The mentality that "government should be run like a business," leads to cost-cutting measures that only look to the current budget, with minimal consideration given to the kind of intermittent crises that we are bound to face—like a viral pandemic. If it's not particularly likely to happen before the next election cycle, it's better not to even worry about it. This is the kind of thinking that led Donald Trump's administration to push for cuts to the CDC and to disband their global health security team in 2018.

But the systemic issues go much deeper than that and started long before Trump took office. Trump and his ilk can't be blamed for the fact that the US has two hospital beds for every 1,000 citizens. Nor are they responsible for the fact that almost every aspect of America's critical infrastructure receives a near-failing grade from the American Society of Civil Engineers. This includes airport congestion—which has already become an issue with the current pandemic—and important shipping routes that we will rely on to maintain the movement of necessary goods as conditions around the country worsen.
Add to those issues the fact that we have a massive population of prisoners sharing tight quarters with poor sanitation, a substantial homeless population with no way to quarantine, a dearth of worker protections like paid sick leave, and it becomes hard to imagine how we'll get through this unscathed. And, of course, this is still ignoring the elephant in the room—a for-profit healthcare system that discourages millions of uninsured and underinsured Americans from seeking medical advice or treatment until it's too late.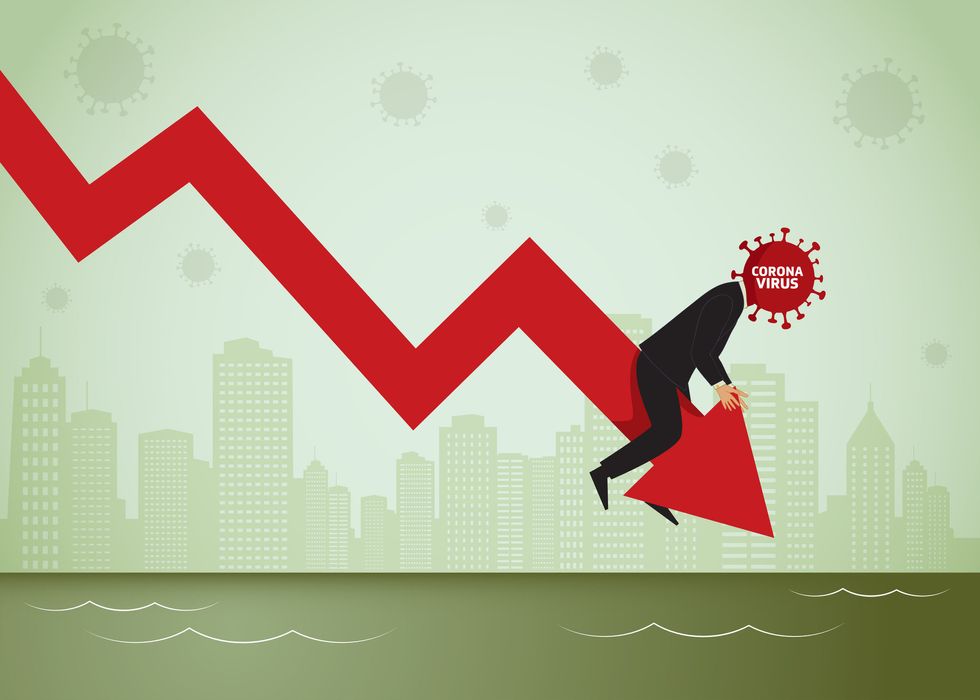 Getty Images
Meanwhile, the economic hardships imposed by the necessity of social distancing are being exacerbated by an economy that is heavily reliant on the whims of financial speculators who create an echo chamber of divestment that heightens every crisis. The stock market, in other words, is going crazy in the worst possible way. It's too soon to say how thoroughly the weaknesses in our system will be tested by the developing pandemic, but even in the best case scenario they are going to be strained to a terrifying extent.

Fortunately, there are efforts underway to shore up some of the most obvious breaking points so we can avoid complete societal collapse. They may turn out to be too little too late, but even if they get us through this current disaster, how long will it be before the next one hits? The best models of climate change predict that we are nearing an era that will be ruled by powerful natural disasters and refugee crises that will threaten economic stability and critical infrastructure and may heighten the threat of infectious diseases. Temporary, reactive measures cannot save us if the next crisis hits a little harder or when multiple crises overlap.
A strong social safety net like the one the US tried to develop under FDR would serve to mitigate the damage from this kind of crisis. But modern American politics has worked for decades—in an effort that became an object of worship under Ronald Reagan—to whittle the welfare state of the New Deal and the Great Society down to a fragile bare minimum.
We need to take seriously the voices of politicians like Bernie Sanders and Alexandria Ocasio-Cortez who have called for the kind of broad, sweeping legislation that stands a chance of upending the rigid political dynamics that maintain the status quo. The Green New Deal would be a good start. The alternative, one way or another, is the end of our civilization and the world as we know it.
This year's flu virus is still slated to be a bigger threat.
It's believed that Chinese officials have not exactly been forthcoming about the true extent and severity of the coronavirus, a respiratory illness whose death toll in mainland China has now exceeded that of S.A.R.S. The Chinese foreign ministry has criticized the U.S.'s response of temporarily banning foreign individuals who had traveled in China from entering the country. Chinese officials initially said that U.S. health officials "inappropriately overreacted" and spread unnecessary fear. However, on Monday (February 3) China's elite Politburo Standing Committee admitted that there were "shortcomings and difficulties in the response to the epidemic," according to China's Xinhua news agency. The government said it "urgently" needed medical supplies, such as protective suits and masks.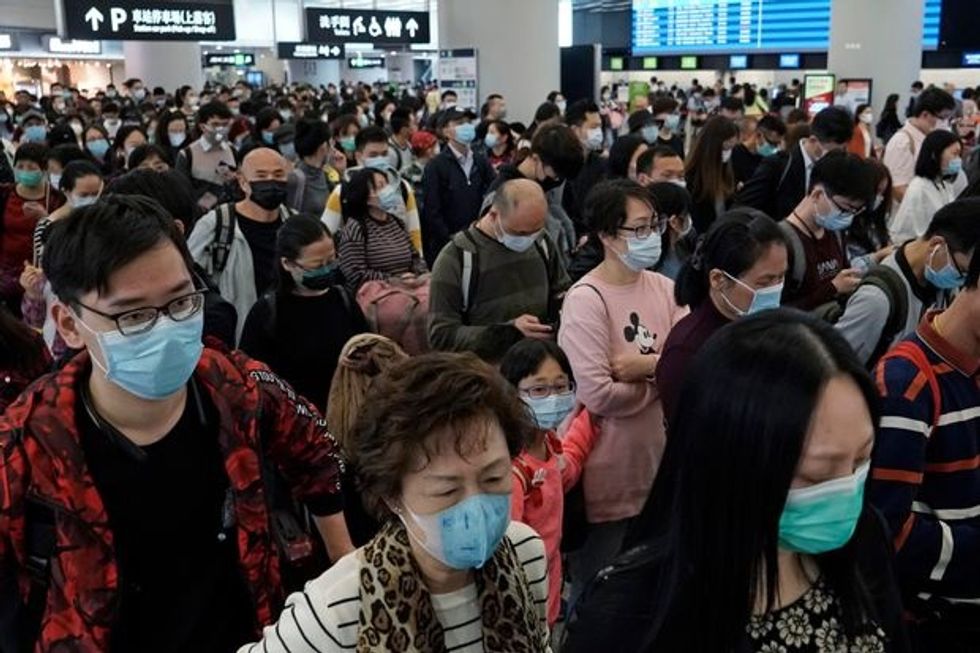 When the World Health Organization (W.H.O) declared the virus a "public health emergency of international concern," they said its organization "continues to have confidence in China's capacity to control the outbreak." They stated that their concern is about the virus' potential to reach countries with poor health care. In such an environment, the disease could spread rapidly, "infecting millions of people and killing thousands," according to The New York Times.
With over 20,000 cases reported in China and 170 more reported in over 25 other countries, the Centers for Disease Control and Prevention (C.D.C.) has been rapidly updating their findings on the respiratory disease. 11 cases have been confirmed in the U.S. (including 3 in California, 2 in Illinois, 1 in Arizona, 1 in Massachusetts, and 1 in Washington). More cases are currently under review. As of this writing, three New York cases have been sent to the Center for Disease Control and Prevention Laboratory in Atlanta, which is currently the only facility that can confirm a case of coronavirus. The New York City health commissioner has called the virus's presence in the city "inevitable."
But what does that really mean?
The coronavirus is distinct in a few ways, originating in animals in Wuhan, China but demonstrating the ability to spread from person to person once someone is infected. Symptoms present as common flu symptoms, including fever, dry cough, shortness of breath, aching muscles, and fatigue. There have been indications to suggest that individuals infected with the coronavirus are contagious before they show symptoms, but that has not been widely confirmed.
Out of over 20,000 confirmed cases spread across more than two dozen countries, there have been fewer than 500 deaths, with two deaths occurring outside of China so far. Most people infected have been elderly or those with compromised immune systems, and there have been full recoveries from the virus.
In fact, the first American patient confirmed to have the coronavirus has been released from the hospital and is staying in isolation in his home. "I am at home and continuing to get better," the nameless man said in a statement, "I ask that the media please respect my privacy and my desire not to be in the public eye. I would like to thank the doctors, nurses, and entire team at Providence who cared for me. I appreciate all of the concern expressed by members of the public, and I look forward to returning to my normal life."
The flu is more dangerous.
Meanwhile, public health officials underline that the coronavirus presents a low health risk to Americans. More dangerous is influenza B, or the common flu. The C.D.C. reports that 68 children have died of the flu this year, along with an estimated 10,000 adults! Todd Ellerin, the director of infectious diseases at South Shore Health in Massachusetts, told Mother Jones that the flu is "massively outstripping" the spread of the coronavirus in the U.S. He added in a a blog post for Harvard Medical School, "In the US, the average person is at extremely low risk of catching this novel coronavirus. This winter, in fact, we are much more likely to get influenza B—the flu—than any other virus: one in 10 people have influenza each flu season."