It may not be a shadowy communist conspiracy to "destroy American capitalism," but it should still scare you.
Those familiar with The Blaze founder Glenn Beck may have understood what it meant, on Monday, when "The Great Reset" started trending on Twitter.

Canadian Prime Minister Justin Trudeau had said in a speech to the UN that the coronavirus pandemic "provided an opportunity for a reset." And for those in the know — or those looking for evidence of a totalitarian scheme in every instance of global cooperation — that was reason enough to start panicking.
But even if you're not an aficionado of right-wing conspiracy theories, you may have seen TIME Magazine's October issue on the topic of "The Great Reset". In which case you're likely confused as to why anyone would find it frightening.
Coronavirus: Trudeau tells UN conference that pandemic provided "opportunity for a reset" www.youtube.com
The vision for the future proposed by the World Economic Forum — and laid out in TIME — doesn't sound particularly scary. The coronavirus pandemic has stalled many aspects of the economy, and the WEF calls for reforms to be implemented as the economy gets back into gear.

Among their suggestions are a voluntary adoption of more corporate responsibility, acknowledging the social and ecological costs of doing business. They call for businesses to take proactive steps in auditing their operations and shifting toward long-term, sustainable models that value "stakeholders" rather than just investors.
But the vague gesturing toward a more virtuous form of capitalism is presented as a grand vision for revolutionizing every aspect of society and the global economy. And in that exaggerated language, it's easy for people like Glenn Beck to perceive a hostile takeover of their beloved America.
The Conspiracy Theory
According to Beck's YouTube channel, the plan is to "DESTROY American capitalism." With Joe Biden's help, the "elites" want to replace American enterprise with a planned economy, akin to the China's state capitalism.
Beck, along with guest Justin Haskins — of pro-tobacco, anti-climate science think tank The Heartland Institute — argue that the term "Stakeholder Capitalism" is coded language. According to them it's a euphemism for the total subversion of individual sovereignty to the imposed will of the sinister "collective."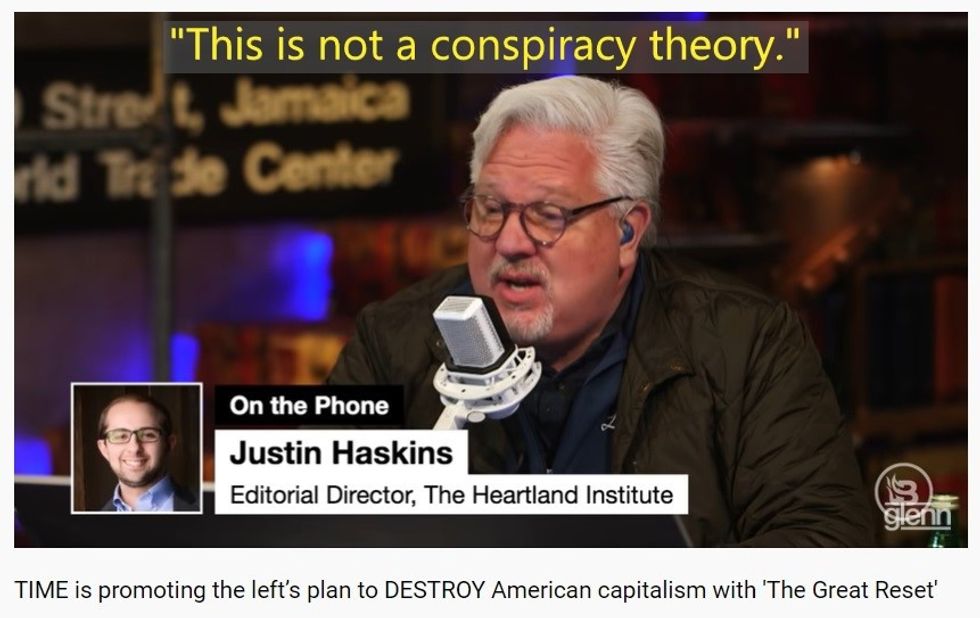 Pictured: Glenn Beck about to explain his conspiracy theory.
This is the same tune Beck has been playing for years now. Calls for regulation and anything less than unfettered capitalism are really just covers for allowing totalitarian rule to take over.

In Beck's vision of the world, "elites" use excuses like a global health crisis and impending ecological collapse in order to seize power from the little guy. And there is an element of truth in that.
As Naomi Klein laid out in her 2007 book The Shock Doctrine, natural disasters and economic crises often provide openings for radical reforms that serve ulterior motives. Disguised as recovery and aid, these reforms often end up benefiting the powerful while doing little to serve the interests of those most affected by the crises.
But Klein's observations on this phenomenon differ in one important way from the conspiracy theories Glenn Beck peddles. The radical reforms that Klein points to in post-Katrina New Orleans and elsewhere tend more toward neoliberal privatization than toward increasing government control.
Rather than a shadowy, big government agenda, the disaster capitalism Klein writes about serves the simple purpose of making rich people richer. After all, since the 1970s, American politics have been solidly on the side of wealthy private interests against the expansion of government services or the protection of workers.
Shrinking the role of government has long been treated as a dogmatic good that will put more power in the hands of individuals. And that kind of thinking has resulted in situations like the end of public schools in New Orleans.
Naomi Klein: The Shock Doctrine www.youtube.com
But there is something that people like Glenn Beck consistently overlook. While entertaining nightmares about the government forcing "Stakeholder Capitalism Metrics" on small businesses, they forget that Governments aren't the only force capable of eroding our freedoms.

How Corporations Steal Your Freedom
If a corporation knowingly dumps poisons into your water supply — because those chemicals aren't regulated — doesn't that affect your freedom? And if wages are so low that you're forced to sink all of your waking hours into multiple dead-end jobs, what freedom do you have?
Beck always frames things from the perspective of the business owner losing freedom to government regulation. But what about exploited employees, defrauded customers, or neighbors made to deal with the health effects of industrial pollution?
Ask the residents of Louisiana's "cancer alley" if they are more concerned about "government overreach" than they are about the freedom to breathe air without being poisoned by private industry.
Those are the "stakeholders" who Klaus Schwab and the WEF are referring to. They're people who don't necessarily receive the benefits of short-term profits, but have to deal with the consequences of corporate malfeasance. And for decades their interests have been systematically stripped out of the equation of corporate success and neoliberal governance, leaving only the eternal pursuit of quarterly returns.
So when an organization like the World Economic Forum — with membership representing the wealthiest people and the largest corporations on Earth — starts promoting major reforms to the global economy, we should all be nervous.
Generally, when the wealthy and powerful align on an agenda, it's an agenda that serves the wealthy and powerful. And when they manage to get leaders from the US to the UK to Canada all promoting the same motto — "Build it Back Better" — we should wonder who stands to benefit.
This 'Build Back Better' nonsense must stop. The World Economic Forum is a corrupt racket and their 'Great Reset' a… https://t.co/TUqXMUXKP9

— Mahyar Tousi (@Mahyar Tousi)1605608116.0
And yet, the rhetoric of "The Great Reset" and the "Build it Back Better" campaign seems to be a repudiation of exactly the kind of neoliberal reform it resembles. Instability and a disruption of normal order has made our system ripe for reform, so wealthy interests are stepping in to…decry tax evasion? What has changed?

A Societal Shift
The simple answer is laid out in WEF founder Klaus Schwab's introductory piece in TIME's "Great Reset" issue. The neoliberal policies that have dominated in recent decades "have proved wrong." Amid the insistence that our economy will function better without government intervention, workers, citizens, and the planet have suffered.
From declining wages, to the rising cost of basic necessities like housing, healthcare, and education, and the rapid approach of climate collapse, things have not been going well. So the WEF is pushing a new approach.
The more complicated answer is that we have changed. The attitude of the citizenry has adapted. No longer devoted to a Cold War battle between capitalism and communism, we have adjusted to a reality in which 42% of the workers earn less than $15 an hour.
We've adapted to the fact that the wealthiest family in the world makes its fortune on the backs of workers who rely on government assistance to make ends meet. We've adapted to the fact that most of us won't live as well as our parents. We've adapted to the fact that a basic standard of education requires taking on massive debt, and that a single medical event can be financially crippling.
We've adapted to the fact that the global temperature has been trending steadily upward — along with wildfires, droughts, hurricanes, and other effects of climate change. And we've adapted to the fact that the fossil fuel companies that knowingly caused this horrifying reality continue to operate with impunity.
It's only natural — in the context of rising inequality, environmental catastrophe, and the immiseration of generations of workers — that many of us would abandon allegiances to the system that brought us here.
For people like Glenn Beck, the thought of paying higher taxes may still conjure the specter of communism. But for those of us who don't make $20 million a year — with $250 million in the bank — the thought of things continuing on our current trajectory is quite a bit more frightening.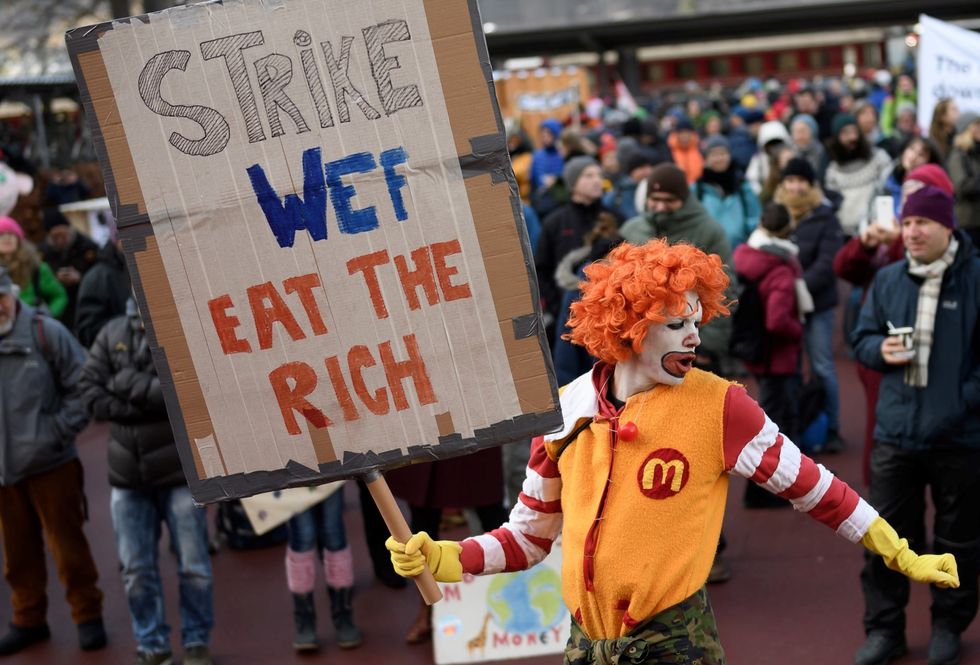 Protesters at the 2020 World Economic Forum in Davos
That's why Democratic Socialism has seen a sudden surge in popularity. It's why free, government-run healthcare is now a widely popular proposal, and why the slogan "eat the rich" has become a rallying cry in recent years.
People are hungry for real change. And if they don't get it soon, there will be consequences. Those consequences could look like economic collapse due to the erosion of the American middle-class. Or they could look like an armed revolution.

In either case, investors and executives who are paying attention know that it won't be good for the bottom line. That's where "The Big Reset" comes in.
If corporations and governments can make some bare-minimum changes to counteract the ravages of laissez-faire economic policy, maybe they can avoid the worst. And if they can make themselves look good in the process, all the better.
And that's why we should all be scared of "The Great Reset." It is not a high-level plot to install a global hegemony. It's a PR campaign to restore the reputation of the current global hegemony.
Whatever the plan's merits — the full details will be revealed in Davos in January of 2021 — the companies and the executives who are promoting it have their own self-interests at heart. They can express ideas about stakeholders and a collective good all they want, but if they can find a way to make themselves look benevolent without sacrificing profits, they will.
Ultimately, the idea underlying "The Great Reset" is that government and industry should work in tandem to determine the best policies. They want to prove that they can police themselves by implementing things like Bank of America CEO Brian Moynihan's "Stakeholder Capitalism Metrics."
The Great Reset www.youtube.com
Whether they acknowledge it or not, they are asserting that we don't need stronger government protections to step in and force them to stop exploiting workers or ravaging the Earth. They are responsible. They can be trusted.

They can dress that idea up as something new, and tell us they're looking out for us this time, but it's the same old story. It's neoliberalism by another name.
In the best case scenario, "The Great Reset," does result in some incremental improvements in policy. As we move on from the coronavirus pandemic, the plan could borrow concepts from The Green New Deal to offer a slightly more tolerable system — until those gains begin to erode again.
In the worst case scenario, the execution of the "The Great Reset" will be co-opted by the familiar forces of neoliberalism, changing things for the worse while the PR campaign convinces the public that everything is okay. If they succeed in persuading us that we don't need to keep fighting for a more equitable distribution of power and wealth, we will continue to creep toward oligarchy, with wealth controlling every aspect of our society.
So, no, there is not a communist conspiracy to use COVID-19 and global warming as an excuse to establish the dreaded "New World Order." The capitalists behind "The Great Reset" are not interested in destroying capitalism, and most of them are probably well meaning.
But we should all be scared that this band-aid will be used to cover up the festering wound of our diseased system.
Keep reading...
Show less
At his point, anything could be true...
In the early hours of Friday morning, the White House announced that President Donald Trump and first lady Melania Trump had both tested positive for COVID-19.
The news came shortly after it was confirmed that top aide Hope Hicks had tested positive after weeks of travellng with the president to campaign events. As a result, Trump's reelection campaign has canceled a number of upcoming campaign events in battleground states.
The idea of a sitting president contracting a life-threatening virus around a month before the 2020 election seems like the definition of a so-called "October surprise." But honestly, Donald Trump's reckless behavior in recent weeks—holding public rallies around the country, including a crowded indoor event in Henderson Nevada—makes his diagnosis substantially less surprising.
President Donald Trump said to have minor Covid-19 symptoms: New York Times report www.youtube.com
Of course, during Tuesday night's debate, Joe Biden expressed concern about that exact issue, noting that the president has "been totally irresponsible in the way in which he has handled the social distancing ... basically encouraging people not to [wear face masks]" at these events.
Trump, of course, responded by mocking Joe Biden for wearing "the biggest mask I've ever seen" and insisted that—in terms of his rallies and the risk of spreading COVID—"so far we have had no problem whatsoever." Less than 24 hours later, Donald Trump was at yet another rally in Duluth, Minnesota, where unmasked people were standing shoulder to shoulder.
Leaving aside the fact that Trump's "great friend" Herman Cain tested positive for COVID-19 just nine days after attending Donald Trump's Tulsa rally without wearing a face mask—dying soon after—and the fact that the state of Oklahoma saw a massive spike of COVID cases in the weeks following the event, it should finally be impossible for Trump to claim they've had "no problem."
That said, with an incubation period of up to 14 days, it would be unlikely—if Hope Hicks and the president had contracted COVID-19 in Duluth on Wednesday—for a test to come back positive so quickly. But that was the fourth rally the campaign has held in the past two weeks. Either of them might have been exposed in Pennsylvania, Virginia, or Florida.
But all of this ignores one confounding possibility—that this whole story might be just another Trump lie.
The Case Against COVID
Donald Trump has made it a regular practice to introduce some major disruptive news any time a negative story about him is dominating the cycle. Often that includes outright lies.
For the last few days, the story of "the worst debate ever"—mainly the result of Donald Trump constantly interrupting and talking over both his opponent and the debate moderator—has been all cable news wants to talk about. Even Brian Kilmeade—among Tump's biggest fans at Fox News—has expressed some criticism of the president's performance.
'Dumpster fire': See Jake Tapper and Dana Bash's blunt reaction to debate www.youtube.com
With the election so near, Donald Trump and his team have made it clear that no tactic is too deceptive or underhanded for them to employ if they think it will help him win. So if Trump wanted to disrupt the continued analysis of that awful debate, what are the potential advantages of faking a COVID diagnosis?
For a start, now that he is reportedly ill and faces potentially dire health consequences, any criticism of how he has mishandled the pandemic (including this article) will be easy for his defenders to characterize as cruel politicization of the president's health.
It delivers a more or less guaranteed opportunity to demonize the media—one of Donald Trump's favorite methods for energizing his base—while also ensuring more neutral/positive coverage than he has gotten in recent days. If it works well enough, it might even provide enough media cover for the senate to push through Amy Coney Barrett's controversial nomination to the Supreme Court.

It could also rewrite the debate schedule. The second debate was originally planned for October 15th and will almost certainly be postponed or canceled. Maybe president Trump only wants to have one more debate. If he has a plan to come back from the disastrous first performance with some surprising tactics in one final debate—currently scheduled for October 22nd—Joe Biden will have no third round in which to adjust and counter.
Maybe he's planning to pivot—yet again—to a more disciplined and presidential poise, so that if Biden comes looking for a similar fight, he will instead come across as the combative one. If President Trump returns to the debate stage with a subdued performance, as though he's been humbled by a brush with his own mortality, perhaps he can win back some polite suburban voters who may have been turned off by his bullying debate style—though somehow not by every other aspect of his presidency.
Another advantage of faking a COVID diagnosis would be the opportunity to promote a supposed cure. If Trump claims that he took Chloroquine—or some other unproven treatment—after his diagnosis, and thus experienced only mild symptoms, he gets another chance to tout a "cure" that will soon have this global pandemic under control and the economy back on track. Even better, he can "brag" about how mild his illness was for him—painting himself as tough and healthy and affording another opening to attack Biden's fitness.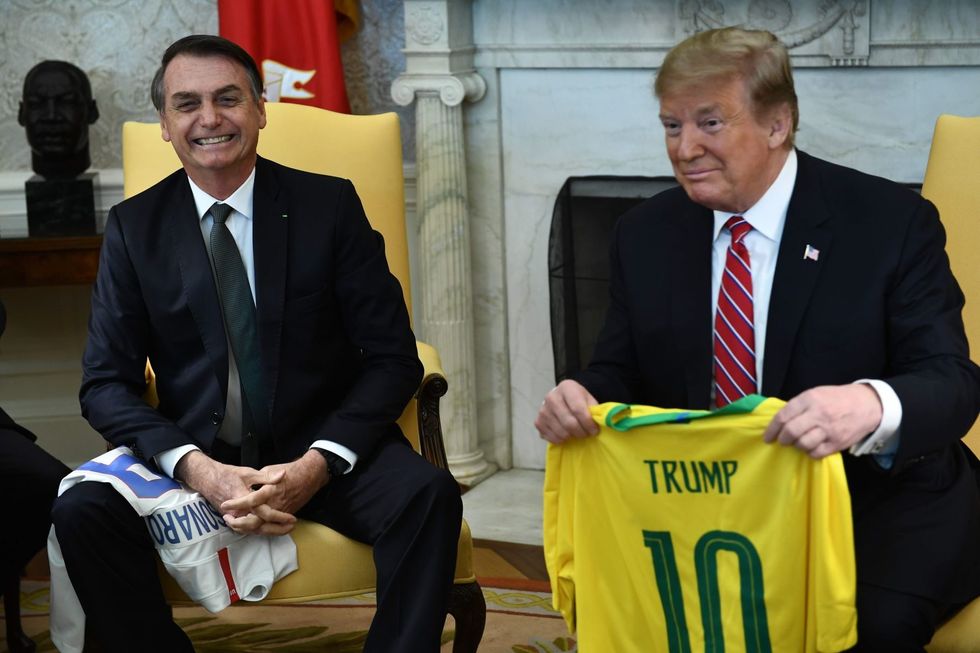 This is roughly the approach that fascist Brazilian president Jair Bolsonaro—one of Trump's closest international allies—took when he (possibly) contracted the coronavirus back in July. He was out shaking his supporters' hands and promoting hydroxychloroquine amid conflicting reports about his diagnosis. Was it all a ruse? Is Trump following the same game plan?

On the Other Hand...
Of course, none of this is to say that President Trump definitely doesn't have COVID. It's a highly contagious virus, and his reckless behavior has put him at significant risk.
While there may be tactical benefits to faking a COVID diagnosis, there's a lot of room for downsides as well—potentially inspiring his base to reconsider the threat of the virus and the value of the kind of strict lockdown procedures that could have prevented much of the pandemic's impact in the US. If they start having those thoughts, maybe it won't make so much sense to demonize liberal politicians for shutting things down while hundreds of thousands of Americans are dying...
That scenario may seem like a stretch—Trump's base is far more likely to attribute this kind of news to a Chinese conspiracy to infect their hero than to any GOP incompetence—but the point remains that news of this magnitude shifts the political narrative in unpredictable ways. Would Trump and his campaign really take the risk of faking something like this, even with the chance that it could turn against them?
Who knows? Whatever the arguments on one side or the other, the biggest reasons to question this story—and invest in all this conspiracy theory-logic—are the same reasons we should have learned by now to doubt nearly everything: We can't trust Trump, and we can't trust 2020.
Keep reading...
Show less
The COVID-19 conspiracy theories are nonsense, but there are some real threats that the new technology poses.
The next generation of cellular networks are beginning to roll out around the world at a time of unprecedented crisis and unprecedented connectivity.
For people who view global events as orchestrated by dark forces, all this change occurring at once is great fodder for conspiracy theories and doomsday predictions. For anyone familiar with that lens, their reactions (as crazy as they are) have been as predictable as the sunrise, but that doesn't mean that there aren't real causes for concern.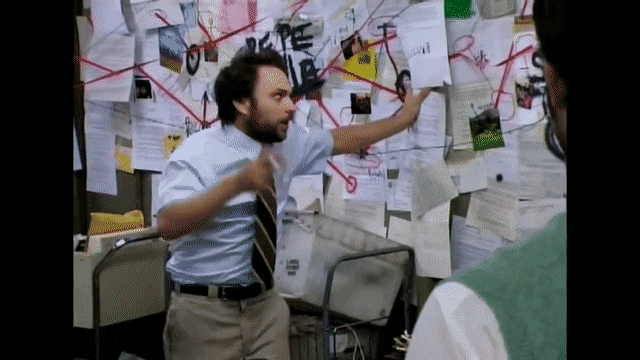 For those of us who realize that the world is far more chaotic and messy than any conspiracy theorist would have you believe, 5G still creates some worrying issues. If we pay attention to what this new technology actually does, we should be able to cut through the myths and misinformation and prepare ourselves for the real consequences that are coming down the pipeline.

But What Is 5G?
So what is 5G? In the simplest terms, it's the fifth generation of wireless communication networks, and it's defined by the frequencies in which it operates and the speed of data transfer it offers. While 4G systems operate at frequencies between about 600 MHz and 6 GHz, 5G nodes will be licensed to transmit signals in the so-called "millimeter wave" range between 24 GHz and 300 GHz, which will allow for more users to share a network and transmit data at speed up to ten times as fast as 4G. Essentially, it will allow cellular networks to achieve speeds faster than even most fiber Internet plans.
Why Is That scary?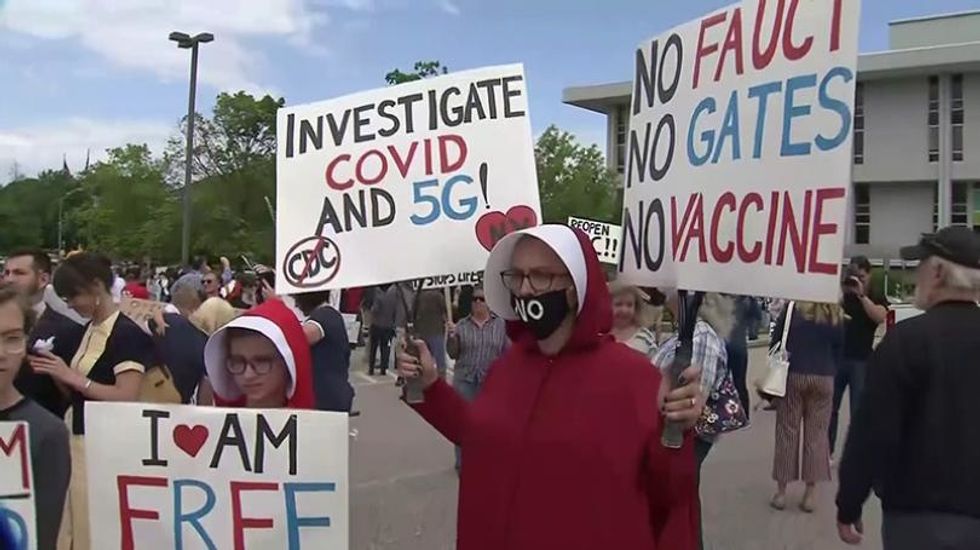 But if that's all 5G is, why are people getting so upset about it? Why are they shooting at cell phone towers? While much of the fear around the new technology is connected to the unfounded belief that it is in some way responsible for the COVID-19 pandemic, critics have been vocal about their concerns regarding 5G for years now. The fear is that the higher frequency signals have not been properly vetted and may cause health and environmental problems that we are not yet aware of. Among the fears are concerns about honey bees, cancer, and disruption of immune systems.

Most of these concerns are based on myths. While there are aspects of the honey bee decline that are still mysterious, there are a number of likely culprits that are not as interesting as the unfounded idea that cell phones are responsible, and so the cell phone story caught on. As for cancer, while it's true that higher-frequency electromagnetic signals tend to be more dangerous—like UV, X-Rays, etc.—visible light is transmitted at a higher frequency than any 5G signal, and people tend not to worry about the cancer risk of light bulbs.
But it's the concern about immune systems that has really flourished in recent months. While originally connected to the medically-dubious diagnosis of "electromagnetic hypersensitivity," the claim that certain frequencies of signal can disrupt immune function rose to new prominence in late 2019, when China's rollout of 5G happened to coincide with the first cases of COVID-19 in Wuhan. The miseducated corners of the Internet are now full of half-baked theories that the virus is being spread in tandem with the supposed immune-suppressing power of 5G for population control, tyrannical restrictions of freedom, and Bill Gates' plans for forced vaccination (AKA sterilization/mind control).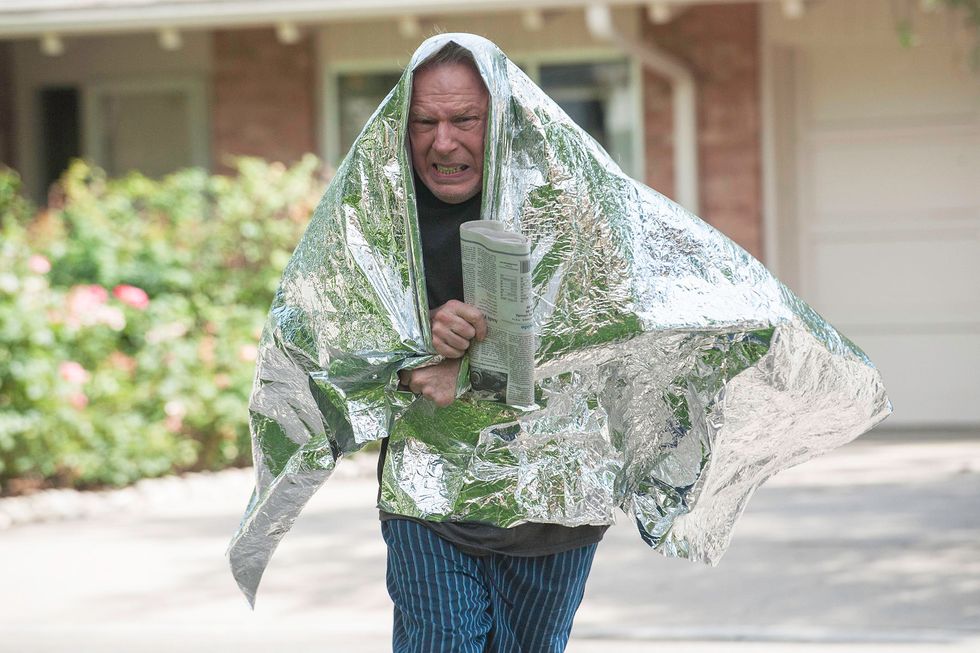 Chuck McGill on "Better Call Saul" believed himself to be suffering from electromagnetic hypersensitivity
It's a misguided attempt to answer a valid question: Why is this disease so much deadlier than others? Is it because the virus is hearty, highly contagious, and has a long incubation period during which it is largely undetectable? Yes. Will we adapt and find treatments and vaccines as we have for similarly deadly contagions? Of course. But the fact that the first deadly pandemic of our interconnected era happens to align with the release of this new technology was bound to produce some paranoia about 5G. And Bill Gates—the rich nerd who says he wants to save the world—has been fitting neatly into this kind of conspiracy theory for decades.

What Are the Actual Risks?
With all this confusion and hysteria surrounding the new technology, it's important not to ignore the actual risks involved. The recent proliferation of telecommuting and the added strain on all manner of telecommunication networks are likely to speed the global adoption of 5G. As that process progresses, major changes throughout our society will result . Some of those changes will be good, but others may have disastrous unintended consequences.
One of the major areas of concern involves weather satellites. Predictions from the daily temperature in your area to the likely path of a hurricane are based on satellite mapping that tracks the natural resonant frequency of water vapor—around 23.8 GHz. The water in the air gives off a very weak radio signal at that frequency, allowing satellites to track humidity and pressure systems. But the close proximity of that frequency to some newer 5G nodes will result in significant noise in satellite readings that are likely to compromise the accuracy of weather predictions—particularly around urban centers where 5G will be most prominent. The extent of the problem and the ability of scientists to work around it remain to be seen.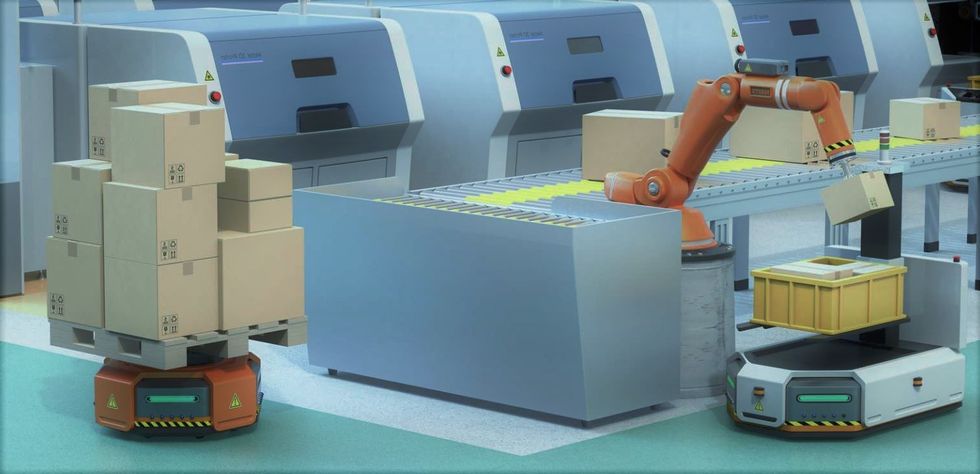 Another factor to consider is the problem of automation. Fast wireless speeds are necessary for coordinating complex automation like driverless vehicles and robotic warehouses. As 5G proliferates, broad sectors of the workforce are likely to become obsolete—replaced by new technologies. It's a process that has been ongoing for a while now, but 5G networks will accelerate the rate of change. Unless we have political programs in place to combat the effects of joblessness, the current economic turmoil may presage a long-term plight for our society that 5G will usher in.

What Else Are We missing?
Lastly, there are the consequences that we can't yet know. Every major country on the planet is rushing to implement this technology in their cities so as not to fall behind. We are rushing headlong toward this future that is hazy at best.
As protesters have pointed out, the high frequency range of 5G networks will cause the signals to degrade over long distances, or when passing through solid objects. This limitation may require carriers to use more cell towers and nodes, or possibly to transmit more powerful signals. What are the effects of surrounding ourselves with all those new, high-energy radio waves?
Will it be the same as adding a few more light bulbs to your home? Maybe. Or maybe long-term exposure will slightly increase the prevalence of certain types of cancer because of...who knows—some mechanism we haven't figured out yet. Or maybe it will cause subtle problems as a result of interacting with the atmospheric water vapor—altering patterns of humidity that will affect the spread of viruses… Probably not, but it is possible.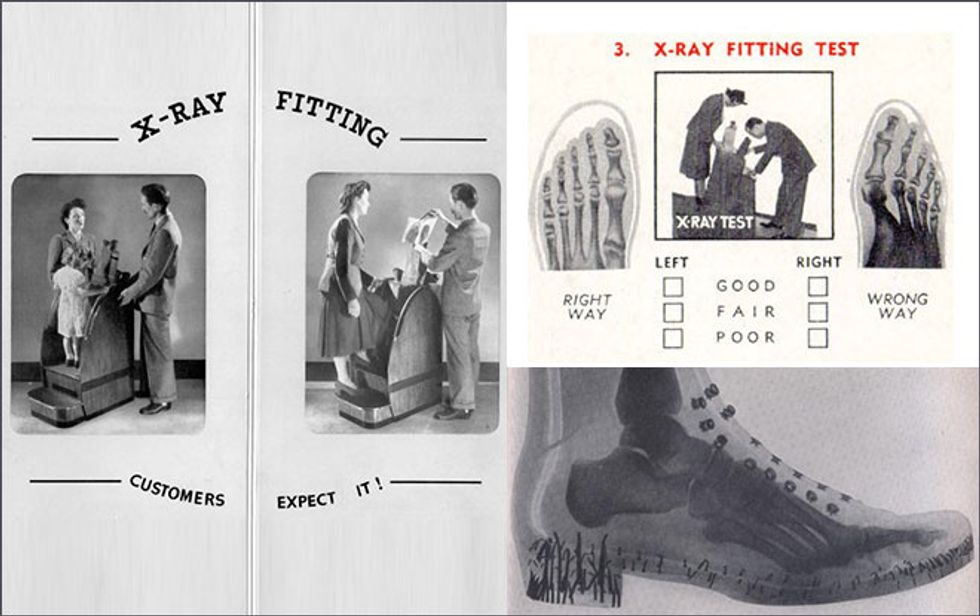 At this point we're entering the realm of wild speculation, but we don't have much choice. There is little research—if any—on the long-term effects of constant exposure to these frequencies of radiation. While there's no reason to expect any particular consequences, the amount that we still don't know about physics and biology is at least a strong case for humility. History is full of cases when new technologies had dire consequences that no one predicted—from x-ray shoe fitting to "non-addictive" opioids. Making such sweeping changes to our cities and expecting no health consequences at all—as we're being told to do—may turn out to be naive.

In the next few years 5G is going to spread throughout the US and much of the world, but it may take decades to find out.
Keep reading...
Show less