Boycotts and blacklists are tools conservatives perfected — they just don't like it when the tables are turned.
I don't want to alarm anyone, but...THE LEFT IS CANCELING MR. POTATO HEAD THEY'RE CANCELING DR. SEUSS, AND NEXT THEY'RE GOING TO CANCEL YOU!
It turns out that the political Left in the US is actually made up of various literary estates and multi-national toy corporations that are intent on destroying your cultural values by erasing the biological sex of a plastic potato and ending the publication of racist caricatures in some obscure books you were never going to read. But these are just the latest instances of what the Right-wing outrage machine has identified as a violent attack on free speech.
What happened to the era when a governor could get away with years of sexual harassment and assault? Do they hate him because he's not "progressive" enough?
These days it seems like a person can be canceled just for spreading dangerous misinformation and comparing herself to a Jew in Nazi Germany. These days it seems like anyone who disagrees with the liberal, Leftist, Hollywood elite position that trans people deserve rights and respect — and aren't a fundamental threat to womanhood itself — gets relegated to the dustbin of history.
Or, rather, they get to keep their immense wealth and cultural influence, and they win a Russell award for their "bravery" but a lot of people are mean to them on the internet. Which is basically the same thing.
Conservatives are so concerned about this trend that the theme of this year's Conservative Political Action Conference (CPAC) was "America Uncanceled." But it may shock you to learn that "cancellation" was not always the refuge of the Left alone. In fact, once upon a time Right-wing Americans were all about cancellation for such heinous crimes as "opposing a war" and "being gay."
Here are nine times that conservatives proved they love "cancel culture."
In the end, it's almost as though we all "cancel" people whose views are offensive to our values. By shunning voices and ideas we find repellent, we make more room for the stuff we like.
It's a tool for affirming and perpetuating values we agree with — whether of inclusion or of bigotry. It's just that conservatives are the ones who perfected that tool, and they don't appreciate it being turned against them.
Keep reading...
Show less
Dr. Martin Luther King Jr.'s legacy is defined by his pursuit of equal rights for Black Americans through unity and peace.
He is canonized in American history as the patron saint of change through passive measures.
His infamous "I Have A Dream" speech was a rallying cry for this country to live up to its promises of life, liberty, and the pursuit of happiness. King urged us to be a nation that advocates for the inclusion of all of its citizens in the American Dream, no matter their race.

But Dr. King's message of non-violence and civil disobedience is often misinterpreted. For some in the Black community, it means doing absolutely nothing in the face of physical harm from white people. In the hands of many conservatives and racists, his beliefs are a gag order against racial injustice. They have distorted King's dream in an attempt to make us docile.
The marches and protests during the Civil Rights Movement were peaceful acts of civil disorder. King implored members of the movement not to engage in chaos and destruction. Unfortunately, these non-threatening gatherings became violent due to agitation from law enforcement, despite honoring King's wishes of peaceful resistance.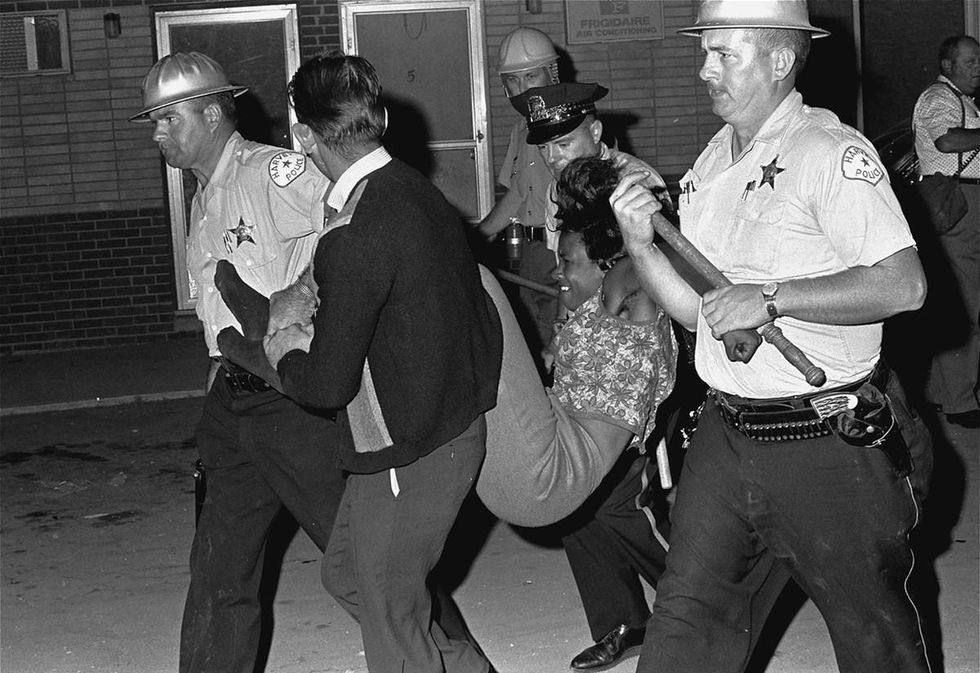 At the time, King's call for unity and equal rights was considered radical and unpatriotic. The FBI had him under surveillance, and he was the recipient of death threats from white extremists. King was a beacon of peace; but, his cause made him a target for hate.

The narrative surrounding King's death has been warped, as well. Revisionist history paints him as a martyr when, in reality, he was a victim of white supremacy. His assassination in 1968 was a cruel irony. He preached peace only for its antithesis to be his demise.
Today, civil unrest is at an all-time high. Innocent Black lives are taken by police almost daily, and the election of President Trump brought to light how much America hasn't changed since Jim Crow. We've applied the same tactics that King advised his followers to use, only to receive the same treatment decades later.
When highlighting the level of violence against non-aggressive demonstrations, many on the Right feel that Black people's right to protest is a justification for police brutality. In their eyes, the need to peacefully assemble to combat racism is excessive and unnecessary, as if any non-violent uprising is a threat and has to be silenced to preserve law and order.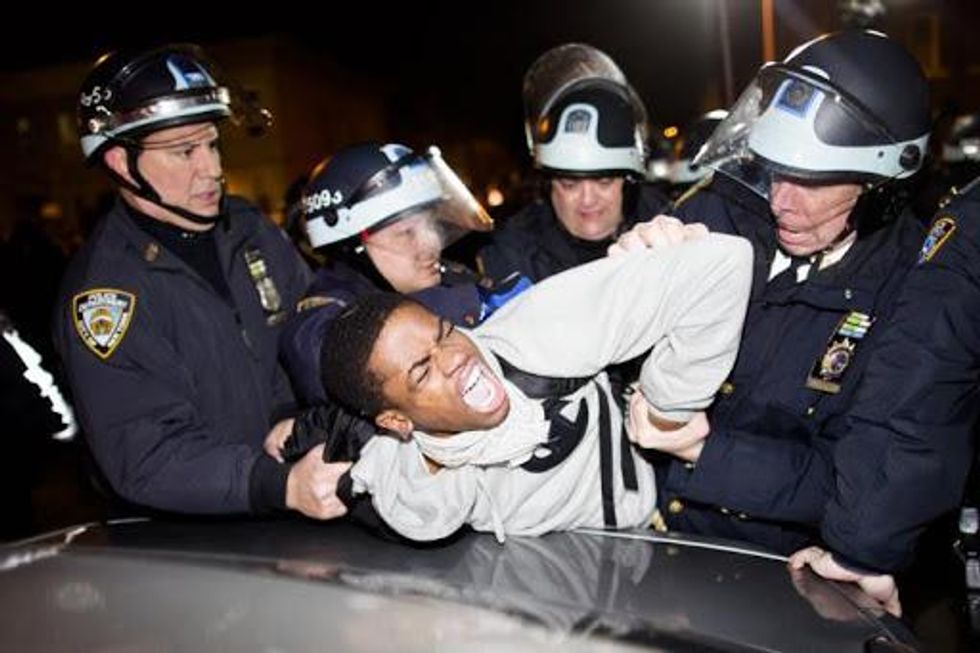 Even Black entertainers and athletes have faced public backlash for speaking against racial inequality. NFL Quarterback Colin Kaepernick was blackballed for kneeling in protest against police brutality. Kendrick Lamar's "Alright", a song about Black people overcoming struggle, was deemed an anti-police anthem. White America demonized them and others for using their platforms to bring awareness.

Meanwhile, white nationalism doesn't face the same level of persecution that Black liberation receives. Racists and fascists that subscribe to Trumpism are considered "patriots." But Black people seeking a level playing field are labeled as treasonous. One side has resorted to rioting as a last resort. The other looked at insurrection as a first solution.
Over 50 years after his death, Dr. King's message of peaceful resistance is a patronizing jab at the Black community. His philosophy isn't a factor when barbaric bigots are looking to harm us. Instead, it's as a pseudo restraining order to thwart our attempts at seeking change and potential retaliation.
For many Americans, Dr. King was a Civil Rights Superman. Unfortunately, his stance has become the movement's kryptonite.
Keep reading...
Show less
The quarterback said "I will never agree with anybody disrespecting the flag of the United States of America or our country." And then he tried to apologize. And only made it worse.
Drew Brees, a man who makes literally millions of dollars for throwing a ball, has come under fire for insensitive comments he made about NFL players kneeling during the National Anthem to protest police brutality.
"I will never agree with anybody disrespecting the flag of the United States of America or our country," Brees said in the interview with Yahoo Finance. He clarified that this was in part because he envisioned his grandfathers, who fought in World War II, during the National Anthem. He continued, saying, "And is everything right with our country right now? No. It's not. We still have a long way to go. But I think what you do by standing there and showing respect to the flag with your hand over your heart, is it shows unity. It shows that we are all in this together. We can all do better. And that we are all part of the solution."
This isn't the first time Brees made it clear that he cares more for the idea of a make-believe unified America than he does for actual human lives. In 2016, he criticized Colin Kaepernick for kneeling during the anthem, saying it was "disrespectful to the American flag" and "an oxymoron" because the flag gave critics the right to speak out in the first place.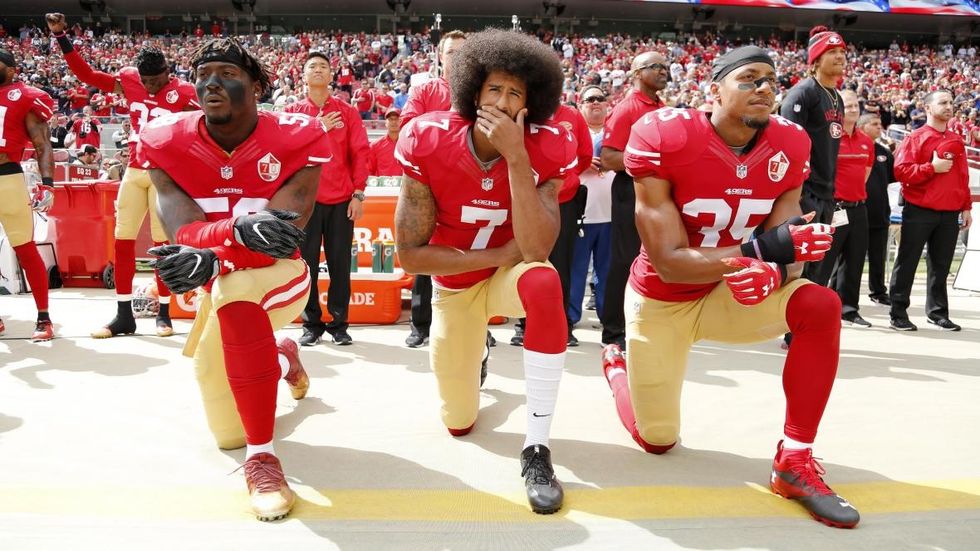 Colin Kaepernick kneeling in protest of racist police brutality
Of course, the flag's alleged ideals have been proven to only be applicable to wealthy, white men—men like Brees. Sure, his grandfathers did a noble thing when they fought under the US flag during WWII, and no one, including Kaepernick, has ever said that sacrifice isn't worth respecting. Thanks to the sacrifices of many people (including the enslaved Black backs upon which this country was built, including the scores of routinely abused Black soldiers who fought for American lives), America has offered opportunity and peace for many, many people. In particular, Ole' Glory has been very kind to men like Brees: rich, white men who still control the majority of the power and the wealth in the United States.
But what about the rest of us, Drew? What about George Floyd whose neck was crushed by a police officer who kneeled on him so casually that he didn't even take his hand out of his pocket? What about Ahmaud Arbery, who was shot for the crime of being Black and going for a jog? What about Breonna Taylor, a black woman who was murdered by police in her home in the middle of the night for a crime that had nothing to do with her? What about Tony McDade, Drew–have you heard his name? Have you heard about the 38-year-old Black trans man who was gunned down in Florida last week? Do you understand why these people's family's may harbor just a bit of disrespect for your precious flag?
Is it possible for you to realize, Drew, that your wish for "unity" is not a wish for progress, but a wish to maintain the status quo? When you call for unity under the American flag, you're talking about your flag, the flag that represents a long, sordid history of racial oppression and violence. There is no unity where there is no justice. When you say that "we are all in this together," what you're saying is that we all have roles to play in the version of society that has served you so well. For your part, you'll be a rich, white man, and for Black people's part, they'll continue to be victims of state-sanctioned murders– but hopefully more quietly, hopefully in a manner that doesn't make you uncomfortable?
When you say, "We can all do better. And that we are all part of the solution," what you mean to say is that POC and their allies are at fault. Sure, you probably agree that Derek Chauvin took it a bit too far, and you probably feel a little self-conscious that he's brought all this "Black rights" stuff up again. But when you say "all," you place blame on the victims who are dying under a broken system. And what, exactly, do you expect POC to do differently, Drew? Ahmaud Arbery was just out jogging, and still he died. George Floyd was just trying to pay a cashier, and still he died. POC and their allies try to peacefully protest by marching in the streets or taking a knee at a football game, and still white people condemn and criticize. Still the police shoot.
After much criticism, Brees did attempt an apology on Instagram, where he posted a hilariously corny stock photo of a Black and white hand clasped together. His caption, though possibly well-intentioned, made it even clearer that his understanding of the movement for Black lives is thoroughly lacking.
Highlights of the "apology" include his immediate attempt to exonerate himself from culpability, claiming that his words were misconstrued, saying of his previous statement: "Those words have become divisive and hurtful and have misled people into believing that somehow I am an enemy. This could not be further from the truth, and is not an accurate reflection of my heart or my character." Unfortunately, Drew, white people like you are the "enemy," as you put it, because by default you are at the very least part of the problem. No one is accusing you of being an overt racist, Drew; no one thinks you actively and consciously detest Black people. But your lack of empathy, your apathy, and your unwillingness to unlearn your own biases are precisely what has persisted in the hearts and minds of well-meaning white Americans for centuries.
Next, you say, "I recognize that I am part of the solution and can be a leader for the Black community in this movement." No, Drew. Just no. Black people don't need white people's savior complexes to interfere in their organizing; what they need is for us to shut up and listen. What they need is for us to get our knees off of their necks.
Finally, you say, "I have ALWAYS been an ally, never an enemy." This, Drew, is suspiciously similar to saying, "But I'm one of the good whites!" The fact of the matter is that feeling the need to prove your allyship is not about helping a movement; it's about feeding your own ego. Not only that, but your emphasis on "ALWAYS" does a pretty good job of making it clear that you don't think you have a racist bone in your body and that you have taken great offense at any accusations to the contrary. I have some news for you, Drew: Every white person is racist. Sure, the levels vary, and while you may not be actively and consciously discriminating against POC, you have been brought up in a racist system, and your implicit biases are as strong as any other white person's. Your job now is to unlearn those biases and confront those subtle prejudices in yourself and in other white people. Maybe the first step in doing so is just shutting your f*cking mouth about kneeling at football games. Maybe you should even consider taking a knee yourself.
For other non-BIPOC trying to be better allies, check out one of these 68+ anti-racism resources.
His language threatens to escalate tensions while Twitter continues to enforce their standards
Shortly after midnight Friday morning, Donald Trump tweeted a message that would prompt the second instance of Twitter "censoring" him for a violation of their policies.
In this case his use of the phrase "when the looting starts, the shooting starts"—in reference to the riots that have taken hold of Minneapolis in the wake of George Floyd's death—was deemed to be "glorifying violence," and the Tweet was hidden. Twitter's decision was based in part on the phrase's connection (intentional or otherwise) to 1960s Miami police chief Walter Headley, who made the phrase famous in conjunction with the statement, "We don't mind being accused of police brutality. They haven't seen anything yet."
It was later determined that Headley's aggressive and inhumane approach to civil rights activists were a major factor contributing to violent Miami riots in 1968. So whether Trump's intended reading was as a threat against looters—whom he deemed "thugs" in what should be readily recognized as a thinly veiled racial slur—or (as some have claimed) concern about the looters themselves resorting to gun violence, really doesn't matter. If a man with millions of gun-toting, militia-joining, race-war fantasists prefers not to incite racist violence, he needs to take two seconds to think before he tweets—and should thank Twitter for spotting such an unfortunate "mistake."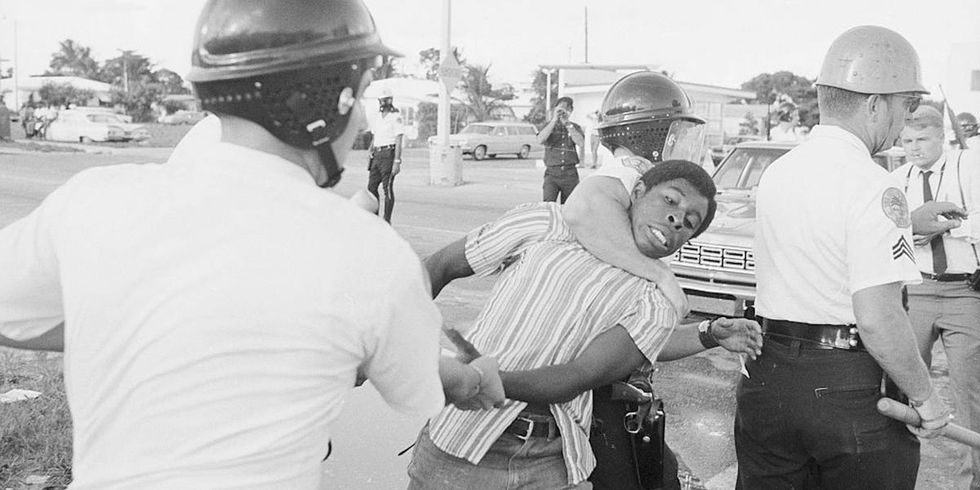 Miami police manhandling a black man during the 1968 clash
But considering how little Donald Trump cares to think about the consequences of his actions, and how much he has been milking his feud with Twitter, he's far more likely to be thanking them for another opportunity to rage against them. Speaking of raging against things—in this case, the machine—let's talk about the rioters:

The differences between a protest and a riot and a revolution are subtle. In every large political demonstration there are bound to be some bad actors who will take any opportunity to sow some chaos—steal things, break things, etc. At what point is there a critical mass of that kind of behavior that qualifies a demonstration as a riot?
There's no clear answer, but the general consensus within the media is that events in Minneapolis have passed through any gray area—protesters have become rioters. Civil disobedience has given way to looting and arson. But with so-called rioters taking over and destroying a police precinct, there is another threshold on the horizon. How many government buildings will violent groups of citizens need to take over before the riot is recognized as a revolt—a rebellion building toward revolution?
With this in mind, there are a number of reasonable ways to look at what's happening in Minneapolis—none of which include calling the people involved "thugs" or invoking the prospect of gun violence.
Black CNN reporter arrested live on TV by Minnesota police while covering race protests www.youtube.com
The first, more obvious way to view the riots is as a sad but predictable consequence of a horrifying injustice. People in Minneapolis witnessed what amounts to a murder carried out by the police while both the victim himself and bystanders politely asked officer Derek Chauvin to let George Floyd breathe. It makes sense that the citizens of Minneapolis—particularly black citizens who are all too familiar with racially-targeted police violence—are angry. And angry people (particularly in large groups) often behave irrationally. As a result, many of them are participating in violence that—according to this perspective—doesn't really help anything.

From this view, efforts to suppress the riots make sense—even if the use of tear gas and rubber bullets seems to have been much more of an option in recent days than it was, for instance, against armed protesters threatening the lives of Michigan legislators. If you take this view, then anything that can be done to encourage people to go home—even mass arrests that result in a black CNN reporter being handcuffed live on air—is for the best and will help this matter be resolved peacefully through the official channels.
From another perspective: F*** the official channels. Calls for a return to order and peace echo the sentiments of white moderates decried by Martin Luther King Jr. as preferring "a negative peace which is the absence of tension to a positive peace which is the presence of justice." Burning a police precinct may be the best way to ensure that police operate in fear of this kind of reprisal in the future—that they know their actions have consequences and that their monopoly on violence can be revoked by the citizens they're meant to serve.
When civility leads to death, revolting is the only logical reaction. The cries for peace will rain down, and whe… https://t.co/oCOivqBZ58

— Colin Kaepernick (@Colin Kaepernick) 1590683894.0
And in a time when tens of millions are struggling to make ends meet while corporations are bailed out, and the police are used as a force to protect capital—so much so that a man can be killed over an allegedly buying food with a fake $20 bill—even looting can be framed as a form of restorative justice. Revolt, violence, and insurrection may be the only way to topple existing power structures so that they can be remade into something more just.

Complicating the issue further, there are reasons to suspect that some of the worst aspects of the riots have been instigated by outside agitators with no interest in the demonstration's cause—only a desire to fan the flames of chaos. In one case Internet detectives believed they had even found evidence that a Minnesota police officer had smashed the windows of the autozone. While this account of events has been denied by police officials, there is no clear evidence one way or another.
It is not unreasonable—considering what we've seen—to consider that there might be a generally adversarial relationship between Minneapolis police and the communities they "serve." And the fact that—as of the most recent analysis—only about 5% of white police officers in the Minneapolis police force were living within the city, suggests that many of the most hostile police officers could have little personal incentive to maintain order—particularly those harboring a racist desire for an excuse to retaliate.
Who is the Minneapolis Umbrella Man? www.youtube.com
Regardless of which perspective you take, any suggestion that the current tensions should or must lead to gun violence is out of proportion to even the most dramatic aspects of the riots. Destruction of property—even on a massive scale—is not on par with murder, and you can't cure the anger arising from an unnecessary use of deadly force by invoking further unnecessary use of deadly force.

If President Trump doesn't start to handle this situation more carefully (hey, it could happen…), then he runs the risk of escalating the violence to new levels.
Keep reading...
Show less