His language threatens to escalate tensions while Twitter continues to enforce their standards
Shortly after midnight Friday morning, Donald Trump tweeted a message that would prompt the second instance of Twitter "censoring" him for a violation of their policies.
In this case his use of the phrase "when the looting starts, the shooting starts"—in reference to the riots that have taken hold of Minneapolis in the wake of George Floyd's death—was deemed to be "glorifying violence," and the Tweet was hidden. Twitter's decision was based in part on the phrase's connection (intentional or otherwise) to 1960s Miami police chief Walter Headley, who made the phrase famous in conjunction with the statement, "We don't mind being accused of police brutality. They haven't seen anything yet."
Keep reading...
Show less
It's time we stop acting like the leading Democratic candidate is the only old guy who's ever had a heart attack.
Whoever your pick might be in the 2020 Presidential Election, there's an overarching issue that's been largely prominent: the age of the Democratic front-runner, Bernie Sanders.
At 78, Sanders would be the oldest elected president in the country's history (a title currently held by Trump). The topic of his health became more hotly debated after he suffered a heart attack last October, resulting in him having two stents inserted. Though he bounced back to give one of his best debates yet that very same month, critics have been quick to cite Sanders' declining health as a hindrance to his electability. The backlash is getting even louder as Sanders claims he won't divulge his comprehensive health records. "We have released a detailed medical report, and I'm comfortable on what we have done," he said this week during a CNN town hall.
Sanders' campaign has released letters from three doctors who all asserted the senator is in good health. "I do not see a reason why he would not be able to function effectively in a high stress job," said Dr. Mary Ann McLaughlin, director of cardiovascular health and wellness at Mount Sinai Heart in New York. Why are Sanders' opposers so adamant that his health will fail him in office?
Yes, the senator is the oldest candidate in the race, but not by much: Michael Bloomberg and Joe Biden are 78 and 77 respectively, while Sanders' fellow progressive Elizabeth Warren is 70—the same age as Trump when he was elected. The health of Bloomberg, Biden, and Warren hasn't been scrutinized nearly as much as Sanders'. Sure, he might be the only one of the bunch who's suffered a heart attack, but that alone shouldn't be a disqualifier; notable politicians including President Dwight D. Eisenhower, President Lyndon Johnson, and Vice President Dick Cheney all proceeded with lengthy, successful careers in office despite suffering heart attacks early on.
A heart attack should not render an otherwise healthy candidate unfit for presidency, and Sanders' campaign has offered enough proof of his well-being. Our country's entire history has been predominantly dictated by old white men—why make an exception for someone who can actually instigate radical change?
They need to put their differences aside if either of them hopes to win
In a recent interview with New York Magazine Alexandria Ocasio-Cortez commented that "in any other country, Joe Biden and I would not be in the same party, but in America we are."
With consistent cries for party unity since before presidential candidates even began announcing their campaigns, it would be tempting to attack Ocasio-Cortez as splitting the party, but she is absolutely right. There is only a unified party to split on paper. America's winner-take-all style of voting forces disparate political interests to share a title and to pool donors—unless they have the ability, like AOC, to source their own funding.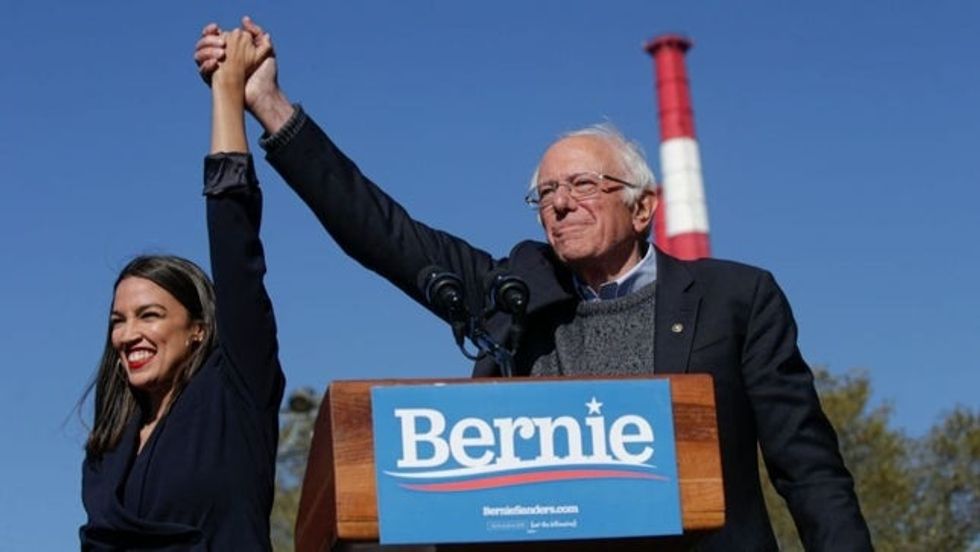 Getty Images
The GOP has used this to their advantage, emphasizing social wedge issues like abortion and immigration to pull working-class white voters away from their economic interests on the left—convincing them to cheer on tax cuts for the ultra-wealthy. For the Democrats, however, the powerful faction of the party that represents professional-class interests—the private-public partnership, means-testing, social-program-cutting wing—has represented a barrier to participation for truly progressive candidates and voters.

That's why it has been heartening, prior to this week, to see Bernie Sanders and Elizabeth Warren avoiding the temptation to attack one another. While many of Bernie's supporters online have adopted toxic attitudes toward anyone other than their preferred candidate, and many Warren supporters have questioned Bernie's feminist bona fides (particularly in light of that toxicity from many "Bernie Bros"), the candidates and their campaigns seemed largely cordial and supportive of one another. It's important, as the marginalized left-wing of the party, to focus on commonalities and mutual aid if there is going to be any hope of overcoming the powerful centrist forces that have ruled the party and served moneyed interests with only moderately less zeal than the Republican party.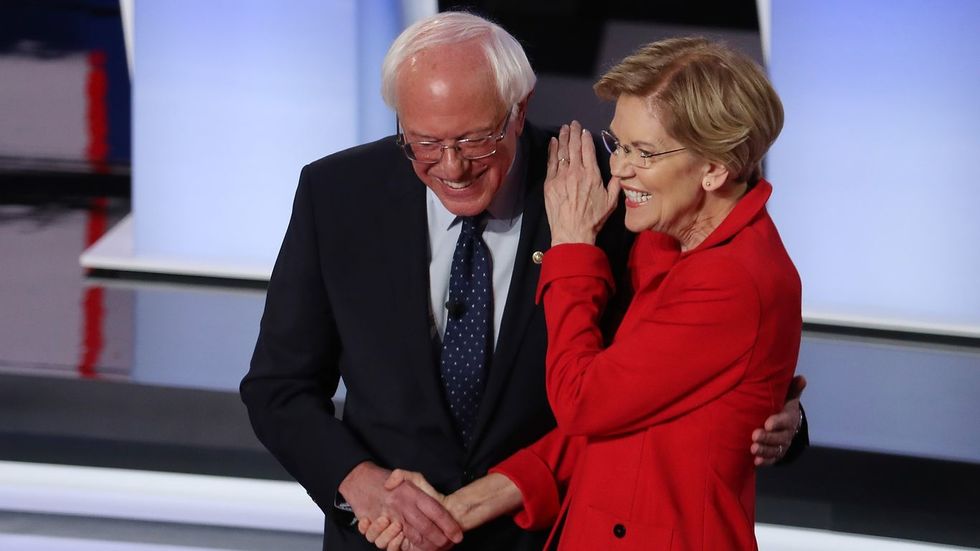 Justin Sullivan/Getty Images
That shared effort began to fall apart on Saturday night when Politico ran a story under the headline "Bernie Campaign Slams Warren as Candidate of the Elite." The story included excerpts from a document purported to be circulated within the Sanders campaign, with scripts instructing volunteers how to attack rivals in the Democratic primaries. While criticisms of Joe Biden and Pete Buttigieg are hardly surprising, the attacks on Warren—noting that her supporters are predominantly educated, affluent voters who "who are going to show up and vote Democratic no matter what"—came as a surprise in the context of the candidates' established alliance.

Skepticism in these cases is usually warranted, but the article contained little to suggest that the content was anything less than official and approved by Bernie Sanders himself. By the time Sanders came forward to repudiate the document and deny its official status, the damage was done. The rift was already beginning to widen.
@michelleinbklyn This campaign would NEVER attack supporters. The script, which was not directed by the campaign, p… https://t.co/smcZ6ssrU7

— Briahna Joy Gray (@Briahna Joy Gray)1578977594.0
Warren responded that she was "disappointed to hear that Bernie is sending his volunteers out to trash me," and she sent out a fundraising email that asked both for donations and for supporters to share personal stories and perspectives to contradict the framing of her base as elitist. If that had been all, then it might have been easy to move on and return to a mutually supportive stance within a few days. But the real damage was done when people close to Warren, perhaps in an effort to retaliate, spoke to CNN about a private conversation the two had in 2018.

Back then, the thought of actual voters making actual choices seemed distant and abstract, and the candidates sat down to discuss strategies against Trump and to establish the general truce that has held until now. Everyone involved seems to agree on those points, but differing reports emerge when it comes to the topic of gender. As CNN reported, Warren laid out her strengths as a candidate: "She could make a robust argument about the economy and earn broad support from female voters." Bernie was not on the same page.
The Bernie cult has been attacking @ewarren for way too long. They've minimized her achievements, called her a copy… https://t.co/9zLobcSgBv

— Joshua Manuel Bonet 🏳️‍🌈 (@Joshua Manuel Bonet 🏳️‍🌈)1578984471.0
According to anonymous members of Warren's team, Bernie didn't think a woman could win. Bernie shot back with his own version of events, saying, "It is ludicrous to believe that at the same meeting where Elizabeth Warren told me she was going to run for president, I would tell her that a woman couldn't win... What I did say that night was that Donald Trump is a sexist, a racist and a liar who would weaponize whatever he could. Do I believe a woman can win in 2020? Of course! After all, Hillary Clinton beat Donald Trump by 3 million votes in 2016." When Warren herself was finally convinced to weigh in directly, she urged people to move on, claiming that she was more interested in what she and Sanders agree on… But she also confirmed the more inflammatory version of events: "Among the topics that came up was what would happen if Democrats nominated a female candidate. I thought a woman could win; he disagreed."

While there is certainly a conversation to be had about to what extent America remains too sexist to support a female candidate, it seems like a stretch to accept the idea that, in 2018, Bernie would hold such a categorical view against the possibility of a woman being elected president. What makes it particularly questionable is the existence of footage from a C-SPAN appearance three decades earlier, in which Bernie says, "In my view, a woman could be elected president of the United States. The real issue is whose side are you on? Are you on the side of workers and poor people, or are you on the side of big money and the corporations?"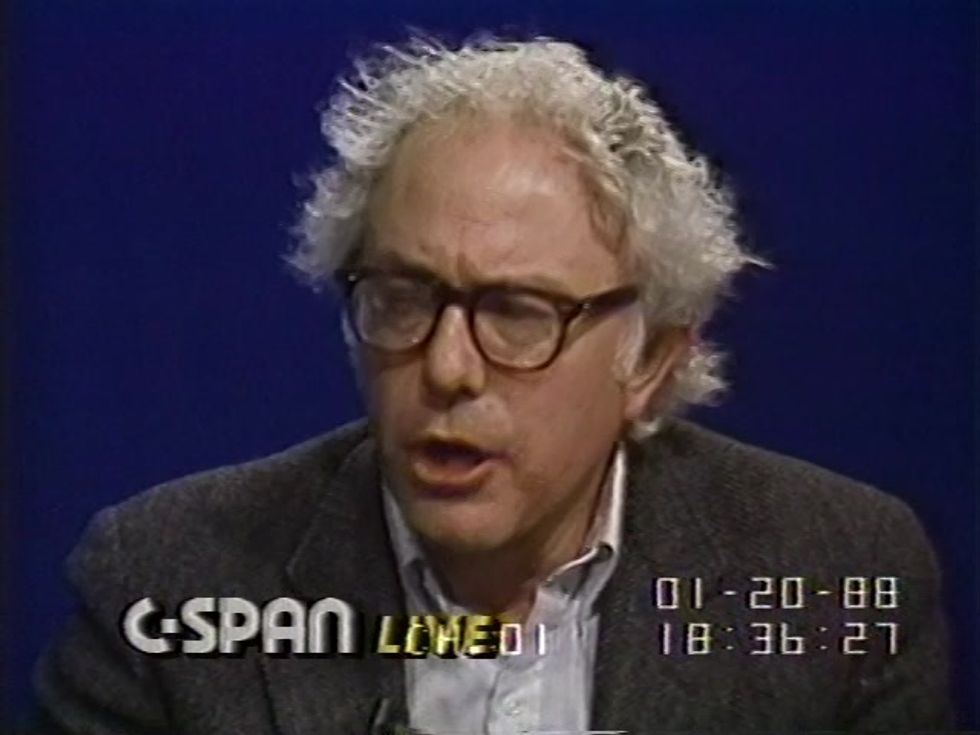 C-SPAN
The suggestion that Bernie's views have become more regressive since 1988 seems far-fetched. The inclusive, forward-thinking persona he has consistently presented to the public for 40+ years doesn't line up with this supposed private view. Then again, the idea that Warren would simply lie about Sanders' comments seems equally unlikely. Who you believe seems to depend largely on who you prefer, and the two camps seem to be moving further from each other as the Iowa Caucuses close in. On one side, Bernie Sanders is a sexist; on the other, Elizabeth Warren is a liar.
Without a recording or a transcript of the conversation, it doesn't seem quite justified to land in either of those camps. Without third-party witnesses, the basic facts of who did and who said what can quickly dissolve. The message that was intended and the message that was received crystallize in each person's mind to the point that they become irreconcilable. Perhaps Bernie did think that a progressive man was better poised than a progressive woman to counter Donald Trump's brand of populism in the 2020 election. Maybe his way of saying so was so clumsy that Warren took it as a broad statement about the viability (or lack of viability) of female candidates, and she recounted it as such to people close to her. Short of calling either of them a liar or worse, that is the best I can muster—a version of events that I prefer to believe in order to maintain my respect for both of these candidates.

Supporters from both sides will no doubt find this middle-ground unsatisfactory. The rift feels real right now, and it's starting to seem like each side is trying to undermine the chances of the other. But while only one candidate can win the nomination in the end, their support draws too much from the same pool of voters to allow this rift to remain. Already Bernie supporters who also donated to Warren are turning against her with the hashtag #RefundWarren. But the sad truth is that neither can win in the general election without support from the other's ardent fans. And who really stands to benefit from continued fighting? The center and the far-right. It can only help Joe Biden and Donald Trump. And Donald Trump seems to know it...
Bernie Sander's volunteers are trashing Elizabeth "Pocahontus" Warren. Everybody knows her campaign is dead and wan… https://t.co/XaRdJ6P3W8

— Donald J. Trump (@Donald J. Trump)1578929126.0
If Sanders and Warren can't each count on the other's supporters to get behind them as the primaries shake out, then Biden will likely hold onto his narrow lead. And if one of them does manage to get the nomination with this acrimony still hanging in the air between them, no amount of campaigning for one another is going to muster the sort of passion that we can count on to overwhelm Donald Trump in the general. 2016 should have taught us that much.

This feud needs to end now. Warren and Sanders need each other, and our country needs them. They are the only candidates taking America's economic divide seriously, and the only candidates willing to tackle climate change with the resolve and transformative action it requires. If Donald Trump gets reelected, he will continue to make both of these problems far worse, destroying hope for economic justice and a sustainable future. If Joe Biden is our next president, then we will go back to enacting middling, inadequate reforms—one step forward for every two steps back.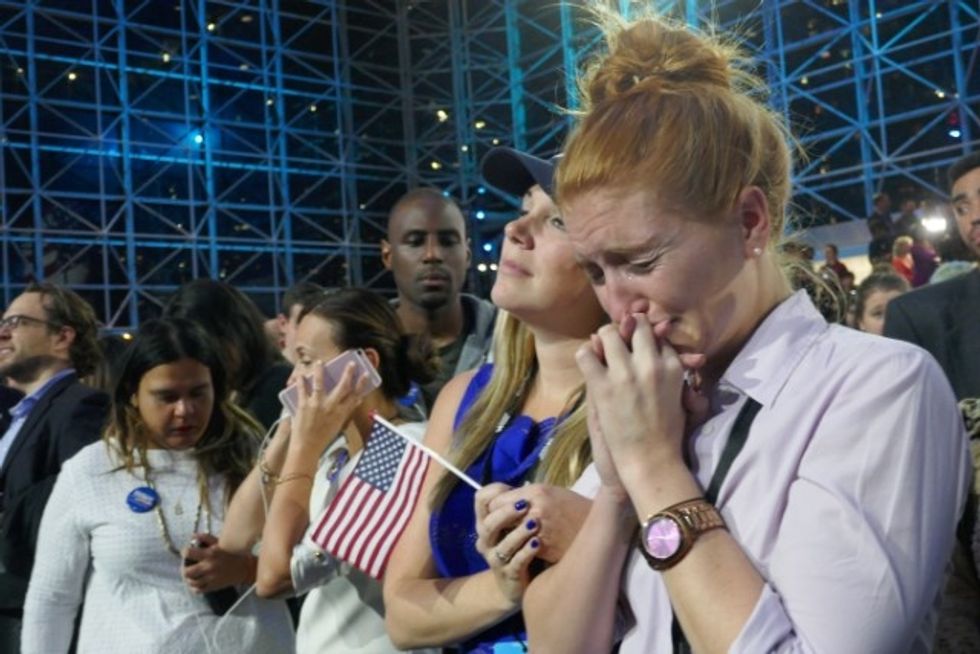 Hillary supporters as 2016 election results came inGetty Images
Warren and Sanders, united, represent our only real hope. Of course, they each believe that they are best suited to the job. They wouldn't be running otherwise. But if either of them is going to win, they need to come together, reaffirm progressive unity with one voice—acknowledging the differing accounts of events and decrying sexist limitations. Either of them can win this election, but neither can do it alone.
Donald Trump's 2020 campaign created a hotline that makes leaving a message for the sitting U.S. President as easy as voting for your favorite contestant on America's Got Talent.
If reports that Trump is expressing concerns to close associates that impeachment is "a real possibility" are true, there's now a hotline to provide him reassurance and support. But the 1-800 number isn't for him to call; it's for his supporters to leave him personal messages ending with "thank you, President Trump!"

The first re-election ad for 2020 aired on CNN this week, and it oddly features Trump's campaign manager, Brad Parscale. Dead-eyed, Parscale recites, "President Trump has achieved more during his time in office than any president in history." Of course, the timing of the ad begs a few questions about this assessment, as the Washington Post notes that every organization led by Trump over the last 10 years is currently under investigation.
Parscale continues, "We have a booming economy, historically low unemployment, including the lowest unemployment rate for minorities in history." At least this is a more grounded statement, considering unemployment rates reached a 50-year low in October due to the fact fewer people are participating in the workforce—due to lack of skills, opioid addiction, high college enrollment, and lower rates of female employment. To evince the viewers of this accomplishment, the 1-minute-long ad flashes some B-roll of smiling laborers at assembly lines.
"We need to let President Trump know that we appreciate what he's doing for America," Parscale says later in the ad. "That is why I need every Trump supporter to pick up a phone right now and deliver a personal thank you to your president." Closing the segment with a waving American flag, the instructions to "call 1-800-684-3043 and press 1" make leaving a message for the sitting U.S. President as easy as voting for your favorite contestant on America's Got Talent.
After the ad's first run, journalist Yashar Ali shared the video on Twitter, pointing out that calling the hotline leads to a brief recording service asking for your name and adoration for Trump's administration–promptly followed by an appeal for a campaign donation.
First 2020 ad? This Trump ad, featuring his campaign manager @parscale, just aired on CNN. It's a minute long and a… https://t.co/zq4WTQoyRF

— Yashar Ali 🐘 (@Yashar Ali 🐘)1545098251.0
If callers are unsure if they want to contribute, Parscale's voice reminds them how much Trump needs their support. His crackling recording says, "But President Trump is under vicious, daily attacks from the fake news media and far-left Democrats who want to implement the radical socialist agenda." His appeals ends, "They will stop at nothing to overturn the election and remove your president from office."

So who's calling the hotline? Jimmy Kimmel called a mock number on his show Tuesday night, thanking Trump for "making it okay to use casual racism on Facebook." Twitter users shared the cutting messages they'd like the president to hear, including CNN analyst Renato Mariotti, who responded to the claim that "President Trump has achieved more in his time in office than any president in history" with sounder examples, "Lincoln freed the slaves. FDR led us to victory in World War II."
"President Trump has achieved more in his time in office than any president in history." - @parscale Lincoln free… https://t.co/E3KBoHiVLd

— Renato Mariotti (@Renato Mariotti)1545109311.0
At the very least, thank you, President Trump, for creating an excellent service to drunk dial.

Meg Hanson is a Brooklyn-based writer, teacher, and jaywalker. Find Meg at her website and on Twitter @megsoyung.
The White House's decision to ban CNN's Jim Acosta is "dangerous" and "unprecedented."
CNN is suing President Trump in response to his administration's widely-disparaged ban and smear campaign of the media network's Chief White House Correspondent Jim Acosta.
The White House revoked Acosta's Secret Service "hard pass" in a decades-long breach of protocol last Wednesday night, preventing the journalist from accessing press-friendly spaces on White House grounds. Pointing to the First and Fifth Amendment of the U.S. Constitution, the lawsuit alleges that both Acosta and CNN's rights were violated by the suspension of these privileges.
In a statement released Tuesday morning, CNN announced that it filed its lawsuit in a DC District Court against six people, including the president, Press Secretary Sarah Sanders, Chief of Staff John Kelly, Kelly's deputy William Shine, the U.S. Secret Service and its director Randolph Alles, as well as "John Doe," the currently-unidentified agent who denied Acosta access to the grounds. The defendants are named because of their roles in enforcing and announcing Acosta's suspension.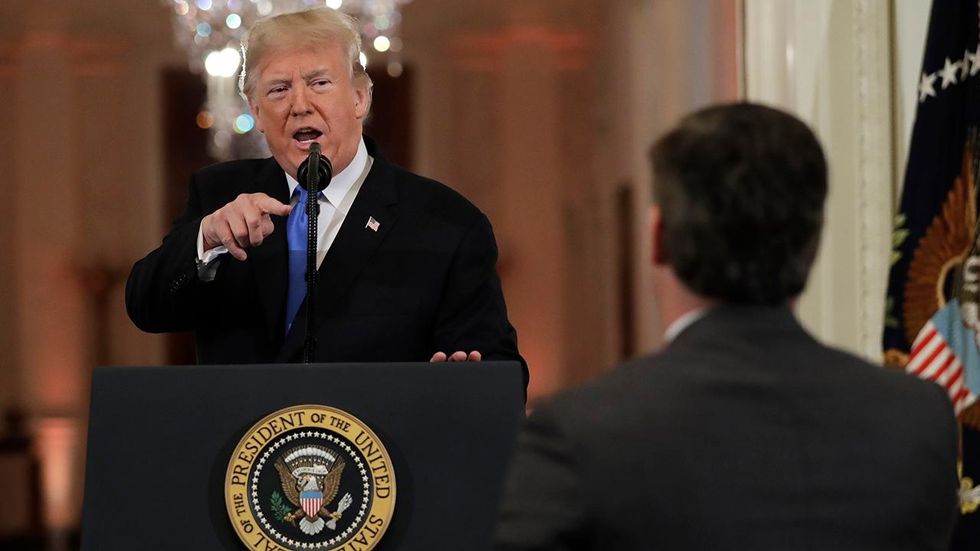 The lawsuit "demands the return of the White House credentials of CNN's Chief White House correspondent," according to the statement. "The wrongful revocation of these credentials violates CNN and Acosta's First Amendment rights of freedom of the press, and their Fifth Amendment rights to due process. We have asked this court for an immediate restraining order requiring the pass be returned to Jim, and will seek permanent relief as part of this process."

CNN's legal actions are the latest step in an escalating battle between President Trump and the media. Trump has shown particular antipathy to CNN, regularly deriding its reporters and the network as a whole. In light of the president going as far as to call the press "the enemy of the American people," it is fitting for there to be a lawsuit on the books titled "CNN vs. President Trump."
The White House responded to CNN's complaint in a statement by press secretary Sarah Sanders, accusing CNN of "grandstanding" by suing, and saying the administration "will vigorously defend against this lawsuit." Sanders previously alleged (in a tweet that is still live) that Acosta placed his hands on a female White House intern during a heated exchange with Trump last Wednesday.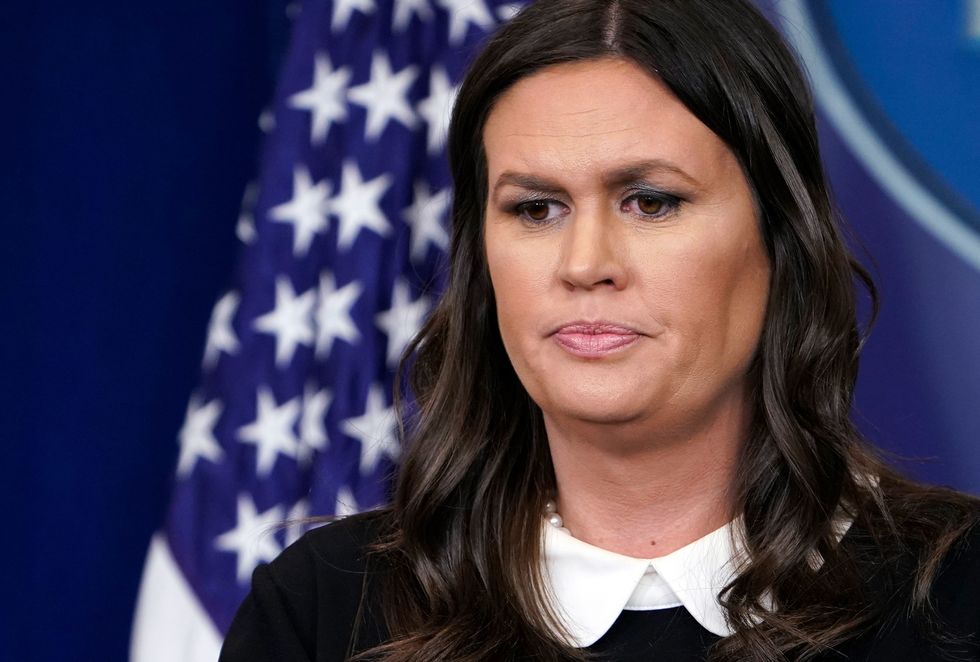 "Mr. Acosta is no more or less special than any other media outlet or reporter with respect to the First Amendment," said Sanders. "After Mr. Acosta asked the President two questions—each of which the President answered—he physically refused to surrender a White House microphone to an intern, so that other reporters might ask their questions. This was not the first time this reporter has inappropriately refused to yield to other reporters."

Trump's warlike stance against journalists, and his specific action to ban Acosta, flies in the face of decades of tradition and precedent. White House administrations on both sides of the aisle have sought to be accommodating of the press, erring on the side of inclusion, even for non-mainstream outlets. The well-known First Amendment attorney Floyd Abrams thinks CNN has a strong case in the precedent set by the 1977 ruling in favor of Robert Sherrill, a conservative journalist who was also denied access to the White House.
Furthermore, federal guidelines require that "officials of the Secret Service will be guided solely by the principle of whether the applicant presents a potential source of physical danger to the President and/or the family of the President so serious as to justify his or her exclusion from White House press privileges." The administration has made no claims that Acosta presents a physical danger to Trump during his press briefings.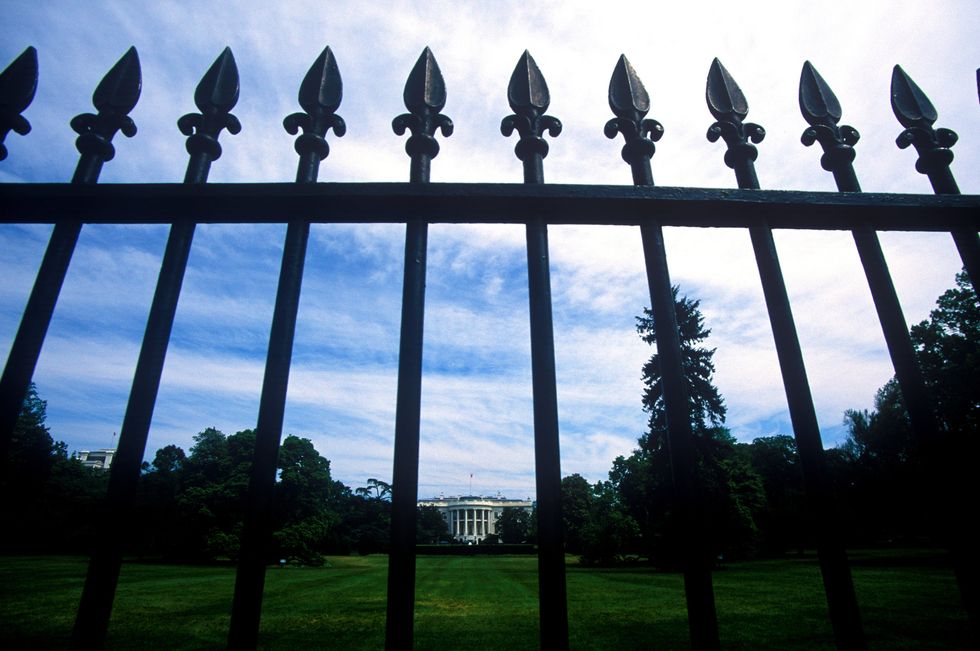 Getty
Abrams points out that those denied press privileges, "have to have notice… a chance to respond, and… a written opinion by the White House as to what it's doing and why, so the courts can examine it." He adds that, "We've had none of those things [in Trump's banning of Acosta]," giving weight to CNN's claim of due process violation.

As noted in CNN's statement, "While the suit is specific to CNN and Acosta, this could have happened to anyone. If left unchallenged, the actions of the White House would create a dangerous chilling effect for any journalist who covers our elected officials."
CNN Worldwide president Jeff Zucker emphasized the importance of taking action in an internal memo. "This is not a step we have taken lightly. But the White House action is unprecedented," Zucker said.
Joshua Smalley is a New York-based writer, editor, and playwright. Find Josh at his website and on Twitter: @smalleywrites.
The White House revokes CNN reporter Jim Acosta's press pass with "fraudulent accusations" of assault.
Trump's vilification of the press as "an enemy of the people" reached a crescendo on Wednesday when CNN's chief White House Correspondent Jim Acosta was banned from the property "until further notice." The dismissal followed a heated exchange between him and Trump during a press conference.
Acosta first shared on Twitter that he'd been barred from the White House grounds.
I've just been denied entrance to the WH. Secret Service just informed me I cannot enter the WH grounds for my 8pm hit

— Jim Acosta (@Jim Acosta)1541637988.0
During a press conference earlier that day, Acosta questioned Trump's description of the migrant caravan approaching the US border from Central America as an "invasion." He then baldly asked about Russia's involvement in the 2016 presidential election, to which the president opted to lob insults at Acosta and CNN, including calling Acosta a "rude, terrible person."

Trump prevented the reporter from asking follow up questions, declaring, "That's enough" and, "Put down the mic!" A female aide approached and attempted to physically wrestle the microphone away from Acosta. This was the contentious point that Press Secretary Sarah Huckerbee Sanders referred to on Twitter after confirming that Acosta's press access had been revoked. Sanders claimed the decision was the result of him putting "his hands on a young woman just trying to do her job as a White House intern."
President Trump believes in a free press and expects and welcomes tough questions of him and his Administration. We… https://t.co/XxV2eSklwK

— Sarah Sanders (@Sarah Sanders)1541638103.0
Shamefully, Sanders followed up by posting a clip of doctored footage from the incident. Paul Joseph Watson, editor of the infamously fallacious Infowars website, edited and shared the video on Twitter before Sanders posted it, stating, "We will not tolerate the inappropriate behavior clearly documented in this video."

Acosta simply posted his response to the accusation as "a lie," as accurate footage of the press conference clearly shows his lack of aggression towards the intern. CNN has responded on Twitter by condemning Trump's "disturbingly un-American" attacks on the press and asserting that they "stand behind Jim Acosta and his fellow journalists everywhere." They've also posted undoctored footage of the exchange "for the world to see."
Here is a video of the interaction for the world to see: https://t.co/us8u5TWzDz

— CNN Communications (@CNN Communications)1541642564.0
In addition, CNN denounced the White House's decision and Sanders' "fraudulent accusations." In a statement, they asserted that Acosta's ban "was done in retaliation for his challenging questions at today's press conference. In an explanation, Press Secretary Sarah Sanders lied. She provided fraudulent accusations and cited an incident that never happened. This unprecedented decision is a threat to our democracy and the country deserves better."

While Fox News reporter Chris Wallace agreed that Acosta's actions were "shameful," the White House Correspondents' Association finds Acosta's ban "unacceptable." In a statement, they urge the White House to "immediately reverse this weak and misguided action."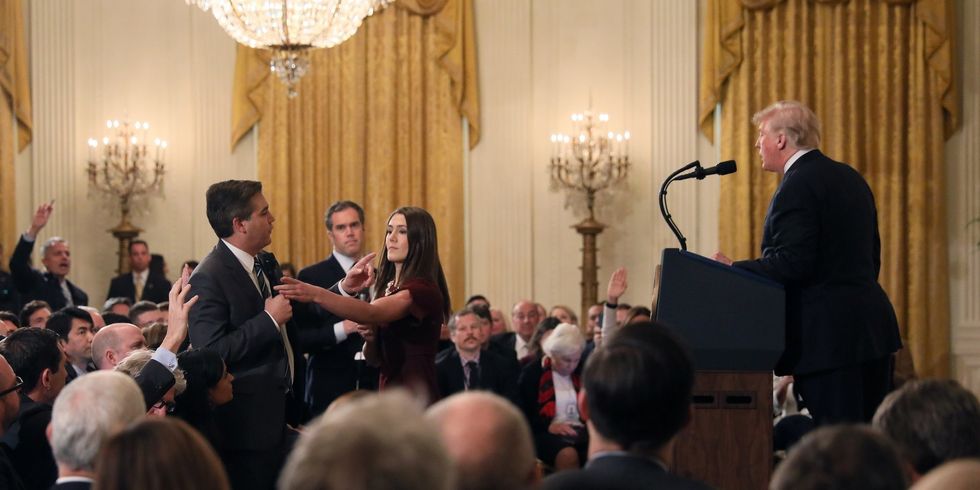 Business Insider
Trump and his administration have an infamous history of combating the press. In October, the writers organization and free speech advocacy group PEN America filed to sue President Trump in federal court "to stop President Trump from using the machinery of government to retaliate or threaten reprisals against journalists and media outlets for coverage he dislikes."

Neither Sarah Sanders nor the White House has made further comment on Acosta's press credentials since Wednesday.
Meg Hanson is a Brooklyn-based writer, teacher and jaywalker. Find Meg at her website and on Twitter @megsoyung.