We've all been there. You were gifted a dumb present that you'll never in a million-zillion years ever use and you're too polite to tell anyone any differently. It sits at the bottom of your drawer for months, then years. And when you finally feel like enough time has passed, you can throw it out in good conscience.
A return is almost always out of the question. Plus, gift givers don't often include a return receipt, and we all know we wouldn't dare ask for one. I'd rather admit to a crime than confess I don't like a gift - how insulting to the gifter's sense of aesthetics.
And-hey, I have limited drawer space. Who can keep these unwanted gifts for six months when there isn't any space for them? I hate clutter, and unwanted gifts are just that.
This year, I am making an effort to swiftly remove any unwanted gifts from my house without hurting anyone's feelings…and potentially benefiting others. As the old saying goes, one man's trash is another man's treasure. And thank goodness for that.
From the The Guardian:
"According to research published this week by the consumer body, one in four people (24%) received an unwanted or unsuitable gift for the Christmas of 2021. Meanwhile, a separate study by the personal finance comparison site Finder said £1.2bn was wasted on unwanted Christmas gifts each year."
Come to terms with the fact that you will never use that gift and follow these quick tips to offload those unwanted gifts:
Donate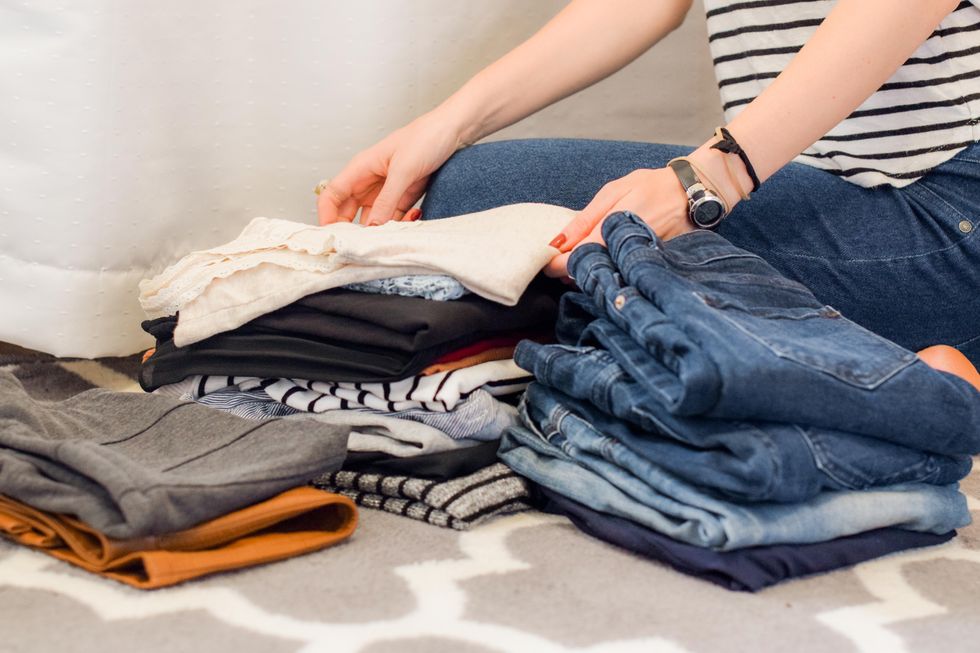 Sarah Brown via Unsplash
The most obvious choice for those unwanted pairs of mud-green sweat socks and that same fluffy robe you get every year from your Aunt Judy is to donate them. Just round up everything you don't want and Google the donation center closest to you.
This is also a fantastic excuse to purge your closet of that pile of stuff you've been meaning to get rid of. A few bags of give-away-clothes will get your spring cleaning out of the way early.
Sell Them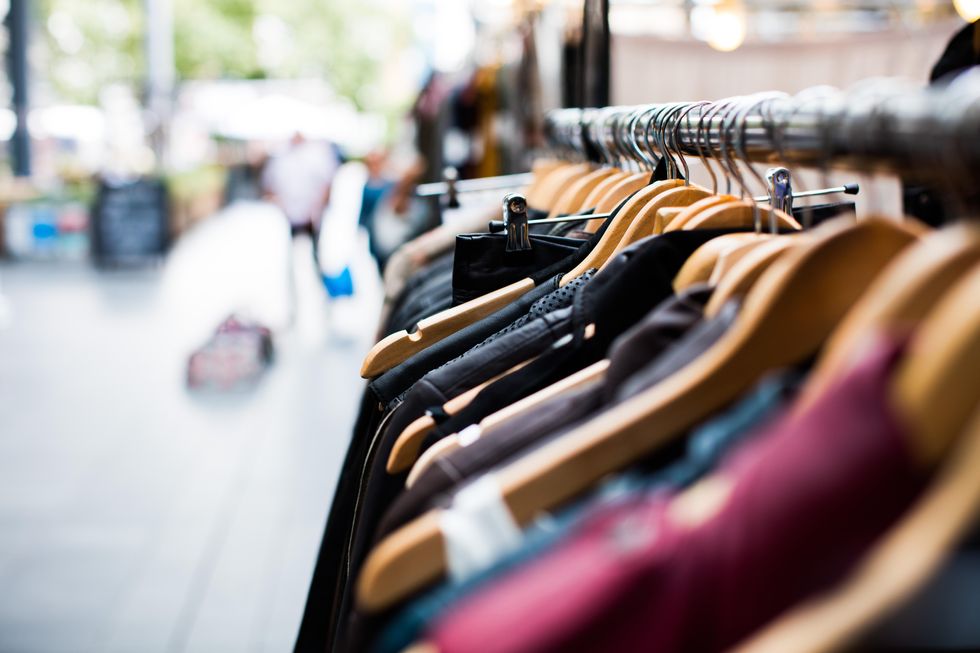 Artificial Photography via Unsplash
Resale websites are all the rage right now. If you got a pair of pants that don't fit or a sweater that isn't your style, resell them on a website dedicated to just that. Sites like Poshmark, Mercari, and DePop are known for selling those trendy pieces of clothing you barely used.
Thrifting has never been hotter. Hop on the trend while people are constantly perusing sites for the hottest deal. Then reward yourself for being so virtuous, by dropping the cash on some fabulous things you'll actually wear!
Re-Gift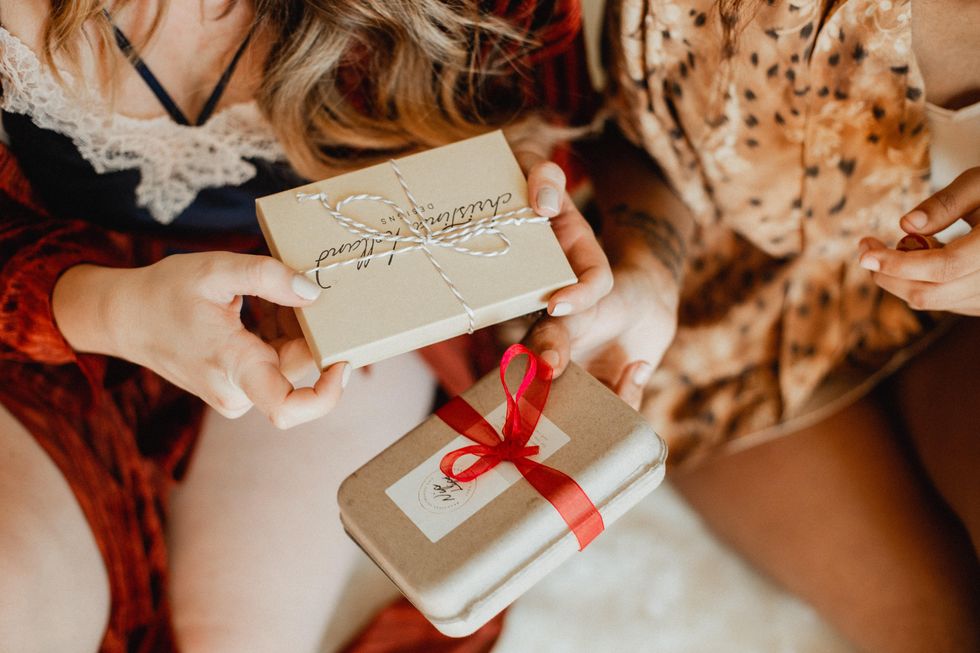 Jackie S via Unsplash
If you got something that you think one of your friends or family can benefit from, why not give it to them? There's no shame in revealing that it was a gift and you don't want it anymore…as long as you aren't re-gifting to the person who gave it to you!
Or, keep the gifts to re-gift at a later date. You never know when you're going to need a last minute gift. You'll thank yourself later.
Attempt a Return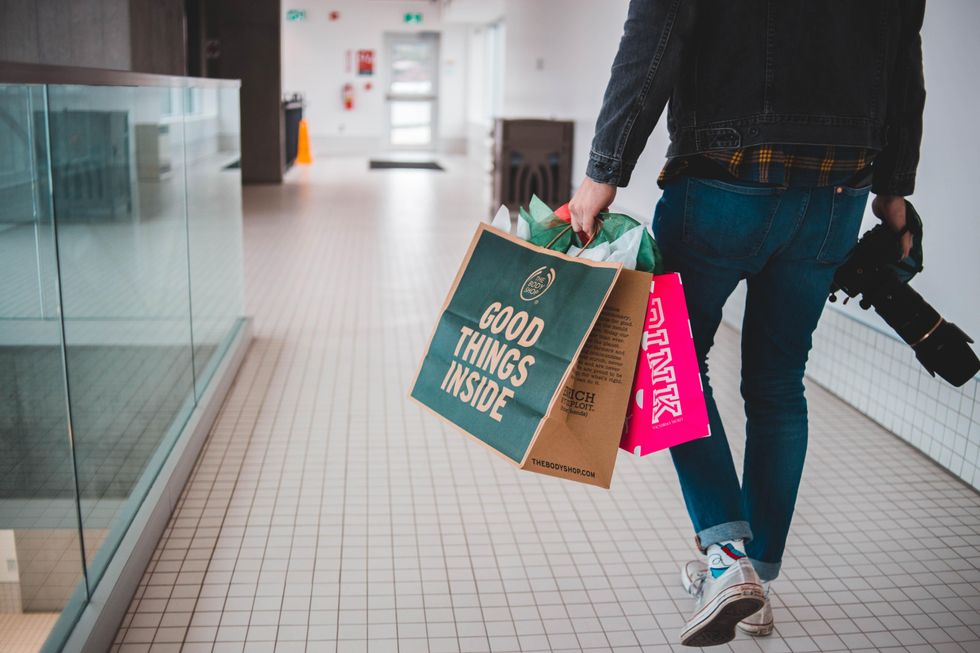 Erik McLean via Unsplash
If your item still has a tag, you can make a valiant effort to return to the store. If you can make your case, many stores won't want to fight you on it. They may be forgiving and grant you store credit at the very least.
Keep reading...
Show less
Over the past month, both Haiti and Afghanistan have been pummeled by tragic disasters that left devastation in their wake.
In Haiti, a 7.2 magnitude earthquake erupted, leading over to 2,189 deaths and counting. A few hours later, in Afghanistan, Kabul fell to the Taliban just after U.S. troops had pulled out after 20 years of war.
In many ways, these disasters are both chillingly connected to US interference. The United States invaded Haiti in 1915, ostensibly promising to restore order after a presidential assassination but really intending to preserve the route to the Panama Canal and to defend US creditors, among other reasons.
But the US forces soon realized that they were not able to control the country alone, and so formed an army of Haitian enlistees, powered by US air power and intended to quell Haitian insurrection against US controls. Then, in 1934, the US pulled out on its own, disappointed with how slow progress was going. Haiti's institutions were never really able to rebuild themselves, leaving them immensely vulnerable to natural disasters.
Something similar happened in Afghanistan, where the US sent troops and supported an insurgent Afghan army – only to pull out, abandoning the country they left in ruins, with many Afghans supporting the Taliban.
In both cases, defense contractors benefited by far the most from the conflict, making billions in profits while civilians faced fallout and devastation. While the conflicts and circumstances are extremely different and while the US is obviously not solely to blame for either crisis, it's hard not to see the US-based roots of these disasters.
Today, in Haiti and Afghanistan, civilians are facing unimaginable tragedy.
Here are charities offering support in Afghanistan:
1. The International Rescue Committee is looking to raise $10 million to deliver aid directly to Afghanistan
2. CARE is matching donations for an Afghanistan relief fund. They are providing food, shelter, and water to families in need; a donation of $89.50 covers 1 family's emergency needs for a month.
3. Women for Women International is matching donations up to 500,000 for Afghan women, who will be facing unimaginable horrors under Taliban control.
4. AfghanAid offers support for people living in remote regions of Afghanistan.
5. VitalVoices supports female leaders and changemakers and survivors of gender-based violence around the world.
Here are charities offering support in Haiti:
1. Partners in Health has been working with Haiti for a long time, and they work with the Department of Health rather than around them, which is extremely important in a charity.
2. Health Equity International helps run Saint Boniface Hospital, a hospital in Haiti close to the earthquake's epicenter.
3. SOIL is an organization based Haiti, "a local organization with a track record of supporting after natural disasters." They are distributing hygiene kits and provisions on the ground to hospitals and to victims of the earthquake.
4. Hope for Haiti has been working in emergency response in Haiti for three decades, and their team is comprised of people who live and work in Haiti. They focus on supporting children and people in need across Haiti.
As summer slowly comes to a close, it might be time to re-evaluate your fall wardrobe.
This summer has no doubt been unbearably hot, and many of us have become accustomed to wearing shorts and tanks every day. But while our hoodies and long sleeves remain cozily tucked away, they will no doubt have to re-emerge sooner than we think.
As we look for new fits for the upcoming cold months, why not make sure that whatever new wardrobe you buy was crafted healthily and sustainably? What if I told you that your new clothes could potentially support hundreds of elephants?
At Ivory Ella, they recognize that elephants are one of the most beautiful creatures on the planet. With sustainability in mind, the clothes they've crafted aim to protect these beautiful creatures from the detrimental ivory trade. In collaboration with Save the Elephants, Ivory Ella has dedicated these past five years to support the protection of these magnificent creatures. While their passion remains Elephants, Ivory Ella also supports many other charities as well. Not to mention, their clothes are fresh as fuck.
Take, for instance, their hoodies. The Monument Valley hoodie, with its bright yellow hue and gorgeous print, is not only stylish and fly but purchasing one supports the work of the National Park Foundation, the official charity of America's national parks.
Or you can rock the fabulous Lotus Swirl tie-dye hoodie, which donates 10% of its net profits to EarthDay.org. Maybe you're stocked up on hoodies and want a long sleeve instead? No problem! The bright sunshine Childhood Cancer Ribbons T-shirt donates 50% of its net profits to the Children's Cancer Therapy Development Institute, which helps fund Megan Bugg's Citizen Scientist Project for Rhabodomyosarcoma Cures.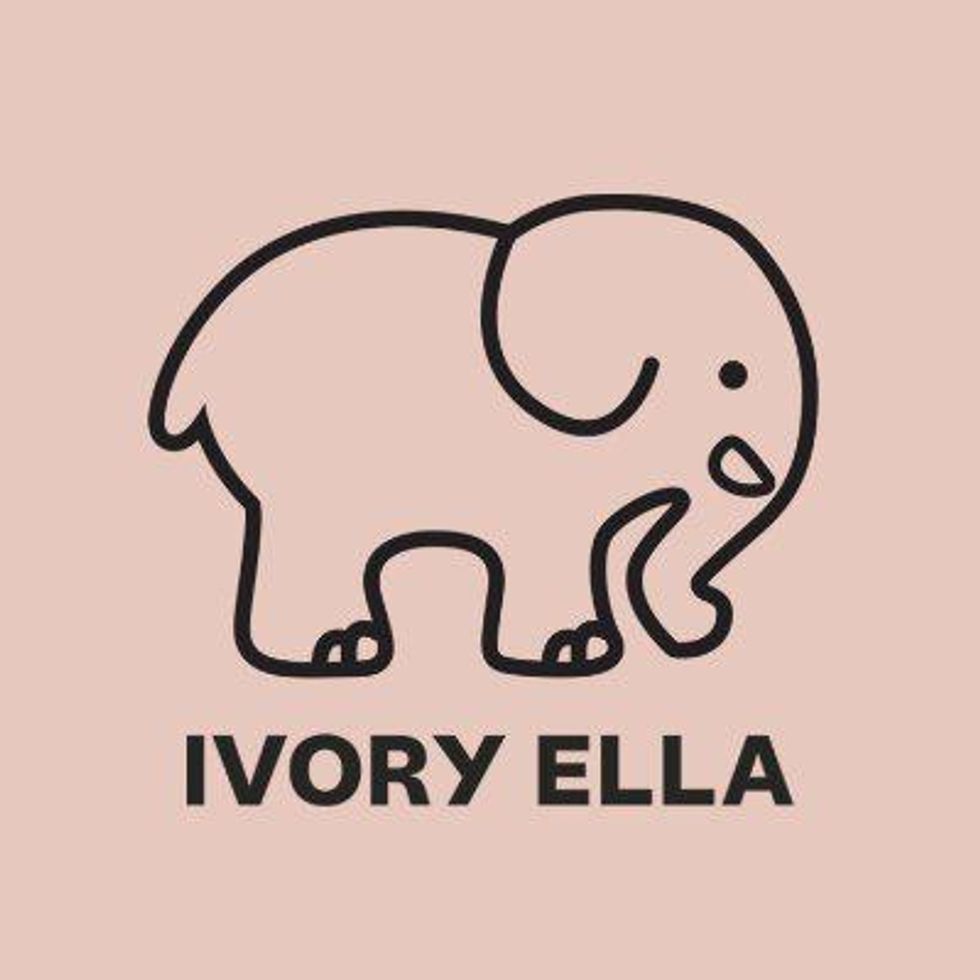 Ivory Ella
The Doodle Dog Long Sleeve is another gorgeous shirt crafted with a good cause in mind, as 10% of the shirt's net profits are donated to Hearts and Bones, a nonprofit organization based out of Dallas and New York that builds a nationwide network in an effort to help thousands of shelter dogs find their forever homes.

We know what you're thinking, though. We're getting ahead of ourselves. It's still balmy and T-shirts are still very much a priority. But Ivory Ella has plenty of those, as well. The Ocean Depth's T-shirt, with its beautiful purple vibe, donates 10% to the Reef Restoration Foundation.
Or maybe you're shopping for your kid and want to get them some fly new back to school gear. In fact, Ivory Ella has a wide selection of great backpacks and lanyards. They also have tank tops, sleep wear, and decorative gear for your home or dorm room!
As summer slowly ends, it's time to revamp your wardrobe with Ivory Ella. Why buy just any old clothes when you can stock up your styles with clothes you know were made with the best of intentions?
Ivory Ella has long stood by its mission to provide sustainable clothing that not only looks great but feels great to wear and purchase. Your purchases can help elephants, aquatic life, children with cancer, pets in need, and more. There is even a full list of all the charities they support if you ever want to look more in depth.
For those ballin' on a budget, Ivory Ella also has a ton of sales all of the time, so you can still support all these good causes for a fraction of the original price. This fall, get your fit on with Ivory Ella, and spend your money on clothes and causes you know are important.
Charitable donations can not replace government programs.
Isn't it refreshing to see a story about someone giving back?
Not every wealthy person is Ebenezer Scrooge, clutching every penny for himself. Some of the wealthiest people on Earth also realize how fortunate they are to have been so blessed, so they share the wealth. When they open their pocketbooks, they aren't stingy.
Just look at Jeff Bezos, who recently announced he was donating $100 million to food banks to help America get through the coronavirus. Wow! That's so much money, and he's just giving it away! It's way more than you or I or several families put together are likely to earn in our entire lifetimes! It's more money than you could fit in your fridge in stacks of $100 bills—unless you're Nancy Pelosi.
If you had that much money in a bank account with just 1% interest compounding annually, you and me and those several families could easily live off that interest without ever touching the principal! Forever! Come to think of it, it's kind of more money than any one person could ever need or even spend on anything reasonable.
Sure, if you want your own private jet to shuttle you around the world eating dinner off the naked bodies of a series of celebrities, you could spend that much pretty easily, but if you just want to have a good, satisfying life, $100 million in the banks isn't much better than an $80,000 salary—depending on factors like your debt burden and the cost of living where you live.

So why don't any one of these mega-billionaires like Mark Zuckerberg, Bill Gates, Elon Musk, and Michael Bloomberg—if they really are as generous as they seem—just give away their riches and secure a place in history as the person who personally ended world hunger or homelessness in America? They could even keep a few hundred million to continue living like kings (or at least like Warren Buffett).
Surely it must not be that simple? Because if this was just a matter of private greed preventing that kind of transformational change, governments would surely have used their ability to levy taxes for the public good to seize that fallow wealth and make the world a better place. There has to be some reasonable explanation for why they don't just give it all away. Surely...
In this series we'll look at myths around philanthropy, including the notions that it's possible for billionaires to be generous, that their "wealth" is substantially different than money, that their private foundations do a lot of good, and that they are patrons of the arts.
But to start things off, let's look at one of the simplest explanations for this disconnect.
Myth: Charity Is Actually Better Than Taxation
What you'll hear
Government intervention is a blunt instrument, and charity is a scalpel.
The government is okay at helping people, but charity is really the way to go. Private individuals aren't hampered by government bureaucracy and can respond more efficiently and directly to needs as they occur. Over time we should try to shift toward a more voluntary charity-based model of social assistance, rather than relying on big government.
Why It's wrong
Actually the opposite is true.
During economic downturns, when the need is greatest, government assistance like unemployment, food stamps, and welfare kick in automatically to help those in need. They're called automatic stabilizers, and they help to mitigate the impact of these crises and make it easier to shift toward recovery.
Automatic stabilizers | National income and price determination | AP Macroeconomics | Khan Academy www.youtube.com
Meanwhile the wealthy are often anxiously tending to their own floundering finances or businesses amid the tumult and aren't as likely to open their checkbooks for charity. What this means is that charitable giving actually declines when people need it the most.
On top of that, as bad as politicians often are at being responsive to the needs of their constituents, at least they have constituents. By contrast, there's nothing to stop the wealthy from holing up in their gated compounds, beholden to no one and only responsive to the needs of the rarefied elites they know—donating to foundations developing a cure for gout or gene therapy to treat Habsburg Jaw.
To the extent that they are aware of the plight of others, it's often connected to their religious affiliation, which is why religious charities—that often spend money on churches and missionary work and who proselytize to the needy—are among the largest charities in the US.
If you don't mind someone else's idea of God determining which causes are important and who gets helped, then charity is a great way to go. For the rest of us, higher taxes on the wealthy—and reducing the amount they can dodge those taxes through, say "charity"—would be better.
In this sense, a blunt instrument is often exactly what we need—just a flood of money going to everyone who might realistically need it. And while government bureaucracy is annoying and should be cut where possible—particular when it comes to overzealous means testing—the fact that the federal government deals with such massive sums of money actually makes it possible to consolidate administrative overhead.
All this means that the government can actually use its resources for the public good far more efficiently than a bunch of disparate charitable foundations. In other words: Taxation and government handouts are (generally) much better than charity.
Charity: how effective is giving? | The Economist www.youtube.com
While charitable donations have the added value of making rich people feel good and earning them some good PR, they aren't actually better for the world—or even nearly as good—as a robust social safety net. That means we should really limit the amount of taxes that can be written off through charitable donations.

Of course, without that tax incentive a lot of charities might receive substantially less in donations from the ultra-wealthy. But in that case we would have to ask: Are Billionaires really that generous? Check out our next installment to find out.
The Trump Administration's solution to aid the 16 million Americans who are out of a job thanks to coronavirus? One big, shiny, $1,200 check.
As MarketWatch explains, "The Internal Revenue Service will send $1,200 payments to individuals with adjusted gross income below $75,000 and $2,400 to married couples filing taxes jointly who earn under $150,000. The government will also pay $500 per qualifying child." That plan is a little skewed—$1,200, after all, isn't even enough for one month's rent for a studio in NYC's outer boroughs. And for everyone who's receiving the check, there's someone else who, fortunately, is able to work from home and hasn't faced a huge setback due to COVID-19.
If you're one of the lucky ones, or if you're just feeling generous, here are just a few good causes that deserve your donations to help those in need.
WeCount!'s Immigrant Worker COVID-19 Fund: Florida nonprofit WeCount! is on a mission to address the gap in medical support for undocumented immigrants, emphasized by COVID-19.
Immigrant Worker Safety Net Fund: National Day Laborer Organizing Network allocates cash donations to worker leaders, organizers, and volunteers who have already contracted the COVID-19, as well as undocumented laborers who are especially vulnerable to the virus, such as those over 60 or with preexisting health concerns.
National Bailout: Prisons, jails, and detention centers have raised big health concerns in the coronavirus's wake. National Bailout is galvanizing funds to get people out, in an effort to slow the spread. The organization also already hosts an annual #FreeBlackMamas campaign to specifically help incarcerated black mothers each Mother's Day, but donations are welcome and encouraged year-round.
Restaurant Workers' Community Foundation: With restaurants limited to takeout only, many folks in the service industry are taking a major hit. RWCF's emergency relief fund collected $2.8M since its launch in late-March. Of that, half goes directly to individual restaurant workers, 25 percent to non-profits serving restaurant workers, and another 25 percent for zero-interest loans to keep restaurants running.
Coalition for the Homeless: Homeless people are predisposed to major risks year-round, but the pandemic has brought additional attention to their health care. In New York City, the Coalition for the Homeless is providing temporary safe housing to the community thanks to donations.
Choose to give where your money will go the farthest.
Everyone can agree that giving to charity is a worthwhile way to use one's money. But it's not as simple as just writing a check. You want to make sure your money is going somewhere where it'll be put to good use. With so many options out there, how can you make sure you're putting your money into worthy causes? To help you on your quest, we've compiled a list of the top 5 aid organizations to give to in 2019.
Children International is an organization who has the broad mission of ending childhood poverty across the globe. Their primary means of doing this is by allowing donors to sponsor a child, regularly donating to provide the child with healthcare, education, food, shelter, etc. Charity watchdog gives this foundation an A rating, as they offer 84% of their earnings to children in need, with only 16% going to overhead costs.
American Civil Liberties Union (ACLU)
This organization aims to "maintain and advance civil liberties, including, without limitation, the freedoms of association, press, religion, and speech, and the rights to the franchise, to due process of law, and to equal protection of the laws for all people throughout the United States and its jurisdictions." The ACLU is one of the most powerful groups fighting to protect American citizens today, and decidedly a very worthy cause to donate to.
The National Wildlife Federation aims to protect American wildlife and wilderness by educating Americans about the importance of nature and fundraising money for environmentalist programs. They only spend 13% of their income on overhead, meaning you can be sure your donation isn't going towards some rich person's personal fortune, but is actually going towards protecting America's quickly dwindling natural beauty.
National Alliance to End Homelessness
This organization's mission is simple: end homelessness in America. They focus primarily on issues of policy and education, empowering legislators and communities to take steps to support disenfranchised Americans without housing. They give an incredible 92% of their proceeds to their cause, making them one of the most responsible charities on this list.
American Foundation for Suicide Prevention (AFSP)
Suicide is an ever-growing crisis in the United States, but thanks to organizations like the AFSP, people are becoming more and more educated about the truth of mental illness. They raise awareness, fund scientific research, and provide important resources and aid to those affected by suicide.