Boycotts and blacklists are tools conservatives perfected — they just don't like it when the tables are turned.
I don't want to alarm anyone, but...THE LEFT IS CANCELING MR. POTATO HEAD THEY'RE CANCELING DR. SEUSS, AND NEXT THEY'RE GOING TO CANCEL YOU!
It turns out that the political Left in the US is actually made up of various literary estates and multi-national toy corporations that are intent on destroying your cultural values by erasing the biological sex of a plastic potato and ending the publication of racist caricatures in some obscure books you were never going to read. But these are just the latest instances of what the Right-wing outrage machine has identified as a violent attack on free speech.
What happened to the era when a governor could get away with years of sexual harassment and assault? Do they hate him because he's not "progressive" enough?
These days it seems like a person can be canceled just for spreading dangerous misinformation and comparing herself to a Jew in Nazi Germany. These days it seems like anyone who disagrees with the liberal, Leftist, Hollywood elite position that trans people deserve rights and respect — and aren't a fundamental threat to womanhood itself — gets relegated to the dustbin of history.
Or, rather, they get to keep their immense wealth and cultural influence, and they win a Russell award for their "bravery" but a lot of people are mean to them on the internet. Which is basically the same thing.
Conservatives are so concerned about this trend that the theme of this year's Conservative Political Action Conference (CPAC) was "America Uncanceled." But it may shock you to learn that "cancellation" was not always the refuge of the Left alone. In fact, once upon a time Right-wing Americans were all about cancellation for such heinous crimes as "opposing a war" and "being gay."
Here are nine times that conservatives proved they love "cancel culture."
In the end, it's almost as though we all "cancel" people whose views are offensive to our values. By shunning voices and ideas we find repellent, we make more room for the stuff we like.
It's a tool for affirming and perpetuating values we agree with — whether of inclusion or of bigotry. It's just that conservatives are the ones who perfected that tool, and they don't appreciate it being turned against them.
Keep reading...
Show less
"Calling in" is a good alternative to callout culture when you're engaging with someone close to you, or someone you feel may be open and receptive to change.
Not only is cancel culture ineffective, but it can actually deter change, deepening divisions instead of building relationships that have the potential to change minds (and eventually, the world).

A new and improved update to cancel culture and its emphasis on "calling out" might be "calling in." But what does it mean to "call someone in"—and how can we shift over from the cancel culture we're so deeply entrenched in, towards a calling-in mindset?
What Is Calling In?
The term "call-in" has been in use since as early as the 1480s, when the phrase "call in" meant "to summon someone for help" or "to enlist (someone) into service." The term changed meanings over the centuries—and now most of us know it in the context of calling into work or calling into a radio show.
In modern social justice contexts, calling in is about using problematic, offensive, or insensitive infractions as opportunities to invite people to learn, grow, and change.
Calling in is often best applied within social justice circles or communities where people already know each other. In communities, where everyone knows they're on the same page but some people might slip up from time to time, calling in can be a great alternative to cancel culture, which often derails potential connection and leads to an end of the conversation rather than a beginning.
In social justice or activist circles, it can be damaging to overemphasize infractions rather than using them as stepping stones for growth. "What happens when thousands of people who all 'get it' come together and everyone knows something about 'the work'? We lose all compassion for each other. All of it," writes Ngọc Loan Trần.
"Most of us know the drill. Someone says something that supports the oppression of another community, the red flags pop up and someone swoops in to call them out," Trần writes. But what happens when that someone is a person we know — and love? What happens when we ourselves are that someone? And what does it mean for our work to rely on how we have been programmed to punish people for their mistakes?"

Sometimes cancel culture can even feel punitive, reminiscent of the heavily surveilled and policed culture that most of us are trying to escape. On the other hand, calling in can promote restoration and dialogue.
When and Who to Call In
When deciding whether to call out or call in someone who has committed an infraction, it might be helpful to think about the purpose of a callout. "If someone is more interested in seeing the subject of a call-out punished or shamed for their mistake, versus seeking to hold someone accountable for their problematic behavior and looking for a productive solution, it's probably not the best idea (for you or your community) to call someone out," writes Kyli Rodriguez-Kilo.

Instead of publicly shaming, it might be a good idea to privately engage with the person who committed an infraction before antagonizing them.
Before calling someone out, one might ask: Who has the power in this situation, and what will happen to the person who is being called out? It's also important to ask whether one's callouts are coming from places of experience and care, or whether they're meant to signal one's own benevolence to other folks. Might our energies be better placed in, say, mutual aid or organizing rather than in canceling others for no reason?
Despite the fact that calling in can be useful anywhere and at anytime, many definitions of the term propose that the people we should be calling in are friends, peers, coworkers or other people we respect enough to devote time to educating and changing. Calling in is a great option for communities or groups already on the same page, or for people with privilege or who have the time, resources, and energy to educate others. Still, calling in won't be applicable to every situation.
Who (and What) NOT to Call In
Calling in doesn't mean that anyone has to tolerate threats to their identity, race, gender, or other personal and non-malicious characteristics. It also doesn't mean expecting that a pleasant conversation will address centuries of oppression.
It's very important not to mistake calling in as a pathway to tolerance of racist, sexist, homophobic or otherwise offensive behaviors. It also doesn't mean people shouldn't get angry about their own oppression, and it doesn't mean that white people's hurt feelings (for too often, this is what it all comes down to) should be prioritized in any way. Sometimes, callouts are necessary responses.
"Tolerance" has long been used as a way to shut down legitimate critiques of dangerous cruelty, and even violence—and remaining complicit and silent are obviously not the objectives here.
Some people truly deserve to be flat-out canceled and kicked out of groups because they present threats to other members of groups. Plus, no one should feel pressured to explain why they deserve human decency, and explaining complicated social justice concepts can take far more energy and time than many people have on a daily basis.
It's okay to be angry in a f*cked up world. It's admirable to fight for change and to refuse to tolerate ways of being that threaten others' livelihoods.
Call-out culture and public "cancellations" may be necessary and effective when the person needing to be canceled is a famous or otherwise inaccessible person, or someone who has failed to change their ways or who presents a direct danger to certain people or groups.
There's no precise binary between calling out and calling in; the two are part of the same spectrum. Maybe calling out and calling in can exist alongside each other in a constant give-and-take.
None of this process—of healing, of fighting oppression, and of holding each other accountable—will be linear or straightforward, but clearly, many of us have a lot of time and energy to spend calling each other out online. Maybe a bit of that energy can be siphoned towards shaping a better future.
Keep reading...
Show less
We're all getting something wrong when we view political correctness as fundamentally opposed to free speech.
Few issues have divided the nation further than the free speech vs. political correctness debate.
In addition to deepening the gap between conservatives and liberals, the debate tends to fracture the left, leading to dissent from the inside. This stems in part from the fact that many older liberals simply can't wrap their minds around the idea of political correctness.
Political Correctness: Censorship or Part of the Fight for Equality?
Critics of political correctness equate it to censorship, which they see as a threat to the all-American ideal of unbridled freedom. For most liberal millennials and Gen-Z kids, however, political correctness is about freedom, just of a different sort. It's really about shutting down hate speech and supporting marginalized communities.
Nowhere did this divide become clearer than in one of my lectures in college, a postmodernism class with a professor who I'd always seen as uniquely brilliant (and who also happened to teach a lesbian erotica class). She lost a lot of my respect when—as a white woman—she insisted that there was nothing really wrong with a white person saying the "n" word in solitude, prompting one of the few people of color in the class to raise her hand and ask: "Why are white people so desperate to say that one word?" The professor responded with a lecture about free speech and the insubstantiality of language, a response that felt misguided and totally out of touch.
This generational divide appeared again when prominent feminist and author Margaret Atwood published an op-ed critiquing the #MeToo movement. "My fundamental position is that women are human beings, with the full range of saintly and demonic behaviours this entails, including criminal ones," she wrote. "They're not angels, incapable of wrongdoing." In short, Atwood was critiquing the #MeToo movement for the same reason that many people critique political correctness. They feel that restricting one's language, or giving the benefit of the doubt to and prioritizing the voices of certain demographics, is infantilizing or threatening to other demographics' freedoms.
On the other hand, many young liberals understand that political correctness is an important part of the process of giving respect to groups that have been and are still systematically oppressed. This political correctness can take the form of prioritizing people of color's voices, or calling out offensive speech—even, or especially, when it's the product of ignorance, or when it's conducted out of earshot of the people it might hurt.
What Toni Morrison Knew: Political Correctness and Free Speech Can Be the Same Thing
What we all need to understand is that, among other things, the left's internal war over political correctness and free speech actually presents a chance for generations to learn from each other. Defenders of political correctness might realize that sometimes, accidentally offensive language can present a valuable educational opportunity—though this is definitely not always the case, and no one should be required to educate others about why they deserve basic respect.
Older proponents of free speech, for their part, can realize that political correctness, safe spaces, and the like ultimately come from places of compassion. At their core, they are efforts to achieve a more equitable world.
Perhaps it's too starry-eyed to imagine that older allies could learn from younger people who refuse to accept middle-of-the-road policies or veiled racism, but some older people have certainly embraced progressive worldviews. "Oppressive language does more than represent violence; it is violence; does more than represent the limits of knowledge; it limits knowledge," said Toni Morrison in a 1993 address about political correctness. Morrison, whose wisdom stretched far beyond the blind spots of her generation, was a supporter of what political correctness stands for, though not of the implications of that specific term. In a later interview, she added, "I believe that powerful, sharp, incisive, critical, bloody, dramatic, theatrical language is not dependent on injurious language, on curses. Or hierarchy."
In short, freedom of speech is not contingent on the ability to use offensive language. We can be free—in fact, we can only be free—when all of us are free, which will only happen when language that demonizes or injures certain groups is purged from acceptable discourse.
Ironically, the book we were discussing that day in my postmodernism class was Morrison's Beloved.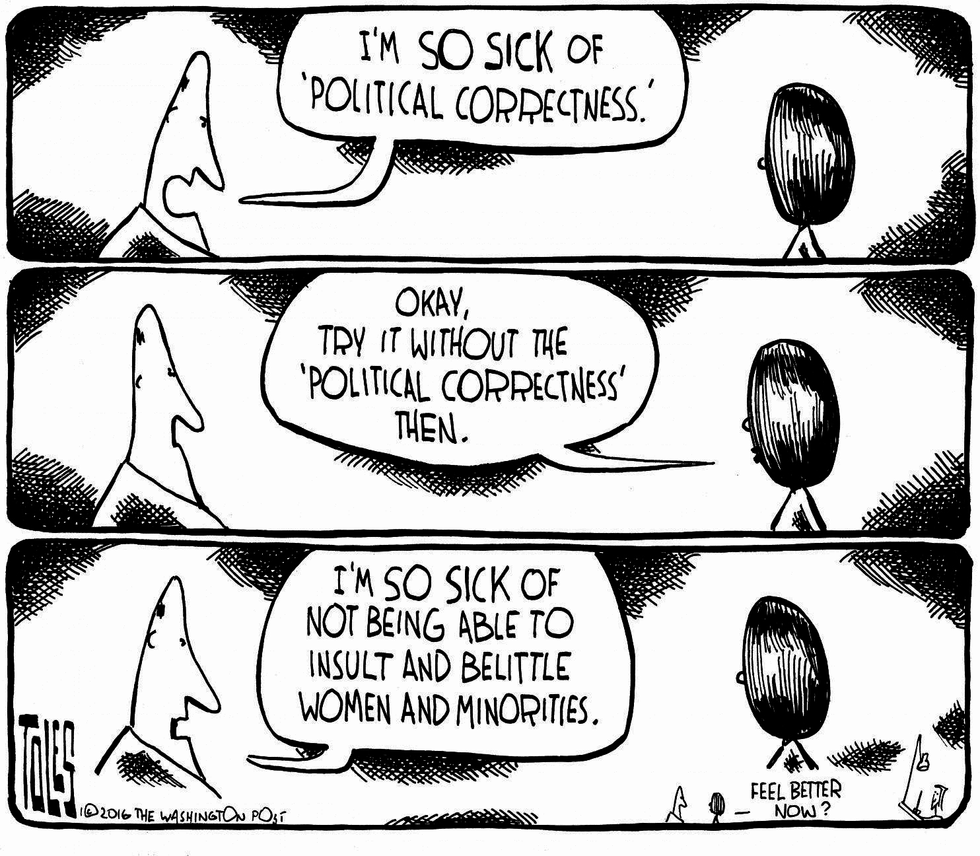 Image via the Washington Post