"A tree is best measured when it is down," the poet Carl Sandburg once observed, "and so it is with people." The recent death of Harry Belafonte at the age of 96 has prompted many assessments of what this pioneering singer-actor-activist accomplished in a long and fruitful life.
Belafonte's career as a ground-breaking entertainer brought him substantial wealth and fame; according to Playbill magazine, "By 1959, he was the highest paid Black entertainer in the industry, appearing in raucously successful engagements in Las Vegas, New York, and Los Angeles." He scored on Broadway, winning a 1954 Tony for Best Featured Actor in a Musical – John Murray Anderson's Almanac. Belafonte was the first Black person to win the prestigious award. A 1960 television special, "Tonight with Belafonte," brought him an Emmy for Outstanding Performance in a Variety or Musical Program or Series, making him the first Black person to win that award. He found equal success in the recording studio, bringing Calypso music to the masses via such hits as "Day-O (The Banana Boat Song)" and "Jamaica Farewell."
Harry Belafonte - Day-O (The Banana Boat Song) (Live)www.youtube.com
Belafonte's blockbuster stardom is all the more remarkable for happening in a world plagued by virulent systemic racism. Though he never stopped performing, by the early 1960s he'd shifted his energies to the nascent Civil Right movement. He was a friend and adviser to the Reverend Doctor Martin Luther King, Jr. and, as the New York Times stated, Belafonte "put up much of the seed money to help start the Student Nonviolent Coordinating Committee and was one of the principal fund-raisers for that organization and Dr. King's Southern Christian Leadership Conference."
The Southern Poverty Law Center notes that "he helped launch one of Mississippi's first voter registration drives and provided funding for the Freedom Riders. His activism extended beyond the U.S. as he fought against apartheid alongside Nelson Mandela and Miriam Makeba, campaigned for Mandela's release from prison, and advocated for famine relief in Africa." And in 1987, he received an appointment to UNICEF as a goodwill ambassador.
Over a career spanning more than seventy years, Belafonte brought joy to millions of people. He also did something that is, perhaps, even greater: he fostered the hope that a better world for all could be created. And, by his example, demonstrated how we might go about bringing that world into existence.
Cancel culture and feigned outrage need to face the facts...
SPONSORED / PAID FOR BY DTC (DEFEND THE COMICS) 
SPECIES: HOMO SAPIEN
TAXONOMY: a.1.43.Luke.19.1971.OT.
TYPE: 1ST PERSON EXPERIENTIAL
INDICATIONS AND MEDICAL DISCLOSURE: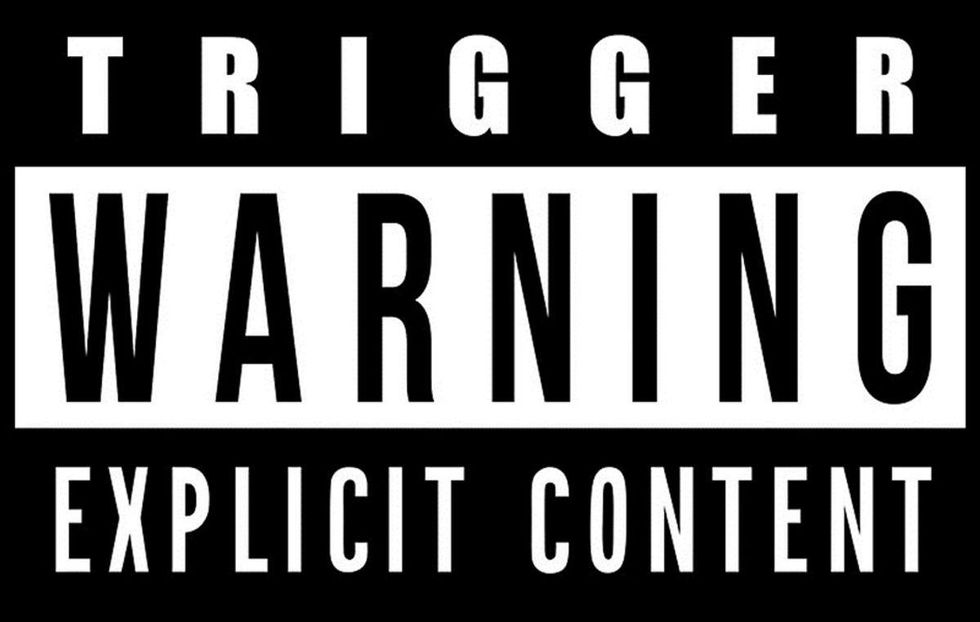 ZEITFRO® (alkaline antifreeze [ALF]) [dosage/instructions: taken after scone and artisanal Cappucino--read below-- 2x per day or otherwise directed by a medical doctor; limit: three doses per day]
INDICATIONS AND DOSAGE: ONE READING HAS BEEN CLINICALLY PROVEN TO SHOW SIGNS OF HELPING TO HELP, OR POTENTIALLY TRYING TO HELP BUT FAILING OR RECEIVING A PARTICIPATION BADGE FOR TRYING, ANTISOCIAL BEHAVIOR INCLUDING HATING AS DISPLACEMENT OF SELF-LOATHING OR SELF-LOVE (AKA SCHADENFREUDE), SYMPTOMS CAUSED BY EXCESSIVE NARCISSISM, ENNUI, ANGER MANAGEMENT DISORDER, AND NTDWYTFOCS [also known as ATW (ACUTE TIME WASTING) SYNDROME, OFTEN LINKED TO CHILDHOOD CRUELTY TO SMALL ANIMALS AND LIFE-LONG PATTERNS OF SOCIOPATHIC BEHAVIOR].
PARENTAL WARNING: UNCENSORED THOUGHTS CONTAINED BELOW, SOME OF WHICH MIGHT CAUSE SEIZURES, 'HOT DOG' FINGERS, ACUTE RESPIRATORY FAILURE INCLUDING POPCORN LUNGS, PINPRICK MACROECONOMIC BUBBLE BURSTING, THE ABANDONMENT OF ALLIES OF CONVENIENCE AKA 'MILD GENOCIDAL SYNDROME' (MGS and gluten-free), CARDIAC EPISODES, PANIC ATTACKS AND HALLUCINATIONS FEATURING CAMEOS BY BILL COSBY, RON HOWARD, GLORIA ESTEFAN, KEVIN SPACEY, HEART (the WHOLE band), R. KELLY AND ALL THE CATHOLIC PRIESTS OF YOUR YOUTH. ANYONE WHO HAS DIABETES OR ERECTILE DYSFUNCTION SHOULD CONSULT A DOCTOR BEFORE READING THIS ARTICLE. THOSE WITH GENDER APHASIA OR WHO WANT TO CHANGE GENDER ARE ALSO ADVISED TO WEAR 3-D GLASSES BEFORE READING BELOW THIS LINE OF TEXT. FURTHERMORE, FWIW FOR ALL WHO HAVE THE FOBLO VARIANT OF COVID. DO NOT TRY THIS AT HOME WITHOUT A 'SPOTTER.'
How about this comment from my mom's friend sitting next to me, a half-Jewish woman who I worried about offending by clicking "play" on Netflix on the now-infamous Chappelle special?
"I don't understand what the controversy is about..."
Well, yeah - that was the best outcome I could've hoped for when I pressured two aging hippies, activists who pushed for the Gloria Steinem / Helen Ready phase of feminism. But they also participated in the stuff that led MLK and Rosa Parks to fight hard for their place at the front of the bus. Full disclosure - one is my mother. The other is a woman I'll just call Bob (challenge parenthetical: use Hitchhiker's Guide to grok the Bob reference) so that nobody cancels this blue-haired beauty. Bob danced with Mama Cass and performed with the Rockettes. She is half-Jewish.
Archie Bunker is top of my mind as I write these words, and I know that Norman Lear knew what he was doing with that comedy. But he's a Space Jew (jk… duh).
What did Bob say to me when Chappelle's confessional comedy canon-fire finished with a punchline about sucking dick?
"I don't understand what the controversy is about..." -- Bob
Who'll be the hero of the inevitable swing of the pendulum towards some kind of true north -- fucking David Chappelle. I won't use that N-word here, because I'm not allowed. I don't want to be aborted before the fetus becomes human, and I'm not brown like Chappelle. Actually, I will use it - he's a Bad-ass N - as in Nostradamus. A hard one who tells the truth. And we can all learn from his truth.
All this is to say - Chappelle is a good lad, for real. He's not just a comedic genius. He's a man who fought against all odds, a scrapper (like my mom and her friend) looking to break the chain of privileged control of wealth and do his mfg thing. He knows his people and his history - and not just the black part of it all. And he is funny as fuck.
Here's the thing about it: I personally believe that America is *UN - FUCKING - AMERICAN*right now, and Chappelle fired a giant warning flare into the sky, an S.O.S. We need to talk, laugh, discuss things. We should not look for "gotcha" moments and reasons for hating one another.
We don't all need to be homogenous robots praying at the altar of some sort of C culture of silliness. Why work if you can whine? Nah. People want to work. We need to be human. Humans are tribal and we will have bias. And then there's this -- stereotypes contain both truth and danger. Not forever-truth but truth that comes from history, from epigenetic behavior that crosses culture and art and charisma and bloodlines stretching back to Africa. That's why I want to say this: Chappelle is our Nostradamus. If we look back years from now and identify a cultural inflection point, we will need a person in charge of that moment. That's kind of the way we catalog history.

Excerpt from new Rasmussen poll rasmussenreports.com
If you can't beat them, join 'em. Check out this newly published poll. These polls are super corrupt, I know. Just do the math. I mean - who wants jury duty or has time for this b.s.? Well-and-so, Facebook including Instagram - might be the altar to pray at for popular opinion. But… err… why is everyone on Facebook talking about what they had for breakfast and trolling for self-confidence from busted-up spaghetti code companies run by self-loathing geeks? I mean, who died and made Zuckerberg the foremost expert on how to be social? Sheesh - he comes across as the kind of dude who not only got shoved in the locker at high school but actually deserved it.
On a serious (not 'suck my dick'... tsk-tsk) note, I will also say this about Mr. Chappelle: he's worthy of comparison to the great comics who came before - everyone from Groucho to Gleeson to Lenny Bruce, Pryor, Robin Williams, Eddie Murphy, Rock, Tina Fey, and we cannot forget Carlin. But here's the thing that might be more important - he really feels. He's not out to judge, but to connect with everyone from trans people to the waiter at the fancy places he frequents. He's an empath - and not in some kind of bullshit X-Files way.
He's someone who keeps score according to a personal moral code that he cannot ignore and which informs his craft. That makes him a full-blown creator of literature and art who will be remembered for a long time to come. He's a storyteller and social commentator on par with some of the world's greatest - Oscar Wilde, James Baldwin, Dick Gregory, Lou Reed, Michael Lewis, Malcolm Gladwell, David Sedaris, Jay-Z, Regina King, Kendrick Lamar - writers and thinkers.
His (he / him / his) comedy is part of the new literature we need to consume because by doing so, we learn.
Thanks, Chappelle, for the S.O.S. We've got to save this fucking ship.
GOAT. Rising.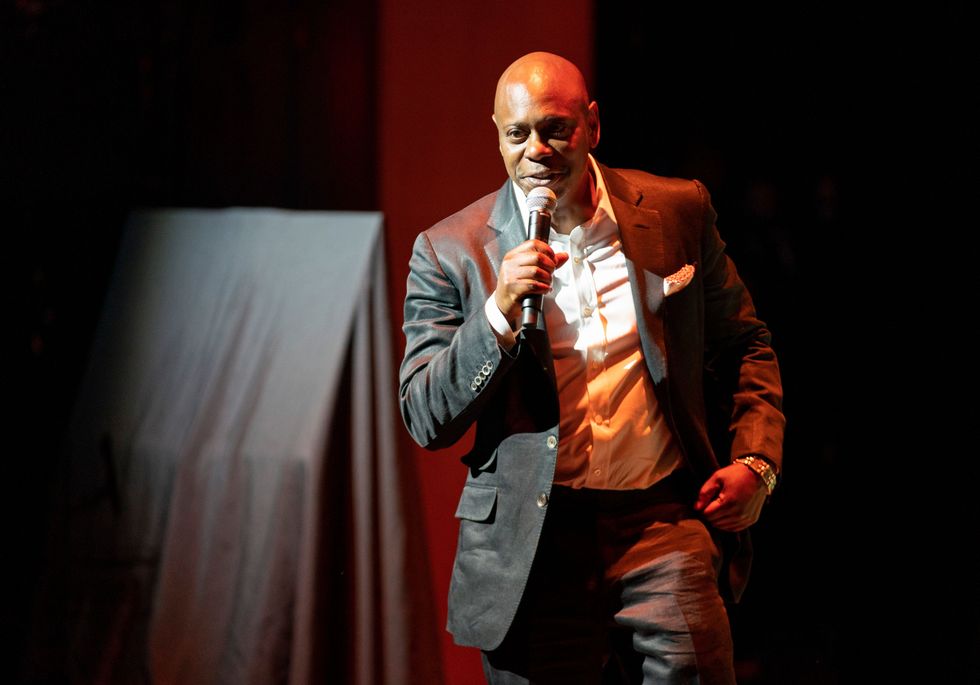 Dave Chappelle Photo by By Gemunu Amarasinghe (AP/Shutterstock)
Some songs as a p.s. [warning: internet connection and decent speakers required]:
True to Myself - Ziggy Marley
What a Wonderful World - Louis Armstrong
Thousands are Sailing - The Pogues
Same Love - Macklemore
Street Fighting Man - Rolling Stones
Daydream Believer - The Monkees
Why Are You On Facebook - Van Morrison
Dirty Boulevard - Lou Reed
Girls - Beastie Boys
Je T'aime, Serge Gainsbourg/Charlotte Gainsbourg
Democracy - Lumineers
Rain Street - Pogues
Angel of Harlem - U2
Black Boys on Mopeds - Sinead O'Connor
Lonely Teardrops - Jackie Wilson
River - Leon Bridges
We're all getting something wrong when we view political correctness as fundamentally opposed to free speech.
Few issues have divided the nation further than the free speech vs. political correctness debate.
In addition to deepening the gap between conservatives and liberals, the debate tends to fracture the left, leading to dissent from the inside. This stems in part from the fact that many older liberals simply can't wrap their minds around the idea of political correctness.
Political Correctness: Censorship or Part of the Fight for Equality?
Critics of political correctness equate it to censorship, which they see as a threat to the all-American ideal of unbridled freedom. For most liberal millennials and Gen-Z kids, however, political correctness is about freedom, just of a different sort. It's really about shutting down hate speech and supporting marginalized communities.
Nowhere did this divide become clearer than in one of my lectures in college, a postmodernism class with a professor who I'd always seen as uniquely brilliant (and who also happened to teach a lesbian erotica class). She lost a lot of my respect when—as a white woman—she insisted that there was nothing really wrong with a white person saying the "n" word in solitude, prompting one of the few people of color in the class to raise her hand and ask: "Why are white people so desperate to say that one word?" The professor responded with a lecture about free speech and the insubstantiality of language, a response that felt misguided and totally out of touch.
This generational divide appeared again when prominent feminist and author Margaret Atwood published an op-ed critiquing the #MeToo movement. "My fundamental position is that women are human beings, with the full range of saintly and demonic behaviours this entails, including criminal ones," she wrote. "They're not angels, incapable of wrongdoing." In short, Atwood was critiquing the #MeToo movement for the same reason that many people critique political correctness. They feel that restricting one's language, or giving the benefit of the doubt to and prioritizing the voices of certain demographics, is infantilizing or threatening to other demographics' freedoms.
On the other hand, many young liberals understand that political correctness is an important part of the process of giving respect to groups that have been and are still systematically oppressed. This political correctness can take the form of prioritizing people of color's voices, or calling out offensive speech—even, or especially, when it's the product of ignorance, or when it's conducted out of earshot of the people it might hurt.
What Toni Morrison Knew: Political Correctness and Free Speech Can Be the Same Thing
What we all need to understand is that, among other things, the left's internal war over political correctness and free speech actually presents a chance for generations to learn from each other. Defenders of political correctness might realize that sometimes, accidentally offensive language can present a valuable educational opportunity—though this is definitely not always the case, and no one should be required to educate others about why they deserve basic respect.
Older proponents of free speech, for their part, can realize that political correctness, safe spaces, and the like ultimately come from places of compassion. At their core, they are efforts to achieve a more equitable world.
Perhaps it's too starry-eyed to imagine that older allies could learn from younger people who refuse to accept middle-of-the-road policies or veiled racism, but some older people have certainly embraced progressive worldviews. "Oppressive language does more than represent violence; it is violence; does more than represent the limits of knowledge; it limits knowledge," said Toni Morrison in a 1993 address about political correctness. Morrison, whose wisdom stretched far beyond the blind spots of her generation, was a supporter of what political correctness stands for, though not of the implications of that specific term. In a later interview, she added, "I believe that powerful, sharp, incisive, critical, bloody, dramatic, theatrical language is not dependent on injurious language, on curses. Or hierarchy."
In short, freedom of speech is not contingent on the ability to use offensive language. We can be free—in fact, we can only be free—when all of us are free, which will only happen when language that demonizes or injures certain groups is purged from acceptable discourse.
Ironically, the book we were discussing that day in my postmodernism class was Morrison's Beloved.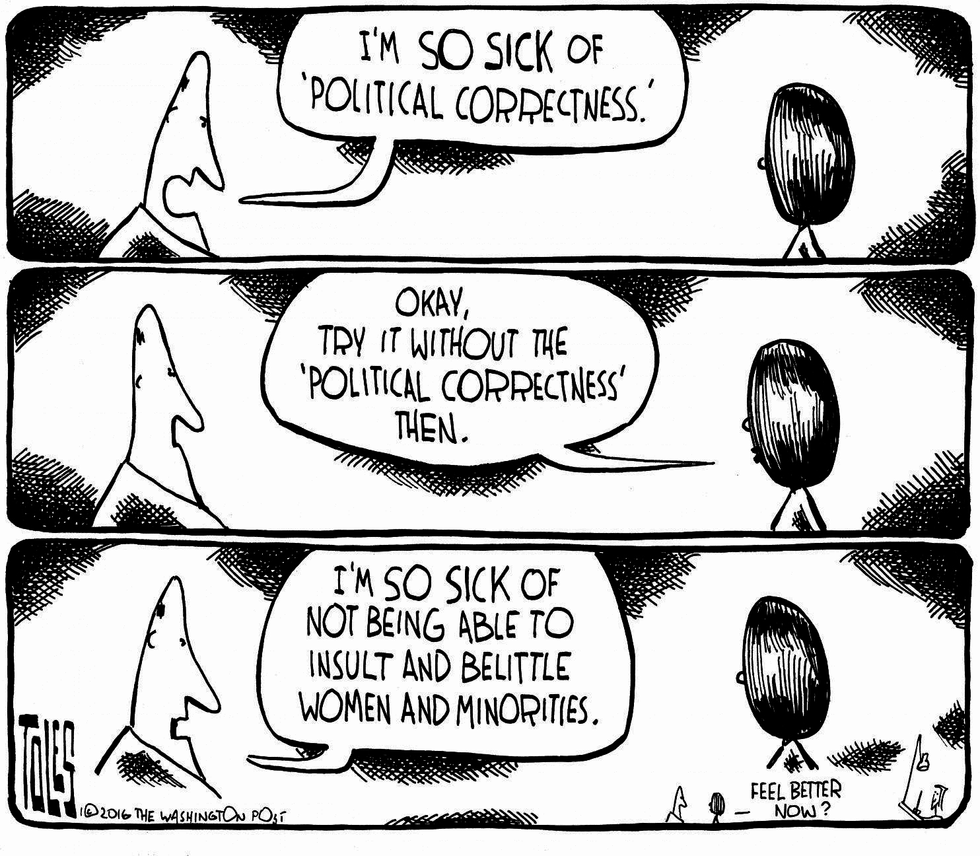 Image via the Washington Post