Dall-E Mini, the AI-powered text-to-image generator has taken over the internet. With its ability to render nearly anything your meme-loving heart desires, anyone can make their dreams come true.
DALL-E 2, a portmanteau of Salvador Dali, the surrealist and Wall-E, the Pixar robot, was created by OpenAI and is not widely available; it creates far cleaner imagery and was recently used to launch Cosmpolitan's first AI-generated cover. The art world has been one of the first industries to truly embrace AI.
The open-sourced miniature version is what's responsible for the memes. Programmer Boris Dayma wants to make AI more accessible; he built the Dall-E Mini program as part of a competition held by Google and an AI community called Hugging Face.
And with great technology, comes great memes. Typing a short phrase into Dall-E Mini will manifest 9 different amalgamations, theoretically shaping into reality the strange images you've conjured. Its popularity leads to too much traffic, often resulting in an error that can be fixed by refreshing the page or trying again later.
If you want to be a part of the creation of AI-powered engines, it all starts with code. CodeAcademy explains that Dall-E Mini is a seq2seq model, "typically used in natural language processing (NLP) for things like translation and conversational modeling." CodeAcademy's Text Generation course will teach you how to utilize seq2seq, but they also offer opportunities to learn 14+ coding languages at your own pace.
You can choose the Machine Learning Specialist career path if you want to become a Data Scientist who develops these types of programs, but you can also choose courses by language, subject (what is cybersecurity?) or even skill - build a website with HTML, CSS, and more.
CodeAcademy offers many classes for free as well as a free trial; it's an invaluable resource for giving people of all experience levels the fundamentals they need to build the world they want to see.
As for Dall-E Mini, while some have opted to create beauty, most have opted for memes. Here are some of the internet's favorites:
There's no looking back now, not once you've seen Pugachu; artificial intelligence is here to stay.
Massachusetts senator Ed Markey might look like your average outdated boomer, but make no mistake—Markey is a legend.
Markey may be 74 years old, but he's been fighting the good fight for a long time, serving as one of the most progressive members of Congress for over four decades. He co-sponsored the Green New Deal alongside Alexandria Ocasio-Cortez and Bernies Sanders, strongly advocates for single-payer healthcare, and believes in preserving an open Internet. In short, this dude is the real deal.
But let's face it: Leftists generally skew younger; and as such, we tend to gravitate towards other younger people who share the same progressive ideals and sensibilities that we do. You know: Eat the rich, save the world.
Enter Markey's primary challenger in the battle for Senate: 39-year-old Joe Kennedy, the grandnephew of President John F. Kennedy, with a net worth upwards of 43 million dollars. Wait, what? When we said we wanted younger progressives in congress, we weren't really talking about privileged failsons.
In fairness to Kennedy, his stated policies are actually pretty progressive and he also supports the Green New Deal. At the same time, it's baffling why he would choose to run against Markey when Markey is already one of the most respected, proven progressive voices in the Senate. As such, Markey has picked up endorsements from fellow big-name progressives like AOC, more moderate progressives like Elizabeth Warren, and major progressive organizations like Sunrise Movement.
But age is a big deal for a lot of voters, and in a race between a 39-year-old Kennedy heir and a 74-year-old incumbent, it didn't come as a huge surprise that Kennedy boasted an early double-digit lead.
Except here's the thing: Markey isn't just some boomer. He's an old Boston dad-style boomer, and oh man, this guy can dish it out.
See, Joe Kennedy, in spite of all of his supposedly progressive values, has a good deal of Super PAC money in his corner. That money is largely being used to air a constant stream of attack ads against Markey, and as it turns out, the Super PAC also happens to be run by Joe Kennedy's twin brother, Matthew Kennedy, and potentially funded by his father, Joseph P. Kennedy II.
Markey uses this connection to—there's really no better way to put this—spank the sh!t out of Joe Kennedy in the middle of a debate.
"My question is this: Is your father funding that Super PAC that is attacking me right now?" asks Markey.
"No clue. No idea," replies Kennedy.
"I'm sure your father's watching right now," says Markey. "Tell your father right now that you don't want money to go into a Super PAC that runs negative ads. Just tell your twin brother and tell your father you don't want any money to be spent on negative ads in Massachusetts in 2020 in the era of Donald Trump."
"I've said that multiple times," stammers Kennedy. Markey just keeps going.
"Have you told your father that? Have you said it to your father?" he asks again and again.
Each utterance of "father" might as well be a dagger in Joe Kennedy's heart, as we watch Markey eviscerate his campaign in real-time.
Markey comes off looking like a warrior, and Kennedy a little boy.
And then, shortly after, Markey delivered a death-blow in the form of, quite possibly, one of the best campaign videos ever made.
Ed Markey, playing a slowed down version of the same Nine Inch Nails "34 Ghosts" sample used in "Old Town Road," drums up John F. Kennedy's most famous words: "Ask not what your country can do for you – ask what you can do for your country."
Markey re-contextualizes this sentiment within the era of Trump's administration: "We asked what we could do for our country, they looked for what they could take. But there's a truth written in every history book. If you break the sacred contract, the people make a revolution." Cut to mass protests for Black Lives Matter and the American people demanding a "new deal."
Next, Markey plays old footage of his younger Congressional campaigns—pro-unions, freezing the arms race, and recently, backing the Green New Deal. He's indisputably a man of the people in opposition to the ruling class.
Then comes the clincher: "We asked what we could do for our country. We went out. We did it. With all due respect, it's time to start asking what your country can do for you."
Yes, in a race against a privileged, multi-millionaire Kennedy heir, Markey used JFK's legacy to empower the working class against jingoistic imperialism. Bravo.
Well, Gen Z took notice. Ed Markey is a true, bona fide cool boomer.
Markey's Senate re-election prospects have shifted dramatically since the start of the race. He now boasts a double-digit lead over Kennedy, with vast majority support amongst younger voters and an entire meme campaign behind him. One Esquire article said that he was "Closing the Massachusetts Senate Race Like F*cking Secretariat."
Ed Markey has sneaker game.
Ed Markey has girls Tik Tok dancing for him.
Ed Markey has hot girl energy.
Ed Markey even has some moms certified simping for him.
So, yeah, you could say that Ed Markey is proving that even boomers can be pretty cool. Don't let his efforts go to waste. If you're a boomer in Massachusetts, you can be cool, too.
Keep reading...
Show less
Even though some Millennials are almost forty, people are still bashing them.
Last year the New York Post ran an article about Millennials making up the largest portion of the American workforce, ignoring a glaringly obvious point: of course 22-37 year olds are the largest portion of the labor market; they're adults. In an effort to make a distinctly un-newsworthy article newsworthy, the Post settled on an old trope, pick on the Millennials. For its part, this article wasn't as bad as most. The author refrained from using words like "entitled" and "coddled" and "irresponsible," but there's still a certain connotation attached to the term Millennial, particularly in the way it pertains to work ethic and maturity. Repudiating a stereotype often doesn't have the desired effect; in fact, it has a tendency of validating the stereotyper.* That said, my editor's asked me to dissect the maelstrom of insults and unfair generalizations that surround my generation, so here it goes.
In order to parse the general themes of Millennial bashing from the tsunami of bull shit that's been thrown our way, it's important to acknowledge how it all started. In many ways, a lot of the Millennial-centric ire feels natural. Baby Boomers hated Gen Xers. WWII Vets were critical of Boomers. There's always been something decidedly adversarial about the relationship between a young generation and their parents. This is fine. It's one of the many growing pains associated with being a young professional. The strange thing is how long this anti-Millennial sentiment has lasted. Complaints about young folks usually stop before those young folks are forty.
One theory about Millennial bashing's longevity is that it's a symptom of the economic anxiety created by the financial crisis of 2008. Parents had already been lambasting Millennials for being entitled and not wanting to sacrifice their twenties to careers paths they weren't interested in and didn't respect. Boomers were more concerned with being pragmatic, while Millennials wanted to find meaning in their work. Naturally, this caused friction. Still, there was nothing out of the ordinary. At this point, Millennials were college and high school students.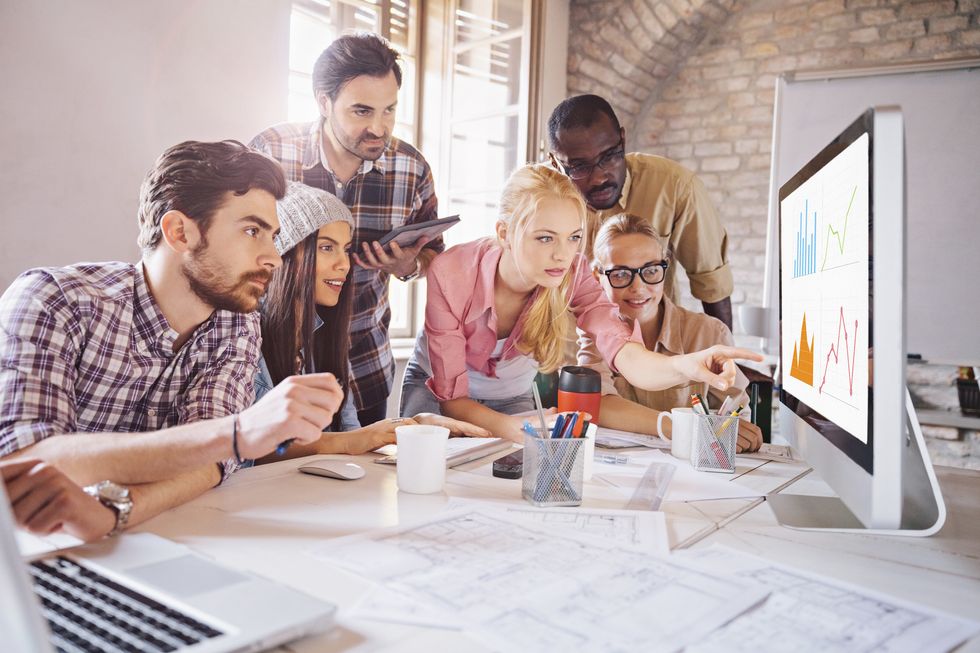 We're just gathering around a single computer monitor to check out some sweet graphs. You know, millennial stuff.
Following the Great Recession, however, this friction was compounded, as Boomers and Gen Xers everywhere lost pensions and 401ks, and their supposedly 'safe' jobs went up in smoke. When slapped in the face by reality, Boomers realized that sacrificing the best years of their lives to jobs they hated yielded very few tangible results. They were understandably upset. There's plenty of pop psychology out there that'll tell you people hate being wrong, but when by virtue of being wrong, their entire life is called into question, something interesting happens. Back in the 50s, a study was done on a doomsday cult in Chicago. The cult predicted that a massive flood would destroy the West Coast of the United States and that flying saucers would rescue the chosen believers before the cataclysm struck. Obviously, it never happened. Strangely, after the prophecy failed, rather than admitting they'd been duped, folks in the cult doubled down on their beliefs, assuming that their prayers had been answered by God and that he decided to spare the planet on their behalf.
Applying similar logic, Boomers, rather than admitting that the system they'd bought into wasn't really looking out for their best interest, doubled down, intensifying their rhetoric against lazy and entitled Millennials. Inasmuch as all invectives are projections of a speaker's insecurities, Boomers and Gen Xers are really saying one of two things when they blindly lash out. One: they made the wrong choices when they were young, and feel they missed The Road Not Taken. Two: they feel that they didn't work hard enough to inoculate themselves from the effects of our failing economy. The former is sad. The latter is terrifying.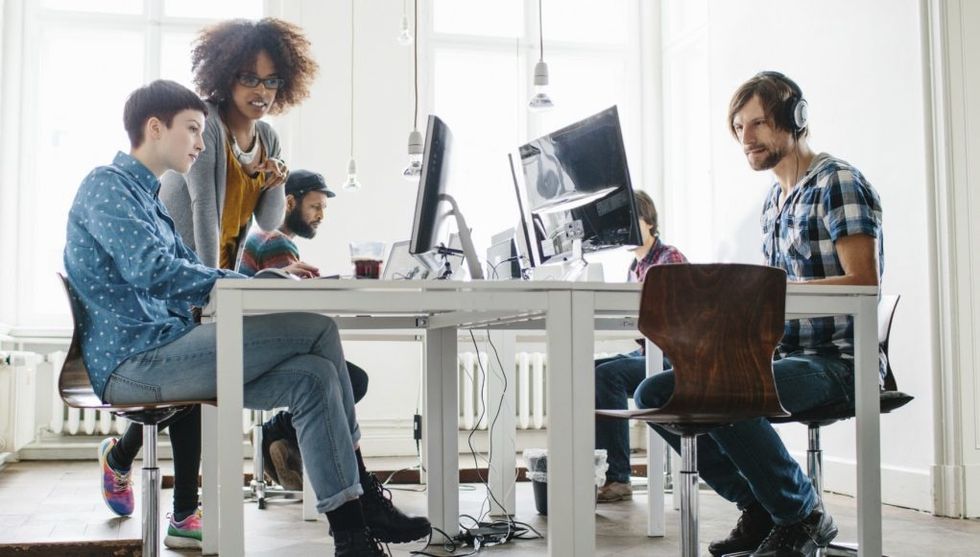 Millennials don't care about dressing up for work.
Another way to look at this issue is via the lens of corporate America. As pointed out by Tucker Max**, the corporate formula is simple: sacrifice youth in exchange for status and financial security. The problem is, status is only worthwhile if people believe in the power structures it's attached to. Money certainly still commands respect, but middle managers aren't exactly rolling in it. With this in mind, it's easy to look at Boomers' Millennial fixation as an obsession with preserving the status quo (pun intended). In their world, being respected can feel like the end all be all of adult life. If Millennials don't buy into the existing systems of power, then the prestige Boomers have strived for is meaningless.
There's always a disconnect between generations, but the way in which Millennials have been used as scapegoats for economic issues is beyond the pale. Many of us own homes and have families already. Some of us are prominent business owners. If 1996 is a strict cutoff, then this coming school year will be the last college graduating class primarily comprised of Millennials. We're adults, in every sense of the word. Still, the stereotypes attached to Millennials have persisted, and while I've discussed the hows and whys, I haven't directly addressed the crimes my generation is accused of.
Here's a shortlist of refutations:
-Millennials are not as addicted to their phones as Boomers and Gen Xers.
-Millennials do not want participation trophies. Those were invented to coddle and reassure parents that their children are special. I have a box of them at home. They mean nothing to me.
-Every generation since the Boomers has been called "The Me Generation."
-Millennials aren't stupid. They're the most educated generation ever. Full stop.
-Millennials aren't lazy or entitled. We just won't work for less than what we're worth. Anyone who thinks refusing to work for free is an entitlement, has no spine.
-Our debt is not due to a lack of fiscal responsibility. Boomers destroyed the economy, and we're shouldering 1.2 trillion dollars in student debt because we were taught that higher education is a prerequisite to success in this country.
---
* This is because discourse is predicated on the idea that each side of an argument has merit. A potential side effect of debate, however, is the creation of a neutral center, a nebulous region in which values from either end of the discussion are combined and redefined ad infinitum. Often, the center is painted as the domain of the rational thinker, the one who can clearly see both sides of an argument. The problem is, in a debate with, say, a neo-nazi, the center must by this definition, at least partially endorse certain ethno-fascist ideals. In this way, the creation of an ideological middle ground always benefits the more radical opinion.

**Listen...I know. I didn't see the author until after I read the article, but it makes some pretty good points. Yes, his books are still bad.
---
Matt Clibanoff is a writer and editor based in New York City who covers music, politics, sports and pop culture. His editorial work can be found in Inked Magazine, Popdust, The Liberty Project, and All Things Go. His fiction has been published in Forth Magazine. -- Find Matt at his website and on Twitter: @mattclibanoff
Keep reading...
Show less