"A tree is best measured when it is down," the poet Carl Sandburg once observed, "and so it is with people." The recent death of Harry Belafonte at the age of 96 has prompted many assessments of what this pioneering singer-actor-activist accomplished in a long and fruitful life.
Belafonte's career as a ground-breaking entertainer brought him substantial wealth and fame; according to Playbill magazine, "By 1959, he was the highest paid Black entertainer in the industry, appearing in raucously successful engagements in Las Vegas, New York, and Los Angeles." He scored on Broadway, winning a 1954 Tony for Best Featured Actor in a Musical – John Murray Anderson's Almanac. Belafonte was the first Black person to win the prestigious award. A 1960 television special, "Tonight with Belafonte," brought him an Emmy for Outstanding Performance in a Variety or Musical Program or Series, making him the first Black person to win that award. He found equal success in the recording studio, bringing Calypso music to the masses via such hits as "Day-O (The Banana Boat Song)" and "Jamaica Farewell."
Harry Belafonte - Day-O (The Banana Boat Song) (Live)www.youtube.com
Belafonte's blockbuster stardom is all the more remarkable for happening in a world plagued by virulent systemic racism. Though he never stopped performing, by the early 1960s he'd shifted his energies to the nascent Civil Right movement. He was a friend and adviser to the Reverend Doctor Martin Luther King, Jr. and, as the New York Times stated, Belafonte "put up much of the seed money to help start the Student Nonviolent Coordinating Committee and was one of the principal fund-raisers for that organization and Dr. King's Southern Christian Leadership Conference."
The Southern Poverty Law Center notes that "he helped launch one of Mississippi's first voter registration drives and provided funding for the Freedom Riders. His activism extended beyond the U.S. as he fought against apartheid alongside Nelson Mandela and Miriam Makeba, campaigned for Mandela's release from prison, and advocated for famine relief in Africa." And in 1987, he received an appointment to UNICEF as a goodwill ambassador.
Over a career spanning more than seventy years, Belafonte brought joy to millions of people. He also did something that is, perhaps, even greater: he fostered the hope that a better world for all could be created. And, by his example, demonstrated how we might go about bringing that world into existence.
In February we celebrate Black History Month in America.
For the entire month, we commemorate the vast contributions from Black people who have impacted society here and abroad. After all, we are responsible for countless inventions and innovations in art, science, athletics, business, and activism, contributions that often get overlooked because of our country's pervasive legacy of racism.
Black History Month may also be the only annual instance that this country comes close to acknowledging its racist heritage. The brilliance that Blackness has provided modern-day society is, unfortunately, also rooted in hatred and exclusion.

Recognizing the creations shaped by the hands of Black people means examining the oppressive infrastructures that sparked their genius. One of those infrastructures is slavery.
The mention of slavery prompts various reactions amongst white people. Some declare it to be our country's greatest shame, while others act as if it never happened. If the latter admits to its existence, it's to admonish others for "living in the past."
The celebration of Black History Month and the acknowledgment of slavery go hand in hand. Although a vast majority of Black History itself isn't a direct result of slavery, its ramifications are certainly a factor.
For instance, Martin Luther King Jr'.s vaunted legacy hinges upon his fight against racism and segregation. His peaceful marches and resounding speeches became the introduction to Black History and the Civil Rights Movement for most children in elementary schools across the country.
King is a lauded American hero for his fortitude. But his battle with a racist system is often romanticized. His reimagining sees him as a man standing up for his beliefs instead of a victim of a hateful construct who was forced to rise up against his oppressors.
The irony resides in Black people being labeled as world-changers and trailblazers in the eyes of history but only being allowed to access a small portion of it in order to apply their craft.
Similarly, Black people becoming a dominant force in sports and entertainment hasn't been without their share of obstacles. Unlike today where they have access to a worldwide audience to entertain, Black musicians and athletes' sole audiences used to be people who looked like them.
Sports pioneer Jackie Robinson made history as the first Black man to play professional baseball. His breaking of the color barrier instituted a new day in American sports, but the country's prejudicial temperament remained the same. Robison received death threats from angry white fans, players, and even owners.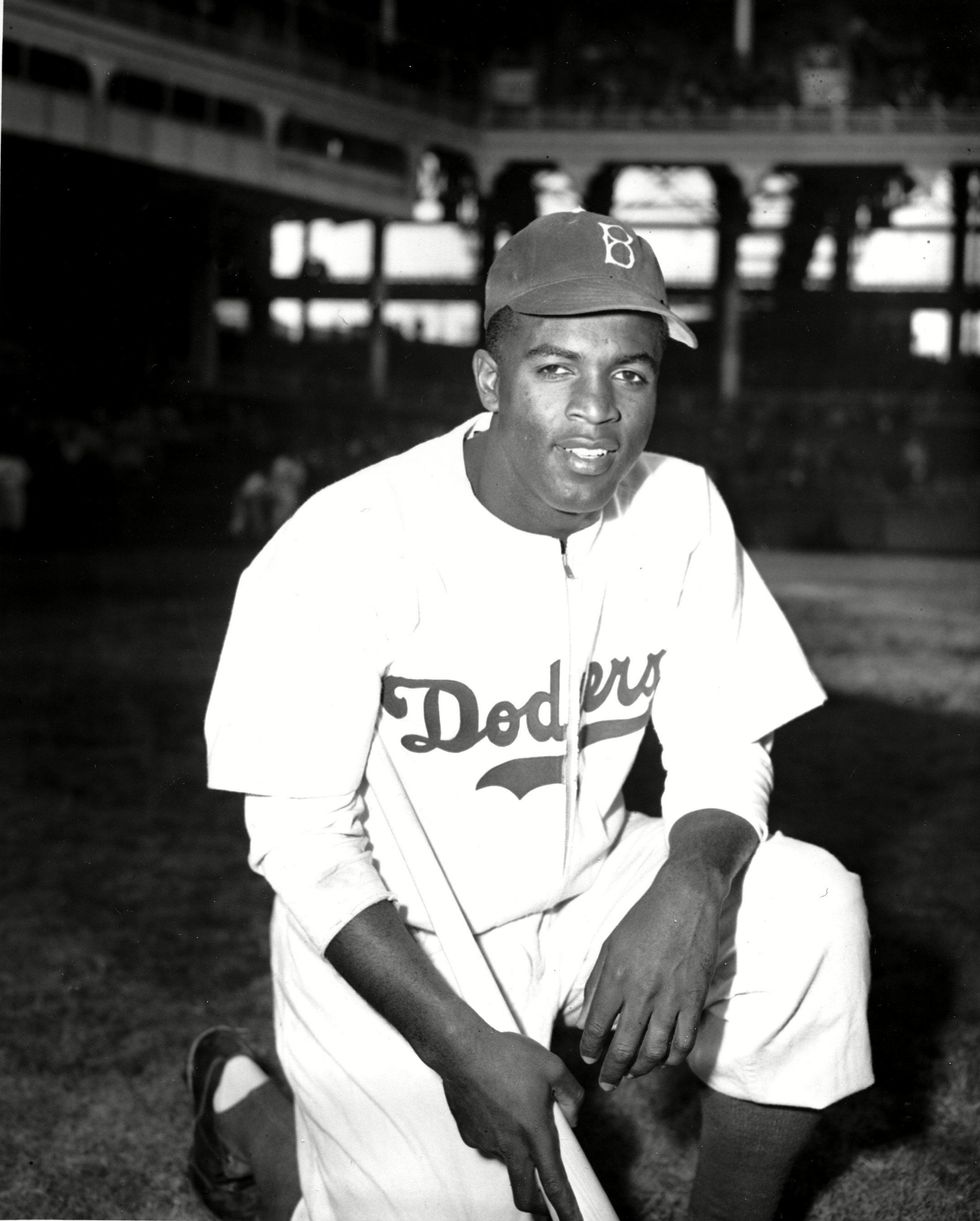 Robinson Jackie Robinson of the Brooklyn Dodgers poses at Ebbets Field in the Brooklyn borough of New York. John Rooney/AP/Shutterstock
Furthermore, musicians like Chuck Berry and Muddy Waters, who are pioneers of Rock and Roll, are credited with inspiring The Rolling Stones and Eric Clapton. But during the '50s, their sound was classified as "race music." Conversely, that same "race music" was acceptable when taken and repurposed by white artists.
They and others like them persevered in the face of adversity to open doors for Black people today. Their struggles are reminders of the resiliency of Black people that changed the world and the unnecessary roadblocks they had to overcome to do so.
The observance of Black History Month in today's racial climate in America feels insincere. When entities are dedicated to oppression the other 11 months of the year, it's hard to believe their calls for racial unity in February
We voice our grievances about the government and law enforcement's wanton negligence daily, only to hear how stuck in the past we are as a race. Yet, that same past is responsible for the evolution of civilization as we know it today. Without Black people, America would not be the culturally rich place it is today.
Still, many feel sentiments like "Black Lives Matter" are radical movements, when in actuality they are an ever-present reminder of the conditions Black people had to navigate to pull off these incredible feats.
America cannot sincerely immerse itself in the celebration of Black History Month until it confronts its history. Racism is the beating heart beneath the floorboards of privilege. But as the beating grows louder, our country continues to disregard its pulse.
For too long we've been told that "Black" politics would scare away moderates
First thing's first: I need white people to stop treating Stacey Abrams like their savior.
Deification, a form of dehumanization, strips a person of their humanity and turns them into a symbol. By overhyping Stacey Abrams, white people assert their goodness on the back of a Black woman, trying to be woke by association.
While Abrams deserves much praise, we cannot continue to place superhuman expectations upon her. We also cannot act like she was solely responsible for discovering a secret to turning Georgia blue. The reality is that Stacey Abrams worked tirelessly alongside other dedicated organizers to address the voter suppression Black people have been fighting in Georgia for decades.
So why haven't democratic politicians done this before? Obama did, campaigning at a grass roots level and counting on disenfranchised voters. But he was Obama, people might say, of course Black people will vote for him. The "Black vote" in political discourse is treated as an ineffable mystery and often discarded as impossible to count on. Black people just don't vote, politicians say, then focus their attention elsewhere.
So when the Black vote (alongside other BIPOC demographics such as the historic voter turnout of Indigenous populations in Arizona) undoubtedly delivered the 2020 election to the Democrats, then did the same for the House in the Georgia run-offs, everyone was talking about Stacey Abrams in a way a little too reminiscent of how the dad talked in Get Out.
But the election results revealed that Black voters are in fact the key to the Democratic Party's success. When is the Party going to start acting like it?
All through the election year, Democrats were convinced that playing it safe was the key to defeating Trump.
By electing Biden as the nominee instead of more "radical" Democratic candidates like Bernie Sanders or Elizabeth Warren, the DNC were adamant that the game plan was to appeal to white moderates — which meant not scaring them away.
So while Biden picked Harris, a biracial Black and Indian woman, as his Vice President, their campaign strategy was to hover around the center and appeal to white voters who somehow just weren't sure who to vote for yet.
Meanwhile, the country was going through a period of major racial protest. Black Lives Matter protesters spent the summer appealing for an end to police brutality, for legislative protection, for defunding the police and reexamining the carceral system in light of its racist roots.
And though there were some tweets and statements from major Democratic politicians in response to the murder of George Floyd, as well as that super embarrassing thing with the Kinte cloths, the sentiment remained that actually addressing the demands of protestors would be too risky and scare away the nice white voters.
Well, the nice white voters went for Trump.

Exit polls showed that 58% of white voters voted for Trump — an increase from the 2016 election. And while Trump made percentage gains with Black men, Black people overwhelmingly voted for Biden. And in key cities in key states, Black voters having the agency to vote in the presidential election and in the Georgia Senate races was instrumental in the Democratic wins.
The numbers speak for themselves. In his election speech, Biden even thanked Black voters for being instrumental to his victory. But Biden's main message was one of healing — not for marginalized groups who suffered most under the Trump presidency, but for … "the soul of America"?

Biden's speech seemed to focus on restoring party communication, going back to his comfortable place in the center and telling us (while invoking Langston Hughes in his references to "dreams deferred") to join him.
For many Black voters, moving to the center looks like regression. Again, the Democratic rhetoric was one that appealed to white moderates, to appease their concerns and placate their nerves after a year of proverbially "difficult" conversations and "reckoning."
But for Black Americans, the most difficult thing is being constantly gaslit — being told by a party which claims to care about us that fighting for our concerns (read: our lives) is too much, too difficult, too frightening.
In response to the calls to defund the police, many major Democrats were quick to dismiss the movement. Biden himself said that he did not want to defund the police. "I support conditioning federal aid to police based on whether or not they meet certain basic standards of decency and honorableness," he said instead, again appealing to vague notions of morality rather than actionable policy.
Even Black politicians took up this rhetoric. South Carolina Representative and major Civil Rights activist James Clyburn said that "nobody is going to defund the police," and that "police have a role to play." His plea was against "sloganeering," claiming that pleas like "Defund the Police'' would undermine the movement and lose the election.
Barack Obama said something similar (thanks, Obama): "If you believe, as I do, that we should be able to reform the criminal justice system so that it's not biased and treats everybody fairly, I guess you can use a snappy slogan, like Defund the Police, but, you know, you lost a big audience the minute you say it."
These sentiments are the work of years of conditioning that expects Black people to acquiesce to white audiences, to settle for banal "reform" and "slow, steady change" instead of radical action. They are examples of respectability politics and tone policing that reinforce the idea that Black folks are a liability, harming our own progress by scaring away potential allies.
But we're tired of it.
In the wake of the dismissal of BLM slogans, many major progressives also spoke out. Representative Ilhan Omar responded to Obama's comment in a tweet, saying: "We lose people in the hands of police. It's not a slogan but a policy demand. And centering the demand for equitable investments and budgets for communities across the country gets us progress and safety."
We lose people in the hands of police. It's not a slogan but a policy demand. And centering the demand for equitabl… https://t.co/fh8ftnTR7t

— Ilhan Omar (@Ilhan Omar) 1606872699
Her response points out the danger in the quick dismissal by these politicians: too focused on how the slogan sounds, they fail to address the policy changes it calls to action and continue to support a system of policing which currently exists in a fundamentally oppressive structure. Reform is not enough, complete restructuring and radical change is the only answer.

Most Black Americans do not have the privilege of not understanding this. And, after delivering the election to Biden and the Senate, we want recognition.
We want to no longer be the big scary thing that Democrats are afraid of. We want to be taken seriously, and we want our demands to be met, our communities to be prioritized, and our people to stop dying at the hands of the state.
Black voters do not appear magically to deliver democracy if white people click their heels, repost an infographic, and say, "Stacey Abrams" in the mirror three times. The Black Vote is a collection of diverse, real people who are tired of being treated like a liability, a threat to the party they have always been loyal to.
It's time the party returned the favor — pointing out the obvious transgressions of the (soon) past administration will not be enough. With a blue senate, Biden has the opportunity to be bold, to enact real change for the communities who showed up for him, despite his own flaws and a year spent turning his back to us for the sake of white voters who did not.
We looked for 2020 to be the year of Exodus from all of the strife of the previous decade(s). But, it seems that we might have to endure a few more plagues before we see the Promised Land.
2020 was supposed to usher in a decade of change and elevation. On December 31, 2019, personal and social resolutions were at the forefront of our minds as we collectively waited for midnight. For Black Americans exclusively, this was the hope that the atrocities from the 2010s in regards to race relations wouldn't accompany us. Still, it seems we've become more engrossed in the fight for our right to exist on several fronts.

The COVID-19 pandemic has caused an unprecedented paralysis in the world both economically and emotionally. Millions are without jobs, adequate health care, and engaged leadership. African Americans are the most impacted by the disease. As of June, there have been over 21,000 COVID-19 related deaths in the Black Community nationwide. Pre-existing health conditions and challenging living situations act as barriers preventing proper social distancing and protection/recovery. Though coronavirus is an unexpected nemesis for Blackness to combat, an old foe is still ever-present.
Currently, foreign and domestic protests and riots have erupted in response to the multiple deaths of unarmed Black men and women at the hands of law enforcement. The murder of George Floyd in Minneapolis, Minnesota, on Memorial Day has captured the world's attention. In an 8 minute and 46-second clip, America has yet another lifelong lasting image of an unarmed African American male screaming, "I Can't Breathe" - an unholy sequel to the video of Eric Garner uttering those exact words in 2014 as his life was brutally driven from his body.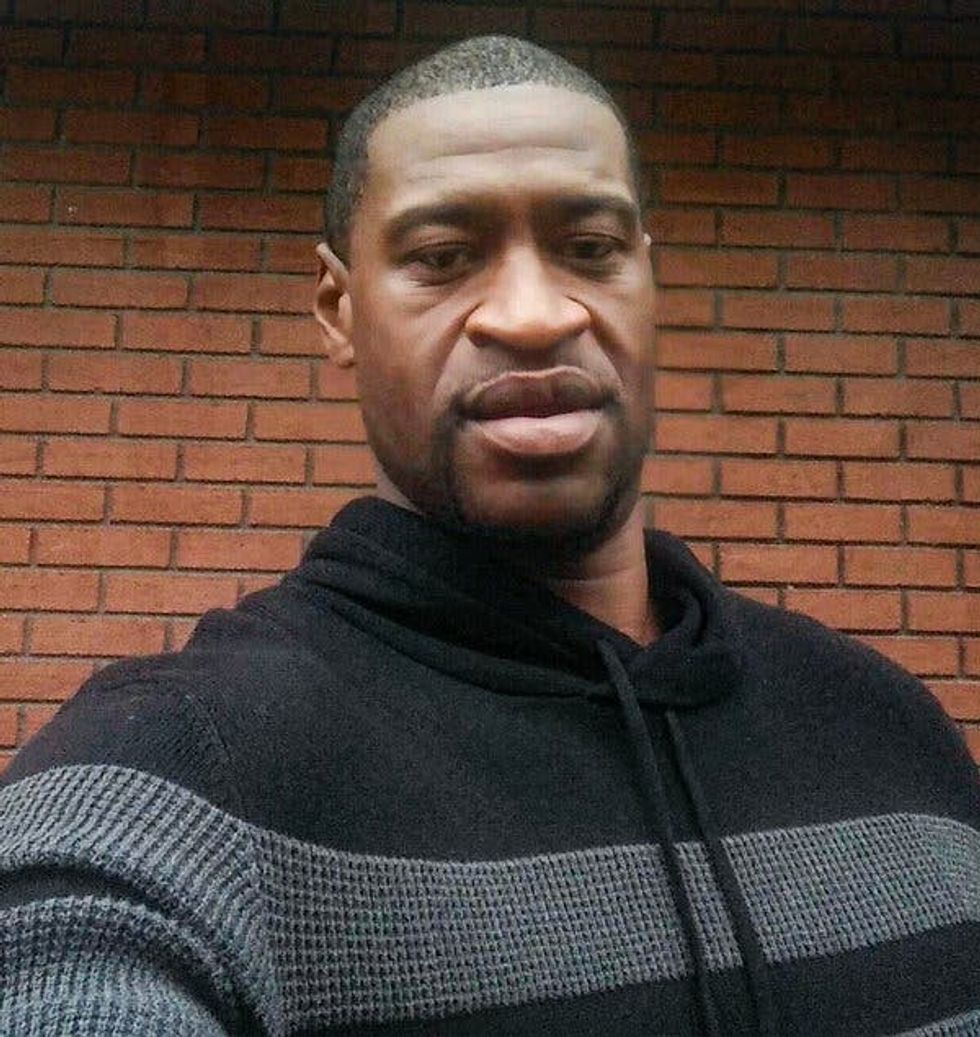 If Floyd's death was the explosion on a global scale, then Breonna Taylor's death was undoubtedly the fuse. Back in March, the 26-year-old Louisville EMT worker was fatally shot eight times when the Louisville Metro Police Department entered her home serving a no-knock warrant.

Overwhelming feelings of helplessness, anger and fear due to coronavirus, coupled with the recent murders at the hands of the authorities, have exacerbated our current temperaments. We are expected to adhere to the pleas of law officials and politicians to shelter in place and social distance when the particular cases of Floyd and Taylor indicate the antithesis of these requests when put into practice by the police.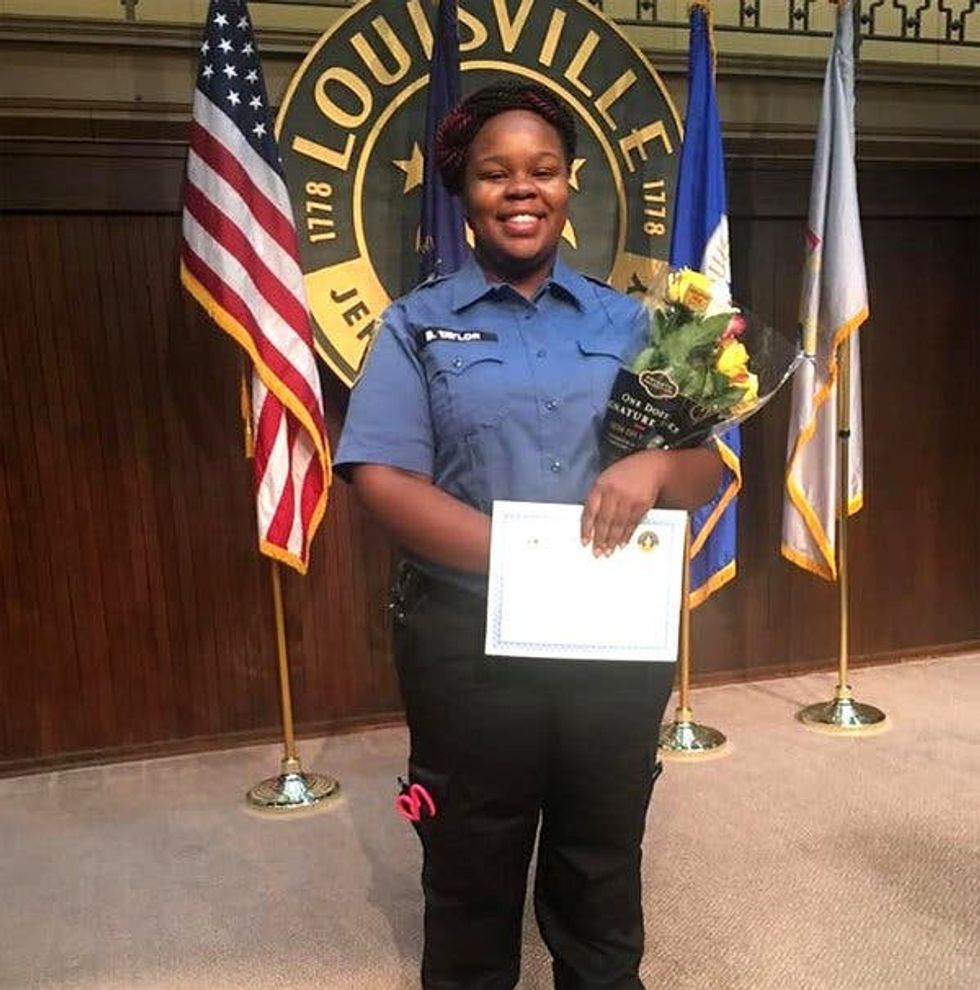 While dealing with a faceless adversary in COVID-19, African Americans remain engaged in an ongoing battle with a known opposition. Black people have become savants at juggling multiple issues of our survival. But balancing civil unrest and possible contagion simultaneously, and at this magnitude, is an ask that is too great - despite our resiliency.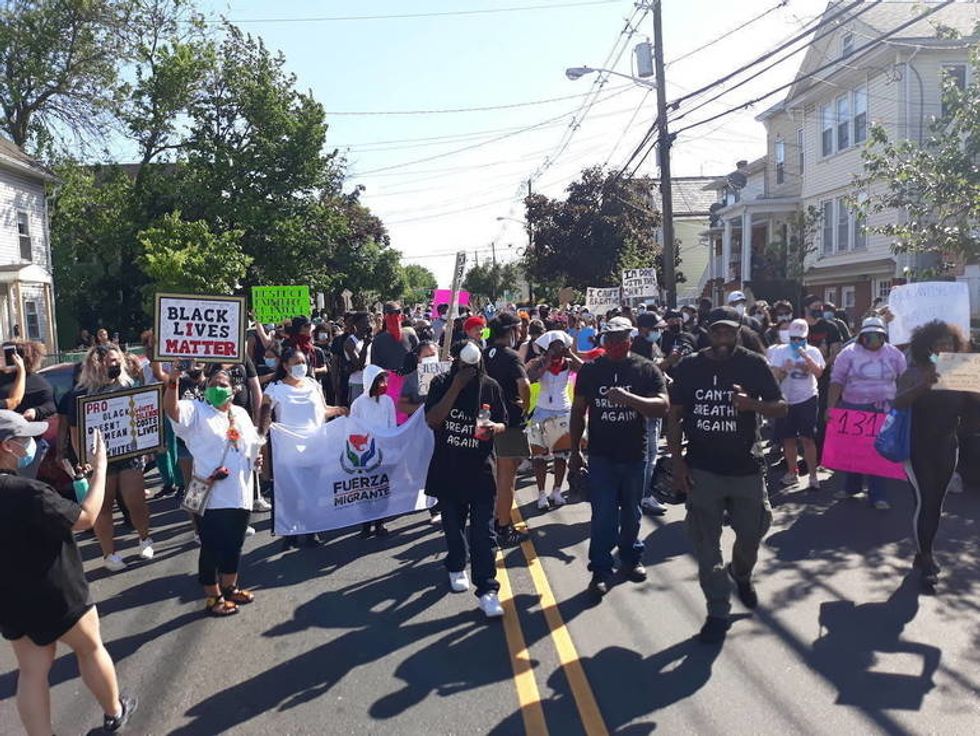 At the risk of further spreading coronavirus, the streets are running wild with rebellion. However, the sickness of racism, of injustice, is a pandemic that has been ever-present since this country's inception. We looked for 2020 to be the year of Exodus from all of the strife of the previous decade(s). But, it seems that we might have to endure a few more plagues before we see the Promised Land.

Dwayne "Deascent" Gittens is a Hip Hop artist, On-Air Personality, & Content Creator from The Bronx. Follow him on Instagram & Twitter @Deascent.
COVID-19 should not be a partisan issue.
Candace Owens, a right wing activist well-known for speaking out against anything any democrat does, took to Twitter today to share that she is actively spreading COVID-19.
Owens' tirade was triggered by an experience in Whole Foods in which her and her husband were asked to put on medical masks or otherwise cover their mouths. Apparently, Owens was unaware of D.C. Mayor Muriel Bowser's April 8 mandate requiring customers to "wear a mask or mouth covering" when shopping. According to Owens, this polite request to do her part in stopping the spread of a deadly virus is an indication that the country is "spiraling into tyranny."
Police enforcement @wholefoods? #coronavirus is spiraling into tyranny. https://t.co/EXA56c7ynJ

— Candace Owens (@Candace Owens) 1586893774.0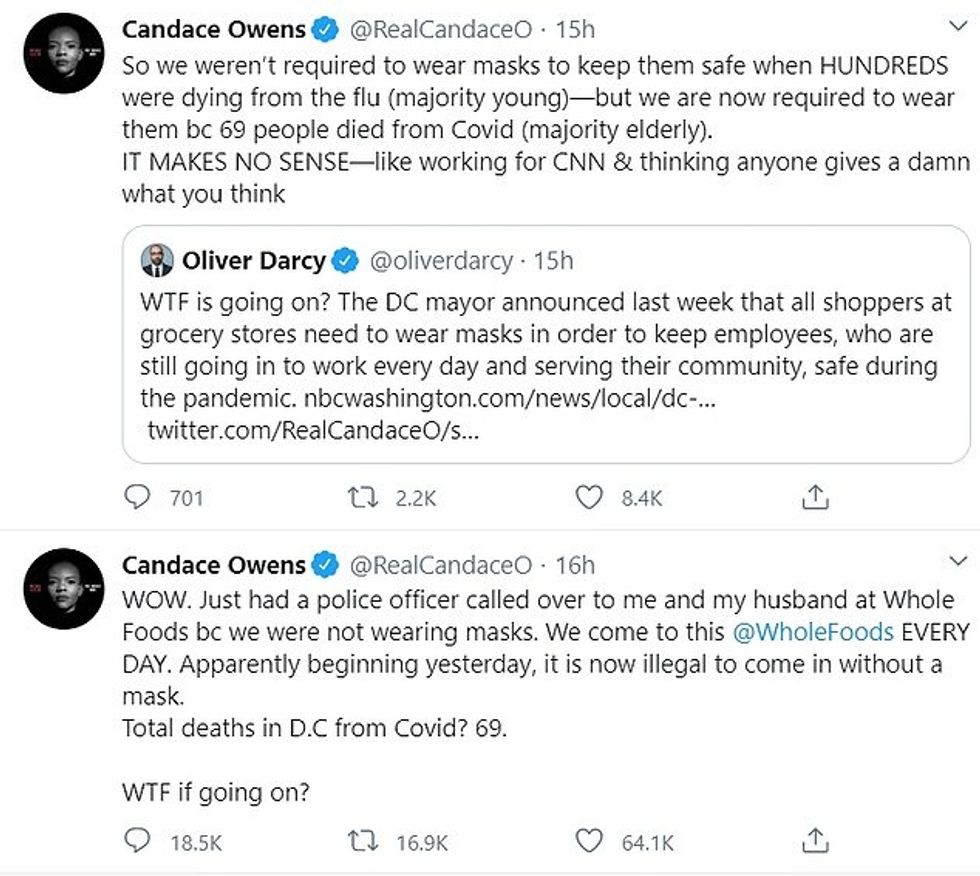 Owens said that she responded to the police officer by saying, "I don't have a mask. I haven't bought one."
She continued in the video, "I didn't race to buy toilet paper, I'm not a part of the corona crazies. I'm not a part of the tin foil hat, bunkering in my basement. I'm just living my life." The conservative activist went on to describe her and her husband being asked to hold their clothing up to their faces while shopping.
Owens' then went on to bemoan the coronavirus measures imposed in Washington DC, claiming there is "no empirical evidence to support the wearing of masks."

All of this would just be a matter of opinion (though one that seems rather insensitive to share at this time), if Owens didn't soon make it clear that mask-wearing isn't the only social distancing rule she is disobeying. She then began to tweet about the many times she had left the house recently for unnecessary reasons, each time risking spreading or contracting the deadly virus.
And to really clear my conscience, I'd like to also to confess that we stopped at the gas station to pick up propan… https://t.co/FmVvU7HqXQ

— Candace Owens (@Candace Owens) 1586966175.0
While Owens is correct that lockdown and social distancing is a nuisance, the selfishness of railing against restrictions put in place to save lives is truly astounding. Everyone agrees that it's a scary time in the United States, and we all know that it would be better if we could live our lives normally and run multiple unnecessary errands a day. Unfortunately, the reality is that we all have to work together to stay home and slow the spread of a deadly virus.
Of course, Owens isn't the first republican to treat social distancing as a nuisance or even as a democratic hoax. President Trump has implied that the Democrats are to blame for the flagging economy and even for the virus itself, all while threatening to reopen businesses well before experts advise. The fact that republicans have made COVID-19 a partisan issue only further points to the core ideology at the heart of the current administration: Selfishness.
Unfortunately, this is not some petty political issue we're talking about. If people like Owens continue to shirk social distancing rules, the cost will be measured in lives lost.