The coronavirus pandemic provides cover for crass political maneuvering.
April 28th was the original date for New York State's primary election.
Last month Governor Andrew Cuomo announced that it would be postponed until June 23rd, but on Monday the state's Board of Elections removed Bernie Sanders from the ballot, effectively cancelling the presidential primary for New York voters.
Sanders had previously suspended his campaign but was staying on the ballot in remaining elections in order to increase his delegate count and his leverage in shaping the party's platform at the Democratic National Convention this summer. A similar strategy in 2016 helped Sanders to reduce the sway of unelected superdelegates on the party's nominating process. Unfortunately for voters who wanted to support that strategy, a state law signed earlier this year allowed the board to remove Sanders from the ballot.
The official reasoning is that the election process would undermine the state's efforts to combat the coronavirus pandemic, which has hit New York City harder than anywhere else in the country. Given the new infections that resulted from Wisconsin's primary election on April 7th, no one can blame officials for being concerned, but many had assumed that the state would simply shift to an exclusively mail-in ballot process.
A charitable interpretation would say that there wasn't enough time to coordinate such a large-scale task, but that's not the whole picture. Whatever the logistical challenges of providing safe voting access to the all of New York's voters, state officials have made it clear that this move also served to prevent an embarrassing result for their preferred candidate and to defend the party orthodoxy against the demands of the country's young progressive movement.

"What the Sanders campaign wanted is essentially a beauty contest that, given the situation with the public health emergency, seems to be unnecessary and, indeed, frivolous."
That was what Co-Chair Doug Kellner said during a live stream announcing the board's decision. It's unclear what he might have meant by the "beauty contest" comparison, though perhaps it was a reference to the fact that the candidate he prefers looks really bad right now. With an increasingly credible accusation of sexual assault leading the trending hashtags #DropOutBiden and #BidenDropOut on Twitter in recent days, establishment insiders who favor Joe Biden's candidacy have a vested interest in treating the nomination like it's already decided. Kellner voiced that sentiment bluntly, saying, "I think it's time for us to recognize that the presidential contest is over,"
But it's not over. It's very rare for a candidate to have clinched the nomination this early in the process. Joe Biden could easily make up a face-saving excuse to drop out and make way for a candidate without his baggage. He is currently several hundred pledged delegates short of a majority, with nearly half the states still waiting to vote—Ohio's mail-in primary is taking place today. But even assuming that he stays in the race, the final delegate count remains a key way to shape the policy conversation at the convention. While Biden has a distinct lead over Sanders—to the point where even a major scandal like the Tara Reade allegations is unlikely to change the outcome—holding the election in some form would have allowed for New York's voter's to be heard.

As senior Sanders campaign advisor Jeff Weaver put it, "While we understood that we did not have the votes to win the Democratic nomination our campaign was suspended, not ended, because people in every state should have the right to express their preference. What the Board of Elections is ignoring is that the primary process not only leads to a nominee but also the selection of delegates which helps determine the platform and rules of the Democratic Party,"
New York, with its young, left-leaning electorate, represented Bernie Sanders' best remaining chance of adding to his delegate count. Now the Board of Election has undermined that chance and ensured that New Yorkers won't get a say at all. With a critical election coming up in November, and the future of our nation resting on our ability to oust Donald Trump, they found a surefire way to reinforce young voters' sense of distrust and dissatisfaction with the Democratic party establishment.
New Yorkers must wear masks when leaving their homes.
A new mandate that went into effect Saturday means New Yorkers now must wear a mask when leaving their homes.
Governor Andrew Cuomo signed an executive order last Wednesday stating that people in the state must wear a mask in situations where maintaining six feet of social distancing is less plausible, like going to the grocery store. Technically, this means you could still go to the park and sit alone, but masks are still ideal in order to help cease the spread of coronavirus.
It should also be emphasized that wearing face coverings doesn't replace the need for social distancing. You should still keep yourself a minimum of six feet apart from others.
Naturally, though, the mandate has been politicized by right-wingers who believe the government is infringing on their personal liberties. You know, the way they're infringing on the liberties of children of immigrant parents, or people who want to get a safe abortion.
Anyway—please stay inside, maintain social distancing, and don't forget your mask.
Whether he knows it or not, that is the effect of his rhetoric
In recent days protestors have gathered in Michigan, Ohio, and North Carolina to call on state officials to end social distancing and shelter-at-home requirements.
It's understandable. The economy is suffering under the strain of the COVID-19 quarantine. It has decimated the stock market and resulted in an unprecedented spike in unemployment, and people want to get back to their lives. They want to reopen the country, and so does President Trump—whose ardent supporters have been among the most vocal and visible protestors. He's worried that if this situation continues on his watch, the economic damage may hurt his chances at re-election, as businesses small and large suffer losses that threaten their very survival. Leaving aside the fact that reopening too early will result in worse economic damage, there is another group that doesn't seem to concern him as much and whose survival actually depends on continuing the quarantine: People. Hundreds of thousands of people.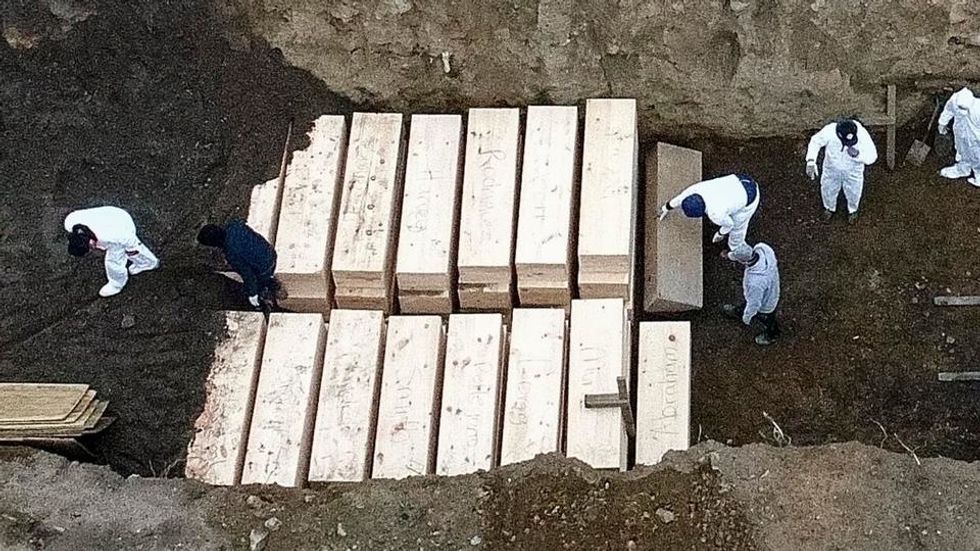 A mass grave in New York
So when Donald Trump was suggesting that "large sections of the country" could re-open for Easter, it was cause for concern. But with the impact of the pandemic still far from its terrifying peak in hotspots like New York city, it seemed likely that Donald Trump would back off his overly-optimistic stance—and he did.

That's often how things work with Donald Trump. He will make a show of how tough and no-nonsense he is with some dramatic posturing that seems to fly in the face of the experts and will then be cowed by behind-the-scenes efforts to make him see reason. Unfortunately for the country, most of his followers are not similarly attended to by an entourage of people trying desperately to steer them away from catastrophic idiocy. So now that Easter has come and gone and Donald Trump is continuing to hint that he may soon reopen the country—maybe even against the wishes of governors in individual states—chaos was bound to ensue.
While some of the protesters have remained in their cars—honking their horns and blocking the passage of at least one ambulance—others crowded together to scream their rejection of science in one proud voice and one shared cloud of breath.
For Donald Trump, the political effect of his latest hints and ambiguous comments about wanting to reopen the country and authorizing governors "to implement ... a very powerful reopening plan" while telling them, "You're going to call your own shots," is that he can have his cake and eat it too. While taking no direct measures to reopen the country amid continued medical advice to extend restrictions, he can still communicate to stir-crazy and cash-strapped supporters that he's doing everything he can for them and that maybe they should talk to their governors.

And that's just what they've been doing. In Michigan—where Operation Gridlock was so effective that even emergency vehicles couldn't get through—protestors directed their frustration at Democratic Governor Gretchen Whitmer, with chants of "Recall Whitmer" and "Lock her up." In North Carolina, at the ReopenNC protest, more than 100 angry citizens assembled to protest Governor Roy Cooper's stay-at-home order and to spread conspiracy theories that the COVID-19 death toll is being inflated—though the opposite is true.
In Ohio the scene was particularly disturbing, with dozens of protestors gathering at the statehouse in Columbus with Guy Fawkes masks, Trump hats, and signs reading "This is tyranny," and "Quarantine the sick not the Contitution [sic]." Eventually a group pressed close together against the locked glass doors to shout their feelings with no concern for social distancing.

What these people need is financial assistance that isn't delayed by politics or targeted at millionaires and massive corporations, as well as reassurance that the current approach is necessary and effective—that our leaders are unified in following the guidance of health experts. What they get instead, from Trump and top Conservative voices, is constant waffling and hedging about the cost to the economy and tacit endorsement of these dangerous protests.
Just as he has had every opportunity to decry violence done in his name, Donald Trump could end these protests. If he were open and honest about the fragility of our hospital system and our country's best hope of getting through this crisis intact, then he could quell much of this unrest and dispel false narratives equating this virus to the flu or car accidents. Instead he feigns careful consideration while effectively encouraging defiance that will inevitably result in more infections and more death.

Stay home and stay safe.
On Valentine's Day, Amazon pulled out of its plan to build a second headquarters in Queens, citing the efforts of citizen protestors and politicians who opposed its imminent arrival.
The moment Amazon announced that it would be building its second headquarters in NYC's Long Island City, people took to the streets.

On November 26th, a coalition of immigrant advocates and anti-HQ2 groups gathered to protest Amazon's involvement with ICE, Paladir, and other organizations responsible for deportations. Citizens marched again on Cyber Monday, launching a " day of action" and flooding an Amazon Bookstore in Manhattan, holding signs aloft and chanting sing-song rhymes about Jeff Bezos. Together, over two dozen community groups organized these protests, including local unions and nonprofits. Following the protests in Manhattan, Amazon workers employed in warehouses in Staten Island made the decision to unionize, citing low pay and impossible performance quotas, and leveraging Amazon's impending move to Queens to draw attention to their case.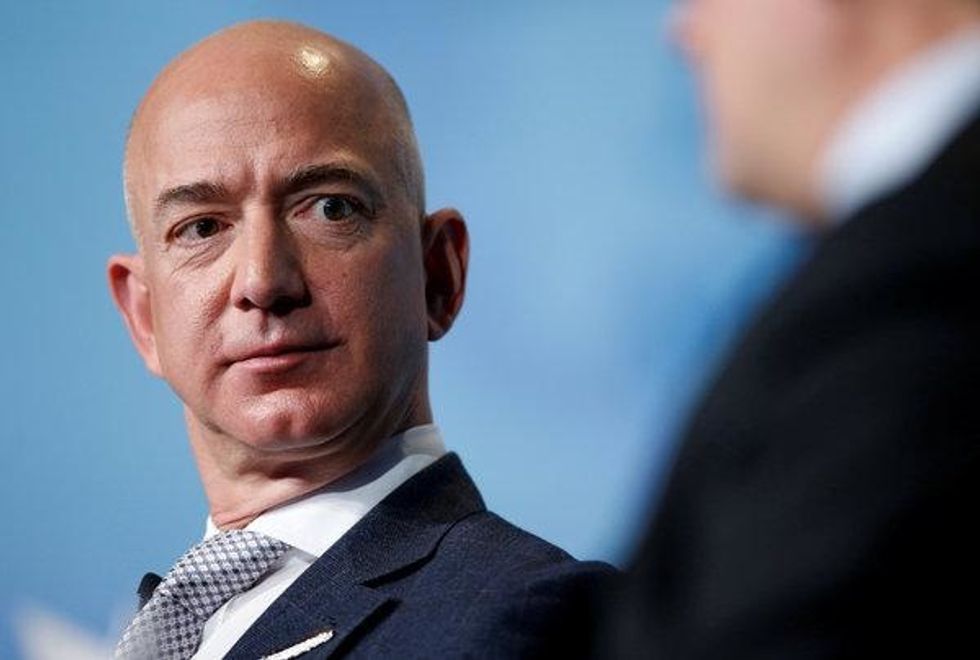 Image via The New York Times
Their protests attracted the attention of some of New York City's political officials, such as City Council Speaker Corey Johnson, who initially supported Amazon's entry but denounced it after learning more about the circumstances surrounding the deal. He began to stand with the protestors, complaining that a general lack of transparency and the fact that Amazon bypassed NYC's standard review process mandated further investigation.

In December, a public hearing was held at City Hall, and protestors gathered outside while council members grilled economists and officials who had been instrumental in making the deal with the world's most profitable corporation. "We are not in the business of corporate welfare here at city council," said Johnson.
It was this so-called corporate welfare—the $3 billion in government and tax incentives that Amazon was promised, in exchange for the 25,000 jobs it promised to create—that became the foundations of the anger stewing around the sales conglomerate's impending arrival, anger which resulted in Amazon's decision to pull out of its promise to develop a huge corporate campus in Queens.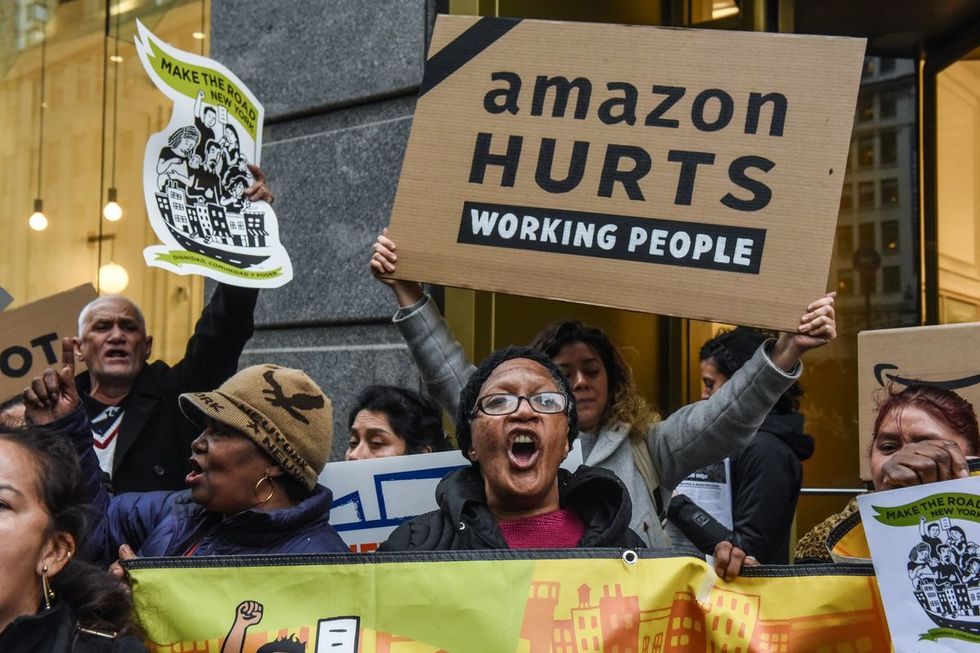 Image via Vox.com
The people's anger came from different places, and their protests were haphazard efforts, but their rage had been brewing for a long time, and Amazon's imminent arrival fed a variety of fears about corporate greed and pervasive gentrification, which opponents feared would tear apart places like Long Island City, sucking it clean of culture and community. Amazon's arrival was predicted to catalyze a wave of homelessness; the announcement that it was setting up shop in Long Island City was instantly followed by dizzying spikes in rent—chilling lower-income residents in a city already plagued by stretches of empty storefronts.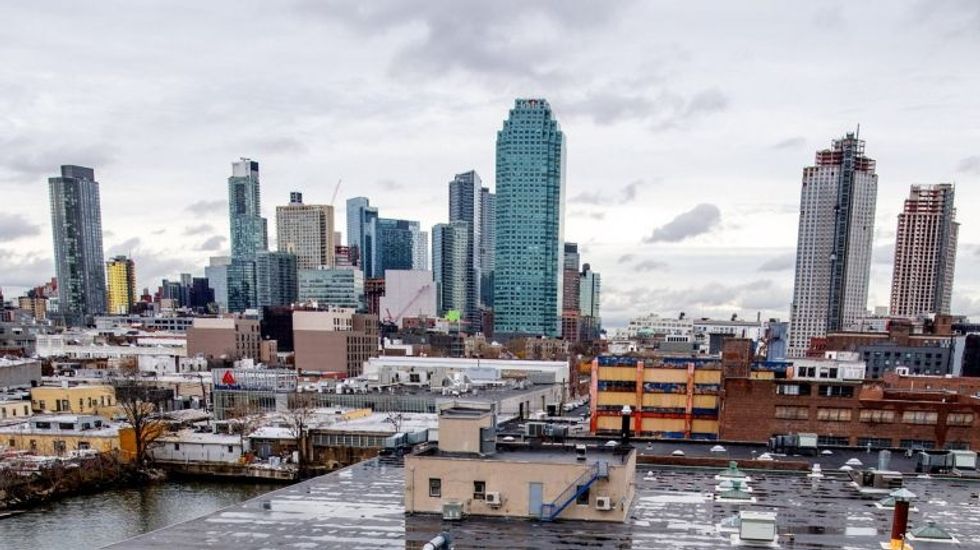 Long Island CityImage via AM NY
Protestors cited Amazon's effects on Seattle, Amazon's first home city, as reasons why the conglomerate shouldn't move on with its plan. Some people argue that Amazon made Seattle into a hull, a kind of paper city that existed only to facilitate its metallic corporate heart; and Seattle's homeless corporation did rise in tandem with rising housing prices, making it home to the third-highest number of homeless people in the country, after New York and Los Angeles.

HQ2 opposition united a great deal of unlikely allies—including an unlikely ally in the Wall Street Journal's Editorial Board, who argued that the deal was "crony capitalism at its worst." Their article continued, "Amazon's case is aboveboard, but it still amounts to a company with a market capitalization of nearly $800 billion getting paid to create jobs it would have created somewhere anyway."
Alexandria Ocasio-Cortez was the most visible face of a group of politicians who protested Amazon's HQ2 establishment, and her resistance might have been one of the central reasons for its decision to abandon ship. "It was that the environment over the course of the past three months had not got any better," said Joni Seth, Amazon's head of policy communications. "There were some local and state elected officials who refused to meet with Amazon and criticized us day in and day out about the plan."
Ocasio-Cortez had long denounced Amazon's plans to move into Queens, and she celebrated Amazon's retraction on Twitter. So did other political figures, including Cynthia Nixon. Following the company's Valentine's Day breakup announcement, the actress-turned politician triumphantly tweeted, "The fight against Amazon laid bare their union-busting, corporate welfare, ICE-abetting practices and shows why we need to break up monopolies like Amazon."

In addition to its ties to law enforcement giants, Amazon had also been accused of developing facial recognition technologies to gain information about customers without them knowing; and many protests have cropped up among its warehouse workers, especially in Europe, where employees have staged walkouts against low wages and poor working conditions.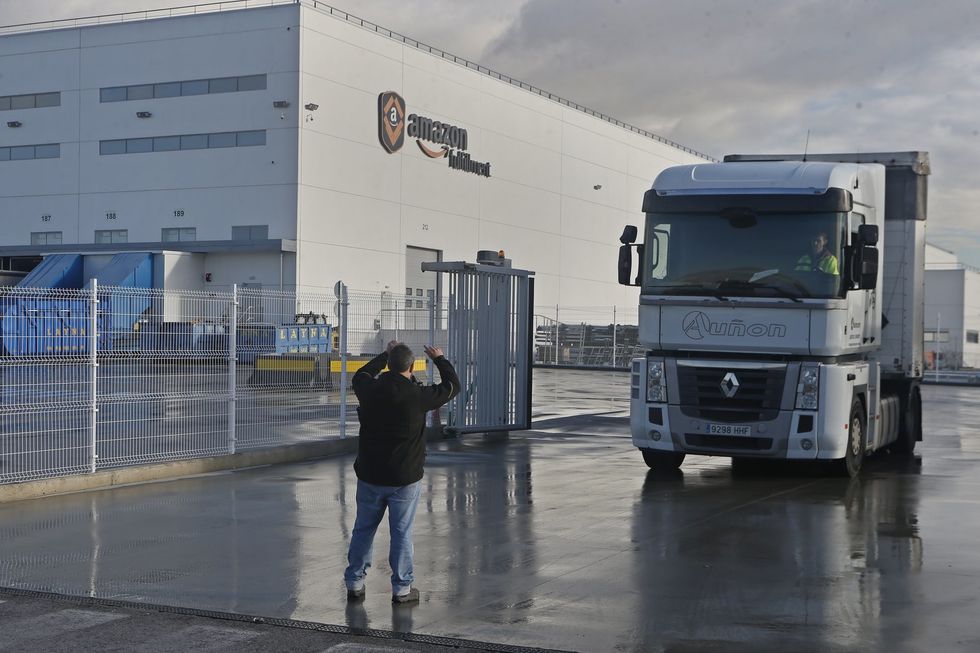 A protestor stops an Amazon truck in Spain.Image via apnews.com
Despite Amazon's shady ethics, many people were not as enthusiastic about the company's foiled New York City dreams, arguing that the demise of HQ2 will compromise what could've been an economic boom for the city, criticizing Ocasio-Cortez's decision to favor ideology over economics. Amazon may have hiked up rents, but rents are high anyway; and its arrival would have created thousands of jobs, including consistent positions for lower-level staff members and service workers.

Plus polls showed that 56% of New Yorkers approved Amazon's arrival, which was initially billed as a triumph by Mayor Bill de Blasio and Governor Andrew Cuomo—both central players in the deal's initial success who believed that the arrival would help NYC solidify its position as a worldwide hub of tech and industry. Bill DeBlasio's tweets following Amazon's decision resembled those of a spurned ex. He also lashed out at Ocasio-Cortez, stating that "a small group of politicians put their own narrow political interests above their community—which poll after poll showed overwhelmingly supported bringing Amazon to Long Island City—the state's economic future and the best interests of the people of this state," the governor said in a statement.
But even so, a great deal of major political figures opposed the deal, including Senator Michael Gianaris of Queens, who initially supported Amazon's arrival but, like Johnson, changed his mind after learning about its policies. Still, Amazon in Long Island City's demise all started with those first street protests, which erupted directly after De Blasio's announcement as politicians remained silent. Ultimately, community members and citizen organizers catalyzed the start of the resistance that led to the downfall of Amazon's Queens campus.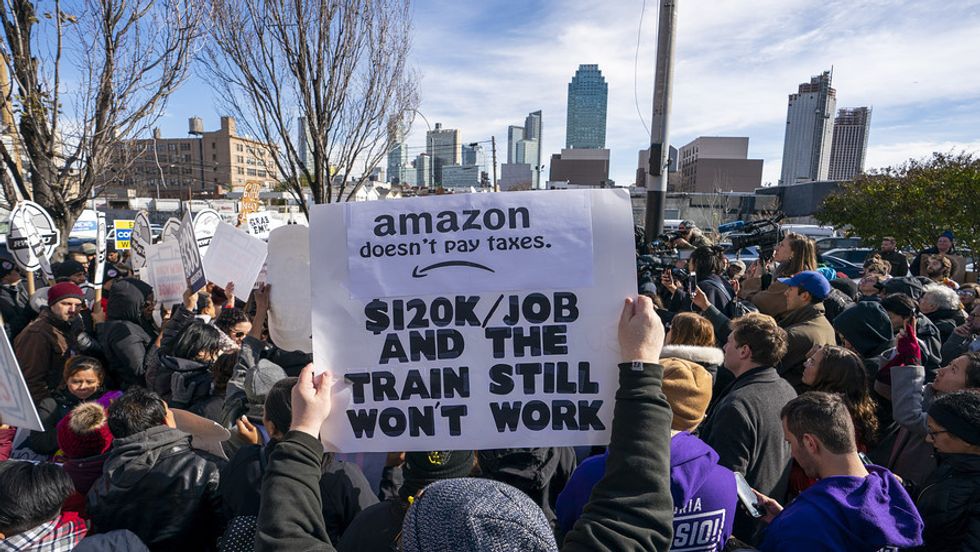 Image via Marketwatch
There's something deeply satisfying about the image of the world's richest man and his behemothic corporation getting kicked out of New York by impassioned Queens residents, ready to unite and fight for the integrity of their home borough. Still, Amazon's departure won't stop gentrification, won't fill up empty stores, and won't bring back the days when young artists could gallivant around Greenwich Village with pennies in their pockets and working-class families could call Manhattan home.
In a way, Amazon's departure is a symbolic victory for its opposition, a tantalizing promise that the people can triumph over corporations. Of course, this move will not deter Amazon from building its global empire, and America's supermassive wealth gap will remain. It just won't be as tangibly visible in New York.
---
Eden Arielle Gordon is a writer and musician from New York. Follow her on Twitter at @edenarielmusic.
Amazon's contest for two cities to house dual new headquarters has likely winners in Queens, NY and Crystal City, VA.
Amazon is looking to hire a total of 50,000 employees divided between two new headquarters. Leaked reports spotlight the Crystal City area of Arlington, VA and Long Island City in Queens, NY as the next locations for the Seattle-based retail giant.
While both are expensive real estate markets, New York Governor Andrew Cuomo is reportedly prepared to offer hundreds of millions of dollars in subsidies, according to The New York Times.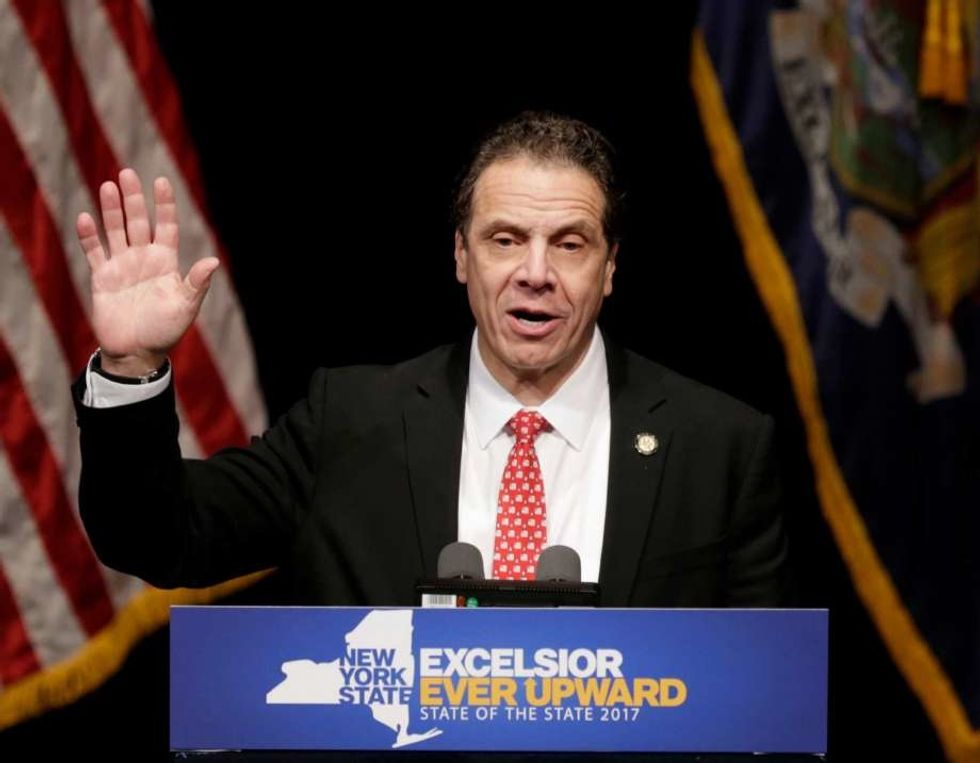 "Amazon Cuomo"Times Union
"I am doing everything I can," Governor Cuomo commented on Monday. "We have a great incentive package." He added, "I'll change my name to Amazon Cuomo if that's what it takes. Because it would be a great economic boost." Assuming Cuomo hopes to retain the respect of his supporters during his third term as governor, he won't be changing his name.

Governor Cuomo's enthusiasm, however, does set him apart from Virginia officials, who are staying mum on the prospect of Amazon's HQ2. In Crystal City, developer and land owner JBG Smith declined to comment. If chosen, the new Amazon headquarters would be in close proximity to Washington, DC's labor force.
Amazon is refraining from confirming or denying its final decision. Since announcing its plans to expand in September 2017, the company has been shortlisting locations based on availability of trained workers, access to public transportation, and quality of city infrastructure. Amazon is expected to invest $5 billion into its expansion.
Wherever Amazon chooses to expand, its previous impact on its home base of Seattle suggests that it will create an economic boom, but also an increase in housing and traffic congestion. In fact, in Seattle, Amazon has been "singularly blamed for a rapid influx of wealthy techies who...worsen traffic and increase housing problems." To that point, some residents in Queens are wary of the worsening effect 25,000 more employees could have on the already sub-par MTA subway service.
Steve Kovach at CNBC notes, "The 7 train, the subway line that runs through much of Queens, is already straining to service the influx of new residents in the Long Island City area. That would only get worse with 25,000 Amazon workers commuting into Long Island City every day."
If Amazon hopes to fulfill its goal of preparing 500,000 square feet of office space for thousands of new employees to begin work next year, secrecy and rumor need to give way to signed deals and a wave of hiring.
Meg Hanson is a Brooklyn-based writer, teacher and jaywalker. Find Meg at her website and on Twitter @megsoyung.