Dall-E Mini, the AI-powered text-to-image generator has taken over the internet. With its ability to render nearly anything your meme-loving heart desires, anyone can make their dreams come true.
DALL-E 2, a portmanteau of Salvador Dali, the surrealist and Wall-E, the Pixar robot, was created by OpenAI and is not widely available; it creates far cleaner imagery and was recently used to launch Cosmpolitan's first AI-generated cover. The art world has been one of the first industries to truly embrace AI.
The open-sourced miniature version is what's responsible for the memes. Programmer Boris Dayma wants to make AI more accessible; he built the Dall-E Mini program as part of a competition held by Google and an AI community called Hugging Face.
And with great technology, comes great memes. Typing a short phrase into Dall-E Mini will manifest 9 different amalgamations, theoretically shaping into reality the strange images you've conjured. Its popularity leads to too much traffic, often resulting in an error that can be fixed by refreshing the page or trying again later.
If you want to be a part of the creation of AI-powered engines, it all starts with code. CodeAcademy explains that Dall-E Mini is a seq2seq model, "typically used in natural language processing (NLP) for things like translation and conversational modeling." CodeAcademy's Text Generation course will teach you how to utilize seq2seq, but they also offer opportunities to learn 14+ coding languages at your own pace.
You can choose the Machine Learning Specialist career path if you want to become a Data Scientist who develops these types of programs, but you can also choose courses by language, subject (what is cybersecurity?) or even skill - build a website with HTML, CSS, and more.
CodeAcademy offers many classes for free as well as a free trial; it's an invaluable resource for giving people of all experience levels the fundamentals they need to build the world they want to see.
As for Dall-E Mini, while some have opted to create beauty, most have opted for memes. Here are some of the internet's favorites:
There's no looking back now, not once you've seen Pugachu; artificial intelligence is here to stay.
Look on our works, ye mighty, and despair!
There is a saying that it is easier to imagine the end of the world than to imagine the end of capitalism.
Entrenched systems of power have established bulwarks against the kind of institutional reform that younger Americans have recently been pushing for. By controlling the political conversation through lobbying, control of mass media, regulatory capture, and authoring of legislation, the ultra-wealthy maintain the status quo in a way that makes changing it seem impossible. The problem is that change is desperately needed if we are going to maintain any semblance of civilization.
While political dynamics have become so rigid that the boundaries of what we can achieve begin to feel impenetrable, the COVID-19 pandemic has revealed that the vital structures of our society—a society that is superficially so robust—have been so weakened that a collapse in one form or another is inevitable. We are the world's superpower, yet faced with a slightly more contagious, slightly more lethal virus than the flu, we are powerless. How did it get to be this bad? How were we so blind to it?
To clarify, depending on the part of the country you live in, it could seem like I'm exaggerating. It may not seem "so bad," or like we're on the verge of collapse. Not long ago the president and many of his loyalists on Fox News and AM radio were still calling dire forecasts around the coronavirus a hoax. At the time it seemed reckless but not unhinged from current events—which were still largely unaffected. In much of the country there is little cause for alarm, so few people are doing much to change their behavior. That's about to change, and the areas hit worst will soon be making the dire choices that Italian hospitals were recently faced with—which patients are we going to hook up to ventilators, and which are we going to allow to die. We are already started on a path that leads to overflowing hospitals in every major city.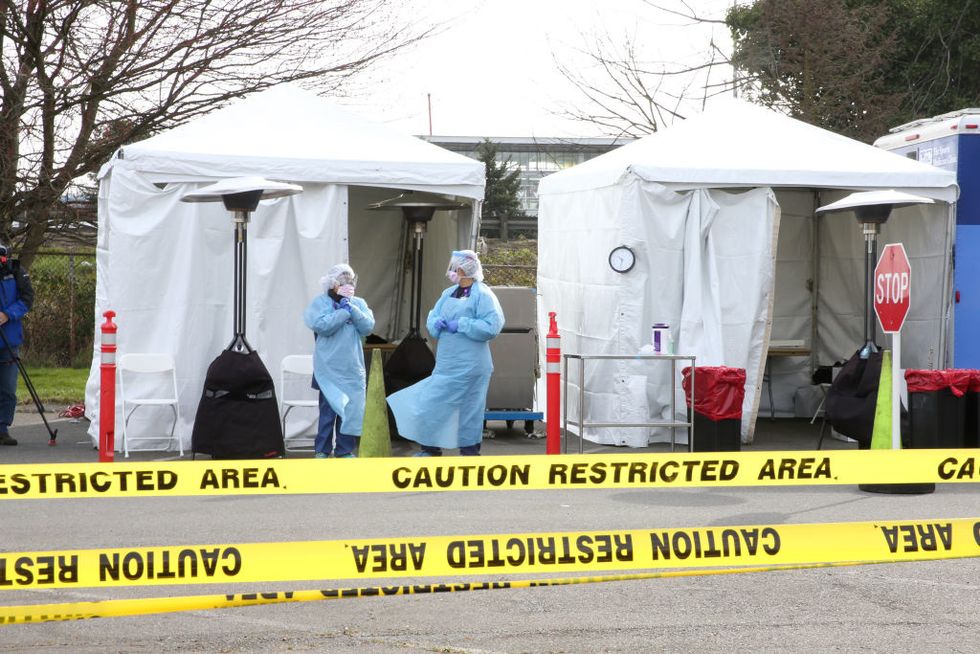 A makeshift testing facility in Seattle, Washington Getty Images
The problem is that our entire economy is set up around the same kind of short-term thinking that drive publicly traded corporations. The mentality that "government should be run like a business," leads to cost-cutting measures that only look to the current budget, with minimal consideration given to the kind of intermittent crises that we are bound to face—like a viral pandemic. If it's not particularly likely to happen before the next election cycle, it's better not to even worry about it. This is the kind of thinking that led Donald Trump's administration to push for cuts to the CDC and to disband their global health security team in 2018.

But the systemic issues go much deeper than that and started long before Trump took office. Trump and his ilk can't be blamed for the fact that the US has two hospital beds for every 1,000 citizens. Nor are they responsible for the fact that almost every aspect of America's critical infrastructure receives a near-failing grade from the American Society of Civil Engineers. This includes airport congestion—which has already become an issue with the current pandemic—and important shipping routes that we will rely on to maintain the movement of necessary goods as conditions around the country worsen.
Add to those issues the fact that we have a massive population of prisoners sharing tight quarters with poor sanitation, a substantial homeless population with no way to quarantine, a dearth of worker protections like paid sick leave, and it becomes hard to imagine how we'll get through this unscathed. And, of course, this is still ignoring the elephant in the room—a for-profit healthcare system that discourages millions of uninsured and underinsured Americans from seeking medical advice or treatment until it's too late.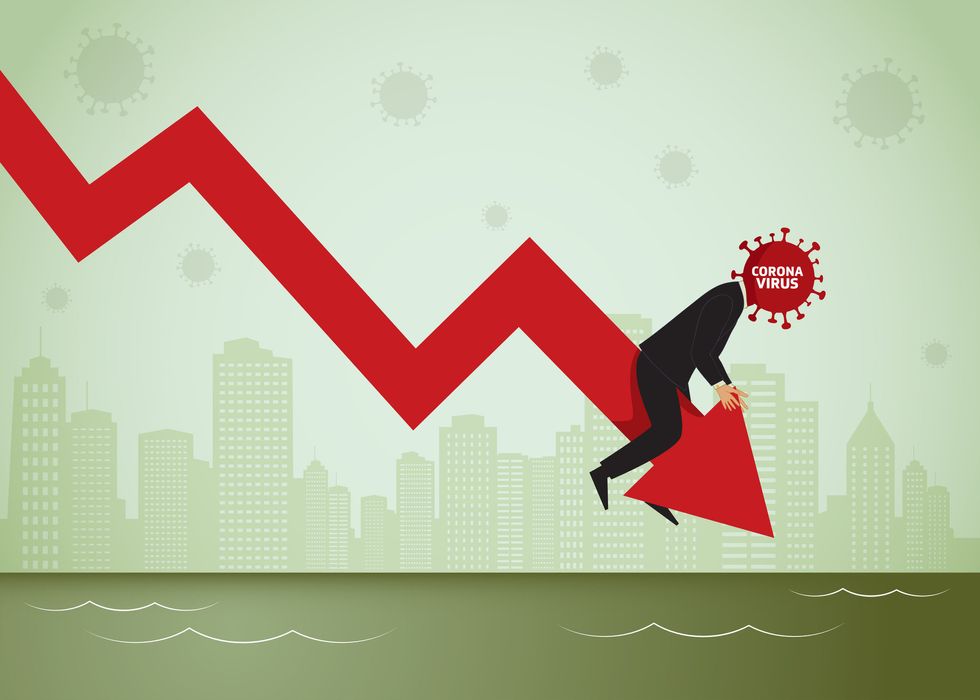 Getty Images
Meanwhile, the economic hardships imposed by the necessity of social distancing are being exacerbated by an economy that is heavily reliant on the whims of financial speculators who create an echo chamber of divestment that heightens every crisis. The stock market, in other words, is going crazy in the worst possible way. It's too soon to say how thoroughly the weaknesses in our system will be tested by the developing pandemic, but even in the best case scenario they are going to be strained to a terrifying extent.

Fortunately, there are efforts underway to shore up some of the most obvious breaking points so we can avoid complete societal collapse. They may turn out to be too little too late, but even if they get us through this current disaster, how long will it be before the next one hits? The best models of climate change predict that we are nearing an era that will be ruled by powerful natural disasters and refugee crises that will threaten economic stability and critical infrastructure and may heighten the threat of infectious diseases. Temporary, reactive measures cannot save us if the next crisis hits a little harder or when multiple crises overlap.
A strong social safety net like the one the US tried to develop under FDR would serve to mitigate the damage from this kind of crisis. But modern American politics has worked for decades—in an effort that became an object of worship under Ronald Reagan—to whittle the welfare state of the New Deal and the Great Society down to a fragile bare minimum.
We need to take seriously the voices of politicians like Bernie Sanders and Alexandria Ocasio-Cortez who have called for the kind of broad, sweeping legislation that stands a chance of upending the rigid political dynamics that maintain the status quo. The Green New Deal would be a good start. The alternative, one way or another, is the end of our civilization and the world as we know it.
How responsible are you for your actions?
The debate over free will, and whether we as humans possess such a thing, has been ongoing since Aristotelian times. When discussing free will, philosophers commonly mean the kind that means humans are ultimately responsible for their actions. The assumption of this kind of free will's existence, and the kind of ultimate responsibility that is inherent in it, is the basis of many religions, justice systems, and cultural structures. As philosopher's continue to debate whether free will exists, another question arises: what are the implications if we let go of the concept of free will and the kind of moral responsibility that accompanies it? How would our institutions, behaviors, and individual operations change if we allowed the idea of a causally determined universe without free will to become a part of public consciousness? Based on the work, of Samuel Harris, Daniel Dennet, Robert Kane and Bruce Waller, one can conclude that the world would be a more productive, compassionate place if society were to generally let go of this concept and embrace a hard determinist viewpoint.
First, it is vital that we elucidate what hard determinism looks like in the context of other philosophical viewpoints regarding free will. At present, the debate regarding the existence of free will revolves around the idea of determinism, it's validity as a concept, and, if valid, how that affects free will and responsibility. Determinism is the idea that everything that occurs and will ever occur is an inevitable product of all that has occurred before.
Or as Robert Kane puts it in his book Free Will, "…we say that a determined event is inevitable or necessary, (it cannot but occur), given the determining conditions." (Kane, 6) This idea calls into question the validity of the concept of free will. In this debate, when referring to "free will," one means the kind of freedom that goes beyond surface freedoms (choosing what to eat, where to travel etc.) and extends to the power to control why one desires what they desire and chooses what they choose. Kane refers to this deeper kind of free will as, "…the ultimate power over what it is that we willed." (Kane, 2) Another way to think about it is the power to be the author of one's own character.
Today, for the purpose of this article, the debate can be reasonably divided into two large categories: compatibilism and incompatibilism. The first group is made up of those who believe free will is compatible with the idea of determinism, that is, that free will can exist, on some level, in a causally determined world. The classical compatibilist believes that, "…our natural belief in the incompatibility of free will and determinism rests on confusions of two kinds—confusions about the nature of freedom and confusions about the nature of determinism." (Kane, 21) In brief, classical compatibilists believe that the kind of free will worth having is essentially merely an accumulation of exercising surface freedoms, something very possible in a causally determined world.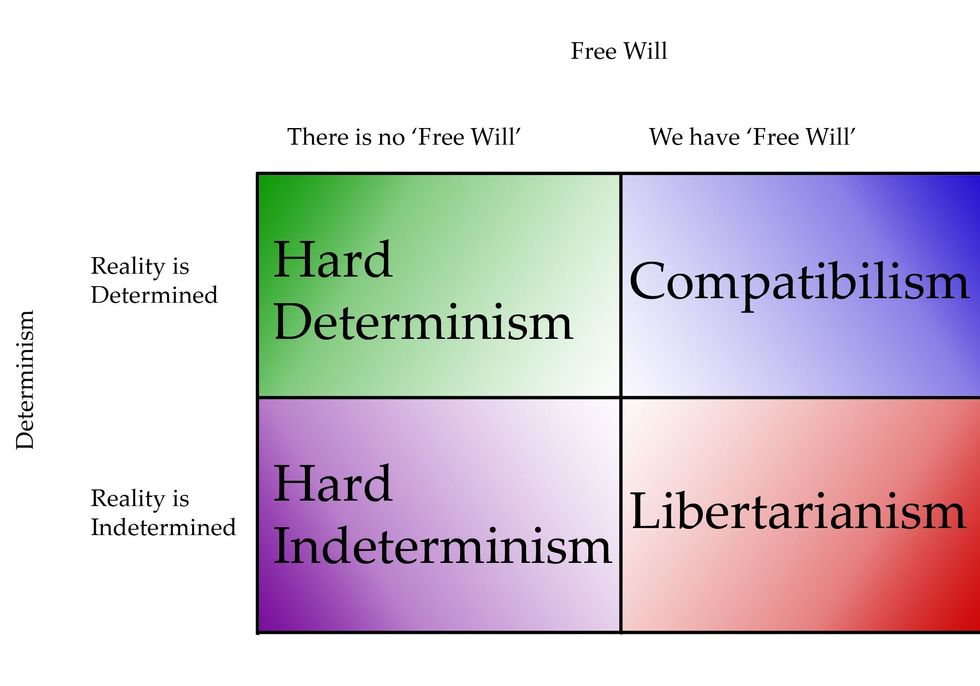 Contrastingly, incompatibilists are those people who believe that free will and determinism can't both be true. This leaves incompatibilists with the burden of proving that free will and determinism cannot exist simultaneously, which once accomplished, leaves them to decide which of the two (determinism and free will) is then true. Meaning this group is much more starkly divided than the compatibilists.
The first group in this division, libertarians, are as Kane puts it, those "…who affirm free will and deny determinism…" (Kane, 32) This leaves the libertarian to prove how free will can exist in an indeterminist world, which creates arguments that rely largely on luck or other vague, metaphysical concepts that critics argue, even if true, won't necessarily make a person more free. This view agrees the most with the intuitive sense of free will many common "folk" have, but is not accepted by the majority of philosophers of merit.
The other view an incompatibilist can reasonably take is that of hard determinism, the belief that because determinism is true, free will cannot exist. As Kane puts it, those who hold this view, "…believe that if you look more deeply into the psychological and other springs of action, you will see that all of us are determined to do what we do, whether it be good or evil; and so none of us is ultimately responsible." (Kane, 68) It is this view, as we will explore, that removes the burden of free will and moral responsibility from the world, and creates space for a more compassionate, productive world. Essentially, if we were always going to do what we do because of a combination of our experiences and biology, how can our actions truly be our fault?
According to Kane, "Hard Determinism is defined by three theses: (1) Free will is incompatible with determinism and (2) free will does not exist because (3) determinism is true." (Kane, 70) The basic argument, that philosopher Galen Strawson lays out, seems to make this thesis appear logically sound. The argument is made up of five parts that are as follows: (1) Nothing can be causa sui - nothing can be the cause of itself. (2) In order to be truly morally responsible for one's actions one would have to be causa sui, at least in certain crucial mental respects. (3) Therefore nothing can be truly morally responsible (Strawson,1) This seems to be a difficult argument to reason ones way out of, as at every step one is tempted to refer to an earlier moment of self-authorship, only to be foiled by Strawson's unavoidable logic that such a moment simply cannot have existed.
Those who oppose this view, argue that though we may be affected by our environment and biology, we still have the power to decide to change who we are. (Kane, 73) To this, Kane says that Strawson argues that, "…neither compatibilists nor libertarians give us an adequate account of how we could change our characters that accounts for true responsibility. If the way we change ourselves later in life is determined by how we already are, as compatibilists allow, then that kind of change would not amount to true responsibility. But if the way we change ourselves later in life is undetermined, as libertarians require, then it would amount to mere luck or chance and that would not be true responsibility either."(Kane, 73) Of course, it is important to note, as Sam Harris does in his book Free Will, "There is a distinction between voluntary and involuntary actions, of course, but it does nothing to support the common idea of free will (nor does it depend upon it). A voluntary action is accompanied by the felt intention to carry it out, whereas an involuntary action isn't." (Harris, 12) Meaning that just because we do not act with free will, does not mean we do not act voluntarily, it is merely the motivation behind our voluntary actions over which we have no control. Essentially, hard determinist's argue that the only two things that influence what a person does are biology and circumstance, and if an individual doesn't have control over either of these things from their first moments on earth, how can they be held responsible for their actions? Indeed, when considering these arguments, hard determinism begins to feel inescapable.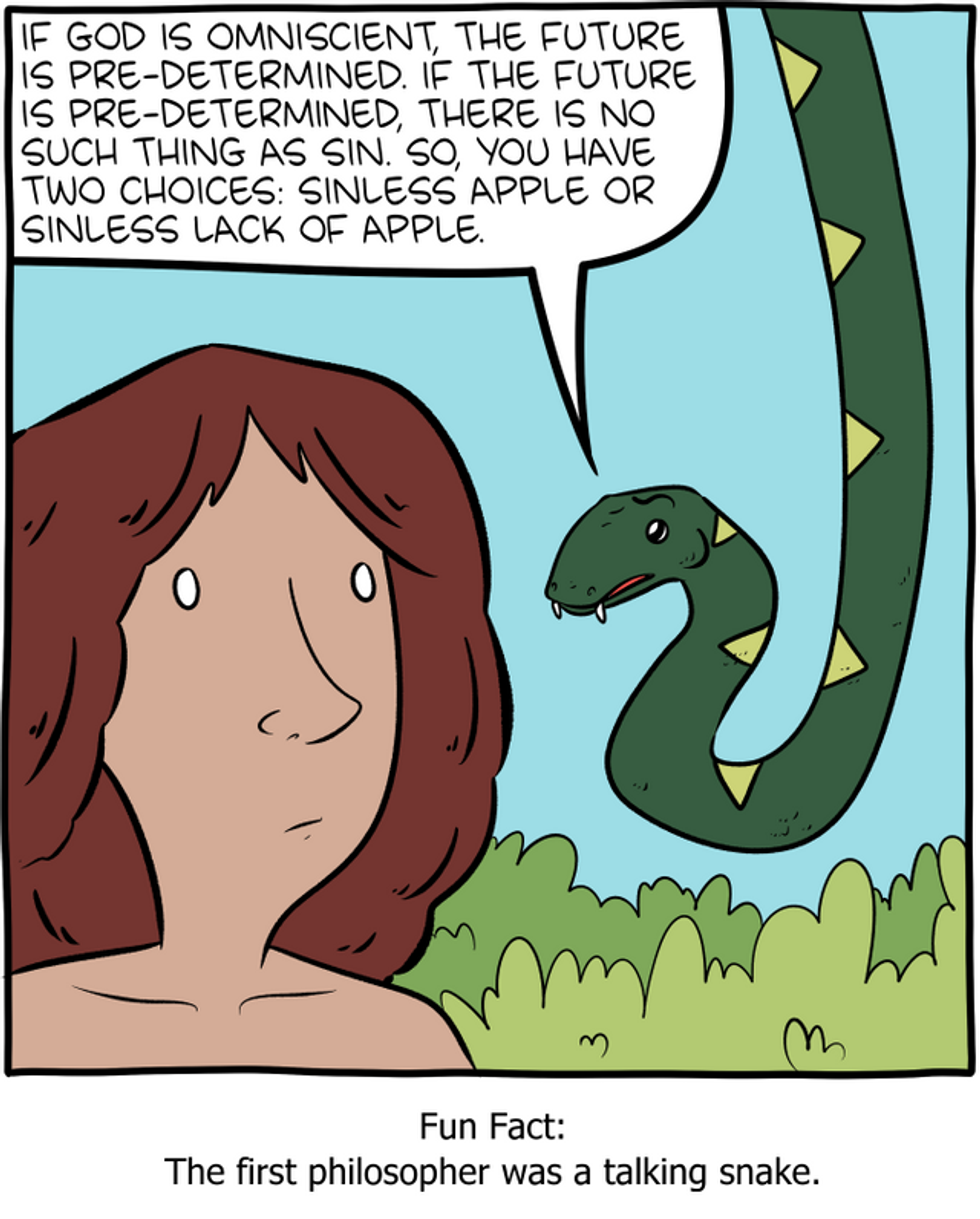 This brings up the question: How would internalizing a hard determinist viewpoint shape the way individuals view themselves? Hard determinism may at first appear to be a callous view, as one may assume that the absence of free will means that humans are veritable slaves to determinism, nothing but metaphorical puppets tied to the merciless hands of luck. But, just because ultimate moral responsibility is not an option, that does not mean individual responsibility is also invalid. In fact, Bruce Waller argues in his paramount work, Against Moral Responsibility, the absence of moral responsibility, "…would leave ample room for take charge responsibility and increase the likelihood of exercising it well, and when we look closely (and distinguish take charge from moral responsibility), take charge responsibility is the responsibility most of us really want. It enables us to exercise effective control, make our own decisions and choices, reflect carefully on what we deeply value, and manage our own lives." (Waller, 278) Waller maintains the optimistic viewpoint that, essentially, the idea that we are not causes unto ourselves, should be an idea that motivates and empowers individuals to consider what it is they desire and why, and begin to make choices that leads them in this direction. The elimination of free will and moral responsibility as valid concepts leaves room for people to inspect why they are the way they are, and use that as the motivating force to change their path. Indeed, the very knowledge that none of us are responsible for who we are could be a positive factor that shapes us unavoidably, "…it would promote stronger self control and nurture genuine self-respect." (Waller, 278)
We see now that it is in fact very possible that the loss of moral responsibility could actually positively affect an individual, but what of an individual's view of others? Here is where hard determinism most obviously improves the world. As Harris points out, "Once we recognize that even the most terrifying predators are, in a very real sense, unlucky to be who they are, the logic of hating (as opposed to fearing) them begins to unravel." (Harris, 53) An interesting way to think of this problem is with the following thought experiment: if you were to take the place of a murderer, moments before he commits the heinous act, and arrive in his body with his exact brain and past experiences, could you possibly say you would put down the knife and decide not to murder? Of course not. The things that led him to that place, his biology and experiences, are what have made him into who he is. He is not evil because he has decided to be evil, he does not have the impulse to kill because some deep part of him chose it, and there is no scrap of you that would be transferred to his body that is deeper or more in control of decision making than the murderers nervous system. So how can we hate him? Instead, it makes sense that instead of condemning the murderer as evil, we should seek to understand the factors that led him to murder, in order to create a society in which fewer people are led to act as such. As Waller puts it, "…the most salient feature of a world without moral responsibility is its openness to inquiry: its openness to recognizing and reporting and dealing with problems and flaws and mistakes." (Waller, 285)
This does lead to an obvious question: what is to be done with the murderer? As Harris states, "Certain criminals must be incarcerated to prevent them from harming other people. The moral justification for this is entirely straightforward: Everyone else will be better off this way. Dispensing with the illusion of free will allows us to focus on the things that matter—assessing risk, protecting innocent people, deterring crime, etc.." (Harris, 53) This idea, that incarceration would still be justified without free will, the same way quarantining sick people is justified, is known as the quarantine model. Kane cites philosopher Derek Pereboom, who argues that an upside of this idea, "…is that punishments would not be more severe than is needed to protect society and deter future crime, just as quarantine of the sick should not be more restrictive than is needed to protect society from diseases." (Kane, 75)
Additionally, without moral responsibility, the criminal justice system can be made to reform instead of punish. Waller cites Michael Cavadino and James Dignan, who point out that the American criminal justice system blames the individual instead of at least partially blaming the various factors that contributed to an individuals criminality, "…Crime is likewise seen as entirely the responsibility of the offending individual. The social soil is fertile ground for a harsh "law and order ideology." (Cavadino and Dignan in Waller, 285) But Waller points out that retributive law and order is not effective, in fact, in America's retributive system, a person going to jail once, raises their likelihood of doing so again. Waller goes on that, in some countries justice systems, "…when genuine efforts were made to develop effective rehabilitation programs, some achieved considerable success; it also became clear that those negative influences that shaped violent antisocial character." (Waller, 294) This positive effect does not just extend to criminal law, without moral responsibility fostering individual blaming; systems (such as medical teams, air traffic control, factories etc.) can be improved to work better and with less mistakes, as individuals will be more likely to admit their mistakes, and people will be more likely to analyze how systems can be redesigned to ensure less mistakes. Summarily, "The second positive feature of a world without moral responsibility is that it shifts the focus to systems and away from individuals." (Waller, 285)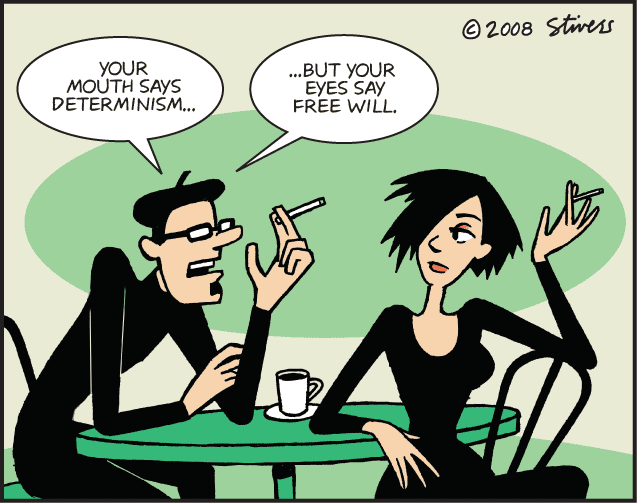 This argument, that a world free of free will and moral responsibility would be a better world, can perhaps be deepened when one acknowledges that perhaps it is not an argument merely confined to hard determinist thinking. To illustrate this, lets investigate Daniel Dennet's response to Sam Harris' Free Will. It is important to note that Daniel Dennet is a compatibilist.
Waller's argument, that a world free of moral responsibility and the idea of free will is a better world, feel pretty sound and, at surface, Harris appears to agree with Waller. However, upon further inspection, one can find quite a few flaws within Harris' argument. Daniel Dennet helpfully illuminates these in his paper, "Reflections on Free Will." Dennet's major criticism of Harris focuses on the idea that Harris assumed an incompatibilist view (libertarian even). Harris argues that because free will requires that we somehow step outside the causally determined universe and such stepping is impossible, no one can have free will. Dennet asks us to look carefully at this kind of argument and realize that just because the world is causally determined, doesn't mean our choices, "come out of the darkness" (Harris, 34). Instead, Dennet argues, "Freedom involves the ability to have one's choices influenced by changes in the world that matter under the circumstances. Not a perfect ability, but a reliable ability." (Dennet, 14) Additionally, Dennet criticizes Harris' tendency in his work to define the kind of free will worth having as that which "common folk" feel they possess, "…he thinks 'free will' has to be given the incoherent sense that emerges from uncritical reflection by everyday folk. He sees quite well that compatibilism is "the only philosophically respectable way to endorse free will" (p16) but adds: However, the "'free will' that compatibilists defend is not the free will that most people feel they have. (p16)" (Dennet, 4) Dennet argues that just because the compatibilists version of free will is not the kind most people feel they have, does not mean it is invalid. Harris' biggest mistake is assuming that because we cannot be authors of ourselves, we cannot have any degree of free will at all. Interestingly, both Waller and Dennet disagree with him, despite supposedly maintaining radically different views.
Dennet argues that compatibilists, "…think we can articulate and defend a more sophisticated model of free will that is not only consistent with neuroscience and introspection but also grounds a (modified, toned-down, non-Absolute) variety of responsibility that justifies both praise and blame, reward and punishment. We don't think this variety of free will is an illusion at all, but rather a robust feature of our psychology and a reliable part of the foundations of morality, law and society." (Dennet, 1) The kind of free will Dennet allows for, is not Harris' kind (ultimate authorship) but rather what Waller might call, "take charge responsibility" (Waller, 278). Waller describes this kind of free will as, "It enables us to exercise effective control, make our own decisions and choices, reflect carefully on what we deeply value, and manage our own lives." (Waller, 278) It appears that the only thing that truly differs between the two men's view points is what they mean when they say "free will." They both assert that the power to respond differentially to stimuli in the environment exists. However, Waller does not see this as free will, and instead means ultimate authorship over ones character when referring to free will. Meanwhile, Dennet thinks ultimate authorship is an incoherent idea, and believes free will is this smaller thing mentioned above, and therefore compatible with determinism. What is important though, is that neither man believes that we have the kind of free will that requires ultimate responsibility for ones actions. This means that a hypothetical world improved by dispelling of free will and moral responsibility is a world possible as a compatibilist and hard determinist.
When inspected carefully, it becomes clear that ultimate free will is not seen as possible by either the compatibilists or the incompatibilists, and it is only the libertarians who believe such a free will exists. In conclusion, moral responsibility is an incoherent idea because individuals are merely the product of a causal world, and therefore their actions are a product of this world as well. Embracing this idea would create a more compassionate and effective world because it would be a world open to inquiry into people's behavior, additionally such a world helpfully shifts focus to systems and away from individuals. Indeed, Waller says, "In the absence of moral responsibility, it is possible to look more deeply at the influences of social systems and situation and to move away from both the fundamental attribution error and the individualistic blindness that hides the forces that shaped our qualities of character." (Waller, 286)
Sources
The Impossibility of Moral Responsibility Author(s): Galen Strawson Reviewed work(s): Source: Philosophical Studies: An International Journal for Philosophy in the Analytic Tradition, Vol. 75, No. 1/2, Free Will, Determinism, and Moral Responsibility (Aug., 1994), pp. 5-24
Kane, Robert. Free Will. Malden, MA: Blackwell, 2009. Print.
Harris, Sam. Free Will. London: Simon & Schuster, 2012. Print.
Dennet, Daniel. "Reflections on Free Will." (n.d.): n. pag. Web. 1 May 2017.
Waller, Bruce N. Against Moral Responsibility. Cambridge, MA: MIT, 2011. Print.
Bernie is talking about voting rights, but is this the most important issue facing offenders?
Bernie Sanders has gotten some attention, and a lot of criticism, for proposing that people currently incarcerated, on probation, or parole should have the right to vote.
He even wrote an op-ed about it. Kamala Harris said she supported the idea and then flip-flopped once she realized what a gaffe it was. Vox has an excellent, though undoubtedly "woke" take on the issue here.
This is a legislation that is opposed by 3 out of 4 Americans, which reveals that Bernie is a dangerous, even reckless candidate for the Dems. So many of his views are completely out of line with the mainstream. And we all know who is going to focus on those if he somehow surpasses Biden as the nominee.
Efforts to reform the criminal justice system are vital, but voting rights are just about at the bottom of the list of what matters to offenders. They want access to education and job training and work opportunities that will give them a chance to be productive in the world once they finally get out. The First Step Act was an excellent bit of progress, but there is so much more to do to block the school-to-prison pipeline. Progress is being made at the state level, and there seems to be a bipartisan consensus, aside from Sen. Tom Cotton, to keep reform moving forward.
State by state, offenders need fewer of the tripwires- high bail amounts, fees, fines, drug tests- that get them locked up in the first place or sent back to prison. Overcrowded conditions still abound in so many facilities.
While Bernie dreams of things that few people support, will he draw attention away from needed reform, maybe even turn people against it?