We've all been there. You were gifted a dumb present that you'll never in a million-zillion years ever use and you're too polite to tell anyone any differently. It sits at the bottom of your drawer for months, then years. And when you finally feel like enough time has passed, you can throw it out in good conscience.
A return is almost always out of the question. Plus, gift givers don't often include a return receipt, and we all know we wouldn't dare ask for one. I'd rather admit to a crime than confess I don't like a gift - how insulting to the gifter's sense of aesthetics.
And-hey, I have limited drawer space. Who can keep these unwanted gifts for six months when there isn't any space for them? I hate clutter, and unwanted gifts are just that.
This year, I am making an effort to swiftly remove any unwanted gifts from my house without hurting anyone's feelings…and potentially benefiting others. As the old saying goes, one man's trash is another man's treasure. And thank goodness for that.
From the The Guardian:
"According to research published this week by the consumer body, one in four people (24%) received an unwanted or unsuitable gift for the Christmas of 2021. Meanwhile, a separate study by the personal finance comparison site Finder said £1.2bn was wasted on unwanted Christmas gifts each year."
Come to terms with the fact that you will never use that gift and follow these quick tips to offload those unwanted gifts:
Donate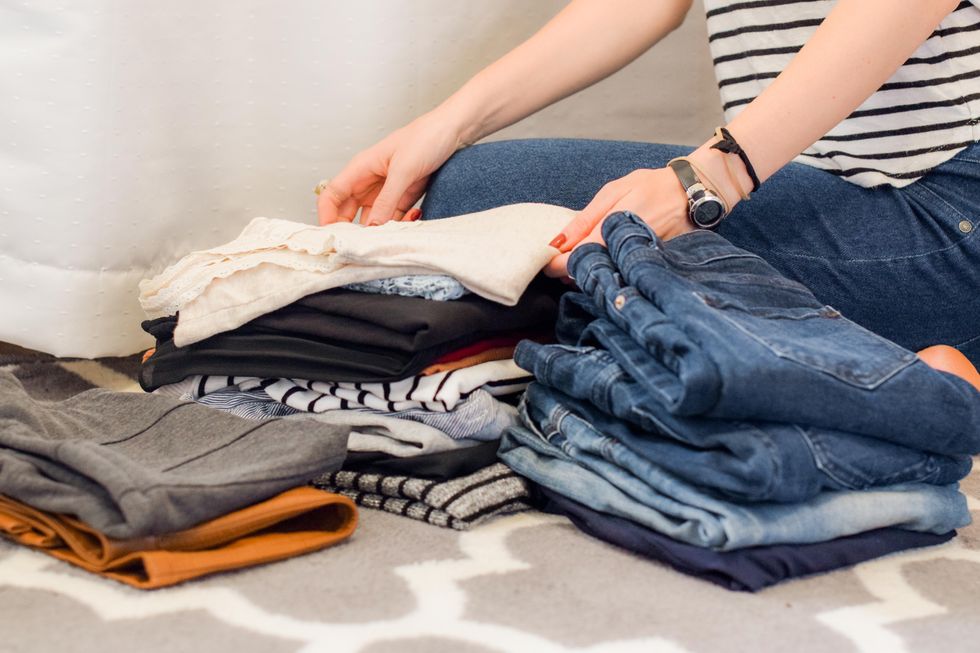 Sarah Brown via Unsplash
The most obvious choice for those unwanted pairs of mud-green sweat socks and that same fluffy robe you get every year from your Aunt Judy is to donate them. Just round up everything you don't want and Google the donation center closest to you.
This is also a fantastic excuse to purge your closet of that pile of stuff you've been meaning to get rid of. A few bags of give-away-clothes will get your spring cleaning out of the way early.
Sell Them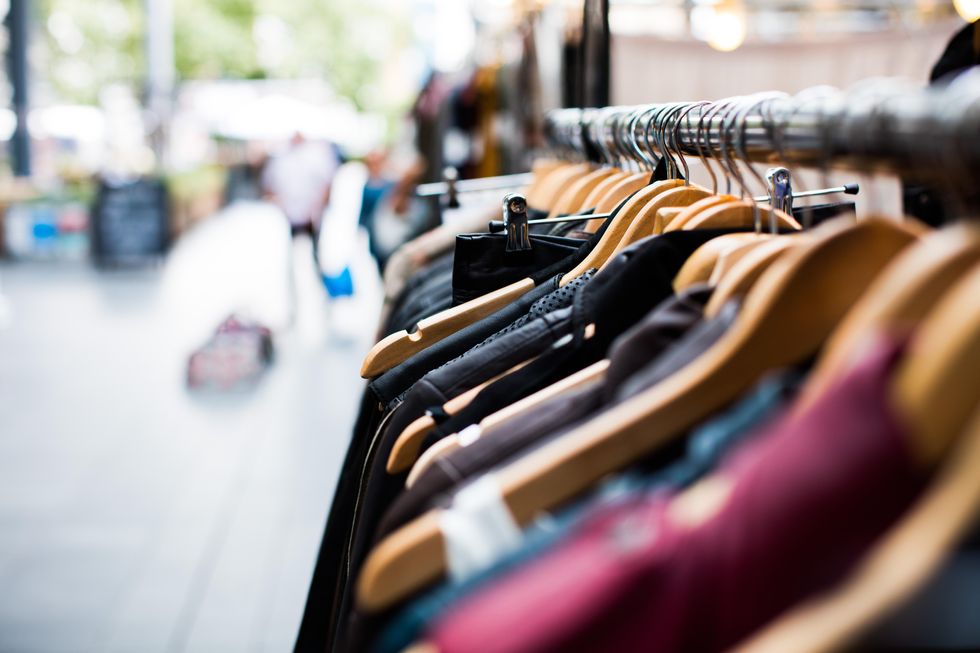 Artificial Photography via Unsplash
Resale websites are all the rage right now. If you got a pair of pants that don't fit or a sweater that isn't your style, resell them on a website dedicated to just that. Sites like Poshmark, Mercari, and DePop are known for selling those trendy pieces of clothing you barely used.
Thrifting has never been hotter. Hop on the trend while people are constantly perusing sites for the hottest deal. Then reward yourself for being so virtuous, by dropping the cash on some fabulous things you'll actually wear!
Re-Gift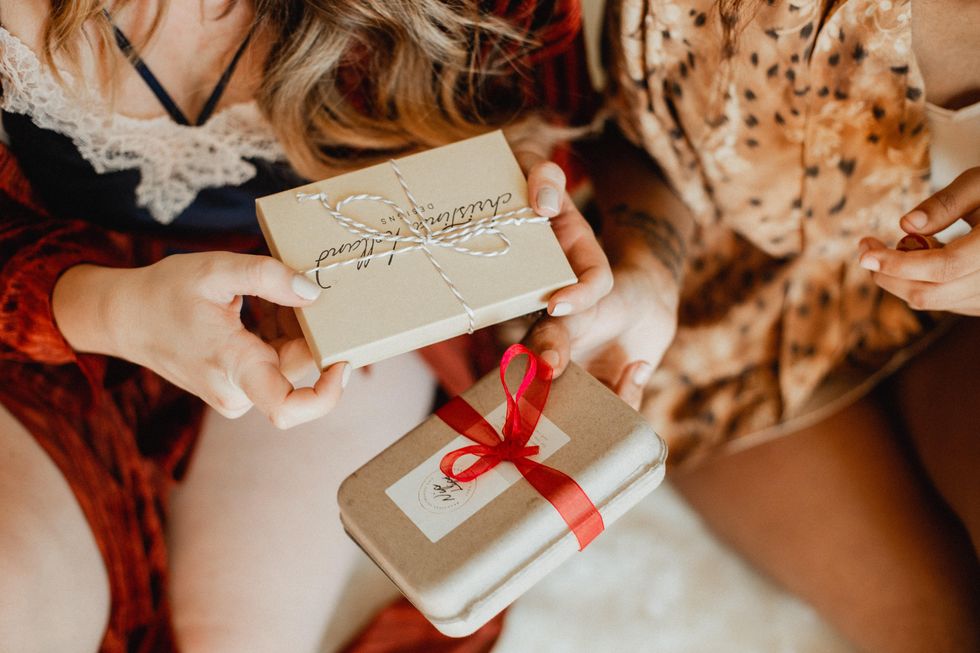 Jackie S via Unsplash
If you got something that you think one of your friends or family can benefit from, why not give it to them? There's no shame in revealing that it was a gift and you don't want it anymore…as long as you aren't re-gifting to the person who gave it to you!
Or, keep the gifts to re-gift at a later date. You never know when you're going to need a last minute gift. You'll thank yourself later.
Attempt a Return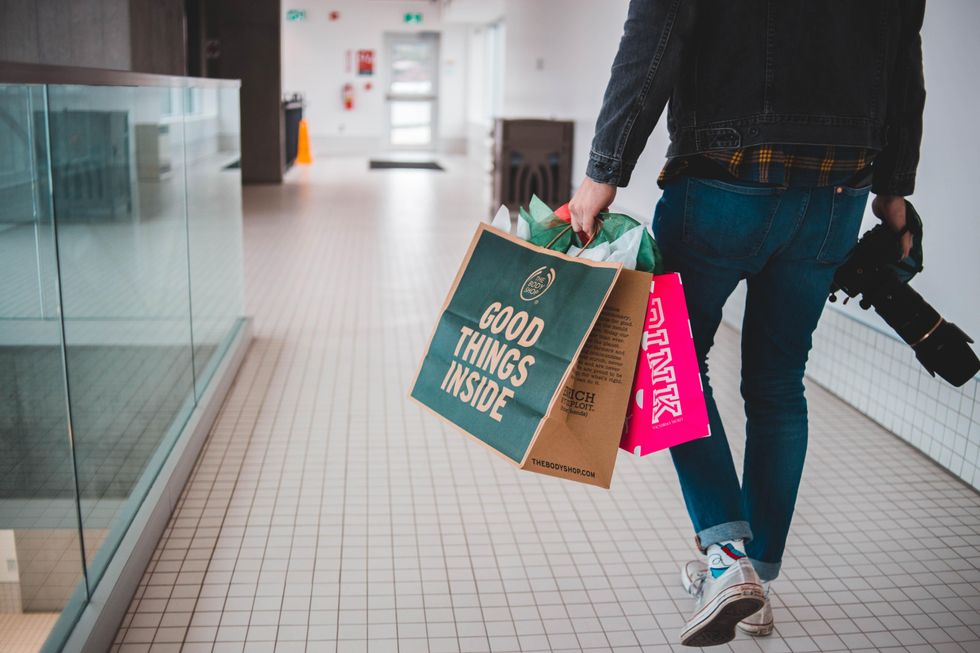 Erik McLean via Unsplash
If your item still has a tag, you can make a valiant effort to return to the store. If you can make your case, many stores won't want to fight you on it. They may be forgiving and grant you store credit at the very least.
80% of Americans believe abortions should be legal, so it's time, people - time for us to... Get up, stand up / Stand up for your rights
Less than a week before Mother's Day, Politico published a leaked draft opinion revealing that the Supreme Court's conservative majority of justices are ready to strike down two rulings on abortion rights, including Roe V. Wade the 1972 landmark decision that made abortion a federally protected right in the United States.

Since the Roe v. Wade ruling and the 1992 Planned Parenthood v. Casey ruling that affirmed the Roe decision, the court has never allowed states to prohibit the termination of pregnancies prior to fetal viability outside the womb – that's roughly 24 weeks.
The news sent shock waves around the world ...and with good reason. Roe guaranteed women's right to have an abortion without excessive government restriction. Written by Justice Samuel Alito, the Supreme Court draft majority opinion shows what could happen if the court overturns Roe v Wade.
Jesse Wegman brilliantly summed up the dire situation in a recent opinion piece in the NYTs: "If the holding in the draft opinion stands, it will mark an astonishing moment in our history: the elimination of an existing constitutional right, one that millions of American women (not to mention the men who impregnated them) have relied on for nearly half a century."
Though the draft was leaked by a person or persons unknown, the Court has acknowledged that the leak is genuine. Not all Washington conservatives agree with what's assumed to be the Court's position, but it fits within the Right's larger policies attacking and penalizing women, the poor, and people of color. Should Roe be overturned, the greatest impact will be felt by minority women.
As journalist Manuella Libardi has written:
"...the reality is that abortion is only illegal for poor women. Women with resources can always interrupt their unwanted pregnancies… Restricting access to safe abortions keeps poor women in poverty, perpetuates the cycle that prevents them from social mobility, and allows wealth to remain in the hands of the rich, particularly white men. Deciding if and when to have a child is essential for a woman's economic and psychological well-being: it has implications for her education and for entering the workforce."
The consequences of overturning Roe V. Wade and letting individual states determine their stances on abortion are frightening. No matter what the Court's decision is, women will still need to have abortions for personal, medical, and legal reasons. It'll just be harder to arrange – and far more treacherous.
A deputy spokesperson for United Nations Secretary-General António Guterres stated that "reproductive health and rights are essential to achieve equality around the world. The secretary‑general has long believed that sexual and reproductive health and rights are the foundation for lives of choice, empowerment, and equality for the world's women and girls...Without the full participation of 50% of its population, the world would be the biggest loser."
The Leak
The drafting of Supreme Court opinions is a fluid and dynamic process, so the document is not the court's final ruling. A work-in-progress, the leaked opinion is marked "first draft" and was dated Feb. 10, 2022. That's two months – or 8 fetal weeks – after oral arguments were heard in the Mississippi case Dobbs v. Jackson Women's Health Organization.
This is a document that citizens were never supposed to have seen. Following Politico's publication of the draft, Chief Justice Roberts announced that the Marshal of the Court – its chief operations and security officer – will investigate the source of the leak.
"Court employees have an exemplary and important tradition of respecting the confidentiality of the judicial process and upholding the trust of the Court. This was a singular and egregious breach of that trust that is an affront to the Court and the community of public servants who work here," Roberts said.
Just Who's On That Bench?
Liberal Judges: Sonia Sotomayor, Elena Kagan, Stephen Breyer
Conservative Judges: Chief Justice John Roberts, Clarence Thomas, Samuel Alito, and the three Trump-appointed justices Brett Kavanaugh, Neil Gorsuch, and Amy Coney Barrett
The Court has a blatantly partisan crop of justices who appear prepared to overturn Roe outright. The draft opinion has the support of at least four of Chief Justice Roberts' colleagues, according to Politico: Justices Thomas, Gorsuch, Kavanaugh, and Barrett – the only woman in the majority.
It's rumored that Roberts – ostensibly committed to the court's reputation and established precedent – may attempt to convince one of his conservative colleagues to join him in a narrower opinion that would not completely overturn Roe v. Wade.
The State of the States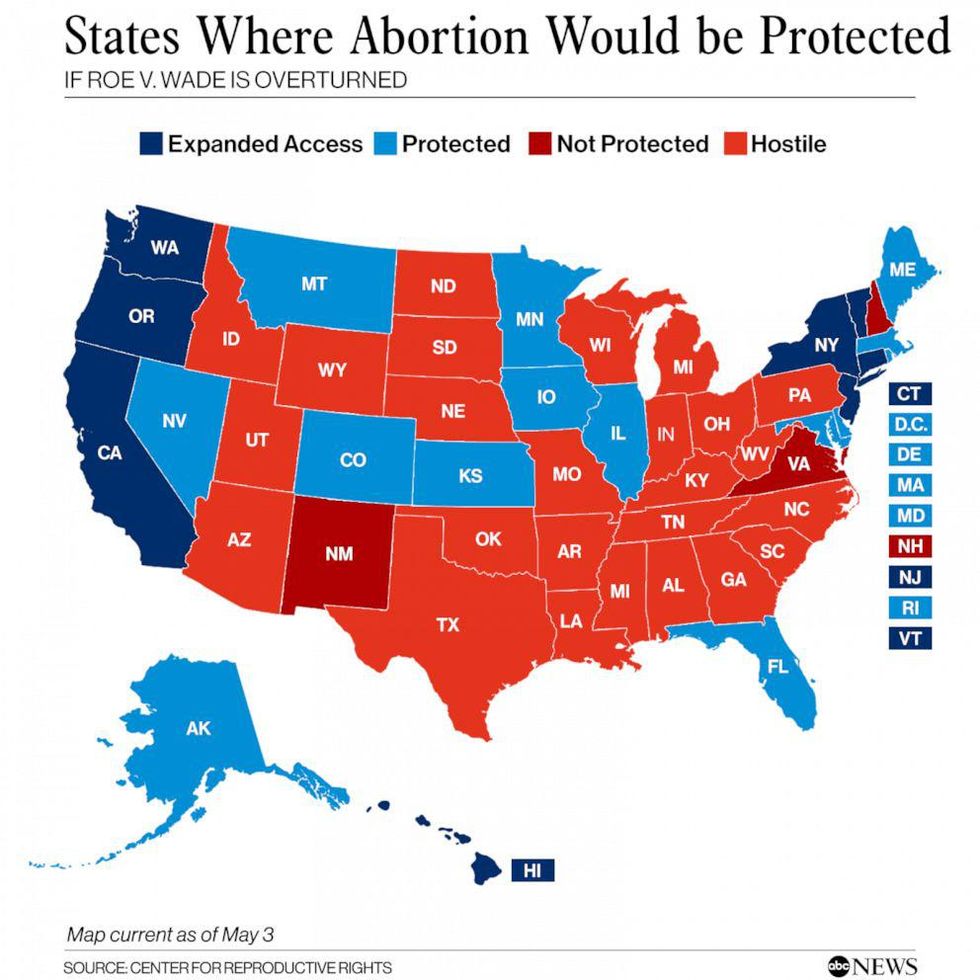 Abortion is currently legal in all 50 states, but over the past several decades many states have passed laws that limit access – most recently in Oklahoma, Florida, and Texas. Should the Supreme Court rule to overturn Roe, the power to decide abortion access would rest with each state's elected leaders.
According to the reproductive rights organization The Guttmacher Institute, over half of the nation's 50 states are prepared to ban it. Twenty-one states already have laws on the books that would ban it immediately, with five additional states likely to.
States planning to ban abortion are clustered in specific geographic regions – including the American South – where women will have to travel hundreds of miles at a greater inconvenience and cost. Imagine you're 15 years old, you're pregnant, and you live in Cyclone, WV, on Tribal Land in Tahlequah, OK, or Belle Glade – one of Florida's poorest cities and only an hour's drive from Mar-a-Lago. The denial of your right to health, education, and selfhood would be insurmountable.
As Langston Hughes challenges: "What happens to a dream deferred?"
Many attempts have been made on both the state and federal levels to overthrow or curtail the right to abortion. And more are sure to be made in the wake of the Supreme Court's decision. If Roe goes away, states can allow it, regulate it, or outlaw it.
And-so. Let's get down to it – I am sick to death of these men using words as sticks to beat us with. Blithely tossing around terms like trust and betrayal of confidences: LIKE. THEY. CARE one atom about trust, confidence, betrayal.
"Roe was egregiously wrong from the start," Justice Alito's draft states. "It is time to heed the Constitution and return the issue of abortion to the people's elected representatives."
In a statement issued Wednesday, Chief Justice John Roberts called the leaked draft a "singular and egregious breach" of trust.
I'm particularly struck by these two Justices' use of the word egregious so I dug into its etymological roots:
Originating in the 1530s, egregius comes from the Latin ex = 'out of' + grex or greg = 'flock' – literally 'rising above the flock' – illustrious, distinguished, excellent, extraordinary.
Egregius. What a precise word to define the leaker's singular and extraordinary act of courage. To rise above the herd and step bravely in front of a butcherous, onrushing train...
Let's call this for what it is. This is a chronic, concerted attack on gender, race, income equity, our health, and the well-being of our country. We are human beings who grew within, merged and emerged from a body – a body that bore us in blood, torment, and pain. Once. Before we were born, we were one with our mother.
At this moment in America, our bodies (regardless of gender), our body of law, our body of government are in great peril. We are one body – and we need to treat ourselves with the highest regard.
Let's end this terrifying war on reproductive health, this war on all Americans.
Get up, stand up / Stand up for your rights
Get up, stand up / Don't give up the fight
Honor Molloy is a novelist and dramatist whose work often addresses reproductive rights. Madame Killer is a Gothic Noir set in 19th Century Manhattan. In 2020, Round Room won Origin First Irish Theatre Festival's Best Play Award.
There's still a long way to go for women's equality, but movements around the world are striving for progress.
Since 1987 March has been designated Women's History Month in the United States.
But since at least 1914, March 8th has been recognized as International Women's Day. Originally associated with movements pushing for women's suffrage, the meaning of March 8th changed in 1917 in Petrograd, Russia when female textile workers used the occasion to go on strike, demonstrating against the czarist system and their country's devastating involvement in World War I. It marked the beginning of the Russian Revolution.
It would be an understatement to say that women have always played a big role in pushing society forward. And the more of a role they've been able to wrestle from patriarchal control, the more they have been able to push for that progress.
With that in mind, let's take the occasion of Women's History Month and the recent celebration of International Women's Day to look at some major women's movements that are working to push the world forward in 2021.Polish women's rights protest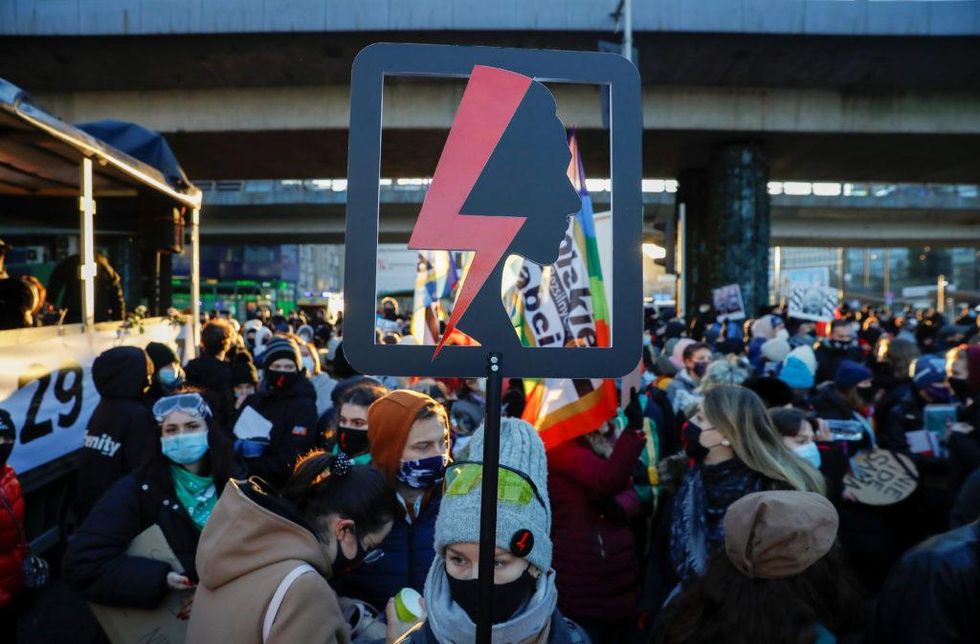 In January a ruling from Poland's Constitutional Court went into effect, labelling nearly all abortions in the predominantly Catholic country unconstitutional.

While there were already harsh restrictions placed on abortion access in Poland, 98% of legal abortions within Poland prior to this ruling were provided on the grounds of severe fetal abnormalities. Now the only legal instances for terminating a pregnancy are cases involving sexual assault and instances in which the mother's life is in danger.
The ban is unpopular among Polish citizens but is aligned with the interests of the Right-wing Law and Justice party, to which the members of the court are considered to be loyal. Since that time, thousands of women have taken part in the Women's Strike, taking to the streets of Warsaw to protest for their bodily autonomy and demand unfettered access to abortion services.
For International Women's Day, strike leaders organized a Women's Day Without Compromises Protest. As Klementyna Suchanow, one of the movement's leaders, put it: "We are under attack by religious radicals, and this is an international movement. So we women in different countries, we need to face it and fight against it. It's something that is happening to all of us: to Argentinians, to Americans, to Poles, to Croatians."
Mexico: Green Tide and a #MeToo Scandal
Mexico abortions: Pro-choice activists lead social media campaignwww.youtube.com
Speaking of Argentina and abortion, the recent passage of legislation legalizing abortion through the 14th week of pregnancy has sent ripples throughout Latin America. Calling themselves the Green Tide or the Green Wave, protesters in that country pushed politicians in Buenos Aires to acknowledge their rights and have become an inspiration for an expanding women's movement throughout the region.

In Mexico, that has included a protest movement pushing for improved abortion access, especially in the 30 states where it is currently subject to harsh restrictions — access is more available in Oaxaca and in the State of Mexico. But it has also melded with some other issues, including protests of President Andrés Manuel López Obrador's continued support of Félix Salgado Macedonio.
Salgado Macedonia is a candidate for governor of the state of Guerrero who has been accused of sexual misconduct and assault by at least five women in incidents spanning decades.
Iran: The Right to Leave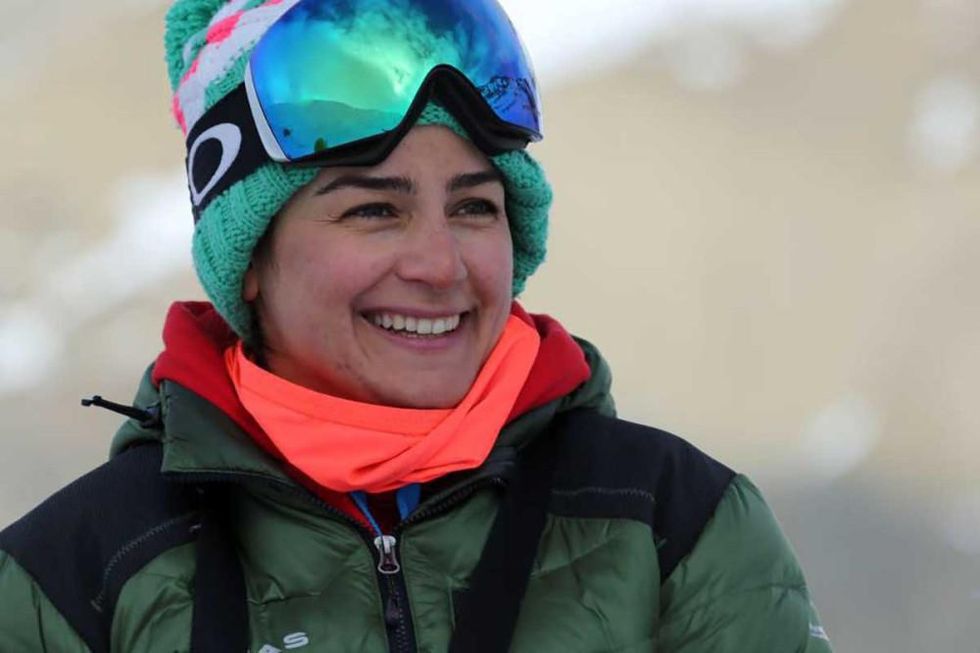 In recent years women have been a big part of protests in Iran. In addition to protest movements against various sexist social restrictions — like a dress code requiring women to wear head scarves in public — women were deeply involved in the bloody November 2019 protests, in which the government crackdown killed hundreds.

In recent weeks the story of alpine ski coach Samira Zargari — whose husband barred her from joining her team at the world championship in Italy last month — sparked a social media backlash, with women asserting that a husband should not be allowed to control their wives' travel and careers. An online petition to reform Iran's regulations on women leaving the country quickly amassed tens of thousands of signatures, amid a broader push to end the country's oppressive treatment of women.
Turkey: Violence Against Women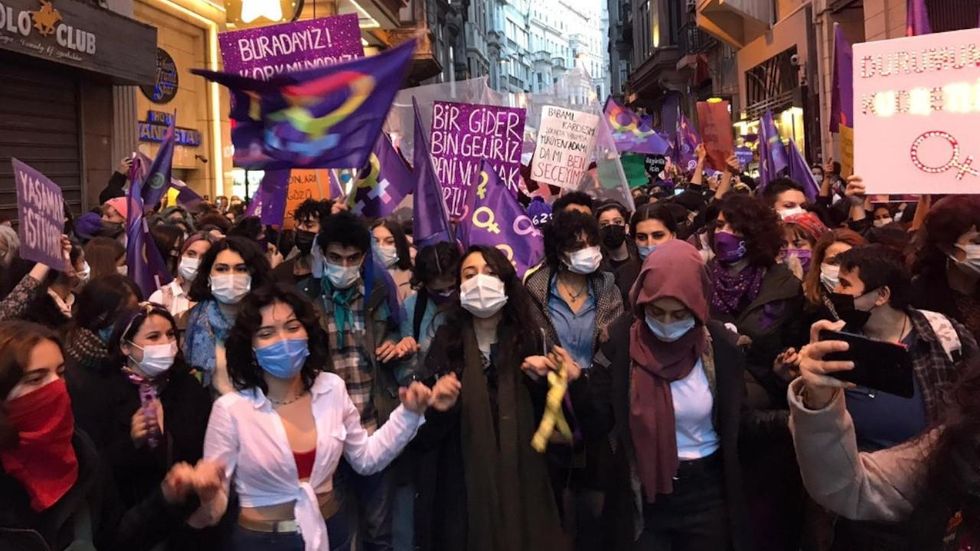 In Istanbul's Taksim Square in Turkey, around 1000 women gathered for International Women's Day, despite Erdogan's government shutting down public transit in the area. They were there to advocate for LGBTQ+ rights and to protest their government's lack of action to address violence against women.

The rate at which Turkish women have been murdered has reportedly doubled over the last decade. Many of these deaths involve domestic violence and "honor" killings that are often treated leniently by Turkish courts. As one protester Sumeyye Kose put it, "We are oppressed under the male power every day. Women's murderers are rewarded by not being punished."
Japan: A Voice for Women in Leadership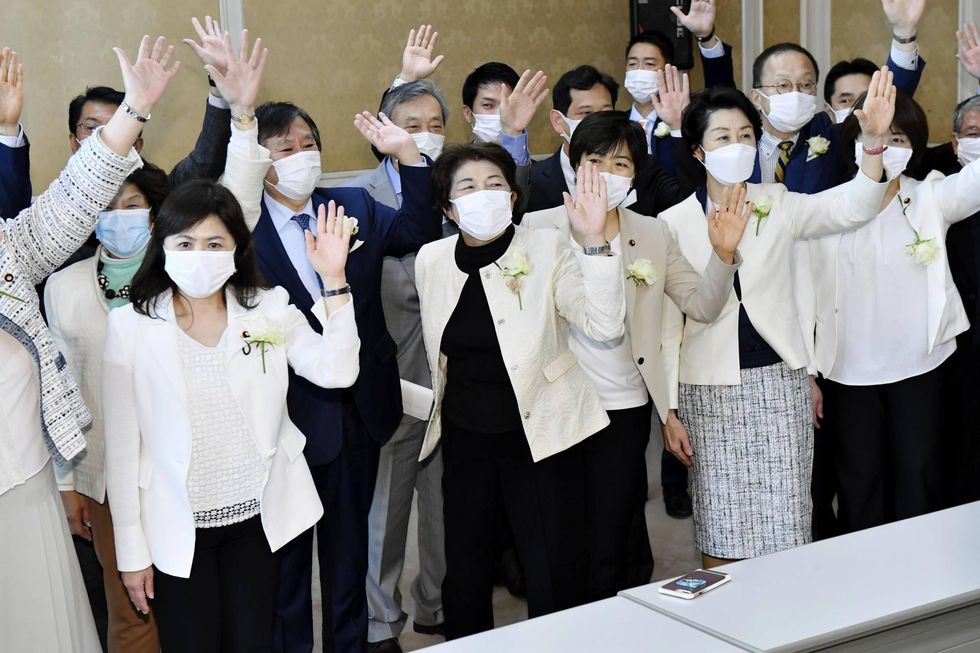 In 2020 the World Economic Forum ranked Japan 121st out of 153 countries in terms of gender parity. Women make up only about 10% of the membership of Japan's parliament — far lower than the underwhelming global average of 25-30% — and on average Japanese women earn about half as much as Japanese men.

Given this context, the outrage was particularly deserved when Yoshiro Mori — then chief of the Tokyo Olympic Organizing Committee — recently commented that meetings with women "drag on," claiming that women talk to0 much. Since then female lawmakers in Japan's Constitutional Democratic Party organized a demonstration against Mori, wearing white and donning white roses in homage to the American Suffragette movement of the early 20th century.
The display magnified the pressure on Mori, who was eventually forced to resign, but Japan clearly still has a long way to go. Not long after the scandal, Japan's ruling Liberal Democratic Party invited female lawmakers to sit in on meetings of its mostly-male board of directors — with the stipulation that those observers would not be allowed to talk...
Governor Greg Abbott signed an executive order suspending "non-essential" medical procedures in the wake of the coronavirus, including abortions.
Most of our country's current administration certainly won't go down in history for their handling of the coronavirus pandemic.
The nation's top leaders long ignored warning signs of the virus, but that doesn't mean Republicans can't use COVID-19 to push their anti-abortion agenda. A number of governors, including Texas' Greg Abbott, are suspending "non-essential" medical procedures for the time being, which so conveniently includes abortions. It must be nice to live a life in which accessing a safe abortion doesn't directly affect you!
Lawmakers in favor of this have framed it as a way to minimize use of hospital resources in the wake of COVID-19. However, as we already know, cutting off access to safe and legal abortions doesn't prevent abortions from happening; patients desperate for the procedure now will now be forced to travel, which creates the possibility of further spreading COVID-19 across states. Suspending abortions isn't going to minimize the spread of coronavirus—it's only going to put more people at risk.
Nevertheless, Governor Abbott issued an executive order to "postpone all surgeries and procedures that are not immediately medically necessary" from March 22 to April 21. As Jezebel reports, "On March 30, the ban was briefly lifted when a lower court ruled it unconstitutional in response to a complaint jointly filed by the Center for Reproductive Rights, Planned Parenthood Federation of America, and the Lawyering Project. But just one day later, three federal judges granted a temporary stay, which means the ban will resume."
Progressives have been criticized by conservatives for weaponizing the coronavirus against Trump. But what's more disgusting: rightfully criticising the most powerful man in the world's poor handling of a pandemic, or abhorrently using the virus to further prevent Americans from getting necessary health care?