"A tree is best measured when it is down," the poet Carl Sandburg once observed, "and so it is with people." The recent death of Harry Belafonte at the age of 96 has prompted many assessments of what this pioneering singer-actor-activist accomplished in a long and fruitful life.
Belafonte's career as a ground-breaking entertainer brought him substantial wealth and fame; according to Playbill magazine, "By 1959, he was the highest paid Black entertainer in the industry, appearing in raucously successful engagements in Las Vegas, New York, and Los Angeles." He scored on Broadway, winning a 1954 Tony for Best Featured Actor in a Musical – John Murray Anderson's Almanac. Belafonte was the first Black person to win the prestigious award. A 1960 television special, "Tonight with Belafonte," brought him an Emmy for Outstanding Performance in a Variety or Musical Program or Series, making him the first Black person to win that award. He found equal success in the recording studio, bringing Calypso music to the masses via such hits as "Day-O (The Banana Boat Song)" and "Jamaica Farewell."
Harry Belafonte - Day-O (The Banana Boat Song) (Live)www.youtube.com
Belafonte's blockbuster stardom is all the more remarkable for happening in a world plagued by virulent systemic racism. Though he never stopped performing, by the early 1960s he'd shifted his energies to the nascent Civil Right movement. He was a friend and adviser to the Reverend Doctor Martin Luther King, Jr. and, as the New York Times stated, Belafonte "put up much of the seed money to help start the Student Nonviolent Coordinating Committee and was one of the principal fund-raisers for that organization and Dr. King's Southern Christian Leadership Conference."
The Southern Poverty Law Center notes that "he helped launch one of Mississippi's first voter registration drives and provided funding for the Freedom Riders. His activism extended beyond the U.S. as he fought against apartheid alongside Nelson Mandela and Miriam Makeba, campaigned for Mandela's release from prison, and advocated for famine relief in Africa." And in 1987, he received an appointment to UNICEF as a goodwill ambassador.
Over a career spanning more than seventy years, Belafonte brought joy to millions of people. He also did something that is, perhaps, even greater: he fostered the hope that a better world for all could be created. And, by his example, demonstrated how we might go about bringing that world into existence.
Finding common ground in its aftermath
Regardless of any other conclusion from the election cycle of 2020, neither party received a sweeping mandate or a clear win. Dreams of a Blue or Red wave proved to be just that: dreams. The margin of victory will have been razor thin, whether for the White House, the Senate, or the House. It seems clear that the American people do not trust either party to have complete control, which has been the long-term trend of our history (and a healthy one in my view).

We have an opportunity in this moment to learn a lesson personally and to insist that our elected leaders do the same. The country is divided, indeed far more divided than the pollsters would have led us to believe. In general, they confidently predicted sweeping margins for Democrats that just did not exist in reality. Without regard to why those pollsters were wrong and without casting aspersions on their motivation, we must accept the reality that about half the country deeply disagrees with whichever partisan view we personally hold.
Further, we must accept the reality that we've done nothing, as a society, to bridge the deep gap in thinking that exists. Both sides tried everything in this election to convince voters of the perfidy and bad intentions of the other side. The discourse from the candidates themselves fell to the level of schoolyard taunts in the so-called first debate, which actually left me feeling dumber for having watched it.
As for "coverage" of the election, one could quickly determine the point of view of any given outlet, journalist, or commentator as we lacked any coherent, comprehensive, and fact-based reporting on the candidates, their records, or the issues that actually matter. Under such conditions we merely demonize the other and create echo chambers that amplify our own notions: we do nothing to engage with and understand the other.
Of course, one might argue that such a gap cannot be bridged anyway. One might argue that our politicians, political parties, and media reflect, rather than create, the deep difference in culture between the Red and the Blue. One might (merely to take a representative example of the Blue and Red polar ideologies) posit that secular humanism simply cannot exist alongside a theocentric world view. One might, quite convincingly, cite threatening statements from the firebrands of one side or the other as proof that Red or Blue adherents want to destroy their opponents' reputations, livelihoods, or basic freedoms. Indeed, whether by rioting or stockpiling weapons the Blues and Reds give ample evidence of mutual hatred and distrust.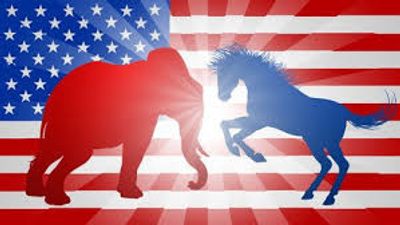 I suggest that we each, as individuals, reject this paradigm. That rejection requires both a conscious decision and actual work.

The decision part involves a choice to open one's mind to the possibility that the other has honest motives and acts in goodwill for humankind. It means deciding to lower, if only by a fraction, one's own very well self-justified guard as a sign of openness to dialog. We cannot even begin to talk if we continue to excoriate each other from behind our respective shield walls like medieval warriors.
The work part involves putting oneself in the shoes of the other in a very real way. I suspect that many of us have the lived experience of telling someone else about a problem, only to have them say, "I understand. That happened to me…." Then that person tells us what happened to them in a way that neither responds to our situation nor gives any indication that they actually heard what we were talking about.
Rather, they turned our experience into a parable justifying their own point of view and actions. I think that we could agree that we don't turn to that person again for advice or counsel, as we no longer trust them to provide either.
And, if we are honest, we also recognize that we have been that bad counsel and that we have turned the experience of others into enabling us to be the hero of our own story. In other words, when we confront the deepest corners of ourselves, we see that we have been the badly counseled and the bad counselor.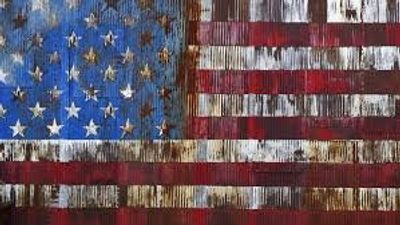 What to do then?

Seek common ground. Seek it upon whatever mundane foundations you can find.
I'm reminded of "Breakfast at Tiffany's" by Deep Blue Something. The singer laments:
"You'll say that we've got nothing in common
No common ground to stand on
And we're falling apart
Our lives have come between us
Still, I know you just don't care."
But, the singer finds common ground in the seemingly mundane movie of the song's title:
And I said, "What about Breakfast at Tiffany's?"
She said, "I think I remember the film
And as I recall I both think we kind of liked it."
And I said, "Well that's the one thing we've got."
As much as it sounds silly to seek wisdom 1990s pop songs, I do see wisdom here.
Rather than focusing on that which divides us, let's focus on what we do have in common. We'll never bridge the deeper divides if we can't find ways to relate to one another as people. If we think about our own lived experience, it's a lot easier to find common ground on big things when there is common ground on small things first.
So, let's find those small opportunities and embrace them.
Here's everything you need to know about Election Day 2020.
For many of us, it's been a very long, divisive four years. Finally, the end (for better or for worse) is in sight.
Today, November 3rd 2020, all remaining votes for the president of the United States of America will be cast. Most years we know who will be the next president by the end of election night, but like many things in 2020, this election will likely be different.
In fact, it's highly likely that we won't know whether Joe Biden or Donald Trump won the presidency tonight.
Here's why:
Mail-In Ballots
Most significantly, results will likely take longer than normal because more people than ever are voting by mail this year due to the global health crisis. It takes longer to count mailed in ballots because states have to verify signatures and other safeguards against voter fraud. Additionally, some states don't allow mail ballots to be processed until election day, and some states still count mail ballots received after election day as long as they're postmarked by election day.
More Votes
Say what you will about this administration, but it has certainly mobilized voters. Prior to today, over 91 million Americans had already voted, a number that represents around 67% of the total ballots cast in the 2016 presidential election. By the end of today, experts believe we will see record-setting voter turn out.
Early Tallies Will Likely Be Misleading
Some states count the ballots cast on election day first, and experts believe these counts are likely to favor Trump, as his supporters are more likely to vote on election day. In contrast, other states count mail-in ballots cast prior to election day first, and these results are likely to favor Biden, as polls show that his supporters are more likely to vote by mail this year. Essentially, we are unlikely to get a clear picture of who won the presidency until all ballots are counted.
US Postal Service Delays
Due to delays in deliveries by the U.S. Postal Service, many are fearful that ballots won't arrive in time to be counted. To add to the injustice of this, Republicans, including Trump's camp, have been filing lawsuits to keep ballots delivered after election day from being counted.
To illustrate the magnitude of this problem, one can look to Michigan, where an appeals court has struck down a 14-day ballot-counting extension, meaning that voters are now being urged to drop off their mail in ballots in person. Courts have also ruled that extensions aren't allowed in Wisconsin and Indiana.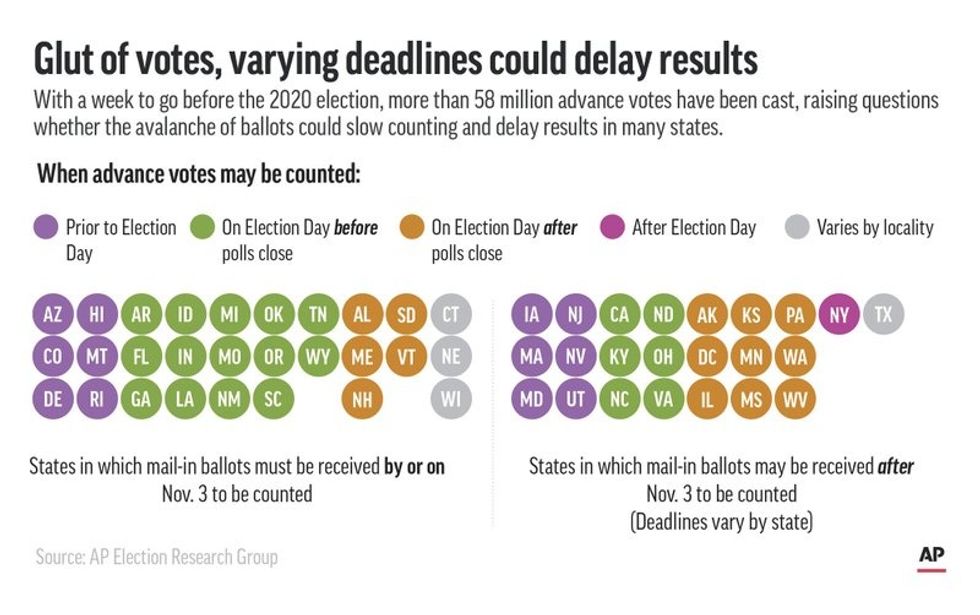 AP News
So when will we know who won?
We won't have a clear picture of who won until the swing states have been tallied. Here's when we can expect that to happen for each state.
Florida
Mail-in ballots can legally be counted in advance of election night in Florida, so we're likely to have an accurate picture of results tonight, which officials can release around 7:30 pm ET. However, if the election is close they may not call the state until Wednesday or Thursday.
Arizona
State law in Arizona allows mail-in ballots to be counted up to two weeks before election day, so it's likely election officials in Arizona have a clear picture of mail-in ballot results already. Arizona early vote results and and mail-in vote results can both legally be released about 10 p.m. ET tonight, and election day votes will soon follow. We may know Arizona's results on election night, but if the race is tight they may not call it for several days.
Michigan
We are unlikely to know Michigan's results on election night. According to NPR, "In Michigan, election officials in cities with more than 25,000 residents can start processing mail ballots on Monday at 10 a.m., sorting ballots and removing outer envelopes. They can't be counted, though, until Election Day."
"It could takeuntil Friday, Nov. 6 for all ballots to be counted," the office of Michigan Secretary of State Jocelyn Benson wrote on Thursday.
North Carolina
North Carolina has a very similar system to Arizona, so while we may know results on election night, its also possible it will take several days if the race is tight. 80% of voters already cast their ballots either through the mail or via early voting, but that remaining 20% who will vote on election day are more likely to be Trump voters.
"For the 20% or so of North Carolinians who vote on Election Day, we will be receiving those from the precinct and uploading those, as well," executive director of the North Carolina State Board of Elections Karen Brinson-Bell said on Thursday. "So, if there are really close races, those Election Day votes will tremendously matter in the outcomes of these elections."
Pennsylvania
We're unlikely to know the results of Pennsylvania on election night. Some counties may not even begin tallying absentee ballots until Wednesday. "We're sure it will take more time than it used to," Gov. Tom Wolf said Thursday. "We probably won't know results on election night." Luckily, Pennsylvania can accept mail-in ballots up to three days after the election as long as they are postmarked by election day.
Wisconsin
We should know the results for Wisconsin by Wednesday morning (Nov 4) at the latest. They aren't allowed to pause election counting once its begun according to state law, so its likely election officials will work through the night in some counties to offer results by Wednesday morning.
So...
In summary, it's likely we will not know election results for several days, unless it is such an enormous blow out (unlikely) that results become evident early. This could happen if Biden takes a key Republican state like Texas, but more than likely we'll just have to wait and see.
At his point, anything could be true...
In the early hours of Friday morning, the White House announced that President Donald Trump and first lady Melania Trump had both tested positive for COVID-19.
The news came shortly after it was confirmed that top aide Hope Hicks had tested positive after weeks of travellng with the president to campaign events. As a result, Trump's reelection campaign has canceled a number of upcoming campaign events in battleground states.
The idea of a sitting president contracting a life-threatening virus around a month before the 2020 election seems like the definition of a so-called "October surprise." But honestly, Donald Trump's reckless behavior in recent weeks—holding public rallies around the country, including a crowded indoor event in Henderson Nevada—makes his diagnosis substantially less surprising.
President Donald Trump said to have minor Covid-19 symptoms: New York Times reportwww.youtube.com
Of course, during Tuesday night's debate, Joe Biden expressed concern about that exact issue, noting that the president has "been totally irresponsible in the way in which he has handled the social distancing ... basically encouraging people not to [wear face masks]" at these events.
Trump, of course, responded by mocking Joe Biden for wearing "the biggest mask I've ever seen" and insisted that—in terms of his rallies and the risk of spreading COVID—"so far we have had no problem whatsoever." Less than 24 hours later, Donald Trump was at yet another rally in Duluth, Minnesota, where unmasked people were standing shoulder to shoulder.
Leaving aside the fact that Trump's "great friend" Herman Cain tested positive for COVID-19 just nine days after attending Donald Trump's Tulsa rally without wearing a face mask—dying soon after—and the fact that the state of Oklahoma saw a massive spike of COVID cases in the weeks following the event, it should finally be impossible for Trump to claim they've had "no problem."
That said, with an incubation period of up to 14 days, it would be unlikely—if Hope Hicks and the president had contracted COVID-19 in Duluth on Wednesday—for a test to come back positive so quickly. But that was the fourth rally the campaign has held in the past two weeks. Either of them might have been exposed in Pennsylvania, Virginia, or Florida.
But all of this ignores one confounding possibility—that this whole story might be just another Trump lie.
The Case Against COVID
Donald Trump has made it a regular practice to introduce some major disruptive news any time a negative story about him is dominating the cycle. Often that includes outright lies.
For the last few days, the story of "the worst debate ever"—mainly the result of Donald Trump constantly interrupting and talking over both his opponent and the debate moderator—has been all cable news wants to talk about. Even Brian Kilmeade—among Tump's biggest fans at Fox News—has expressed some criticism of the president's performance.
'Dumpster fire': See Jake Tapper and Dana Bash's blunt reaction to debatewww.youtube.com
With the election so near, Donald Trump and his team have made it clear that no tactic is too deceptive or underhanded for them to employ if they think it will help him win. So if Trump wanted to disrupt the continued analysis of that awful debate, what are the potential advantages of faking a COVID diagnosis?
For a start, now that he is reportedly ill and faces potentially dire health consequences, any criticism of how he has mishandled the pandemic (including this article) will be easy for his defenders to characterize as cruel politicization of the president's health.
It delivers a more or less guaranteed opportunity to demonize the media—one of Donald Trump's favorite methods for energizing his base—while also ensuring more neutral/positive coverage than he has gotten in recent days. If it works well enough, it might even provide enough media cover for the senate to push through Amy Coney Barrett's controversial nomination to the Supreme Court.

It could also rewrite the debate schedule. The second debate was originally planned for October 15th and will almost certainly be postponed or canceled. Maybe president Trump only wants to have one more debate. If he has a plan to come back from the disastrous first performance with some surprising tactics in one final debate—currently scheduled for October 22nd—Joe Biden will have no third round in which to adjust and counter.
Maybe he's planning to pivot—yet again—to a more disciplined and presidential poise, so that if Biden comes looking for a similar fight, he will instead come across as the combative one. If President Trump returns to the debate stage with a subdued performance, as though he's been humbled by a brush with his own mortality, perhaps he can win back some polite suburban voters who may have been turned off by his bullying debate style—though somehow not by every other aspect of his presidency.
Another advantage of faking a COVID diagnosis would be the opportunity to promote a supposed cure. If Trump claims that he took Chloroquine—or some other unproven treatment—after his diagnosis, and thus experienced only mild symptoms, he gets another chance to tout a "cure" that will soon have this global pandemic under control and the economy back on track. Even better, he can "brag" about how mild his illness was for him—painting himself as tough and healthy and affording another opening to attack Biden's fitness.
This is roughly the approach that fascist Brazilian president Jair Bolsonaro—one of Trump's closest international allies—took when he (possibly) contracted the coronavirus back in July. He was out shaking his supporters' hands and promoting hydroxychloroquine amid conflicting reports about his diagnosis. Was it all a ruse? Is Trump following the same game plan?

On the Other Hand...
Of course, none of this is to say that President Trump definitely doesn't have COVID. It's a highly contagious virus, and his reckless behavior has put him at significant risk.
While there may be tactical benefits to faking a COVID diagnosis, there's a lot of room for downsides as well—potentially inspiring his base to reconsider the threat of the virus and the value of the kind of strict lockdown procedures that could have prevented much of the pandemic's impact in the US. If they start having those thoughts, maybe it won't make so much sense to demonize liberal politicians for shutting things down while hundreds of thousands of Americans are dying...
That scenario may seem like a stretch—Trump's base is far more likely to attribute this kind of news to a Chinese conspiracy to infect their hero than to any GOP incompetence—but the point remains that news of this magnitude shifts the political narrative in unpredictable ways. Would Trump and his campaign really take the risk of faking something like this, even with the chance that it could turn against them?
Who knows? Whatever the arguments on one side or the other, the biggest reasons to question this story—and invest in all this conspiracy theory-logic—are the same reasons we should have learned by now to doubt nearly everything: We can't trust Trump, and we can't trust 2020.
#SaveTheUSPS? Budget cuts and reforms have made it difficult for the Post Office, a beloved American institution to do its job.
The United States Post Office is under attack.
Direct attacks from the president, COVID-19, government failure to provide aid, and a radical new postmaster general have all contributed to what's shaping up to be a veritable disaster for American mail—one that might have consequences for the upcoming November election.
The Postal Service's Opponents: COVID-19, Trump, DeJoy, and Money
2020 has been extremely difficult for most people and businesses, and the USPS, which reported a $3 billion loss in the last three months, is no difference. Democrats proposed giving the postal service $25 billion in aid as part of their latest coronavirus stimulus package, which stalled to a standstill in Congress due to partisan divides. Without significant aid, the USPS has suffered intensely during the COVID-19 pandemic—and so have its customers.
In addition to the fact that the postal service provides necessary services to millions across America every day–and it is now responsible for delivering vital products to Americans trying to social distance and end this pandemic–it will be responsible for perhaps the most important job ever: carrying the millions of mail-in ballots that are sure to be cast in 2020 to the appropriate destination.
More Americans than ever before are projected to vote by mail in the 2020 election, largely due to the coronavirus pandemic. Some polls have shown that Trump's supporters are more likely to vote in person, whereas Democrats are more likely to vote by mail, while others show that there is no partisan divide between who votes by mail and who does not.
Still, many of Trump's opponents, who fear he is attempting to sabotage the election by shutting down the postal service and forcing people to choose between their health and democracy, are terrified.
The postal service has, therefore, found itself an unwitting political punching bag.
President Donald Trump has never hid his disdain for the Post Office. Recently, he's begun to argue that voting by mail—the safest way to vote during COVID-19—will lead to fraud.
Americans Fight for the Post Office & Obama Speaks Out | The Daily Social Distancing Showwww.youtube.com
This claim has been proven false, but of course Trump doesn't care. Still, it's clear that the postal service could easily manage an election if it was allowed to continue as it had been for over 200 years. "If — and that's a big IF — allowed to do its work, the US Postal Service can easily handle the surge of mail that might result from 150 million Americans choosing to vote by mail this fall rather than vote in person," writes Jesse Jackson for the Chicago Sun Times. The postal service normally handles around 500 million letters per day.
The problem is that the postal service is not being allowed to do its work. COVID-19 was incredibly difficult, but the postal service was able to keep things somewhat under control until Louis DeJoy entered the scene.
Louis DeJoy, Postmaster General
At the center of all this is Louis DeJoy, who was appointed the new postmaster general in June. Notably, DeJoy, a multimillionaire, is a top GOP donor and was the chairman of fundraising for the Republican National Convention last year.
Since he was appointed, DeJoy has made some changes. His "reforms," all imposed without any public consultation or discussion with employees, include cutting hours, reducing overtime, and removing mail processing equipment. The USPS also recently announced that it will not treat ballots as priority mail without first-class postage.
In short, DeJoy's "reforms" are slowing down the mail.
Over the past few months, the Post Office has reported delays in receiving prescription medications and other necessary goods, delays that have increased thanks to DeJoy's new policies.

The Post Office's sudden decline has also already harmed elections, with some voters in Wisconsin and Michigan never receiving the absentee ballots they requested in advance and with New York postal service employees rejecting ballots that did not have the appropriate postage.
Postal service employees themselves are extremely confused by the "reforms." "If you asked me a month ago [if] the postal service handle an influx of mail-in ballots, I would have said, 'We've been through two world wars and a depression, we've been doing this for more than 200 years,'" said Mark Dimondstein, president of the American Postal Workers' Union, to The Guardian. "Now, I'm not so sure."
Trump's administration has already announced that they want to privatize the Post Office, selling it off to private companies. DeJoy—who has million-dollar investments in competitors to the Post Office—has a reason to support these plans.
Democrats are attempting to take action. Nancy Pelosi recently called lawmakers back to the House to vote on legislation dedicated to protecting the postal service. They're currently voting on the Delivering America Act, which bans changes to the post office implemented after January 1st, 2020.
Democratic leaders are also calling on DeJoy to testify in court, demanding an explanation for the "sweeping and dangerous operational changes at the Postal Service that are slowing the mail and jeopardizing the integrity of the election."
What Can We Do?
With #SaveTheUSPS and #SaveThePostOffice trending on Twitter recently, the hashtag needs to become a movement.

"Citizens should be mobilizing pressure across the country, with demonstrations at Post Offices in support of the service, with calls to legislators demanding action, with pressure on state and local election officials to provide the resources needed for more drop-off boxes, more hours of early voting, more polling places," continues Jackson.
It's a great time to stage protests and call legislators, who need to know the people's opinions. While civilian contributions alone won't save the Post Office (only government stimulus packages or pocket change from Jeff Bezos could do that), concerned citizens can still do our part to show the postal service that we stand with them by buying Post Office merchandise, sending letters, and rallying to support our democracy by fighting voter suppression.
The senator from Vermont is fully behind Joe Biden's candidacy, but that doesn't mean he's abandoned his own agenda.
Joe Biden is a deeply flawed candidate—it would be pointless to deny it.
His unwillingness to embrace increasingly popular progressive policies has made him an unappealing option for younger voters who have more or less shunned him in every primary so far, while his legislative and personal history have the potential to put him in a defensive position as we enter the general election.
He is perhaps correctly viewed as the candidate that the Democratic party defaulted to after a contentious primary season failed to produce the centrist frontrunner that party insiders and donors were hoping for. He is the concept of "anyone-but-Trump" embodied in a hollow, flavorless candidacy who is nonetheless plagued by exactly the kind of scandals that would otherwise make Trump vulnerable to criticism.
While he has secured the Democratic nomination for himself on the basis of an argument for his "electability," many critics have called into question whether he actually meets that standard. But one thing is certain: If Joe Biden is going to beat Donald Trump in November, it won't be without a lot of help from the young progressive movement in this country. That's where Bernie Sanders comes into the play.
Watch Bernie Sanders endorse Joe Bidenwww.youtube.com
On Monday the senator from Vermont and former front runner for the Democratic nomination began the long arduous process of convincing progressive voters and activists to rally around a candidate that they find fundamentally dissatisfying. After suspending his campaign last Wednesday, Sanders came out with a statement calling on his supporters to back Biden in order to "defeat somebody who I believe ... is the most dangerous president in the modern history of this country."

It would be disingenuous for Sanders' endorsement to focus on Biden himself—whose approach to politics Sanders has thoroughly criticized both specifically and in the abstract—but it's far a more important message than claiming, once again, that Biden is his good friend. Sanders is addressing the significant and terrifying threat that our country faces in the form of Donald Trump. He's a man who called a pandemic a hoax when swift action could have saved lives, then used it as an opportunity to reward his loyalists at the expense of the public health, all while promoting dubious cures, undermining important regulation, forcing states into expensive bidding wars, and inciting dangerous xenophobia. He is, in short, a reckless, self-aggrandizing, would-be fascist.
In the three years that Donald Trump has held power, he has made tremendous strides in consolidating power for his party, America's economic elites, and himself. If he manages to get reelected, the problem is going to get worse. Whatever you think of Joe Biden, it's important to acknowledge how much better he would be for this country. It's important for the progressive movement in America to (however grudgingly) put their full force behind Joe Biden and get out the Democratic vote—particularly in swing states. While Biden's VP pick (promising rumors suggest Elizabeth Warren) has a lot of potential to help in that process, Bernie Sanders' endorsement is an important first step. So why is Bernie Sanders staying on the ballot in upcoming races?
The answer is that Bernie Sanders still represents a huge coalition of Democratic voters, and he wants to be able to represent their interests at this year's democratic convention. If he is able to secure a large number of delegates for himself, that will hopefully give him the sway he needs to push the party platform to the left on important issues like Medicare for All and student debt relief.
So while Bernie's endorsement is crucial for inspiring unity in November, voters in states like New York, New Mexico, and Pennsylvania will still have the opportunity to voice their preference for Sanders' policies.
We're here, and we're growing in numbers.
Everybody knows that young people have the lowest voting turnout rates of any demographic. It's a statistic that's often used against us to support allegations that we're lazy, self-involved, and too apathetic to care about the future of politics. For some of us, that's true. But within that 18-29 year-old demographic, there's a community that's too often overlooked.
A recent estimate from Pew Research Center finds that naturalized citizens will comprise about 10% of the eligible voters in the 2020 election–that's about 23 million people, a 93% increase since 2000. That's right: We're here, and we're growing.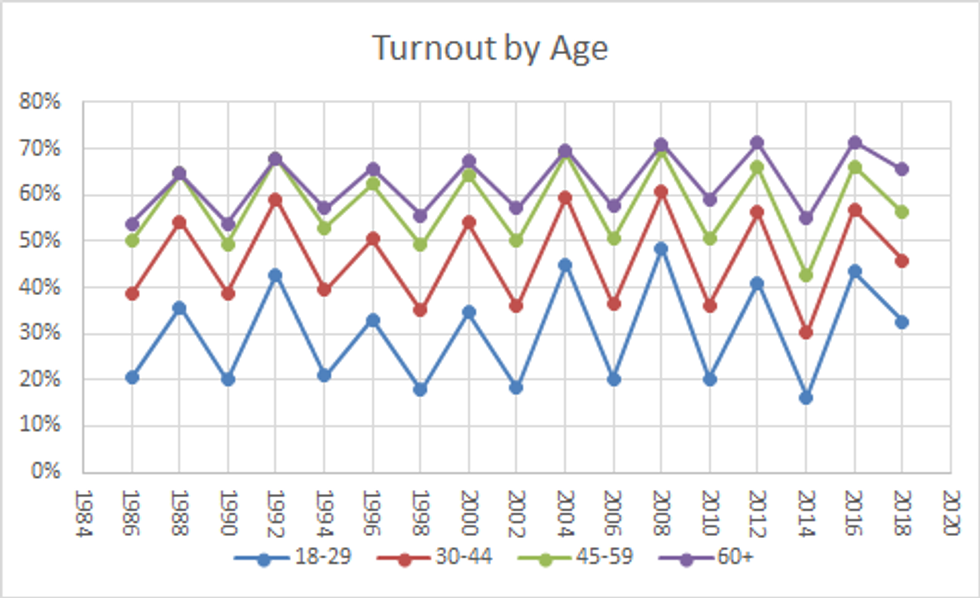 ElectProject
The power of naturalized citizen voters shouldn't be underestimated. Generally speaking, voting turnout rates of naturalized citizens are higher than natural citizens. According to Pew, 34% of naturalized citizen voters are Latinx and 31% identify as Asian; in each of those communities, more foreign-born immigrants show up to vote than non-immigrants. Where are these voters located? 56% of U.S. immigrants reside in the country's four most populated states. Of course, these are also the states with the most members of the electoral college: California (55), New York (29), Texas (38), and Florida (29).

It's no wonder why naturalized voter turnout would be high. Even as a naturalized citizen since I was one and a half years old, I can't take my right to vote for granted. Not even my jaded attitude as an academic or an irony-poisoned millennial can make me forget that 55 years ago, people like me were barely allowed into this country, thanks to immigration quotas and plain discrimination. The Immigration and Nationality Act of 1965 eliminated the quota system, and while the new immigration policy still favored northern and western Europeans, the law allowed increased flow of immigrants from Asia, Africa, and Latin America.
Amidst today's immigration crisis under the Trump administration, a growing number of voters are immigrants or the children of immigrants and shouldn't be ignored or dismissed. Even if immigration trends stay the same (rather than increase, as they are more likely to), then today's 10% of voters who are naturalized citizens will become at least 20% by 2040, with immigrants predicted to be the driving force of population growth in the U.S. in coming years.
These numbers impact the turnout of young voters like me and young people's investment in the policies and overall political system, which has turned away people who looked like me and which may turn away those people in the future if policies aren't changed. I'm a naturalized citizen, so I vote.
Amy Klobuchar ate salad with her comb and then made her aide clean it.
Prior to their official half-endorsement of Amy Klobuchar as the "Democrats' Best Choice For President," The New York Times covered another side of the Minnesota senator. "Senator Amy Klobuchar was hungry, forkless and losing patience," wrote political reporters Matt Flefenheimer and Sydney Ember.
"An aide, joining her on a trip to South Carolina in 2008, had procured a salad for his boss while hauling their bags through an airport terminal. But once onboard, he delivered the grim news: He had fumbled the plastic eating utensils before reaching the gate, and the crew did not have any forks on such a short flight.
What happened next was typical: Ms. Klobuchar berated her aide instantly for the slip-up. What happened after that was not: She pulled a comb from her bag and began eating the salad with it, according to four people familiar with the episode.
Then she handed the comb to her staff member with a directive: Clean it."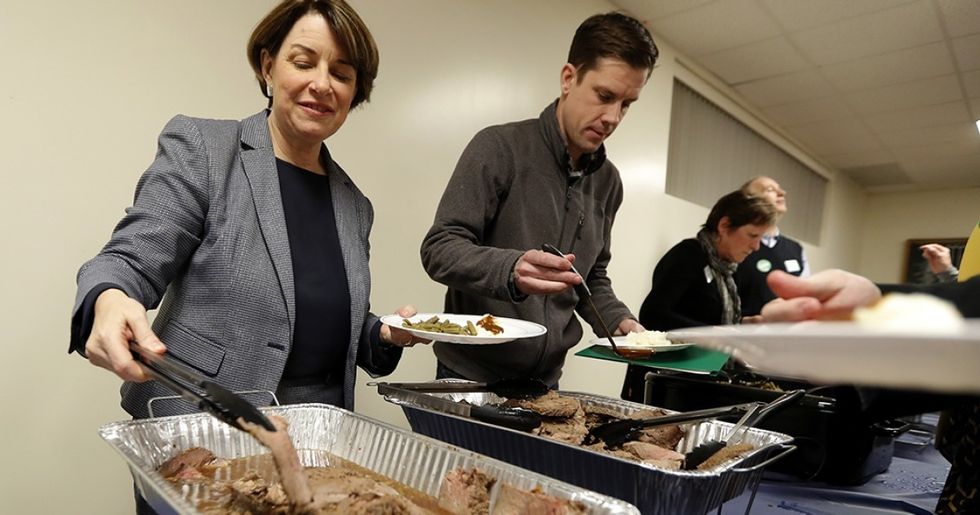 Washington Examiner
Flefenheimer and Ember's deep dive into Klobuchar's campaign team reads more like a copypasta than an account of real events; but alas, Klobuchar herself even seemed to lowkey brag about her history of mistreating her staff. "Am I a tough boss sometimes? Yes," Klobuchar said during a CNN Town Hall in February 2019. "Have I pushed people too hard? Yes. But I have kept expectations for myself that are very high. I've asked my staff to meet those same expectations. The big point for me is that I want the country to meet high expectations."

The CNN Town Hall audience may have cheered for that line, but voters don't seem to be "eating the salad," proverbially speaking. Klobuchar has consistently polled near the very bottom of people's choices for Democratic primary candidate, with recent polls placing her just over 3%. In other words, The New York Times' endorsement of Amy Klobuchar is strange considering the fact that she's basically unelectable.
But while, statistically speaking, pretty much nobody actually likes Amy Klobuchar, her behavior has struck a chord with a specific demographic on Reddit.
For context, while the overall Reddit community leans white, male, and liberal, many political figures' most ardent supporters use Reddit as a gathering space for promoting their candidate of choice. From the quarantined r/The_Donald with its 785k members (Russian bots included) to r/SandersForPresident with 380k, almost anyone can find their favorite presidential pick on Reddit. Even r/Tulsi has over 17k people who want Tulsi Gabbard to be president for some reason.
And then we have r/AmyKlobuchar. With 147 total members, roughly seven of whom seem to be online at any given time, the truly incredible thing about Amy Klobuchar's subreddit isn't its minimal user base. It's the fact that pretty much everything posted there is ironic.
The most upvoted post on the entire sub is titled "Amy Klobberchar" and contains a meme recounting a fictional incident wherein Amy Klobuchar threw a stapler at a staffer. In fact, many of the posts in r/AmyKlobuchar hone in on Klobuchar's history of staffer abuse, depicting Klobuchar firing unpaid interns and stepping on people's necks.In another top post on the sub titled "Why I am voting for Amy," a user lists off reasons including, "She is abusive towards her staff. We need a fighter, not a wimp," and, "I like the taste of boot."
The same New York Times article that covered the salad incident included a leaked email that Klobuchar has sent to her staffers regarding the things people said about her on Twitter: "We are becoming a joke and it is making me a joke."
As it turns out, Klobuchar's prophecy was self-fulfilling. By continually treating her staff like garbage, Klobuchar invoked the attention of a small but vocal demographic of roughly 147 people who don't like seeing low-paid interns treated like garbage.
Perhaps much more importantly, though, to most of the American electorate, Amy Klobuchar still doesn't matter.
We are all nobodies in Hillary Clinton's eyes
In the 2016 Presidential Election, Hillary Clinton dominated the endorsement race.
She had the backing of every prominent Democratic figure within moments of declaring her candidacy, while Bernie Sanders and Martin O'Malley made do with the scraps. For the campaign of a politician like Martin O'Malley, that was a death sentence. His term as Mayor of Baltimore was famously dramatized on HBO's The Wire in the figure of Tommy Carcetti—an idealistic politician who sacrifices his values in service of his ambitions and the political machine. A politician like that needs the support of as many establishment backers as he can get, and the fact that Hillary Clinton was taking up all the air in that exclusive room left O'Malley with about 0.5% of the Iowa Caucuses. A politician like Bernie Sanders is another story.
NO, HILLARY CLINTON, NO. I have diligently avoided attacking @HillaryClinton as I embraced #NotMeUs. But this bro… https://t.co/J26S43Sv8D

— Peter Daou (@Peter Daou) 1579614240.0
For Bernie Sanders, grassroots support from ordinary voters matters far more than the support of powerful elites. That was his strength in 2016 with #FeelTheBern, and it remains his strength in 2020 with #ILikeBernie, and his army of volunteers and small dollar donors. Just as in 2016, Hillary Clinton doesn't seem to know how that works, and the citizens of Twitter desperately want to teach her with a flood of scathing responses to her recent quote that "nobody likes" Bernie—including at least one from a former Clinton advisor.
Do endorsements even matter next to this kind of enthusiasm from supporters? Despite scant endorsements from traditional kingmakers and power players, Sanders' 2016 campaign won in 21 states, garnered 46% of pledged delegates, and took the race all the way to the convention. Meanwhile, in the Republican primaries, Donald Trump collected very few high-profile endorsements—and almost no newspaper endorsements—while easily besting his opponents in state after state.
This is inexcusable. If Bernie wins the nomination, we all need to work our asses off to help him win. If someone e… https://t.co/kviFDX2ml3

— Tommy Vietor (@Tommy Vietor) 1579616947.0
Comparisons of Sanders to Trump are never far from the lips of many mainstream pundits, and while much of that tendency is built on a faulty "horseshoe" theory of politics (that the "far-left" and the far-right of the political spectrum bend toward each other), there is a kernel of truth hidden in there. Both Sanders and Trump built their political successes on a perception of authenticity. That's what made their fans so passionate, despite the lack of institutional support. But while Donald Trump is an erratic, unprincipled con-man who built that perception primarily on the basis of his shameless embrace of racist and sexist rhetoric—"he tells it like it is"—Bernie Sanders is seen as authentic because he's been consistently fighting for the same causes, with the same uncompromising vigor, for four decades.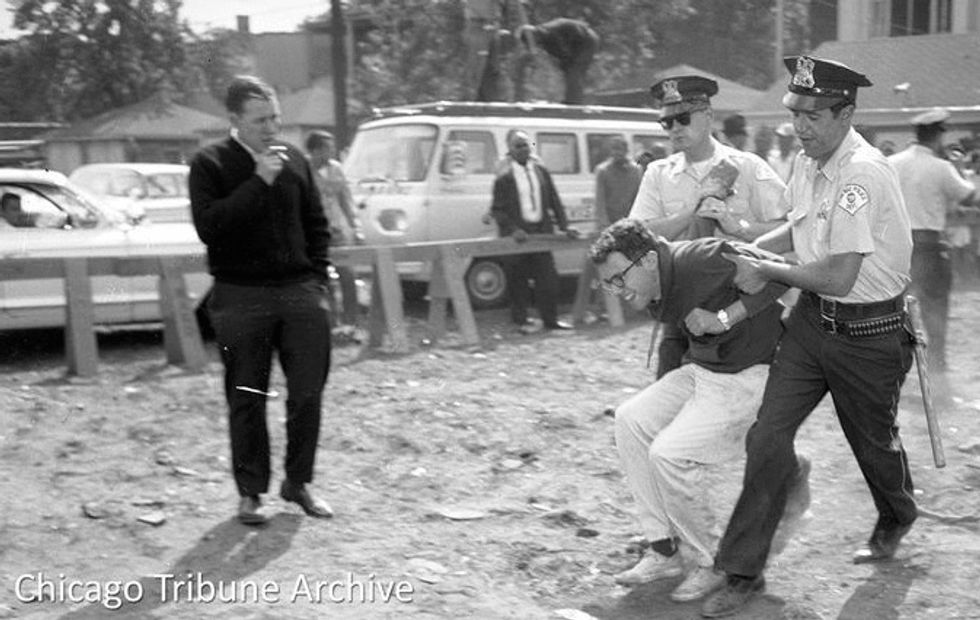 Since he entered politics in the early 1980s, if not long before—the image of him as a young activist being arrested during a civil rights protest in Chicago speaks volumes—Bernie Sanders has been fighting for a vision of justice that most Americans have only recently come around to. A vision that embraces issues of race, gender, and sexuality, but also of class, and of the ways that those concepts interact. And it is precisely because of that commitment that voters love him while, within the political machine, "nobody likes him."
That's what Clinton said in an interview with The Hollywood Reporter, going on to claim of Sanders that "nobody wants to work with him, he got nothing done. He was a career politician." She was referring specifically to Sanders' role in Congress, but what she revealed is that she is still deep in denial about her 2016 loss.
While it's always important to point out that Clinton received nearly three million more votes than Donald Trump—and would have won the presidency if our electoral system wasn't holding onto a useless relic of our nation's worst historic crimes—it's still worth noting that her primary flaw as a candidate played a role in her poor performance in key states.
Bernie's base is primarily women, young people, low-income, & POC. We've been called "Residue", "Russian trolls",… https://t.co/FSPtRg0sGg

— Dynasty🌹🌺✊🏿 (@Dynasty🌹🌺✊🏿) 1579627942.0
She was and is perceived by many voters as inauthentic. She plays the political games too well and too willingly, adjusting her public and private stances to her audience. Someone who doesn't play at all, who—in Sanders' own words—doesn't "tolerate bullsh*t terribly well," must seem like a strange creature. Her issue with him is not that he is a "career politician," but that he built that career on a foundation of grass-roots support, rather than mutual political aid within the institutions of power. Why doesn't he just play ball?

In other contexts Clinton has made it clear that she still blames Sanders for Donald Trump's victory. The fact that Bernie's firm principles threw her pliability into such stark relief may have made her flaws more visible and played a role in her failed candidacy, but her latest comments make it clear that she doesn't believe in another way for politics to work. The backroom deals and the focus-tested positions are politics to her. The idea of actually trying to build a better system—one that works for justice for all people—is "all just baloney" to her, and she feels "so bad that people got sucked into it."
Bernie has the temperament to be President of the United States. He doesn't get angry when his "friends" backstab… https://t.co/rhAaAC6cG5

— Veronica Corrales (@Veronica Corrales) 1579637230.0
We feel bad for you too, Hillary. You were a career politician too, and you may have gotten your name on more bills than Bernie Sanders—and I'm sure your fellow senators were impressed with your work—but none of us can name one. Your lack of vision, and the political strategies cemented in the 90s prevented you from pushing for the kind of change that might have been your legacy. People will remember Bernie Sanders' Medicare for All, whether or not the bill ever receives a floor vote.
Visionary change must seem like baloney to someone who had fully adapted to political stagnation. Bernie was no more responsible for you being branded "Crooked Hillary" than you were responsible for Barack Obama being labeled a Muslim. In both cases the slander was an exaggeration of the real story. And while political weaknesses are fair game, the fact that your staffers chose to distribute the image of Obama in a turban in 2008 points to the flaw in your character—in the character of the people with whom you surround yourself and in your entire approach to politics—that Sanders' biggest fans rejected in you. The flaw that Trump capitalized on with that nickname.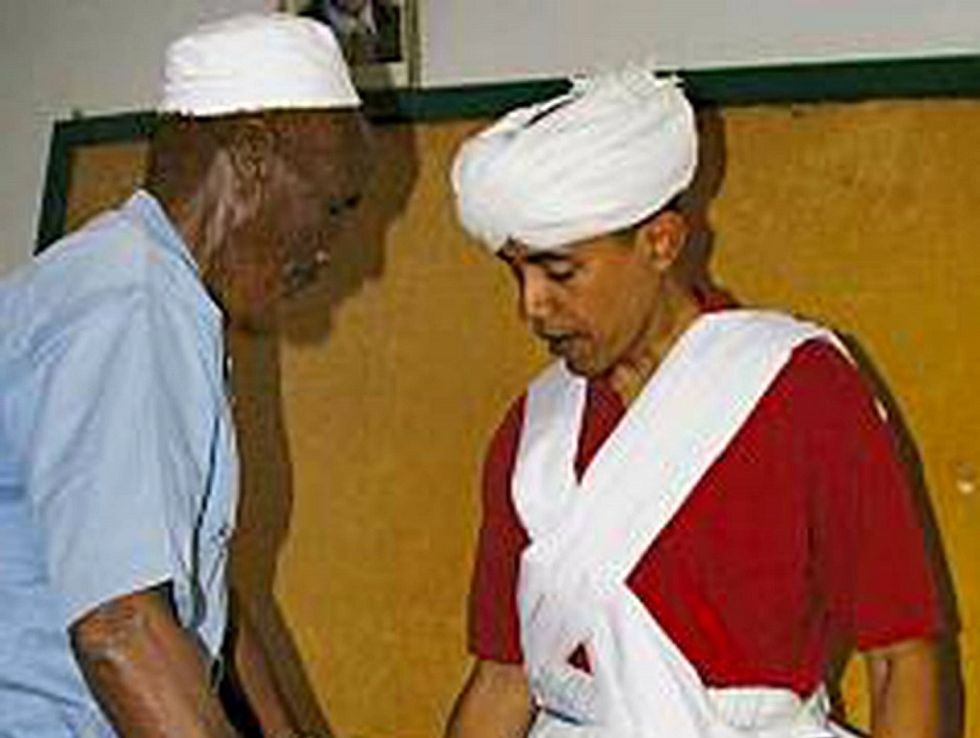 So yes, by the standards you built your career on, Bernie Sanders is a failure, and "nobody" likes him. His authenticity and his principles are incompatible with the kind of glad-handing and ass-kissing that could have won him some more endorsements. Luckily for him, there are a lot of us nobodies in the world, and we don't just exist on Twitter behind the explosion of #ILikeBernie posts that emerged in response to your interview. We vote.

So when you're asked if you would endorse in the case that he wins the nomination—that you're "not going to go there yet," it's tempting to point to your hypocrisy, but the more important point is: We don't care. We've moved on from politicians like you.
They need to put their differences aside if either of them hopes to win
In a recent interview with New York Magazine Alexandria Ocasio-Cortez commented that "in any other country, Joe Biden and I would not be in the same party, but in America we are."
With consistent cries for party unity since before presidential candidates even began announcing their campaigns, it would be tempting to attack Ocasio-Cortez as splitting the party, but she is absolutely right. There is only a unified party to split on paper. America's winner-take-all style of voting forces disparate political interests to share a title and to pool donors—unless they have the ability, like AOC, to source their own funding.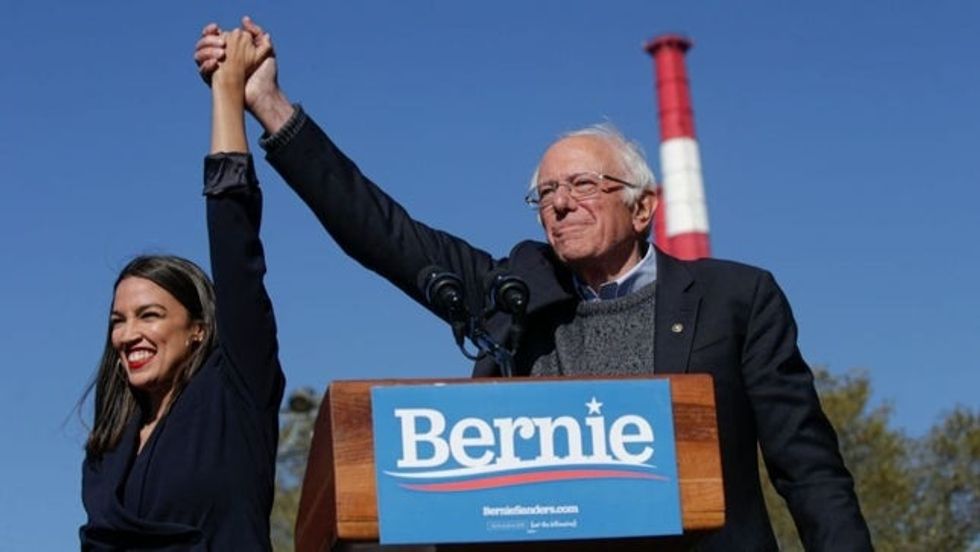 Getty Images
The GOP has used this to their advantage, emphasizing social wedge issues like abortion and immigration to pull working-class white voters away from their economic interests on the left—convincing them to cheer on tax cuts for the ultra-wealthy. For the Democrats, however, the powerful faction of the party that represents professional-class interests—the private-public partnership, means-testing, social-program-cutting wing—has represented a barrier to participation for truly progressive candidates and voters.

That's why it has been heartening, prior to this week, to see Bernie Sanders and Elizabeth Warren avoiding the temptation to attack one another. While many of Bernie's supporters online have adopted toxic attitudes toward anyone other than their preferred candidate, and many Warren supporters have questioned Bernie's feminist bona fides (particularly in light of that toxicity from many "Bernie Bros"), the candidates and their campaigns seemed largely cordial and supportive of one another. It's important, as the marginalized left-wing of the party, to focus on commonalities and mutual aid if there is going to be any hope of overcoming the powerful centrist forces that have ruled the party and served moneyed interests with only moderately less zeal than the Republican party.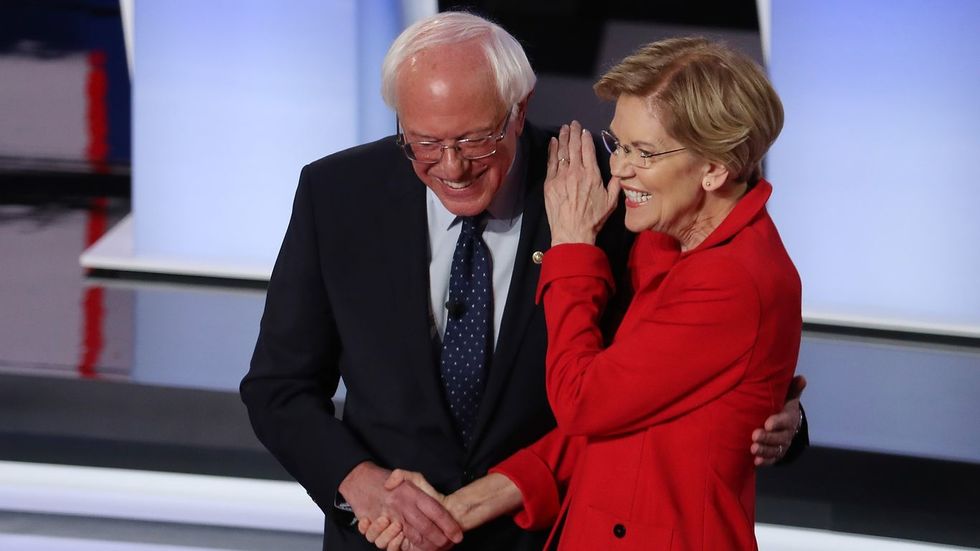 Justin Sullivan/Getty Images
That shared effort began to fall apart on Saturday night whenPolitico ran a story under the headline "Bernie Campaign Slams Warren as Candidate of the Elite." The story included excerpts from a document purported to be circulated within the Sanders campaign, with scripts instructing volunteers how to attack rivals in the Democratic primaries. While criticisms of Joe Biden and Pete Buttigieg are hardly surprising, the attacks on Warren—noting that her supporters are predominantly educated, affluent voters who "who are going to show up and vote Democratic no matter what"—came as a surprise in the context of the candidates' established alliance.

Skepticism in these cases is usually warranted, but the article contained little to suggest that the content was anything less than official and approved by Bernie Sanders himself. By the time Sanders came forward to repudiate the document and deny its official status, the damage was done. The rift was already beginning to widen.
@michelleinbklyn This campaign would NEVER attack supporters. The script, which was not directed by the campaign, p… https://t.co/smcZ6ssrU7

— Briahna Joy Gray (@Briahna Joy Gray) 1578977594.0
Warren responded that she was "disappointed to hear that Bernie is sending his volunteers out to trash me," and she sent out a fundraising email that asked both for donations and for supporters to share personal stories and perspectives to contradict the framing of her base as elitist. If that had been all, then it might have been easy to move on and return to a mutually supportive stance within a few days. But the real damage was done when people close to Warren, perhaps in an effort to retaliate, spoke to CNN about a private conversation the two had in 2018.

Back then, the thought of actual voters making actual choices seemed distant and abstract, and the candidates sat down to discuss strategies against Trump and to establish the general truce that has held until now. Everyone involved seems to agree on those points, but differing reports emerge when it comes to the topic of gender.As CNN reported, Warren laid out her strengths as a candidate: "She could make a robust argument about the economy and earn broad support from female voters." Bernie was not on the same page.
The Bernie cult has been attacking @ewarren for way too long. They've minimized her achievements, called her a copy… https://t.co/9zLobcSgBv

— Joshua Manuel Bonet 🏳️‍🌈 (@Joshua Manuel Bonet 🏳️‍🌈) 1578984471.0
According to anonymous members of Warren's team, Bernie didn't think a woman could win. Bernie shot back with his own version of events, saying, "It is ludicrous to believe that at the same meeting where Elizabeth Warren told me she was going to run for president, I would tell her that a woman couldn't win... What I did say that night was that Donald Trump is a sexist, a racist and a liar who would weaponize whatever he could. Do I believe a woman can win in 2020? Of course! After all, Hillary Clinton beat Donald Trump by 3 million votes in 2016." When Warren herself was finally convinced to weigh in directly, she urged people to move on, claiming that she was more interested in what she and Sanders agree on… But she also confirmed the more inflammatory version of events: "Among the topics that came up was what would happen if Democrats nominated a female candidate. I thought a woman could win; he disagreed."

While there is certainly a conversation to be had about to what extent America remains too sexist to support a female candidate, it seems like a stretch to accept the idea that, in 2018, Bernie would hold such a categorical view against the possibility of a woman being elected president. What makes it particularly questionable is the existence of footage from a C-SPAN appearance three decades earlier, in which Bernie says, "In my view, a woman could be elected president of the United States. The real issue is whose side are you on? Are you on the side of workers and poor people, or are you on the side of big money and the corporations?"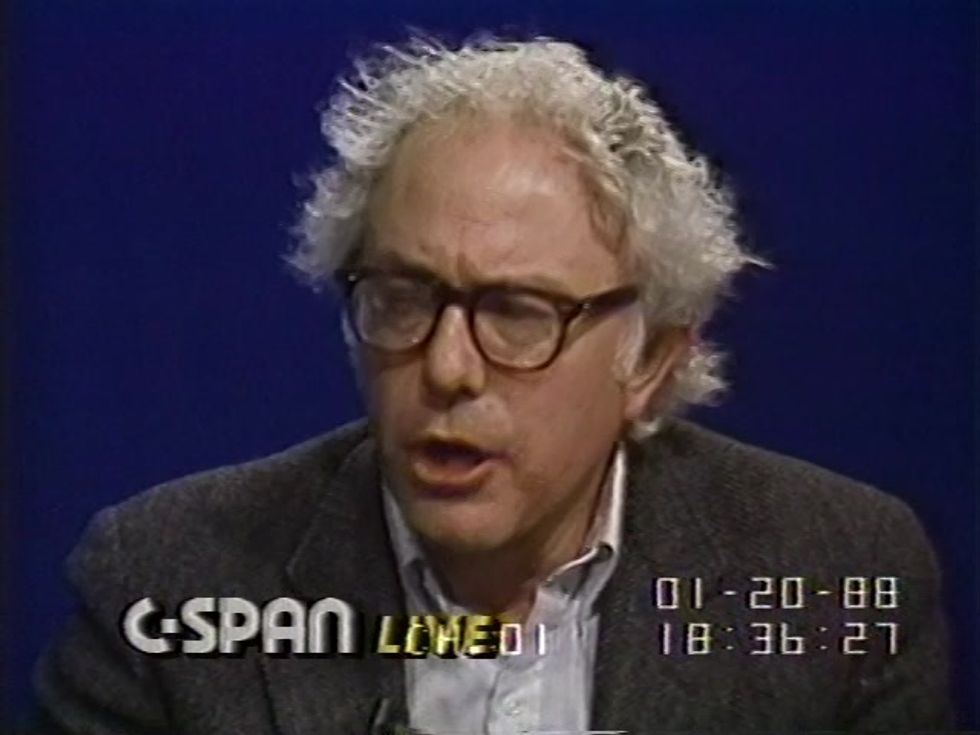 C-SPAN
The suggestion that Bernie's views have become more regressive since 1988 seems far-fetched. The inclusive, forward-thinking persona he has consistently presented to the public for 40+ years doesn't line up with this supposed private view. Then again, the idea that Warren would simply lie about Sanders' comments seems equally unlikely. Who you believe seems to depend largely on who you prefer, and the two camps seem to be moving further from each other as the Iowa Caucuses close in. On one side, Bernie Sanders is a sexist; on the other, Elizabeth Warren is a liar.
Without a recording or a transcript of the conversation, it doesn't seem quite justified to land in either of those camps. Without third-party witnesses, the basic facts of who did and who said what can quickly dissolve. The message that was intended and the message that was received crystallize in each person's mind to the point that they become irreconcilable. Perhaps Bernie did think that a progressive man was better poised than a progressive woman to counter Donald Trump's brand of populism in the 2020 election. Maybe his way of saying so was so clumsy that Warren took it as a broad statement about the viability (or lack of viability) of female candidates, and she recounted it as such to people close to her. Short of calling either of them a liar or worse, that is the best I can muster—a version of events that I prefer to believe in order to maintain my respect for both of these candidates.

Supporters from both sides will no doubt find this middle-ground unsatisfactory. The rift feels real right now, and it's starting to seem like each side is trying to undermine the chances of the other. But while only one candidate can win the nomination in the end, their support draws too much from the same pool of voters to allow this rift to remain. Already Bernie supporters who also donated to Warren are turning against her with the hashtag #RefundWarren. But the sad truth is that neither can win in the general election without support from the other's ardent fans. And who really stands to benefit from continued fighting? The center and the far-right. It can only help Joe Biden and Donald Trump. And Donald Trump seems to know it...
Bernie Sander's volunteers are trashing Elizabeth "Pocahontus" Warren. Everybody knows her campaign is dead and wan… https://t.co/XaRdJ6P3W8

— Donald J. Trump (@Donald J. Trump) 1578929126.0
If Sanders and Warren can't each count on the other's supporters to get behind them as the primaries shake out, then Biden will likely hold onto his narrow lead. And if one of them does manage to get the nomination with this acrimony still hanging in the air between them, no amount of campaigning for one another is going to muster the sort of passion that we can count on to overwhelm Donald Trump in the general. 2016 should have taught us that much.

This feud needs to end now. Warren and Sanders need each other, and our country needs them. They are the only candidates taking America's economic divide seriously, and the only candidates willing to tackle climate change with the resolve and transformative action it requires. If Donald Trump gets reelected, he will continue to make both of these problems far worse, destroying hope for economic justice and a sustainable future. If Joe Biden is our next president, then we will go back to enacting middling, inadequate reforms—one step forward for every two steps back.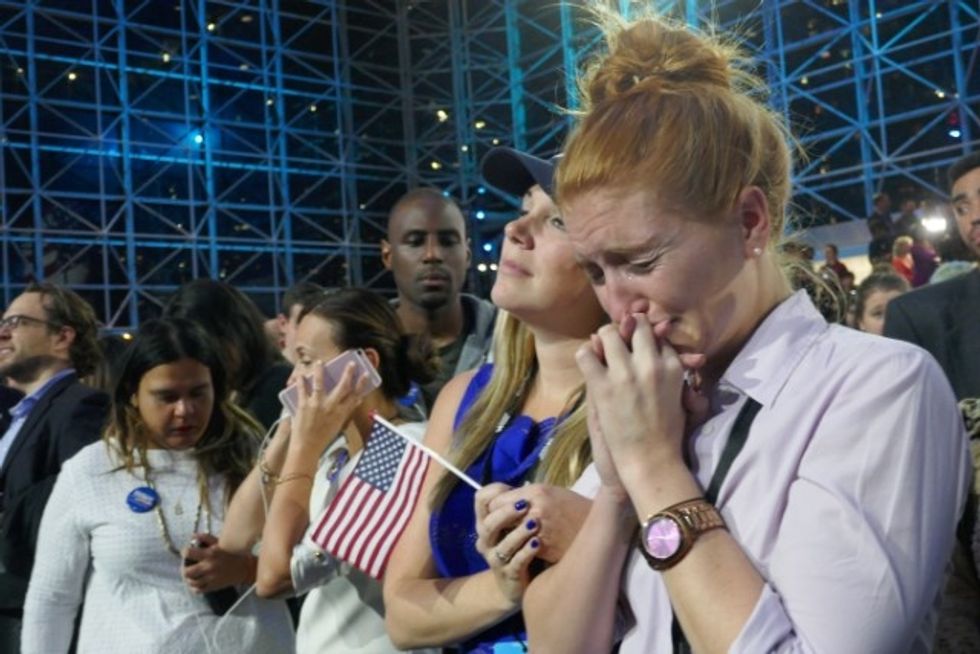 Hillary supporters as 2016 election results came inGetty Images
Warren and Sanders, united, represent our only real hope. Of course, they each believe that they are best suited to the job. They wouldn't be running otherwise. But if either of them is going to win, they need to come together, reaffirm progressive unity with one voice—acknowledging the differing accounts of events and decrying sexist limitations. Either of them can win this election, but neither can do it alone.
Because the American people deserve to know
With less than a month left until the Iowa caucuses officially kick off primary season, it seems like we've spent the last decade slowly whittling away at an endless list of candidates.
Many voters have already seen their favorite contenders drop out of the race. Others have yet to figure out which person on a crowded debate stage best represents their interests. Obviously there are a number of axes on which you can compare the candidates, and countless articles that can help you navigate their differing economic policies, their stances on health care, or their various approaches to foreign policy. If those are the factors by which you judge a candidate, you should have no problem finding what you need to make up your mind. People like me are not so lucky.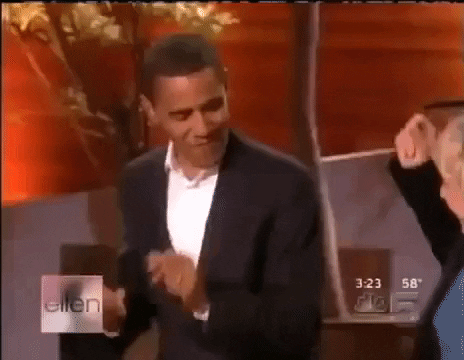 I have always been a single issue voter—consistently casting my ballot for the best dancer. In 2008 and 2012, I had an easy time of it. Barack Obama's blend of smooth and corny dance moves struck a perfect balance for my sensibilities, easily winning out over Mitt Romney's "Gangnam Style" convulsions, or John McCain's high-intensity robot. 2016 presented a more difficult choice. I nearly didn't vote at all, but ultimately decided that Hillary Clinton's stiff Whip and Nae Nae represented the lesser of two evils when considered against Donald Trump's apocalyptic rendition of "Hotline Bling."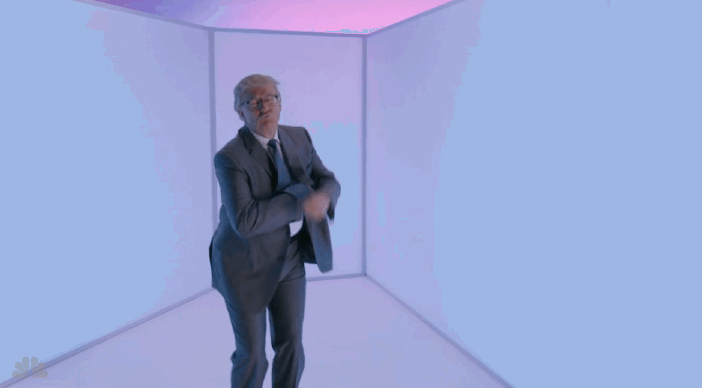 Sadly, some 60 million voters didn't see what I did, and made the wrong call. I won't let that happen again. The American people deserve to see every candidate dance before they go to the polls. Until the DNC finally listens to wisdom and converts one of their debates to a dance off, I've compiled this list so that you can make an informed decision.
Elizabeth Warren
Warren dancing at her rally tonight 💃🏼 https://t.co/c2QBzPGsH1

— Behind 2020 (@Behind 2020) 1578458031.0
We'll get the top-tier candidates out of the way first. Senator Elizabeth Warren has nothing to hide. She has been the most upfront, transparent candidate when it comes to her big, structural dancing. And while it may not be everyone's first choice in style, you can not fault her fun-aunt-at-a-wedding energy. The latest example of her eclectic blend of fist pumping and hula dancing comes from last night's Brooklyn rally with—recent dropout and competent dancer in his own right—Julian Castro. She probably just needs a couple more glasses of zinfendel from the open bar before she really loosens up.
Bernie Sanders
Bernie Sanders is surprisingly spry. You might not expect a man in his 70s with heart problems to cut a rug, but Bernie is not your average senior citizen. He has the energy of a man half his age, and the timeless consistency of his dancing allows him to keep up with his young supporters.
Joe Biden
Former vice president Joe Biden dances exactly as you'd expect—slow, old fashioned, and "sweet" in a way that's uncomfortably intimate.
Andrew Yang
"Not left. Not right. Forward!" - @AndrewYang #YangGang #Yang2020 https://t.co/7UcY9OG9to

— Will🔥🛍️YangGang Pink🧢🔥 (@Will🔥🛍️YangGang Pink🧢🔥) 1565920883.0
Silicon Valley entrepreneur Andrew Yang has more than enough spring in his step to keep up with any roomful of middle-aged women on the dance floor. His universal basic dance moves aim to remind us that we all share one dance floor.
Tulsi Gabbard
Congressional representative for Hawaii Tulsi Gabbard doesn't exactly dance—she dance-fights. Just as with her approach to debates or to the war on terror, her Capoeira moves may be a bit more aggressive than some voters want.
Amy Klobuchar
#BREAKING: Amy Klobuchar performs ancient, centrist war-dance to stoke fear in the hearts of her more radical oppo… https://t.co/EFEoA3JXOE

— MSDNC (@MSDNC) 1569102792.0
Minnesota Senator Amy Klobuchar is known for her no-nonsense pragmatism. She strives not to make any promises she can't keep, so she will appear to be the adult in the room...but her dancing tells a different story. Klobuchar dances with the energy of a happy toddler who could enter full-blown tantrum mode at any moment.
Marianne Williamson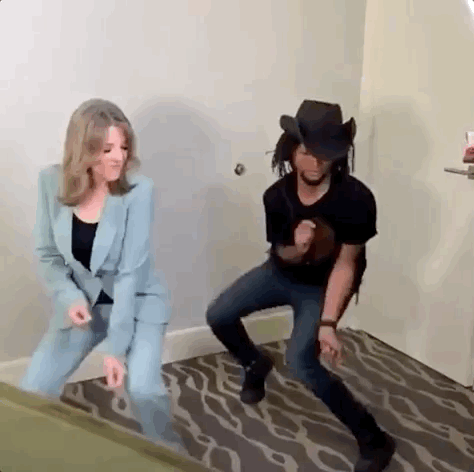 You may be surprised to find that spiritual guru Marianne Williamson is still in the race, but once you see her dance moves, you'll be surprised she isn't the front runner. She is as one with the music as she is with the vibrations of the universe.