Dall-E Mini, the AI-powered text-to-image generator has taken over the internet. With its ability to render nearly anything your meme-loving heart desires, anyone can make their dreams come true.
DALL-E 2, a portmanteau of Salvador Dali, the surrealist and Wall-E, the Pixar robot, was created by OpenAI and is not widely available; it creates far cleaner imagery and was recently used to launch Cosmpolitan's first AI-generated cover. The art world has been one of the first industries to truly embrace AI.
The open-sourced miniature version is what's responsible for the memes. Programmer Boris Dayma wants to make AI more accessible; he built the Dall-E Mini program as part of a competition held by Google and an AI community called Hugging Face.
And with great technology, comes great memes. Typing a short phrase into Dall-E Mini will manifest 9 different amalgamations, theoretically shaping into reality the strange images you've conjured. Its popularity leads to too much traffic, often resulting in an error that can be fixed by refreshing the page or trying again later.
If you want to be a part of the creation of AI-powered engines, it all starts with code. CodeAcademy explains that Dall-E Mini is a seq2seq model, "typically used in natural language processing (NLP) for things like translation and conversational modeling." CodeAcademy's Text Generation course will teach you how to utilize seq2seq, but they also offer opportunities to learn 14+ coding languages at your own pace.
You can choose the Machine Learning Specialist career path if you want to become a Data Scientist who develops these types of programs, but you can also choose courses by language, subject (what is cybersecurity?) or even skill - build a website with HTML, CSS, and more.
CodeAcademy offers many classes for free as well as a free trial; it's an invaluable resource for giving people of all experience levels the fundamentals they need to build the world they want to see.
As for Dall-E Mini, while some have opted to create beauty, most have opted for memes. Here are some of the internet's favorites:
There's no looking back now, not once you've seen Pugachu; artificial intelligence is here to stay.
POLITICS
Police Arrest Man in Connection to Explosive Devices Sent to Trump Critics
Axios
Law enforcement expects to find more devices.
UPDATE: On Friday, authorities reportedly arrested a man in connection with the bombing campaign against Democrats and ex-officials. It has not yet been made clear who has been arrested but according to three law-enforcement officials, the suspect was arrested in Florida, and is in his 50s.
So far, law enforcement has found 12 suspicious packages addressed to 10 people. The targets of the bomb campaign have all been outspoken critics of President Trump, and many speculate that the person perpetrating these attacks is a right-wing extremist.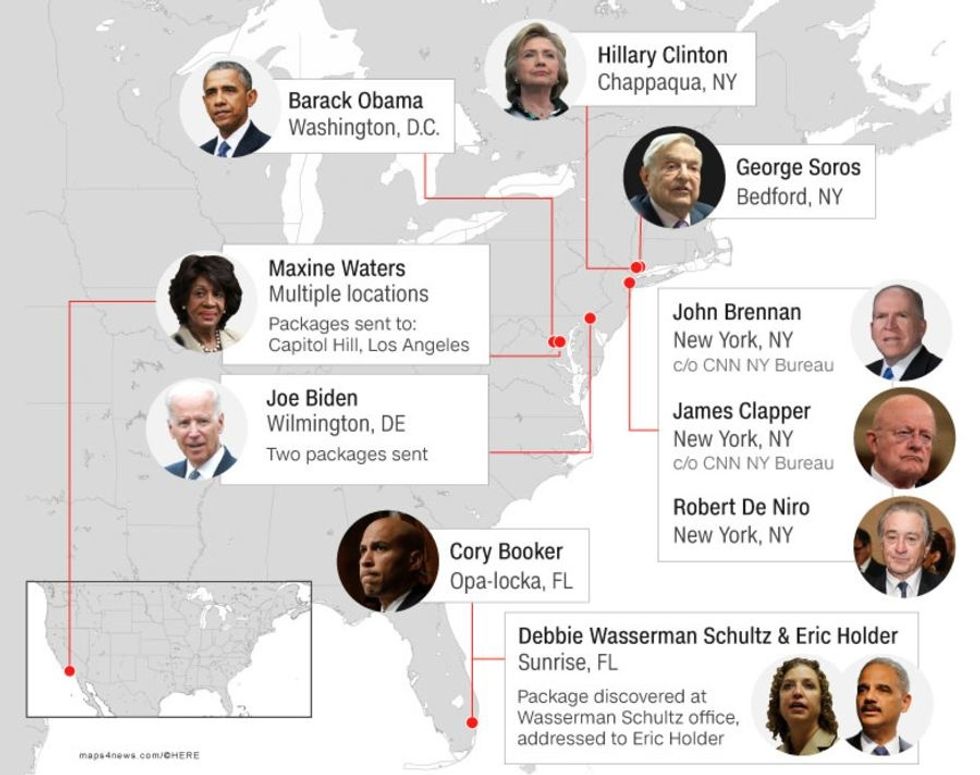 CNN
On Wednesday morning, explosive devices were sent to former President Barack Obama, former Secretary of State Hillary Clinton, and the CNN offices in New York, though law enforcement intervened before any of the devices could detonate. Later on Wednesday, CNN reported that the Florida office of Rep. Debbie Wasserman Schultz — the Democratic National Committee Chair from 2011 to 2016 — has also been evacuated because of a suspicious package. This package appeared to bear the delivery address of former attorney general Eric Holder and the return address of Wasserman Schultz's office.

It's believed that the packages are similar to the bomb found in the mailbox of liberal philanthropist and business magnate George Soros on Monday, suggesting a connection between the incidents.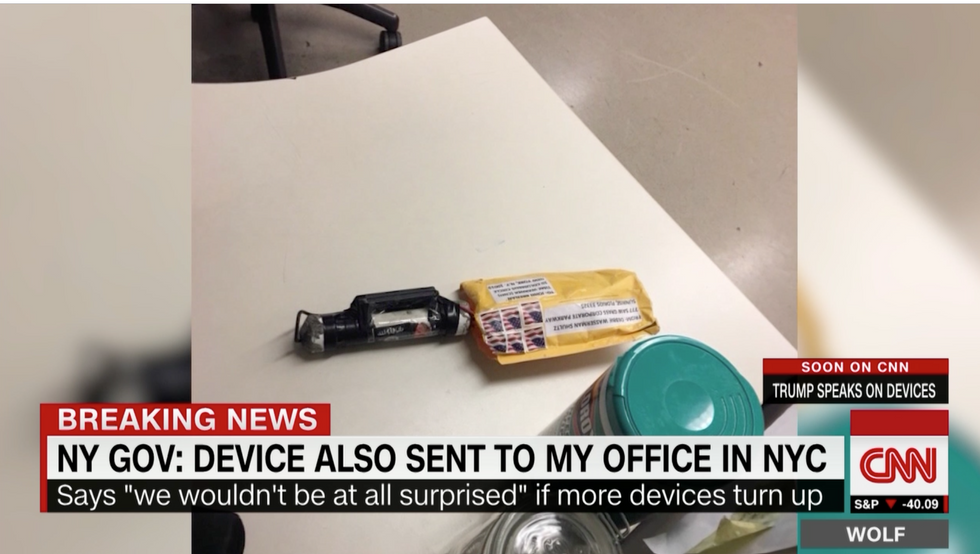 CNN
During a press conference at 1 PM on Wednesday, New York Governor Andrew Cuomo revealed that he had been informed that a package addressed to his office had been intercepted by security, bringing the number of suspicious packages discovered thus far to six.

Mr. Clinton was reportedly present at the couple's Chappaqua, NY home at the time of the attempted attack, but Mrs. Clinton was in Florida on business. It remains unclear whether the Obamas were in their DC home when the device was discovered. The CNN offices in New York have been evacuated as the package is being removed from the premises.
The perpetrator of the attacks appears to be targeting figures and organizations who have faced criticism from President Trump and conservatives. As The New York Timesreports, Trump "has often referred to major news organizations as 'the enemy of the people,' and has had a particular animus for CNN."
To add further intrigue to the situation at CNN, the parcel was reportedly addressed to former CIA director, John Brennan. Brennan often appears as a guest on CNN and has been a very vocal critic of Trump, spurring the president to revoke his security clearance this past summer. Brennan has declined to comment on the attack.
CNN previously reported that another explosive device had been intercepted before delivery to the White House, but the Secret Service later clarified that this information was inaccurate, and they only intercepted packages meant for Obama and Clinton.
CLARIFICATION: At this time the Secret Service has intercepted TWO suspicious packages - one in NY and one in D.C.… https://t.co/ZmGUQXgkEw

— U.S. Secret Service (@U.S. Secret Service) 1540393695.0
In a statement released Wednesday, the White House condemned the attacks, saying, "These terrorizing acts are despicable, and anyone responsible will be held accountable to the fullest extent of the law, the United States Secret Service and other law enforcement agencies are investigating and will take all appropriate actions to protect anyone threatened by these cowards."

The devices will reportedly be transported to secure locations for supervised detonation, and law enforcement, led by the joint terrorism task force in NYC, will continue to investigate in hopes of discovering the origins of the packages.
Brooke Ivey Johnson is a Brooklyn based writer, playwright, and human woman. To read more of her work visit her blog or follow her twitter @BrookeIJohnson.