"A tree is best measured when it is down," the poet Carl Sandburg once observed, "and so it is with people." The recent death of Harry Belafonte at the age of 96 has prompted many assessments of what this pioneering singer-actor-activist accomplished in a long and fruitful life.
Belafonte's career as a ground-breaking entertainer brought him substantial wealth and fame; according to Playbill magazine, "By 1959, he was the highest paid Black entertainer in the industry, appearing in raucously successful engagements in Las Vegas, New York, and Los Angeles." He scored on Broadway, winning a 1954 Tony for Best Featured Actor in a Musical – John Murray Anderson's Almanac. Belafonte was the first Black person to win the prestigious award. A 1960 television special, "Tonight with Belafonte," brought him an Emmy for Outstanding Performance in a Variety or Musical Program or Series, making him the first Black person to win that award. He found equal success in the recording studio, bringing Calypso music to the masses via such hits as "Day-O (The Banana Boat Song)" and "Jamaica Farewell."
Harry Belafonte - Day-O (The Banana Boat Song) (Live)www.youtube.com
Belafonte's blockbuster stardom is all the more remarkable for happening in a world plagued by virulent systemic racism. Though he never stopped performing, by the early 1960s he'd shifted his energies to the nascent Civil Right movement. He was a friend and adviser to the Reverend Doctor Martin Luther King, Jr. and, as the New York Times stated, Belafonte "put up much of the seed money to help start the Student Nonviolent Coordinating Committee and was one of the principal fund-raisers for that organization and Dr. King's Southern Christian Leadership Conference."
The Southern Poverty Law Center notes that "he helped launch one of Mississippi's first voter registration drives and provided funding for the Freedom Riders. His activism extended beyond the U.S. as he fought against apartheid alongside Nelson Mandela and Miriam Makeba, campaigned for Mandela's release from prison, and advocated for famine relief in Africa." And in 1987, he received an appointment to UNICEF as a goodwill ambassador.
Over a career spanning more than seventy years, Belafonte brought joy to millions of people. He also did something that is, perhaps, even greater: he fostered the hope that a better world for all could be created. And, by his example, demonstrated how we might go about bringing that world into existence.
popular
How Much Money Do US Politicians Make?
Mike Pence once spent over $240,000 to walk out of a football game as a snub to Colin Kaepernick.
It's easy to forget that the presidency of the United States is a government job just like any other–in that it comes with a stipulated salary and benefits.
But regardless of their bombastic rhetoric or self-serious public image, politicians are like all other government employees. The president, vice president, and legislators earn an annual income from the government in exchange for their duties, which include: executing/circumventing the law, upholding/withholding the civil liberties of American citizens, and legislating/sabotaging how societal institutions meet the needs of citizens, from healthcare to education.
If you've ever wondered what American politicians earn for all their hard work arguing across the aisle and starting Twitter feuds, look no further:
President (Donald Trump): $400,000 with non-taxable perks including a $50,000 expense account, a $100,000 travel account, and $19,000 for entertainment (all annually).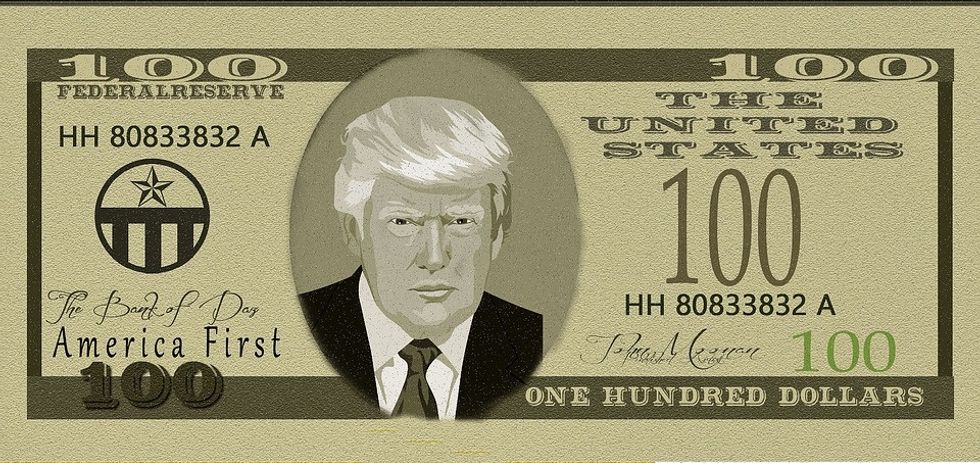 Pixelbay
Technically, Donald Trump donates his presidential salary, but as an independently wealthy private citizen, Trump still earns income from his real estate investments. As USA Today points out, this has been challenged by lawsuits arguing that Trump is violating the Constitution's foreign emoluments clause.

Simply put, the emolument clause prohibits the sitting president of the United States from accepting money from foreign states–in any way, since doing so could influence his judgment on foreign or domestic affairs. Trump, of course, holds over $100 million of investments in foreign business interests. That's why he's been fighting emolument lawsuits since 2017.
But yes, technically, Trump writes a check for around $400,000 once a year in order to "donate" his salary. As for his travel expenses, that $100,000 travel "budget" seems to be irrelevant, since the government covers way more than that amount each year.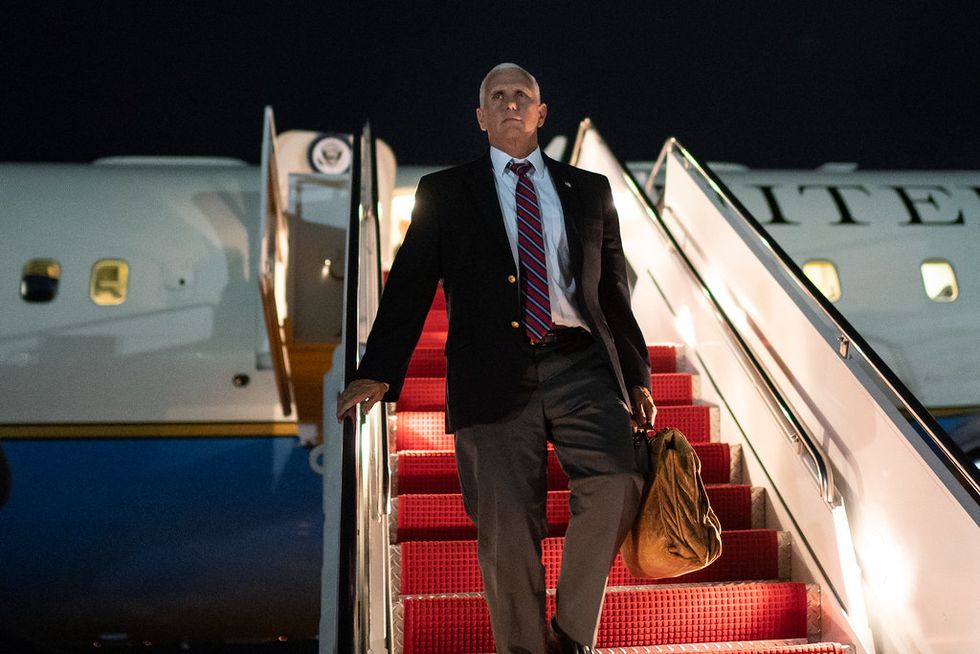 Let's remember that Mike Pence once spent over $240,000 to fly to a 49ers game just so he could dramatically walk out of the stadium when the national anthem played as a snub to Colin Kaepernick kneeling in protest of police brutality against Black citizens.
So Pence is payed over $230,000 a year to pull stunts like that as Vice President of the United States. (We won't be too hard on him, though; reportedly, Donald Trump ordered him to do it).
Speaker of the House (Nancy Pelosi): $223,500
On Friday, @SpeakerPelosi said she was opposed to a temporary extension of unemployment benefits because she would… https://t.co/fRyqAT7Dpg

— Movement for a People's Party (@Movement for a People's Party) 1595627579.0
Amidst a global crisis that has put nearly half of all Americans out of work, Nancy Pelosi doesn't believe in extending unemployment benefits because she would "lose leverage" when arguing with Republican representatives.

As a venture capitalist who's in business with her husband, Paul Pelosi, Nancy has a net worth of about $97 million (despite a popular meme that claims she's worth more than twice that). Yet, she's paid over $220,000 a year to do things like dismissing life-saving unemployment benefits as nothing but "leverage."
As for the rest of the house leadership, Steny Hoyer and Kevin McCarthy (the House Majority and Minority leaders respectively) earn $193,400 each year, while the rest of the standard salary for a congressperson is the same as a senator: $174,000.
Senate Majority and Minority Leaders (Mitch McConnell and Chuck Schumer): $193,400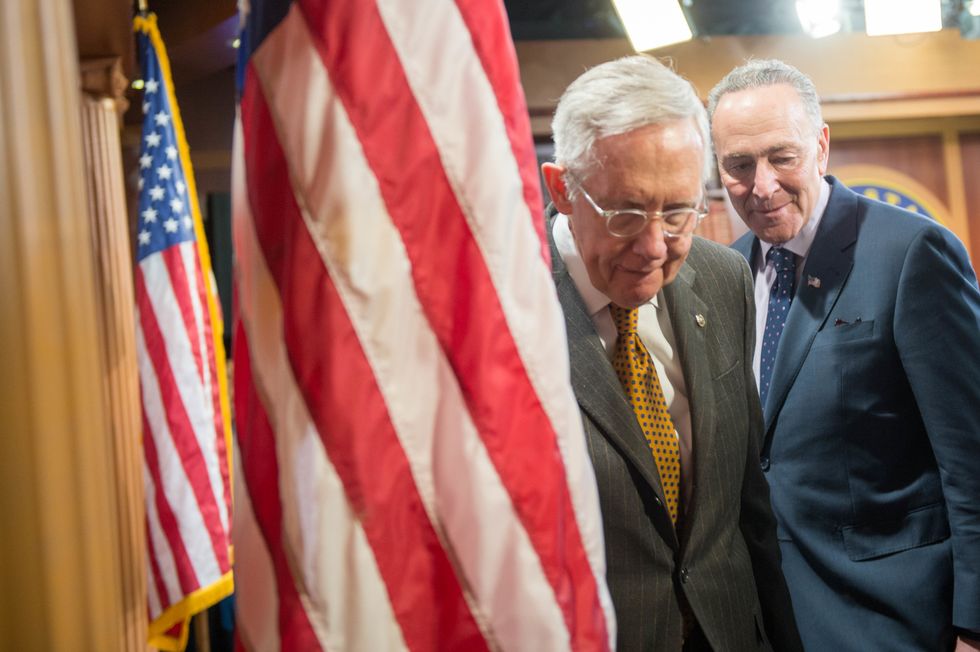 US Senate
Mitch McConnell has an estimated net worth of $30 million (including a windfall from an inheritance his wife received after a relative passed away). He earns nearly $200,000 a year protecting his wealthy friends' special interests and blocking bills from the Senate floor that don't have "liability protections" for said rich friends.
Supreme Court Associate Judges: $246,800

Prayers Up for our beloved Justice Ruth Bader Ginsburg. Warm healing wishes #NotoriousRBG! https://t.co/iQczE6SYlu

— Christine Pelosi (@Christine Pelosi) 1594762677.0
As one of eight current Supreme Court Associate Judges, Ruth Bader Ginsburg is a priceless treasure who deserves to be paid in immortality and hugs. She's been an advocate for women's rights and racial justice throughout her career, including her 27 years on the Supreme Court.
It's unfortunate that she only earns about $250,000 a year, but Ginsburg's total net worth is about $4 million plus the hopes and dreams of an entire nation.