Dall-E Mini, the AI-powered text-to-image generator has taken over the internet. With its ability to render nearly anything your meme-loving heart desires, anyone can make their dreams come true.
DALL-E 2, a portmanteau of Salvador Dali, the surrealist and Wall-E, the Pixar robot, was created by OpenAI and is not widely available; it creates far cleaner imagery and was recently used to launch Cosmpolitan's first AI-generated cover. The art world has been one of the first industries to truly embrace AI.
The open-sourced miniature version is what's responsible for the memes. Programmer Boris Dayma wants to make AI more accessible; he built the Dall-E Mini program as part of a competition held by Google and an AI community called Hugging Face.
And with great technology, comes great memes. Typing a short phrase into Dall-E Mini will manifest 9 different amalgamations, theoretically shaping into reality the strange images you've conjured. Its popularity leads to too much traffic, often resulting in an error that can be fixed by refreshing the page or trying again later.
If you want to be a part of the creation of AI-powered engines, it all starts with code. CodeAcademy explains that Dall-E Mini is a seq2seq model, "typically used in natural language processing (NLP) for things like translation and conversational modeling." CodeAcademy's Text Generation course will teach you how to utilize seq2seq, but they also offer opportunities to learn 14+ coding languages at your own pace.
You can choose the Machine Learning Specialist career path if you want to become a Data Scientist who develops these types of programs, but you can also choose courses by language, subject (what is cybersecurity?) or even skill - build a website with HTML, CSS, and more.
CodeAcademy offers many classes for free as well as a free trial; it's an invaluable resource for giving people of all experience levels the fundamentals they need to build the world they want to see.
As for Dall-E Mini, while some have opted to create beauty, most have opted for memes. Here are some of the internet's favorites:
There's no looking back now, not once you've seen Pugachu; artificial intelligence is here to stay.
popular
How Much Money Do US Politicians Make?
Mike Pence once spent over $240,000 to walk out of a football game as a snub to Colin Kaepernick.
It's easy to forget that the presidency of the United States is a government job just like any other–in that it comes with a stipulated salary and benefits.
But regardless of their bombastic rhetoric or self-serious public image, politicians are like all other government employees. The president, vice president, and legislators earn an annual income from the government in exchange for their duties, which include: executing/circumventing the law, upholding/withholding the civil liberties of American citizens, and legislating/sabotaging how societal institutions meet the needs of citizens, from healthcare to education.
If you've ever wondered what American politicians earn for all their hard work arguing across the aisle and starting Twitter feuds, look no further:
President (Donald Trump): $400,000 with non-taxable perks including a $50,000 expense account, a $100,000 travel account, and $19,000 for entertainment (all annually).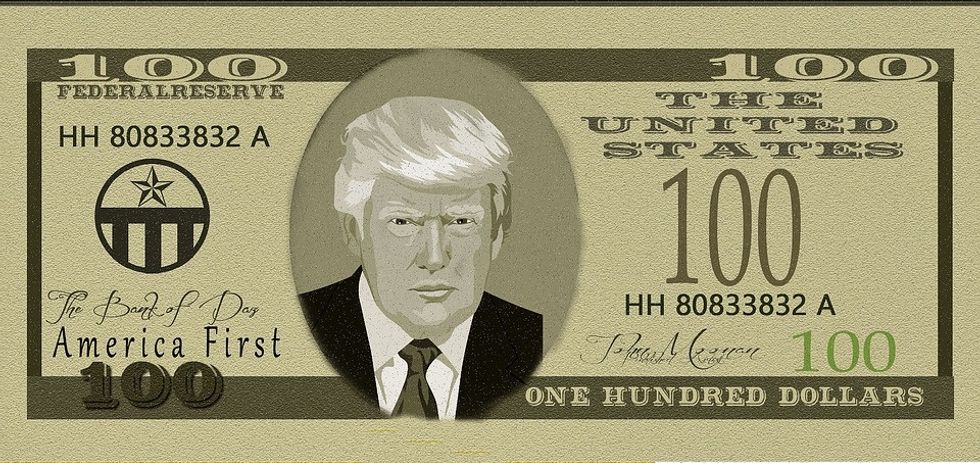 Pixelbay
Technically, Donald Trump donates his presidential salary, but as an independently wealthy private citizen, Trump still earns income from his real estate investments. As USA Today points out, this has been challenged by lawsuits arguing that Trump is violating the Constitution's foreign emoluments clause.

Simply put, the emolument clause prohibits the sitting president of the United States from accepting money from foreign states–in any way, since doing so could influence his judgment on foreign or domestic affairs. Trump, of course, holds over $100 million of investments in foreign business interests. That's why he's been fighting emolument lawsuits since 2017.
But yes, technically, Trump writes a check for around $400,000 once a year in order to "donate" his salary. As for his travel expenses, that $100,000 travel "budget" seems to be irrelevant, since the government covers way more than that amount each year.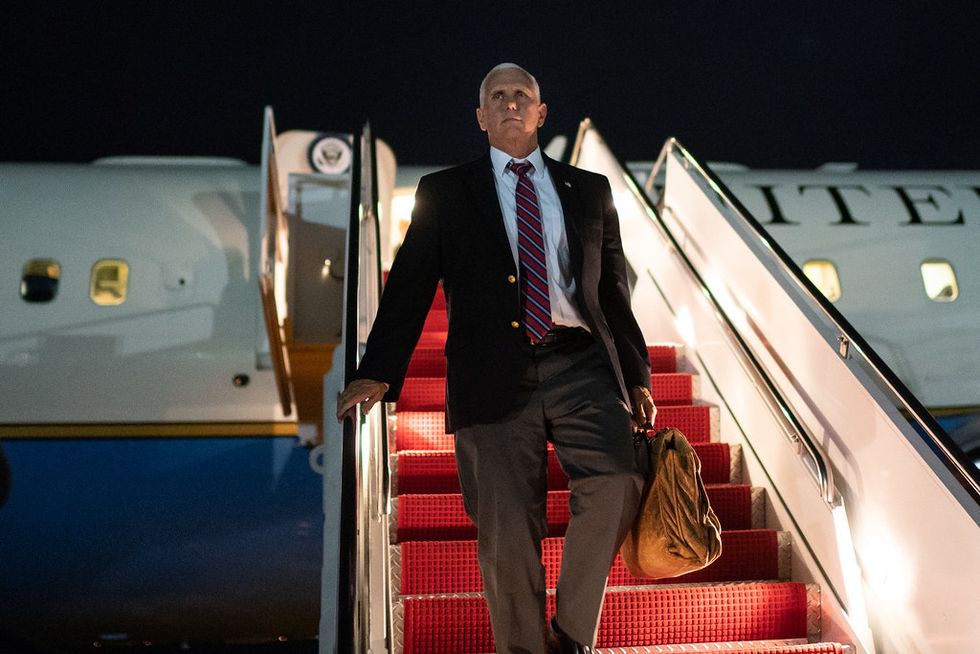 Let's remember that Mike Pence once spent over $240,000 to fly to a 49ers game just so he could dramatically walk out of the stadium when the national anthem played as a snub to Colin Kaepernick kneeling in protest of police brutality against Black citizens.
So Pence is payed over $230,000 a year to pull stunts like that as Vice President of the United States. (We won't be too hard on him, though; reportedly, Donald Trump ordered him to do it).
Speaker of the House (Nancy Pelosi): $223,500
On Friday, @SpeakerPelosi said she was opposed to a temporary extension of unemployment benefits because she would… https://t.co/fRyqAT7Dpg

— Movement for a People's Party (@Movement for a People's Party) 1595627579.0
Amidst a global crisis that has put nearly half of all Americans out of work, Nancy Pelosi doesn't believe in extending unemployment benefits because she would "lose leverage" when arguing with Republican representatives.

As a venture capitalist who's in business with her husband, Paul Pelosi, Nancy has a net worth of about $97 million (despite a popular meme that claims she's worth more than twice that). Yet, she's paid over $220,000 a year to do things like dismissing life-saving unemployment benefits as nothing but "leverage."
As for the rest of the house leadership, Steny Hoyer and Kevin McCarthy (the House Majority and Minority leaders respectively) earn $193,400 each year, while the rest of the standard salary for a congressperson is the same as a senator: $174,000.
Senate Majority and Minority Leaders (Mitch McConnell and Chuck Schumer): $193,400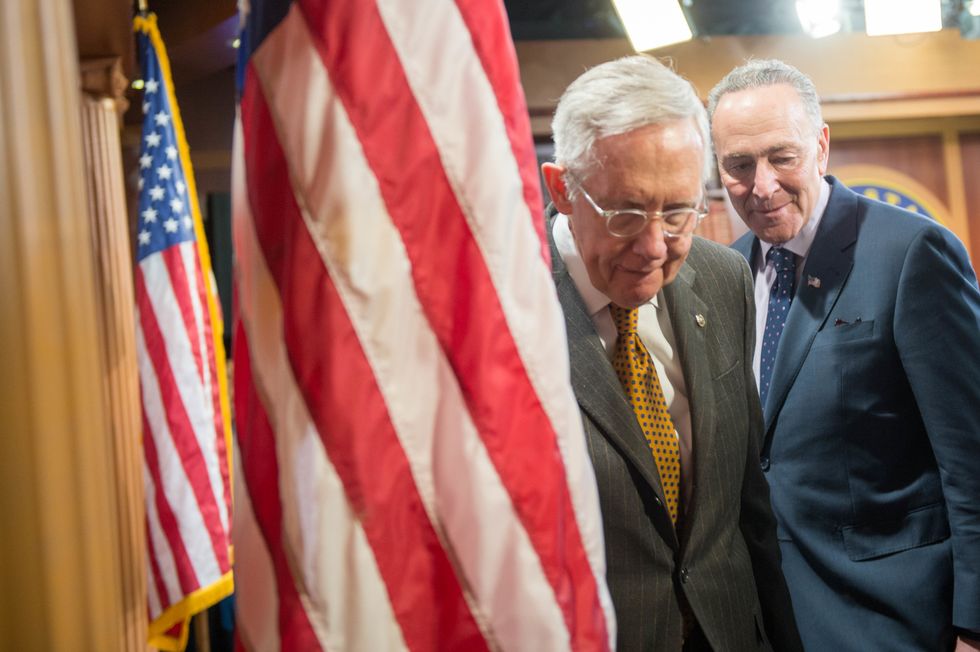 US Senate
Mitch McConnell has an estimated net worth of $30 million (including a windfall from an inheritance his wife received after a relative passed away). He earns nearly $200,000 a year protecting his wealthy friends' special interests and blocking bills from the Senate floor that don't have "liability protections" for said rich friends.
Supreme Court Associate Judges: $246,800

Prayers Up for our beloved Justice Ruth Bader Ginsburg. Warm healing wishes #NotoriousRBG! https://t.co/iQczE6SYlu

— Christine Pelosi (@Christine Pelosi) 1594762677.0
As one of eight current Supreme Court Associate Judges, Ruth Bader Ginsburg is a priceless treasure who deserves to be paid in immortality and hugs. She's been an advocate for women's rights and racial justice throughout her career, including her 27 years on the Supreme Court.
It's unfortunate that she only earns about $250,000 a year, but Ginsburg's total net worth is about $4 million plus the hopes and dreams of an entire nation.