Image Courtesy of Thought Catalog/Unsplash
I thought Octavia E. Butler was a dope writer back when I first stumbled upon her 1979 novel Kindred—arguably her most famous work. But now that I've read most of her novels, if not all, I have soooo much respect, admiration, and appreciation for her work and everything she stood for.
---
I'm not the only one who feels that way either, Butler went on to receive a raft of awards and accolades for her works, starting with:
Butler's fiction helped frame Black women's agency and individuality in a world that often denies them both. Born in Southern California, Butler was raised by her widowed mother, and at a young age, she discovered her love of reading and writing science fiction.
While in college Octavia was encouraged to attend the Clarion Workshop, which focused on science fiction and led to her first published work, Crossover. By the late 1970s, Butler had become sufficiently successful as an author that she was able to pursue writing full-time - THE DREAM!
"All that you touch
You Change.
All that you Change
Changes you.
The only lasting truth
is Change.
God is Change."
― Octavia E. Butler,Parable of The Sower
What a powerfully profound quote from such a violently relevant book.
Butler's work has radically changed my perspective on life and has left a lasting impression on me as a Black man and a writer.
Above And Beyond - Octavia's Legacy
Before I had the honor of encountering Octavia Butler's body of work, I already adored science-fiction and fantasy. There are so many books, comics, shows, and films that I enjoyed as a kid, but the main thing they taught me was that someone who looked like me and came from where I was from could never be the main character.
Then sometime between high school and college, I discovered Toni Morrison, James Baldwin, and Alice Walker, all prolific Black American writers. Yet, when it came to adventures in deep space and post-apocalyptic settings, there was little out there.
Thank the heavens for Nichelle Nichols and the doors she broke for black actors, but where were the black science-fiction writers?
In walks Octavia Butler . . . Not actually [I wish], but figuratively.
"Embrace diversity.
Unite—
Or be divided,
robbed,
ruled,
killed
By those who see you as prey.
Embrace diversity
Or be destroyed."
― Octavia E. Butler, Parable of The Sower
After I finished Kindred, I knew I had to DEVOUR everything else by this amazing writer. Building out my Octavia Butler collection has been a source of pleasure during stressful days and also an inspiration for my writing.
Octavia Butler shows me as a reader that we can exist alongside everyone else in science fiction and that, as a Black writer, the stars are the limit. She's given me permission to write about whatever the hell I want and not to allow hateful, bigoted ideologies to stop me from telling the stories I'm meant to tell.
"I fantasized living impossible but interesting lives – magical lives in which I could fly like Superman, communicate with animals, control people's minds." Butler wrote in 1999.
Butler mastered the art of storytelling by digging into deeply uncomfortable terrain - particularly humanity's hierarchical nature - and examining it with unwavering honesty. Her works challenged widespread notions of evolution, community, and sexuality as set against the backdrop of alien invasions or post-apocalyptic America.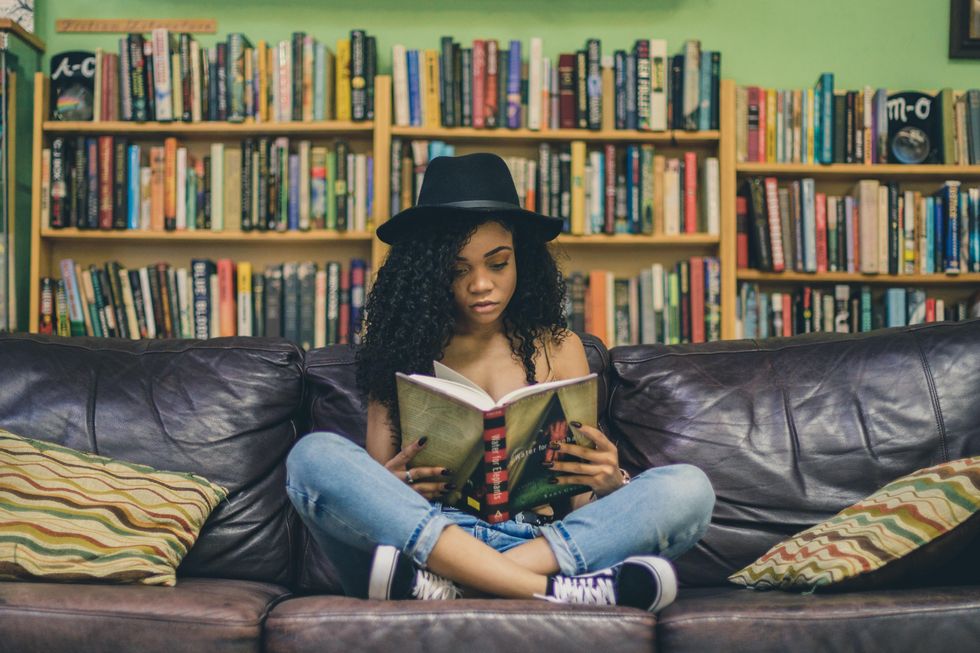 Photo by Seven Shooter on Unsplash
And this is only the beginning.
Butler's work continues to inspire a renaissance of Afrofuturism. I can't wait to get my hands on the amazing works to come that have been inspired and empowered by Octavia's novels.
My personal recommendations
I think all of her novels are worthy of reading, but here are a few of my personal favorites:
Sixteen years after Butler's death, her legacy is more relevant than ever.
Octavio Butler stands as the blueprint for future Black science-fiction writers - and all writers - who seek to share the worlds they're conjuring and the outstanding characters they're creating.

This weekend, do yourself a favor and check out any of Butler's books, you won't be disappointed!