Dall-E Mini, the AI-powered text-to-image generator has taken over the internet. With its ability to render nearly anything your meme-loving heart desires, anyone can make their dreams come true.
DALL-E 2, a portmanteau of Salvador Dali, the surrealist and Wall-E, the Pixar robot, was created by OpenAI and is not widely available; it creates far cleaner imagery and was recently used to launch Cosmpolitan's first AI-generated cover. The art world has been one of the first industries to truly embrace AI.
The open-sourced miniature version is what's responsible for the memes. Programmer Boris Dayma wants to make AI more accessible; he built the Dall-E Mini program as part of a competition held by Google and an AI community called Hugging Face.
And with great technology, comes great memes. Typing a short phrase into Dall-E Mini will manifest 9 different amalgamations, theoretically shaping into reality the strange images you've conjured. Its popularity leads to too much traffic, often resulting in an error that can be fixed by refreshing the page or trying again later.
If you want to be a part of the creation of AI-powered engines, it all starts with code. CodeAcademy explains that Dall-E Mini is a seq2seq model, "typically used in natural language processing (NLP) for things like translation and conversational modeling." CodeAcademy's Text Generation course will teach you how to utilize seq2seq, but they also offer opportunities to learn 14+ coding languages at your own pace.
You can choose the Machine Learning Specialist career path if you want to become a Data Scientist who develops these types of programs, but you can also choose courses by language, subject (what is cybersecurity?) or even skill - build a website with HTML, CSS, and more.
CodeAcademy offers many classes for free as well as a free trial; it's an invaluable resource for giving people of all experience levels the fundamentals they need to build the world they want to see.
As for Dall-E Mini, while some have opted to create beauty, most have opted for memes. Here are some of the internet's favorites:
There's no looking back now, not once you've seen Pugachu; artificial intelligence is here to stay.
POLITICS
Cindy Hyde-Smith: First Female Mississippi Senator, Segregation-Enthusiast
Slate
The conservative Republican made history when she won a seat in Congress, despite backlash over recent racially-charged comments.
In the last Senate race to be called, Mississippi has elected its first female Senator. Cindy Hyde-Smith will hold one of the Republicans' 53 seats to Democrats' 47 seats, setting a new record of 24 women in the Senate next year. However, the victory as a mark of social progress is tainted due to Hyde-Smith's history of racially-charged comments and sheltered background.
Leading up to the election, Hyde-Smith received backlash over a video of her joking with a supporter that if she were invited to a "public hanging," she'd be in "the front row." Following public outcry, she released an apology, stating, "For anyone who was offended by my comment, I certainly apologize."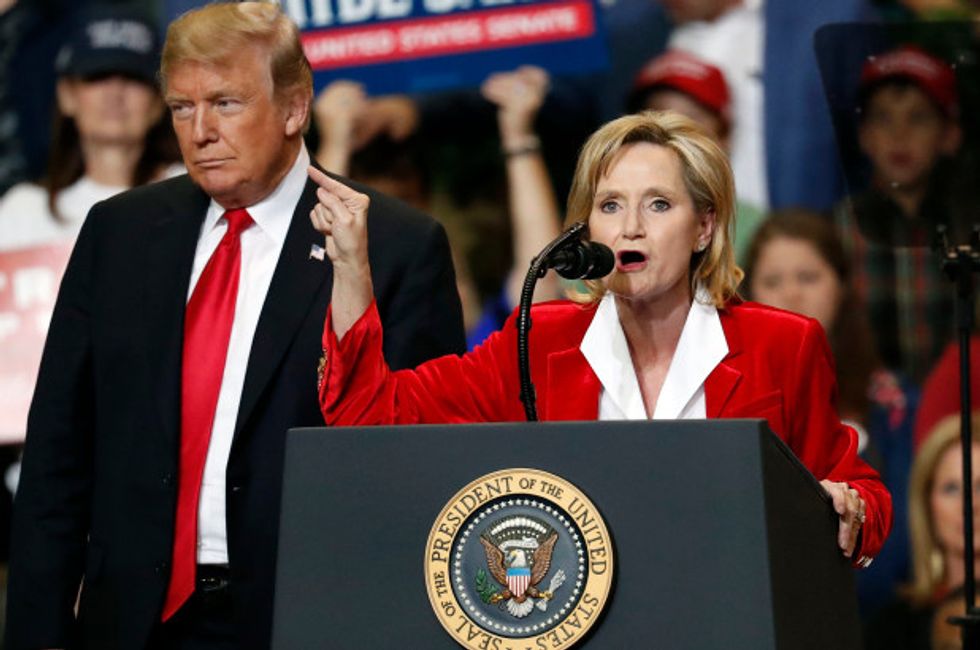 New York Post
At the same time, however, she dismissed the criticism as "ridiculous." Claiming that she possessed no ill intentions, she framed the comment as nothing more than banter with a supporter, stating, "In referencing the one who invited me, I used an exaggerated expression of regard, and any attempt to turn this into a negative connotation is ridiculous."

The conservative Senator has the public divided over whether Mississippi is heading towards a more inclusive future or embracing a troubled past. Hyde-Smith's "public hanging" comments evoke the state's ignominious history of mob lynchings, Jim Crow, and legally-enforced segregation. On Friday, the Jackson Free-Press uncovered that the 59-year-old graduated from a southern private school established in the '70s to eschew desegregation orders after the ruling of Brown v. Board of Education.
Mississippi has been criticized for allowing segregated private schools as recently as 2017. Hyde-Smith's alma mater, Lawrence County Academy, hosted a mascot dressed as a Confederate general and displayed a Confederate flag. The Senator elected to send her daughter to a similar "segregation academy."
CNN also looked into Hyde-Smith's past and reported that she's advocated a revisionist view of the Civil War and backed a measure to honor a Confederate soldier's efforts to "defend his homeland." Additionally, the Senator's Facebook page displays pictures from 2014 in which she's posing with Confederate artifacts during a visit to Beauvoir, the hometown of Confederate President Jefferson Davis. The photo's caption reads, "Mississippi history at its best!"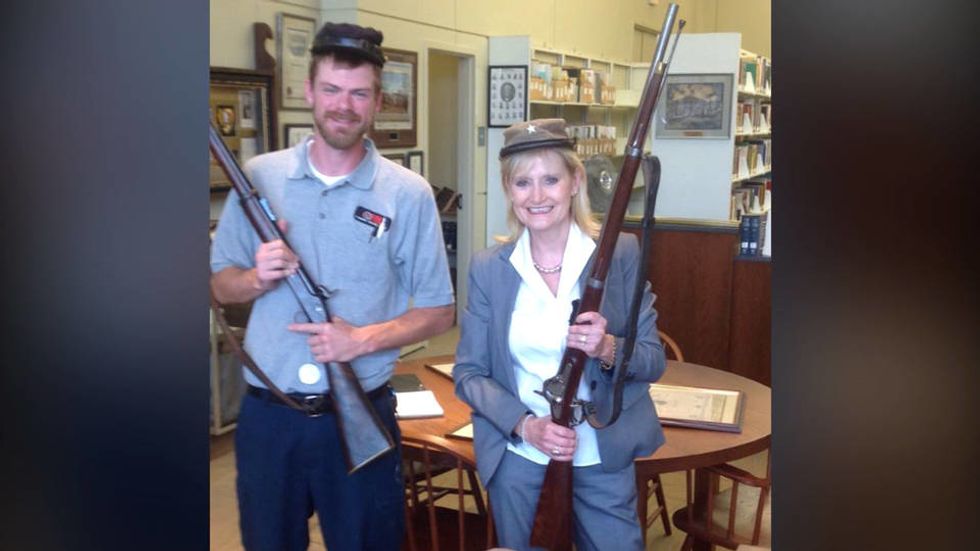 Democracy Now!
On Tuesday, Hyde-Smith credited her win to the state's dedication to "conservative values." In her victory speech, she said, "The reason we won is because Mississippians know me and they know my heart. This win tonight, this victory, it's about our conservative values, it's about the things that mean the most to all of us Mississippians: our faith, our family."

Hyde-Smith received her strongest support from Mississippi's rural and predominantly white counties, according to The New York Times. CNN also attributed the win to Donald Trump's last-minute trips to the state. During a Monday night rally in Biloxi, Trump told the crowd, "She is respected by all. Some long-term senators, they've been down there, they told me, this is a woman that gets it. She's smart, she's tough, and she loves you." He went on, "She produces like few produce. This is a very, very special person."
After a race that was closer than anticipated, Democrat Mike Espy conceded to Hyde-Smith on Tuesday. He offered hopeful regards to the new Senator, stating, "[She] has my prayers as she goes to Washington to unite a very divided Mississippi."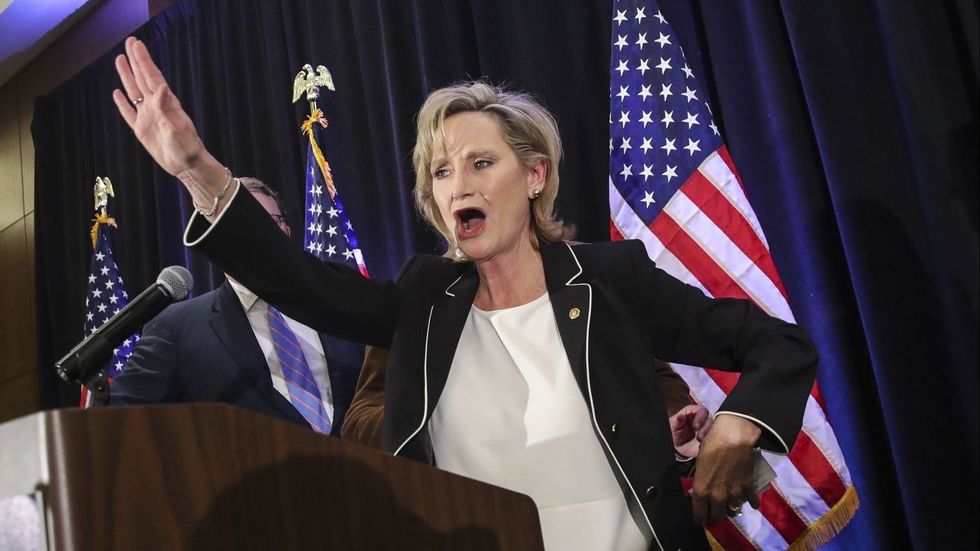 Los Angeles Times
Meg Hanson is a Brooklyn-based writer, teacher, and jaywalker. Find Meg at her website and on Twitter @megsoyung.