Dall-E Mini, the AI-powered text-to-image generator has taken over the internet. With its ability to render nearly anything your meme-loving heart desires, anyone can make their dreams come true.
DALL-E 2, a portmanteau of Salvador Dali, the surrealist and Wall-E, the Pixar robot, was created by OpenAI and is not widely available; it creates far cleaner imagery and was recently used to launch Cosmpolitan's first AI-generated cover. The art world has been one of the first industries to truly embrace AI.
The open-sourced miniature version is what's responsible for the memes. Programmer Boris Dayma wants to make AI more accessible; he built the Dall-E Mini program as part of a competition held by Google and an AI community called Hugging Face.
And with great technology, comes great memes. Typing a short phrase into Dall-E Mini will manifest 9 different amalgamations, theoretically shaping into reality the strange images you've conjured. Its popularity leads to too much traffic, often resulting in an error that can be fixed by refreshing the page or trying again later.
If you want to be a part of the creation of AI-powered engines, it all starts with code. CodeAcademy explains that Dall-E Mini is a seq2seq model, "typically used in natural language processing (NLP) for things like translation and conversational modeling." CodeAcademy's Text Generation course will teach you how to utilize seq2seq, but they also offer opportunities to learn 14+ coding languages at your own pace.
You can choose the Machine Learning Specialist career path if you want to become a Data Scientist who develops these types of programs, but you can also choose courses by language, subject (what is cybersecurity?) or even skill - build a website with HTML, CSS, and more.
CodeAcademy offers many classes for free as well as a free trial; it's an invaluable resource for giving people of all experience levels the fundamentals they need to build the world they want to see.
As for Dall-E Mini, while some have opted to create beauty, most have opted for memes. Here are some of the internet's favorites:
There's no looking back now, not once you've seen Pugachu; artificial intelligence is here to stay.
What's Going On with the Protests at the U.S. Capitol?
Trump supporters swarmed the U.S. capitol during today's Senate debate over the Electoral College votes.
This article was originally published at 3:55 p.m. on January 6. It was updated at 5:50 p.m. on January 6.
Less than a year after Black Lives Matter protesters were met with tear gas, rubber bullets, and countless instances of brutality from police officers across the country, Trump supporters are being let off rather easy for...also protesting.
January 6 marked the Senate debate over the Electoral College count, during which the soon-to-be Senate Minority Leader Mitch McConnell and various other Trump cronies asserted that Joe Biden did not win the 2020 election (though he did) and the current president would have been reelected in a landslide if it weren't for massive voter fraud (which didn't exist).
As Senators debated in the capitol, a swarm of protestors — donning Trump swag, MAGA hats, and, yes, Confederate flags—began encroaching in. At around 2 PM EST, however, Capitol Police notified everyone inside the building to shelter in place. The protesters had, in fact, breached the capitol building.
A Timeline: Here's Video Evidence of What's Going On
First, Trump supporters began gathering outside the Capitol steps. As they inched up the steps, it appeared as though police officers did little to hold them back — save for a few spritzes of pepper spray.
It's a far cry from the violence that police enacted on Black Lives Matter protesters last summer.
Protesters then raised a cross outside of the Capitol (unclear if they plan on nailing Trump to it).
The Capitol's front doors were shattered as protesters then came inside, demanding to see senators.
Protesters were able to walk throughout the building with little to no pushback from security.
Protesters began getting violent with police officers in an attempt to reach the senate chamber. Chants of "U.S.A." echo throughout the building.
DC police reported that one person had been shot inside the capitol. MSNBC shared a clip in which a bloodied woman was shown leaving the capitol on a stretcher.
Protestors found their way to the senate chamber. No tear gas, no rubber bullets.
A source reportedly told Aaron C. Davis, investigative reporter for the Washington Post, that the Defense Department denied a request by DC officials to deploy the National Guard to the capitol.
President Trump's advice: "Stay peaceful," coming from the same man who told Black Lives Matter protesters, "When the looting starts, the shooting starts."
Despite bipartisan demands, Trump does not strengthen his language at all.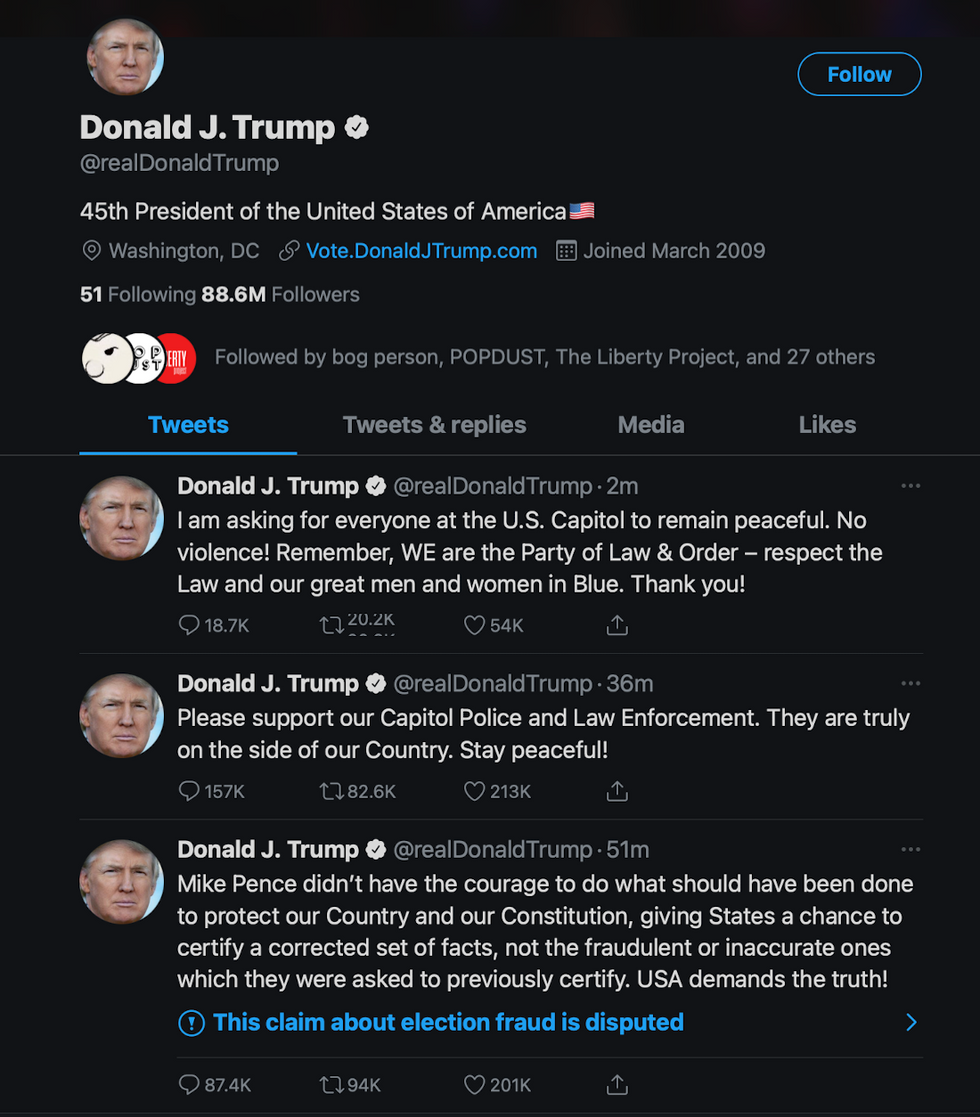 Reports of violence and injuries, including a woman shot in the neck, confirm escalating violence. Later in the evening, MSNBC confirmed that the woman who was shot had died.
After a confusing delay, more DC National Guard troops are finally mobilized to quell the mob.