Dall-E Mini, the AI-powered text-to-image generator has taken over the internet. With its ability to render nearly anything your meme-loving heart desires, anyone can make their dreams come true.
DALL-E 2, a portmanteau of Salvador Dali, the surrealist and Wall-E, the Pixar robot, was created by OpenAI and is not widely available; it creates far cleaner imagery and was recently used to launch Cosmpolitan's first AI-generated cover. The art world has been one of the first industries to truly embrace AI.
The open-sourced miniature version is what's responsible for the memes. Programmer Boris Dayma wants to make AI more accessible; he built the Dall-E Mini program as part of a competition held by Google and an AI community called Hugging Face.
And with great technology, comes great memes. Typing a short phrase into Dall-E Mini will manifest 9 different amalgamations, theoretically shaping into reality the strange images you've conjured. Its popularity leads to too much traffic, often resulting in an error that can be fixed by refreshing the page or trying again later.
If you want to be a part of the creation of AI-powered engines, it all starts with code. CodeAcademy explains that Dall-E Mini is a seq2seq model, "typically used in natural language processing (NLP) for things like translation and conversational modeling." CodeAcademy's Text Generation course will teach you how to utilize seq2seq, but they also offer opportunities to learn 14+ coding languages at your own pace.
You can choose the Machine Learning Specialist career path if you want to become a Data Scientist who develops these types of programs, but you can also choose courses by language, subject (what is cybersecurity?) or even skill - build a website with HTML, CSS, and more.
CodeAcademy offers many classes for free as well as a free trial; it's an invaluable resource for giving people of all experience levels the fundamentals they need to build the world they want to see.
As for Dall-E Mini, while some have opted to create beauty, most have opted for memes. Here are some of the internet's favorites:
There's no looking back now, not once you've seen Pugachu; artificial intelligence is here to stay.
POLITICS
I Agree with President Trump: We Need to Bomb Tropical Storm Dorian
Bethesda Softworks
It's time to declare war on weather.
Even scarier, Tropical Storm Dorian might turn into Hurricane Dorian.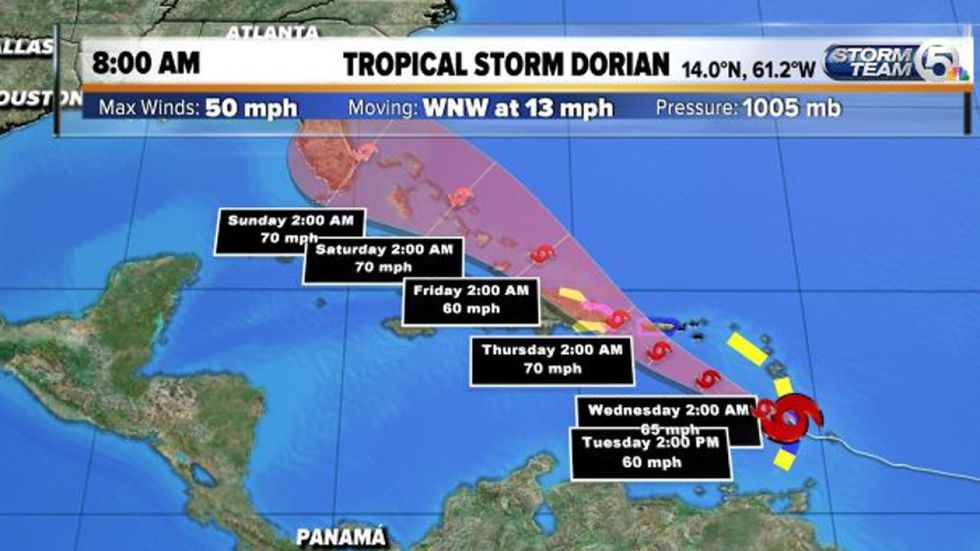 NBC
Luckily, Americans don't need to take nature's terrorism lying down. Our brave president, Donald Trump, has dreamt up the smartest weather-bashing plan ever conceived: bombing hurricanes.

As a salt-of-the-earth American who loves our president and doesn't have the time to read silly science articles (those are for liberal nerds who actually think education is important), I agree with President Trump––bombing hurricanes sounds like a totally brilliant course of action, and I'm frankly shocked that no scientist in the history of America has been smart enough to try it until now. What did they even go to college for, right?
Something called the National Oceanic and Atmospheric Administration (NOAA) even seemed to agree with Trump, describing the results of bombing a hurricane as "devastating." Yeah, devastating to the hurricane, I bet!
The NOAA went on to say that bombing a hurricane "might not even alter the storm" and that the "radioactive fallout would fairly quickly move with the tradewinds to affect land areas." I don't fully understand that, but my soy boy roommate (he voted for Bernie lol) tells me that means the hurricane would literally just absorb the bomb's fallout and carry it onto land. So basically, bombing a hurricane could create a nuclear hurricane. How cool is that? My roommate told me I was a moron, but I told him to go lick quinoa. Roasted.
In conclusion, President Trump is 100% correct: Bombing Hurricane Dorian is a great idea, and in the worst-case scenario, we create a radioactive super hurricane, which is awesome.
Also, Hillary Clinton says we shouldn't nuke hurricanes, which obviously means that we should.
We should not nuke hurricanes.

— Hillary Clinton (@Hillary Clinton) 1566830039.0