Dall-E Mini, the AI-powered text-to-image generator has taken over the internet. With its ability to render nearly anything your meme-loving heart desires, anyone can make their dreams come true.
DALL-E 2, a portmanteau of Salvador Dali, the surrealist and Wall-E, the Pixar robot, was created by OpenAI and is not widely available; it creates far cleaner imagery and was recently used to launch Cosmpolitan's first AI-generated cover. The art world has been one of the first industries to truly embrace AI.
The open-sourced miniature version is what's responsible for the memes. Programmer Boris Dayma wants to make AI more accessible; he built the Dall-E Mini program as part of a competition held by Google and an AI community called Hugging Face.
And with great technology, comes great memes. Typing a short phrase into Dall-E Mini will manifest 9 different amalgamations, theoretically shaping into reality the strange images you've conjured. Its popularity leads to too much traffic, often resulting in an error that can be fixed by refreshing the page or trying again later.
If you want to be a part of the creation of AI-powered engines, it all starts with code. CodeAcademy explains that Dall-E Mini is a seq2seq model, "typically used in natural language processing (NLP) for things like translation and conversational modeling." CodeAcademy's Text Generation course will teach you how to utilize seq2seq, but they also offer opportunities to learn 14+ coding languages at your own pace.
You can choose the Machine Learning Specialist career path if you want to become a Data Scientist who develops these types of programs, but you can also choose courses by language, subject (what is cybersecurity?) or even skill - build a website with HTML, CSS, and more.
CodeAcademy offers many classes for free as well as a free trial; it's an invaluable resource for giving people of all experience levels the fundamentals they need to build the world they want to see.
As for Dall-E Mini, while some have opted to create beauty, most have opted for memes. Here are some of the internet's favorites:
There's no looking back now, not once you've seen Pugachu; artificial intelligence is here to stay.
CULTURE
A Guide to Protesting Safely
Social media is full of resources for protestors, and many are linked below. Stay safe out there.
The Black Lives Matter movement is bringing many people into the world of active protest for the first time. It's also putting people in the face of dangers they may not be prepared for.
The police are using pepper spray, tear gas, and—most of all—fear to intimidate and corral protestors, but the revolution will not be deterred. It's important to prepare as best you can before heading out, so here are a bunch of resources and guides to read before hitting the streets, many of which come from this helpful drive on protestor safety. Read them, memorize them, write the numbers on your arms—and then join the fight.
1. What to Bring
You should bring a bag/backpack, water, a face mask and hand sanitizer, snacks, signs, walking shoes, your ID, and proper clothing to protests. If you think you might be tear gassed, bring an extra pair of clothes in a sealed bag. Consider also bringing earplugs, a pen and paper, and a sharpie to write down important numbers. If you plan on getting arrested, bring a sealed bag with any medication you need. Bring cash and quarters. Make sure your phone is locked with a passcode and that locations and notifications are turned off.
2. What to Wear
Wear clothing that you can run in. Be aware that it may be cold or hot, and you may be stuck in a freezing jail cell or in the hot sun. Layer if possible. Wear comfortable shoes. For women, avoid tampons. Avoid wearing contacts, which tear gas can irritate. Be sure to write numbers of local emergency contacts and lawyers in sharpie on your arm.
3. Don't Go Alone
Choose a partner strategically. Groups should defer to the needs of the most vulnerable members. Be aware of your partners' health conditions beforehand, and have a plan. White people should be prepared to put their bodies on the line between Black and brown allies and the cops.
Respect other protestors' privacy and don't share photos of others' faces.
4. If You Are Pepper Sprayed
Don't panic, and don't rub your face. Leave the area, find some fresh air and pour some water over the affected area.
5. If You Are Tear Gassed
If you are teargassed, the CDC recommends that you remove any clothing with the gas on it. Use soap and water to wash it off your skin.
Some sources recommend bringing a bandana soaked in water, lemon juice or vinegar, which you can hold over your mouth if you are tear gassed.
How to Stay Safe During a Tear Gas Attack - From a US Marinewww.youtube.com
READ, DOWNLOAD, AND SHARE this zine on chemical weapons: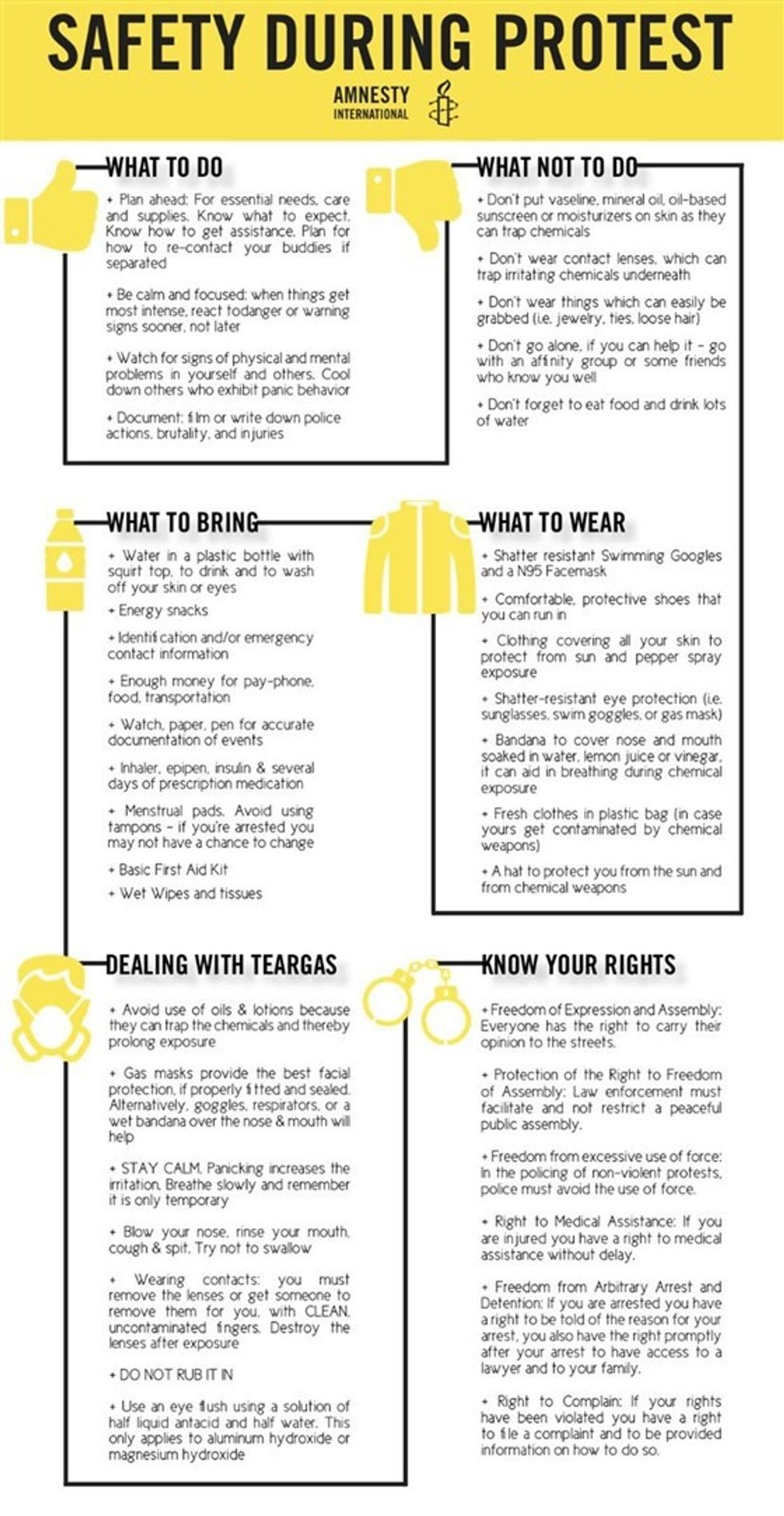 via Amnesty International
6. Know Your Rights
The ACLU offers detailed information on protestors' rights. Remember, you have the right to protest and assemble. You have the right to film police officers' actions. You have the right to medical assistance.
7. For White Allies at Protests
White allies at protests should be deferring to Black organizers. Avoid starting chants, instigating violence, or engaging with police. Continue doing research and supporting the cause outside of protests.
Read SURJ Sacramento's guide to protest etiquette for white people:
8. If You Are Arrested

If you are arrested, don't resist. Ask for a lawyer right away and demand your right to remain silent. Protect others.
9. For COVID-19 Protection
Carry hand sanitizer and always wear a mask. Try to stay distanced as best you can. Stay home if you have symptoms. Quarantine and get tested after marching if possible.
10. Take care of others
If you have medical training, your expertise is much needed. Here are some definitely-not-comprehensive guides.
10. For aftercare
Protests can be traumatic. Here are some resources on debriefing and healing after actions:
Here are some more comprehensive resources: